Today we're going on a full tour of the Holiday Inn at Disney Springs.
One of the many Orlando hotels near Disney World that's affordable and conveniently located in walking distance to restaurants, retail shops and entertainment.
If you're like me, when you are planning a vacation, you want to make sure that you are getting the best deal possible.
You'll also want to find the best hotel that you can afford that is going to be close to all of the attractions you want to visit.
So when you are looking for a hotel close to Disney Springs, there are several things that you are going to want to do.
First, you are going to want to determine how much you are willing to spend on a hotel room.
Next, you are going to want to determine how many people will be in the room with you.
Now that I've given you some things to think about, let go through the review of the Holiday Inn at Disney Springs in Lake Buena Vista, Florida.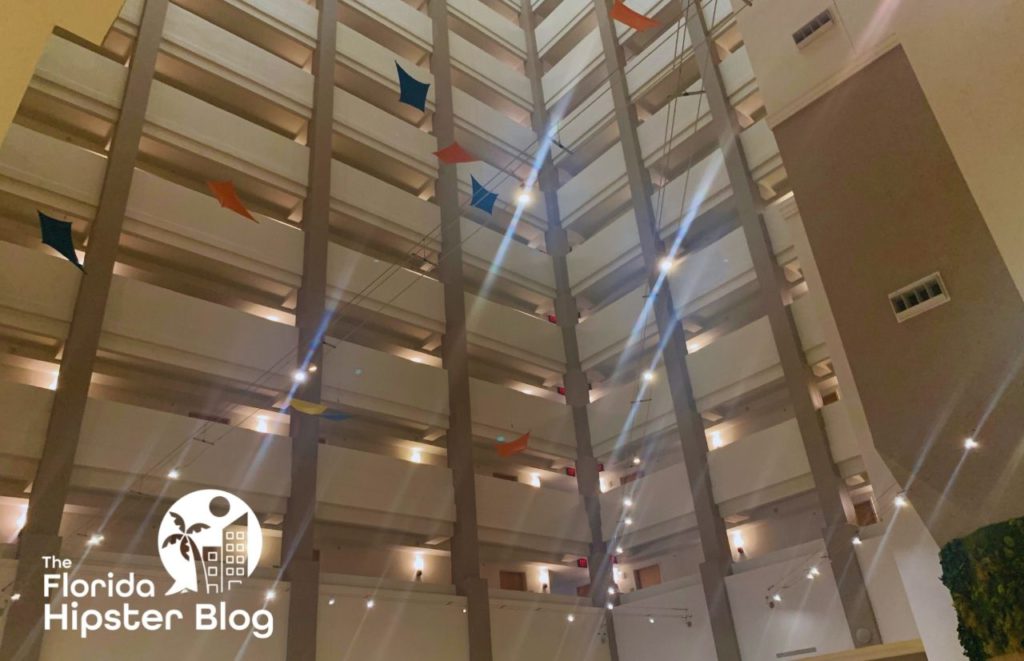 THIS POST MAY CONTAIN AFFILIATE LINKS. PLEASE READ MY DISCLOSURE FOR MORE INFO.  Which means if you click on certain links, I may receive a small commission at no additional charge to you.
What to Expect at Holiday Inn Orlando in the Disney Springs Area
As you approach this hotel near Disney, you'll notice the modern look of the exterior portion of the building.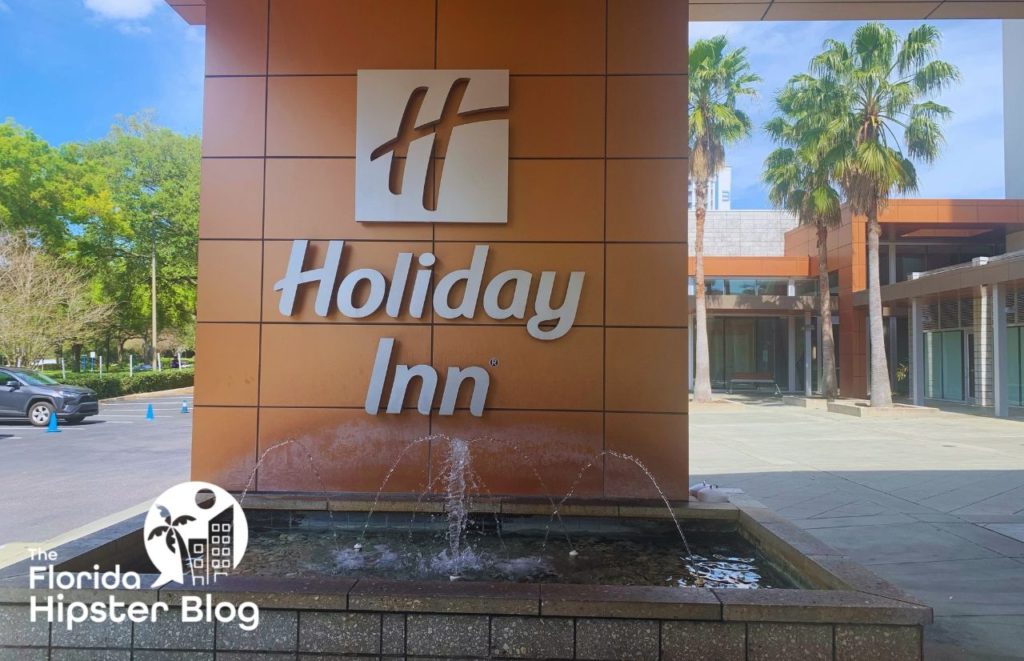 Once you head inside, you'll immediately notice the staff near the entrance ready to check you into your room.
Before you book this Orlando hotel, you should know that there's free Wi-Fi, an on-site bar, restaurant and it's a short walk to Disney Springs.
These are just a few of the amazing amenities that you can expect on your stay.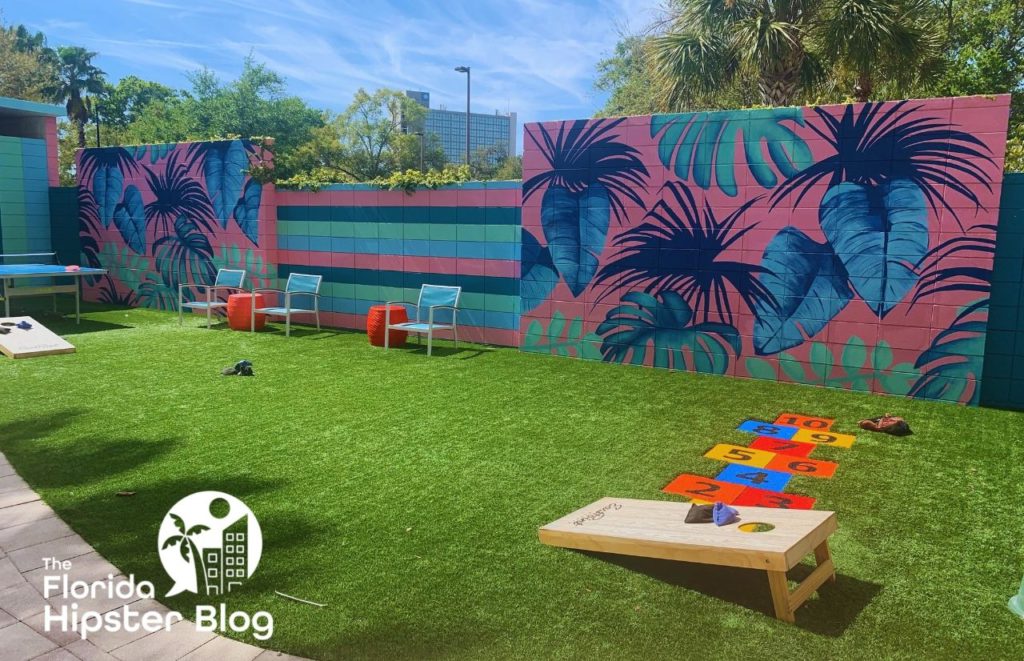 You must also remember that check in is at 4 p.m. with a check out time of 11 a.m. Below are some things to know for your upcoming trip:
Proximity to Orlando Attractions
Amenities
Ping-Pong
Cornhole
Jumbo Connect Four
Hopscotch
Game Room
Golf Course (within 2 miles)
24-Hour Fitness Center
Happy Hour
Spa Tub
Outdoor Pool
Business Center
Coffee Shop
Restaurant and bar/lounge
For a no obligation, FREE Disney Vacation Quote you can fill out the form with The Park Prodigy by Clicking HERE!
Is the Holiday Inn at Disney close to Disney Springs?
The Holiday Inn Orlando-Disney Springs Area is an eight to ten minute walk to Disney Springs and all it has to offer.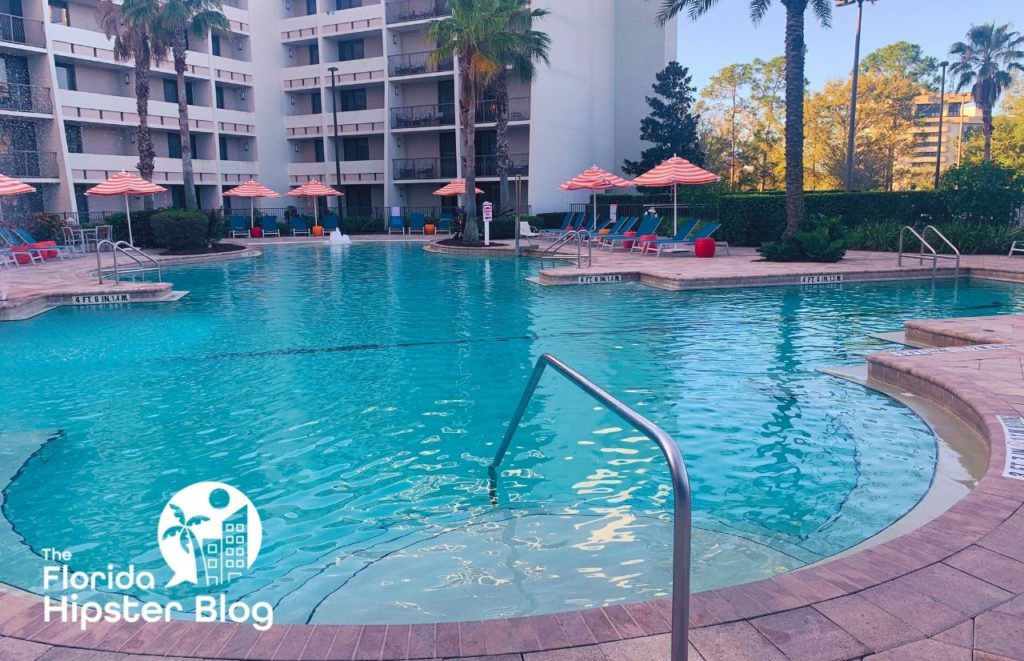 This hotel is a great value and offers a wide variety of amenities to keep you and your family happy.
The hotel is also close to a variety of restaurants including the Rainforest Café, The BOATHOUSE, Wine Bar George and many other great dining options.
You will also be close to many shops including the Lego Store and the Disney Springs Marketplace.
Want DAILY Florida Travel Photos? Follow Florida Hipster on Instagram TODAY!
Can I use my MagicBands at Holiday Inn Disney Springs?
Since the Holiday Inn at Disney Springs is not owned by Disney, you'll be losing some of the perks like charging items to your room using your MagicBand.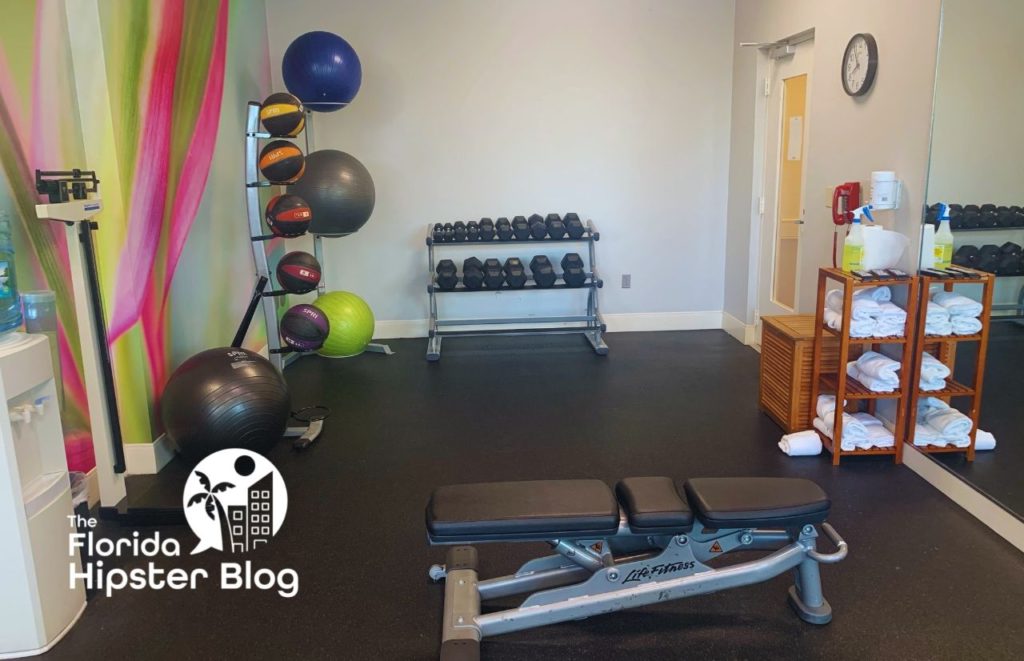 So at this time, there are no experiences at this Orlando hotel that will require you to need to use your Disney MagicBand.
How much is breakfast at Holiday Inn Disney Springs?
If you're looking to stay at the Holiday Inn Disney Springs, you can expect to spend around $15 to $20 per person on breakfast (yikes! I know that's pricey but kids under 12 eat free).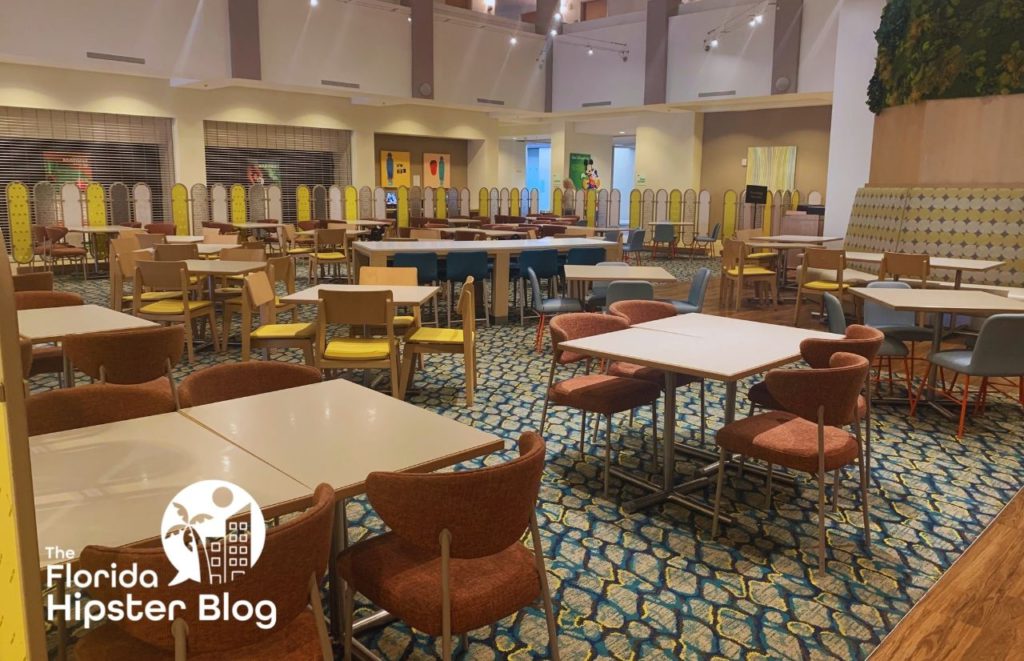 The breakfast menu includes items such eggs, bacon, sausage, potatoes, wraps, omelets and waffles just to name a few.
The Al La Carte Breakfast is served 7 days a week from 7-10:30 a.m., Grab & Go options are available for purchase at the Palm Breezes Bar & Lounge.
Also, lunch, dinner and bar service is also available 7 days a week, until 10 p.m.
However, I recommend going to a local breakfast spot around this Disney Springs hotel to save way more money like IHOP.
How often do Disney buses leave the Holiday Inn Disney Springs?
Now this is a common question I'm asked. Shuttles leave for Disney multiple times throughout the day.
Departure and return shuttle times vary based on the theme park hours with all departures occurring hourly.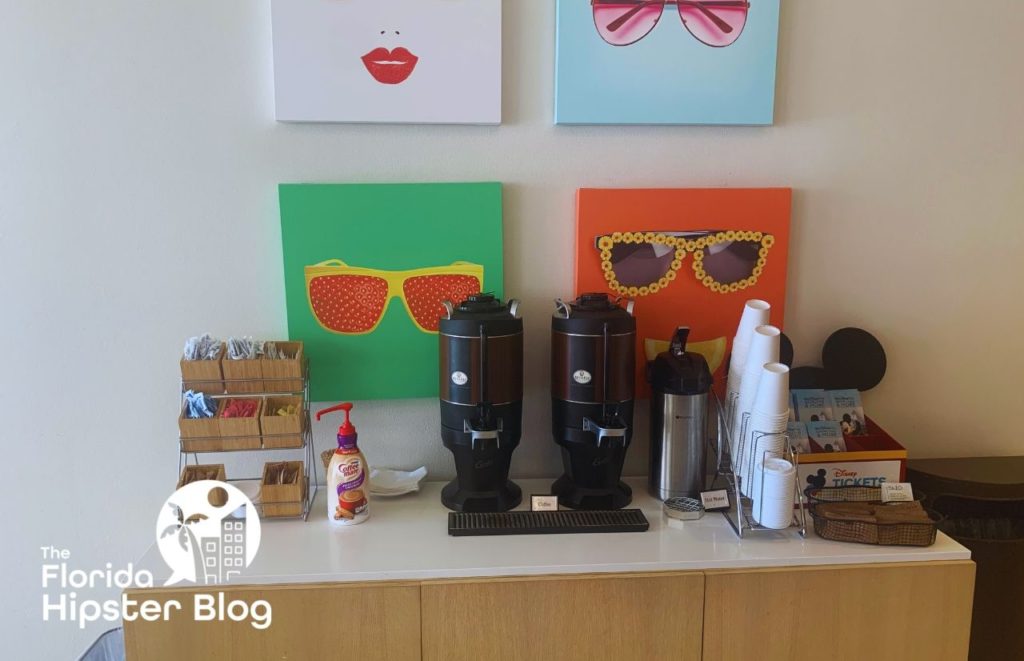 Always double check with the hotel staff to confirm the final schedule. This schedule should be posted in the lobby of the Holiday Inn.
Hipster Power Tip: Reservations are required for your entire party and are limited to guests registered to the hotel. Your reservations can be made at the front desk or using the QR code provided at check-in.
Does the Holiday Inn Disney Springs offer an airport shuttle?
This hotel does not currently offer an airport shuttle, so you should think about looking into scheduling a pick up with Mears Transportation or a ride sharing program.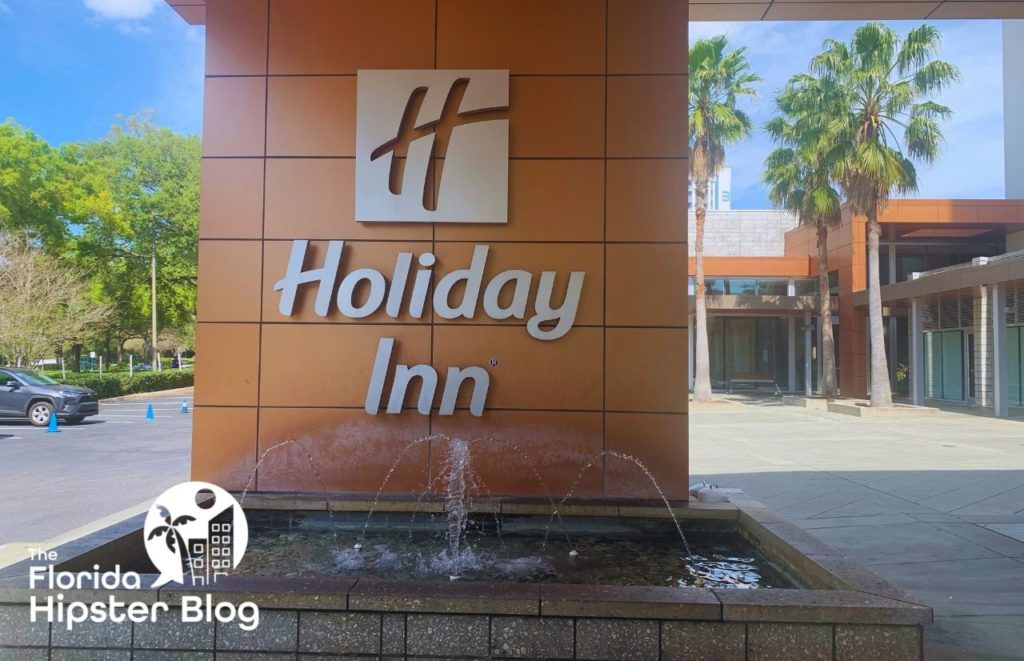 Want more Florida Travel tips? Check out the best planning videos for your vacation on YouTube TODAY!
How much is parking at the Holiday Inn Disney Springs?
Self parking is $20 per night and valet is $28 per night at the Holiday Day Inn in Disney Springs.
My Final Review of the Holiday Inn Orlando Disney Springs Area
This Disney Springs hotel is a good option if you want something affordable that has easy access to the Walt Disney World theme parks and experience.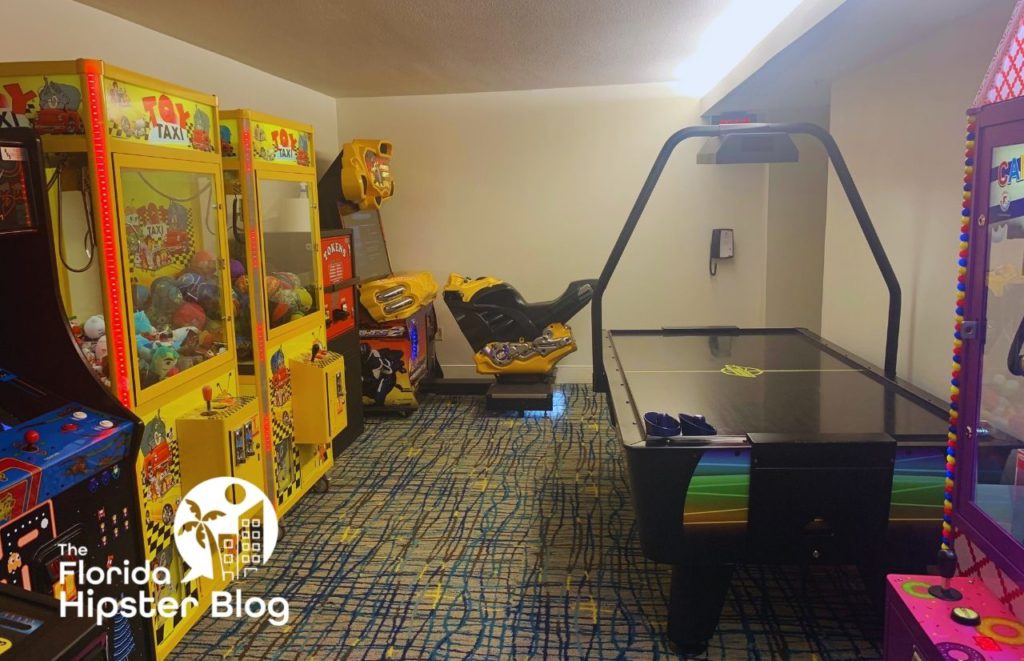 Although I think you get a nice, modern looking room with great resort-type amenities, the additional fees (resort fee, parking fee, and paying for breakfast) makes this particular Holiday Inn much different than the ones that are in other areas of Orlando.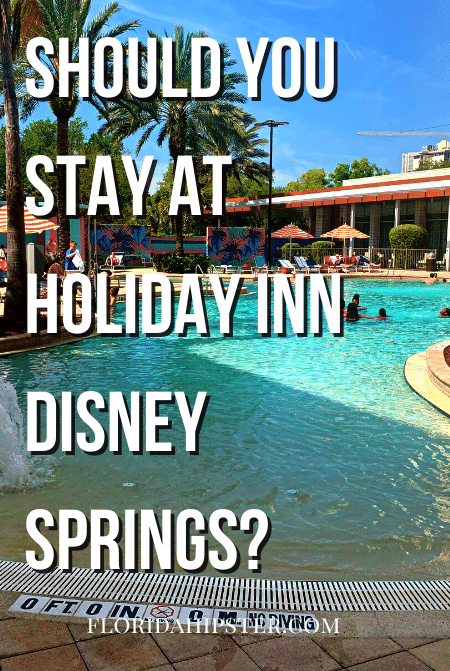 So, let me know if you've stayed at the Disney Springs Holiday Inn and what your experience was like in the comments section below.
Book your next stay at the Holiday Inn Orlando at Disney Springs here!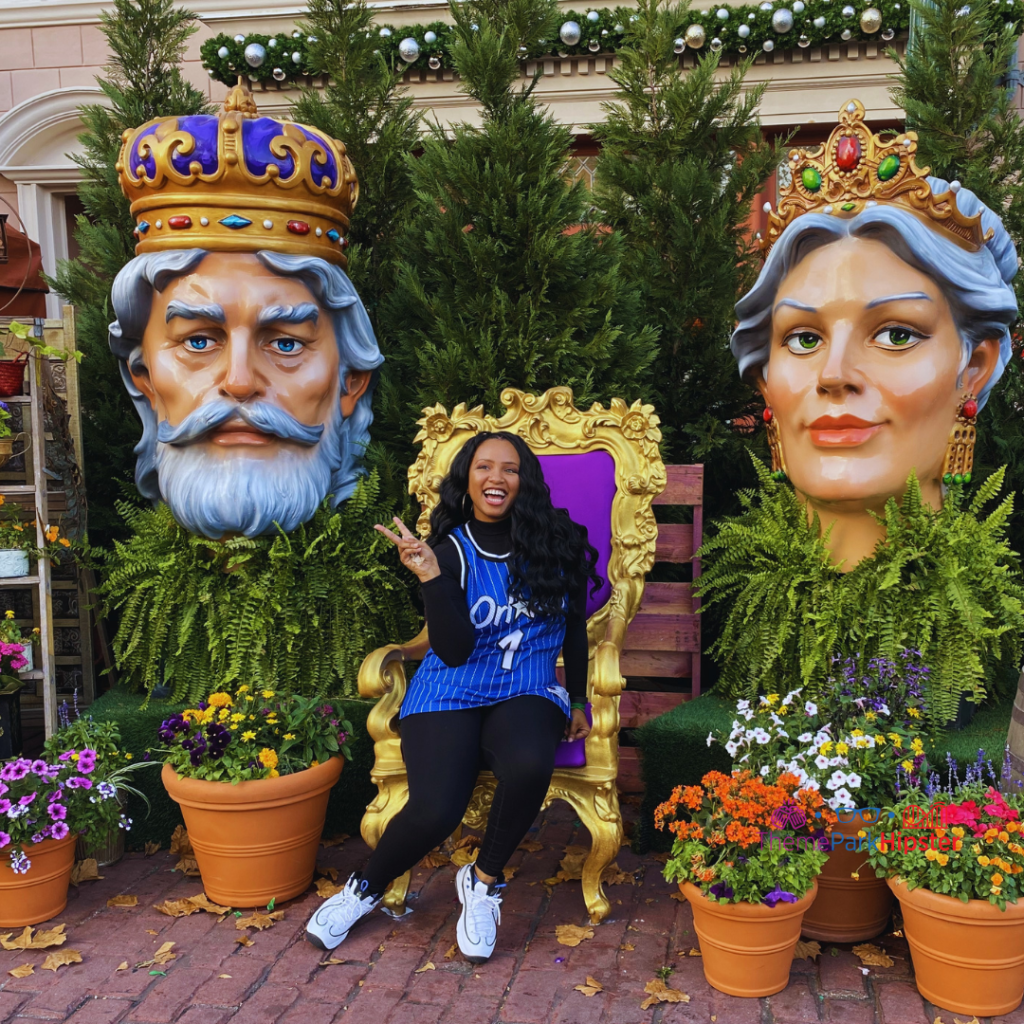 About the Author
My name is NikkyJ. I'm a wife, a mother, a pharmacist turned theme park blogger, USA Today 10Best Contributor, and a writer who loves exploring all the hidden gems of Florida!
I was born and raised in Leesburg, Florida which attributes to my passion about for this amazing state.
I want to show you how you can create your own memories while discovering the Sunshine State!
Connect with me on Instagram!
(Original Article Date: September 6, 2021/Updated on July 7, 2023)