Are you ready to take on today's foodie challenge? I'm going to give you 10 of the best places to get breakfast in Orlando, Florida.
They don't call it the most important meal of the day for nothing! While health nuts may still be debating which meal is really "the most important," the rest of us know what's up. 
Breakfast is, in fact, the most delicious meal of the day! And I won't debate that with anyone.
One of the best parts about breakfast is that you can eat it at any time of the day!
Whether you're looking to start your day off bright and early, catch an early afternoon brunch, or get your breakfast fix for dinner, one of these local Orlando breakfast joints will surely hit the spot.
Check out these ten best breakfast spots in Orlando that you really don't want to miss!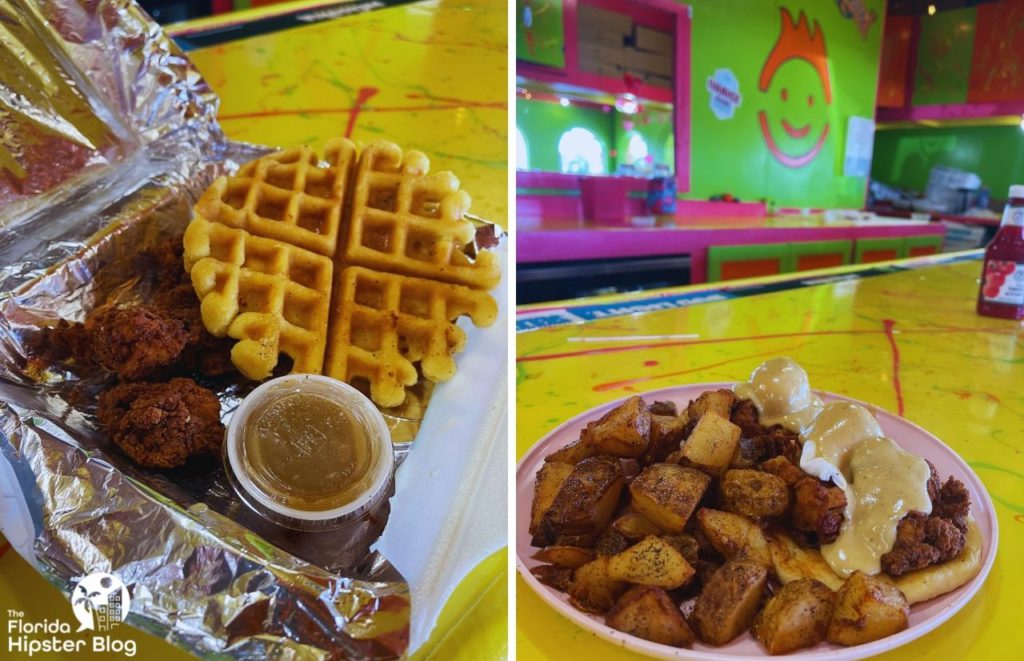 THIS POST MAY CONTAIN AFFILIATE LINKS. PLEASE READ MY DISCLOSURE FOR MORE INFO.  Which means if you click on certain links, I may receive a small commission at no additional charge to you.
1. Maple Street Biscuit Co.
This Orlando favorite puts a spin on one of our favorite comfort breakfasts, biscuits, and gravy.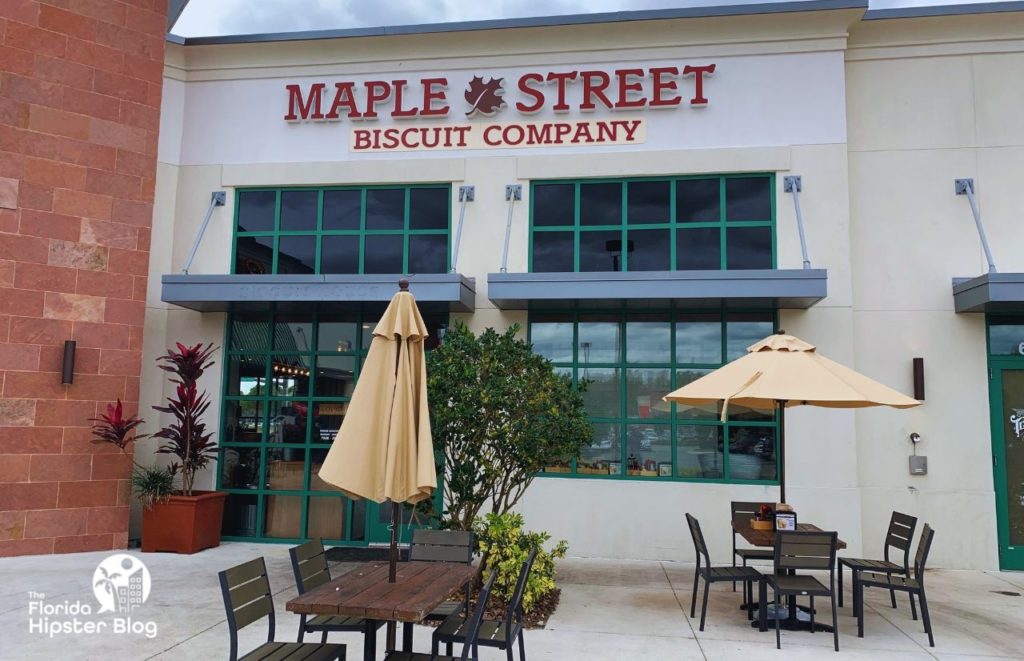 The kitchen at Maple Street Biscuit Co. has crafted a variety of delicious biscuit sandwiches, like the Sticky Maple and the Five and Dime, plus traditional biscuit and gravy plates, waffles, and breakfast bowls.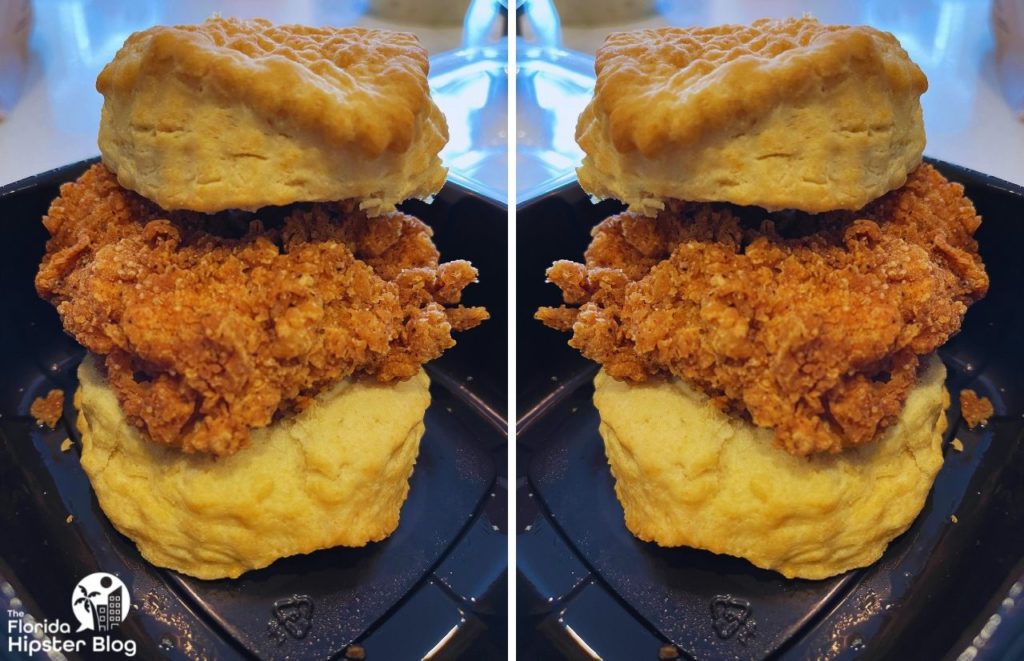 Of course, their biscuits are made fresh every day, all day, but they also focus on using the best fresh, natural, and house-made ingredients for all of their dishes.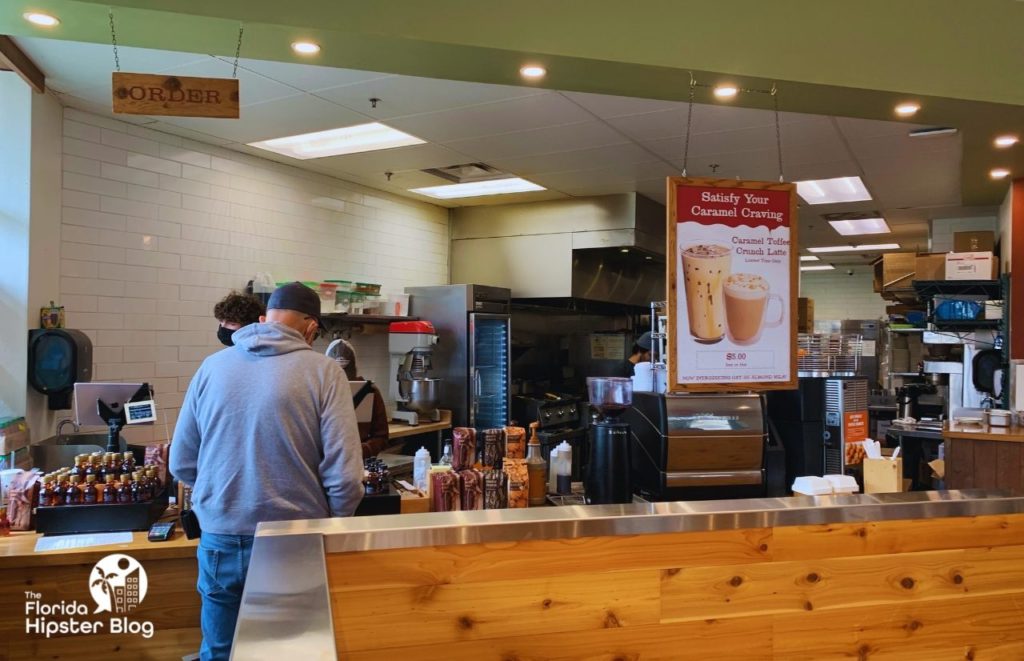 And trust me when I say that the food here is not only seasoned to perfection, the portion sizes are larger than your average breakfast spot and super hearty!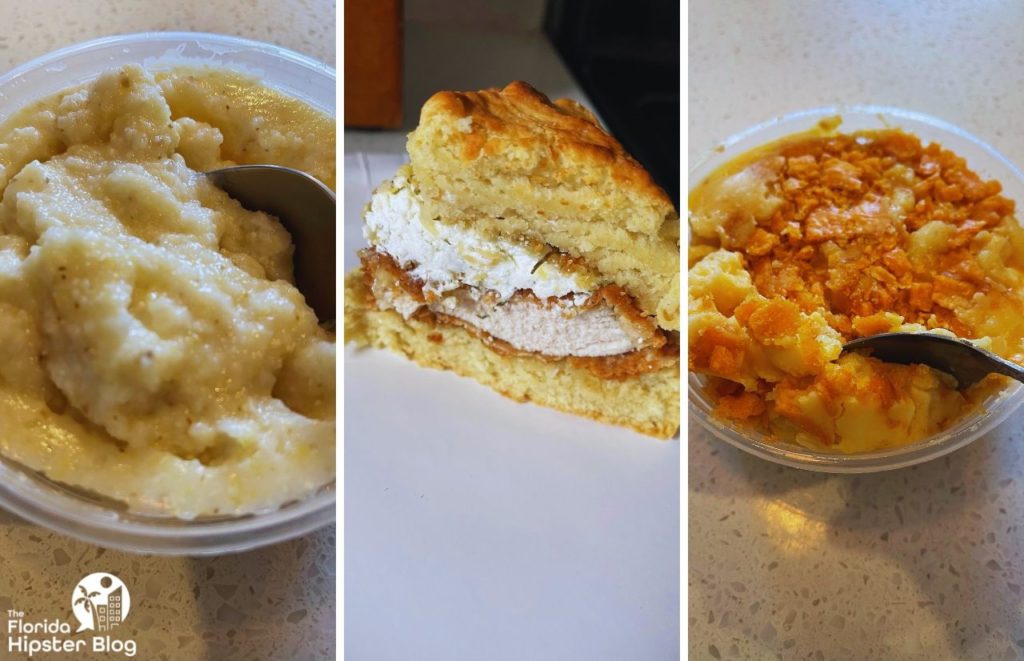 With community-style seating and a focus on gracious service, you'll likely leave here with a happy tummy and some new friends.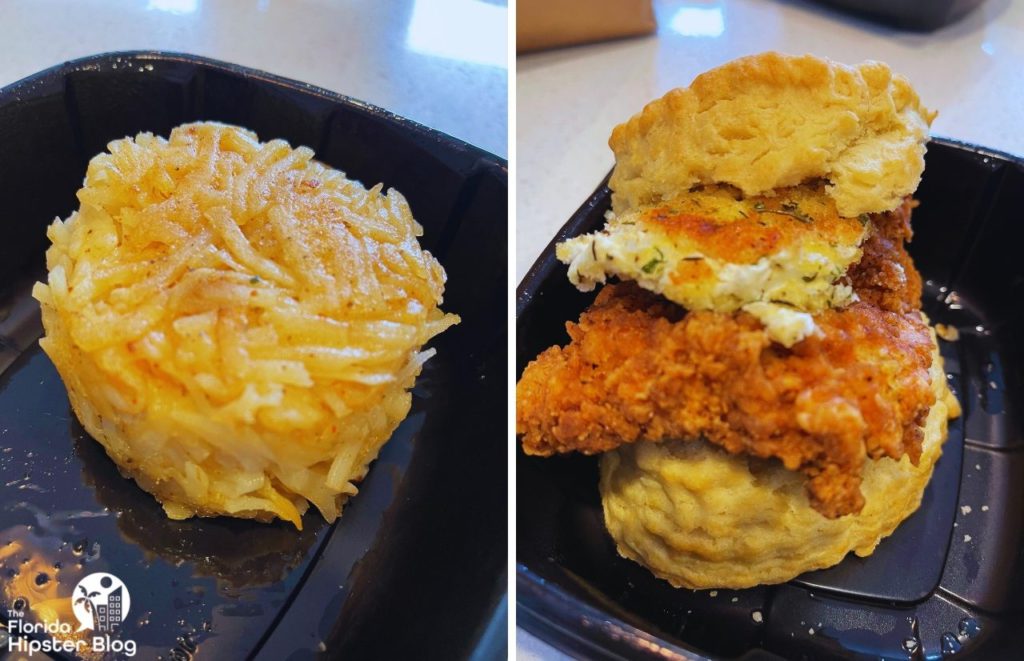 Top Breakfast Items From Maple Street Biscuit Co.:
The Squawking Goat: Flaky biscuit, all-natural fried chicken breast, fried goat cheese medallion and house-made pepper jelly.
Classic Chicken Biscuit: Flaky house-made biscuit with all-natural chicken.
Smoky Mountain Mac n Cheese: House-made with three different types of cheese and topped with a crunchy cheese cracker crumble.
Hash Brown Cake
Mimosa
Address: 6268 W Irlo Bronson Memorial Hwy Celebration, FL 34747 OR 978 Citywalk Lane Oviedo, Florida 32765
ORDER NOW to secure your Walt Disney World theme park ticket! GET MY TICKETS.
2. KeKe's Breakfast Cafe
With a motto like "it's like your hometown diner grew up and went to the city," you just know that KeKe's Breakfast Cafe is here to deliver unique and fabulous breakfast options that you don't see everywhere else!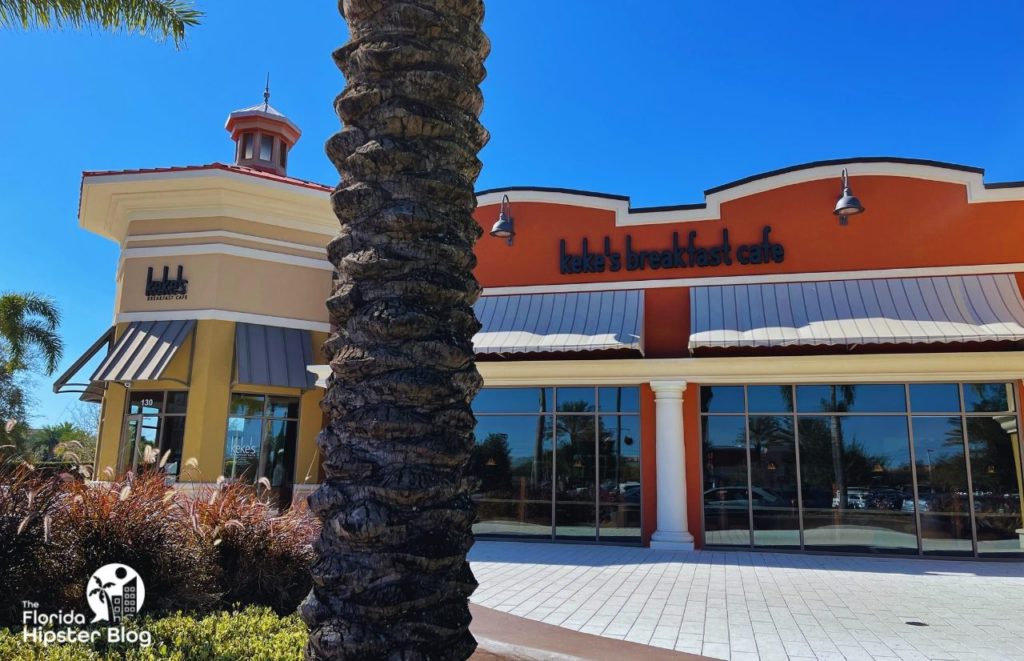 With an extensive menu including build-your-own options for waffles, pancakes, stuffed French toast, omelets, and combos, the options are nearly endless here.
The kitchen team at KeKe's make handmade meals with the freshest ingredients delivered daily.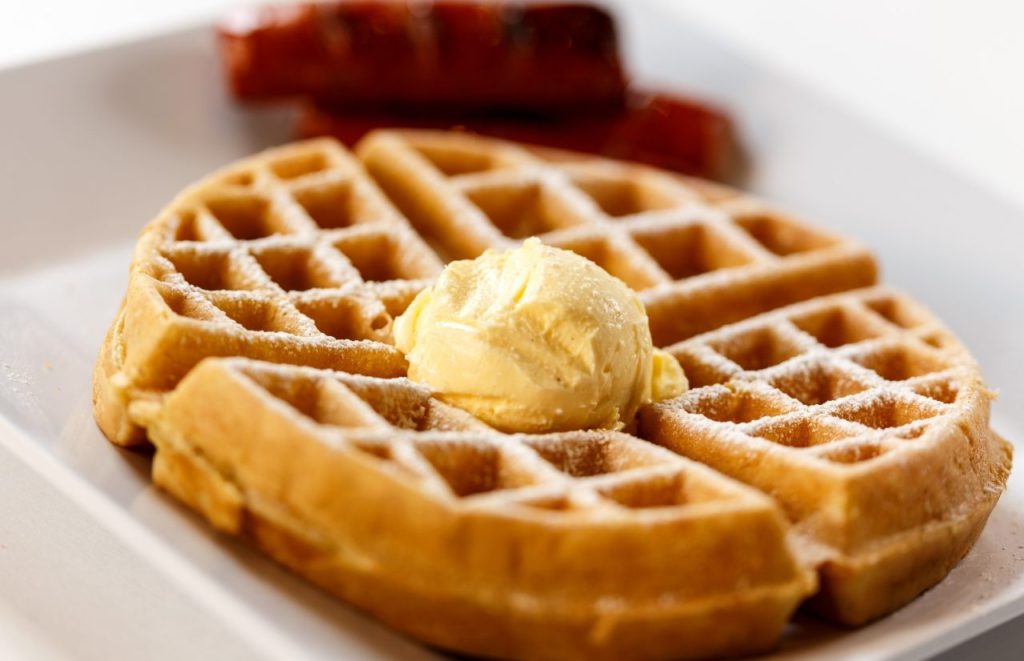 They pride themselves on creating a friendly, clean atmosphere and offering an exceptional experience from the time you arrive until the time you leave.
Top Breakfast Items From KeKe's Breakfast Cafe:
Apple Cinnamon Waffle: Warm cinnamon apple topping with powdered sugar and cinnamon
Create your own combo: My favorite as you can put together your own breakfast experience
Italian Chicken Omelet: Fire roasted red pepper, Provolone cheese and pesto sauce
Address: Multiple locations throughout Orlando, Florida.
Get over 30% off on your Orlando CityPass here!
3. Hash House A Go Go
This spot serves not only "twisted farm food," but they also have a dope lineup of cocktails to go along with it.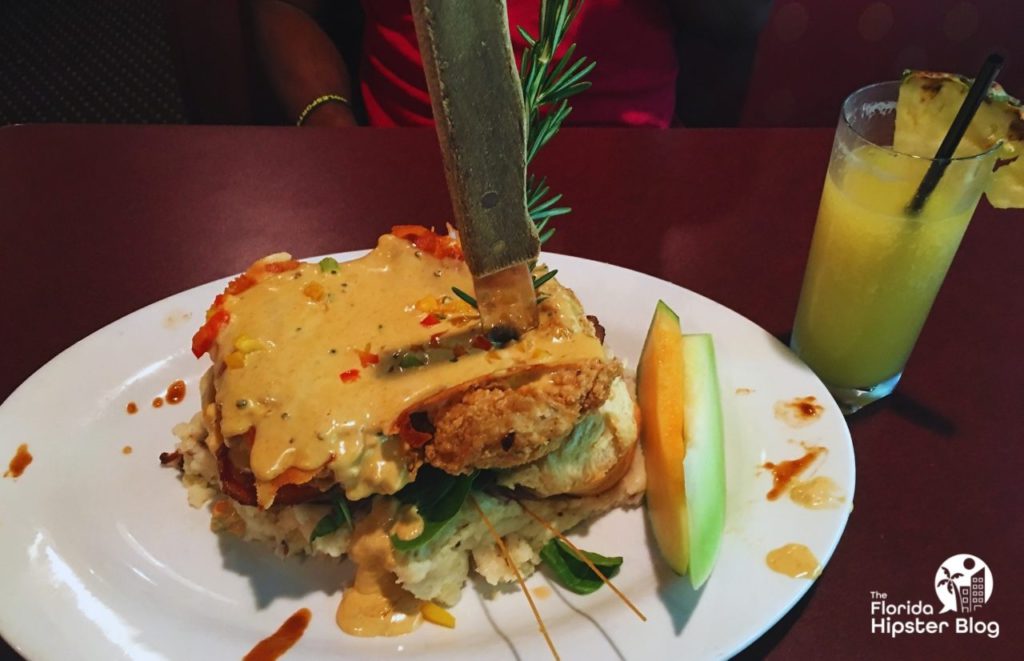 If you're looking for some good old fashion Midwest-inspired food, look no further. Hash House A Go Go has got you covered.
But it's no secret that this is a location (and national) favorite — they've been featured in tons of shows and articles, ranging from Man Vs. Food to Nickelodeon!
With favorites such as Andy's World Famous Sage Fried Chicken and the Hash House Meatloaf, after breakfast or brunch here, it's fair to say you'll be full the rest of the day.
Top Breakfast Items From Hash House A Go Go:
Andy's World Famous Sage Fried Chicken: Chicken is rolled in flour, fresh sage, and spices, then fried to a glorious crisp to sit on top of a waffle!
The Andy's World Famous Sage Fried Chicken Benedict: Fresh spinach, hickory smoked bacon, market tomato, griddled mozzarella, chipotle cream and scrambled eggs served on a fresh split biscuit with griddled mashed potatoes and fresh fruit garnish.
HH Big O' Pancakes: The name says it all!
Address: 5350 International Dr. Orlando, FL 32819
Get more Orlando travel planning tips right here!
4. @ The Diner
This breakfast spot was originally started when the owners found it hard to find a nice family-owned neighborhood joint where the food and service felt more than family.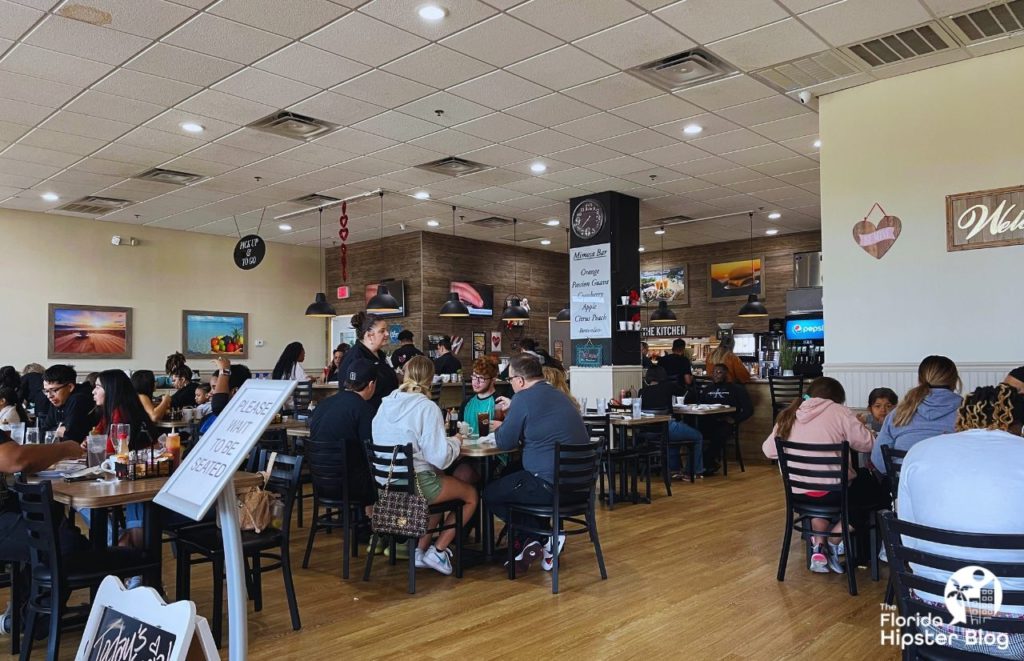 So, they decided to create their own! Their goal was to bring fresh and delicious family-style food to their neighborhood at an affordable price.
They offer your usual suspects like omelets, Benedicts, waffles, pancakes, French toast, and even New York-style bagels. The Diner doesn't stop with just breakfast. They have a full lunch menu as well and a GLORIOUS mimosa bar!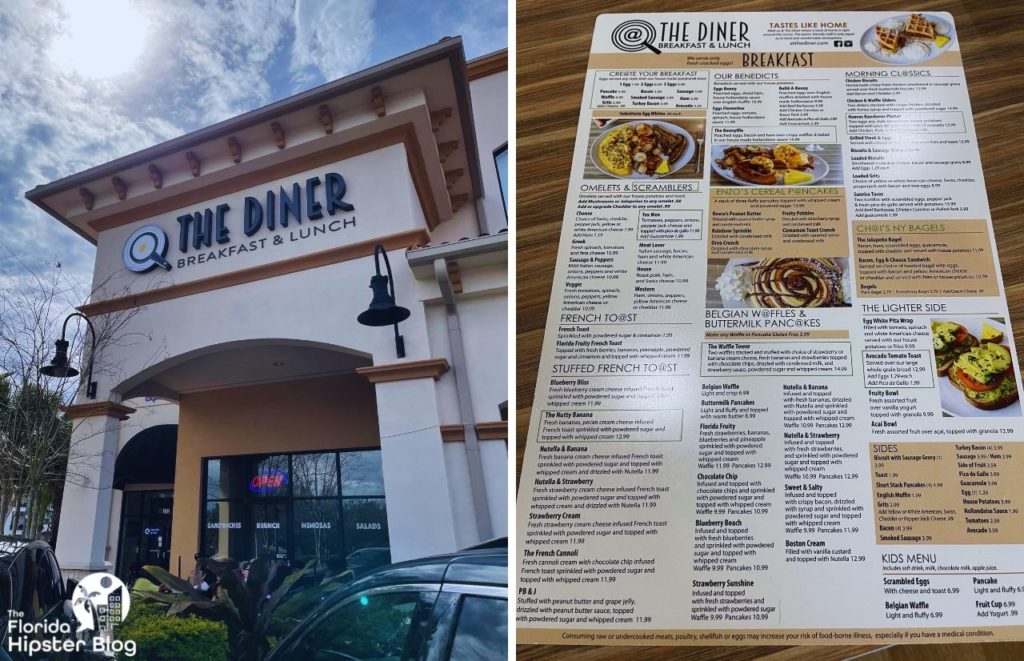 On my visit the place was buzzing with lots of hungry tourists, but that didn't stop my waitress from delivering impeccable service to me.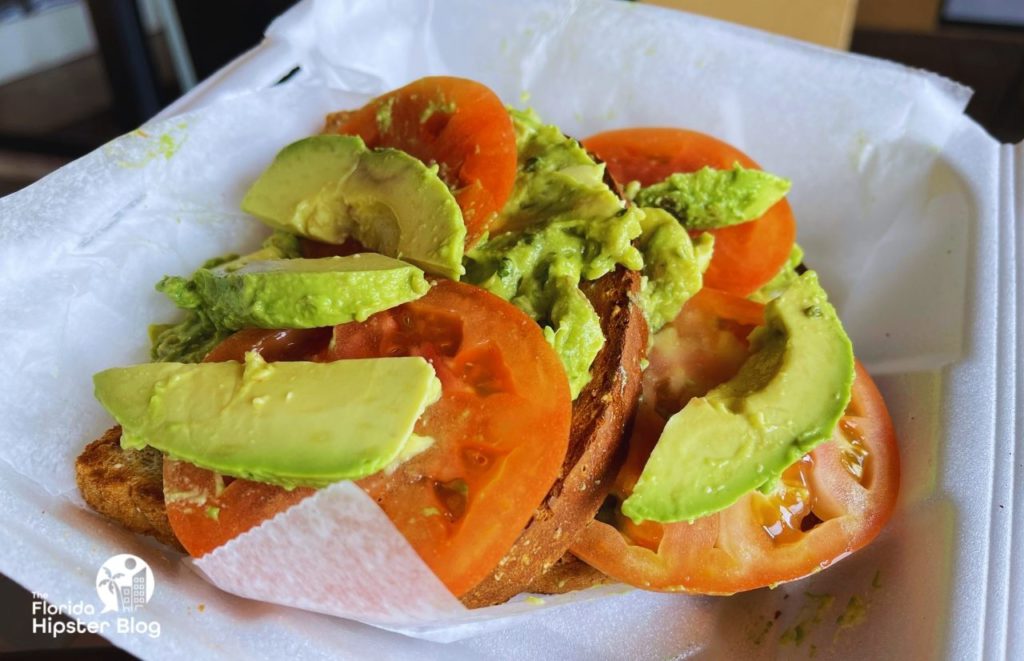 My food came much faster than I expected and I was able to enjoy my creamy avocado toast with my mimosa in a deliciously peaceful manner. @The Diner is definitely one of the best breakfast spots in Orlando, Florida that you must try!
Top Breakfast Items From @The Diner:
Tex Mex Omelette: Tomatoes, peppers, onions, pepper jack cheese and topped with salsa
Avocado Toast: Avocado toast served over a large whole grain bread
Nutella & Strawberry French Toast: Fresh strawberry & cream cheese infused French toast sprinkled with powdered sugar & drizzled with Nutella
Rainbow Sprinkle Pancake: A fluffy pancake drizzled with condensed milk
Chicken and Waffle Sliders: Two sliders stacked with crispy chicken, drizzled with honey syrup and topped with powdered sugar
Any of the Mimosas from the mimosa bar!
Address: Lake Cay (Universal/Sea World) Location 9938 Universal Blvd. Orlando, FL 32819 OR the Grand Oaks Village (Dr. Phillips) Location 5072 Doctor Phillips Blvd. Orlando, FL 32819
5. Fk Your Diet
With a name like FK Your Diet, you can probably guess the type of food on the menu, but you probably wouldn't have guessed the heartwarming story behind it.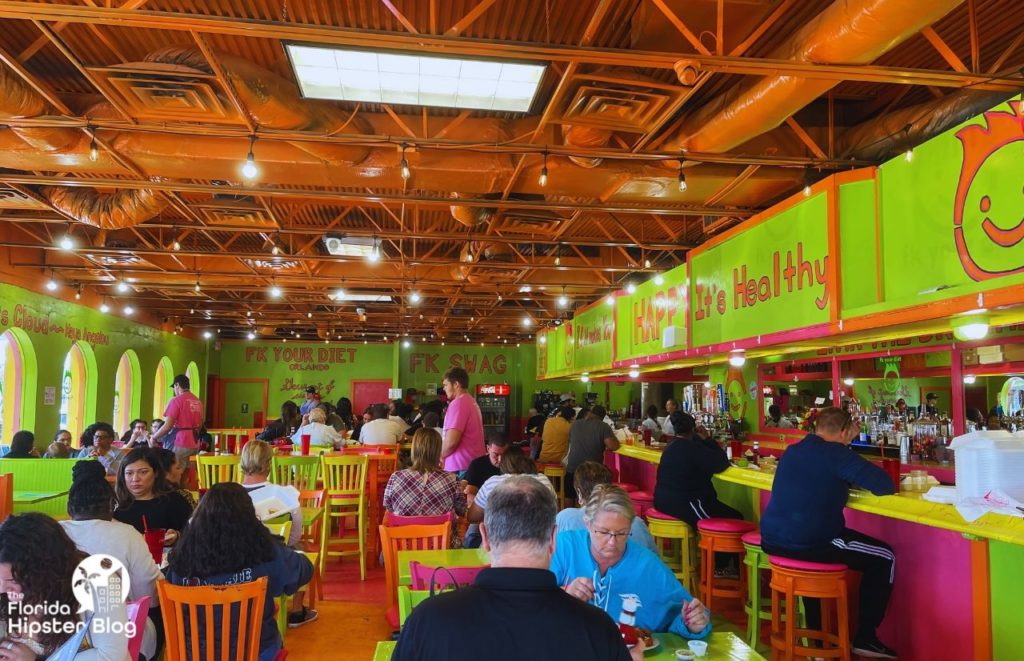 The owner, Doug Miller, grew up as a foster kid (that's where the FK comes from). Growing up, food was a huge part of his life and a comfort for him while he was in the system.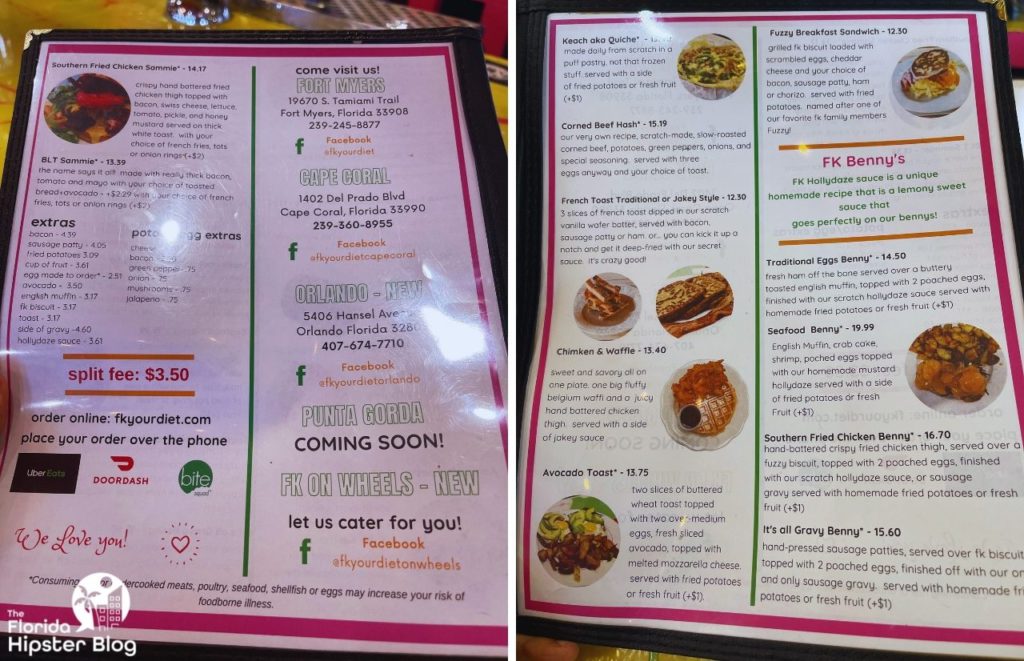 So, once he retired, he wanted to give back to the community and offer some of his favorite meals from growing up.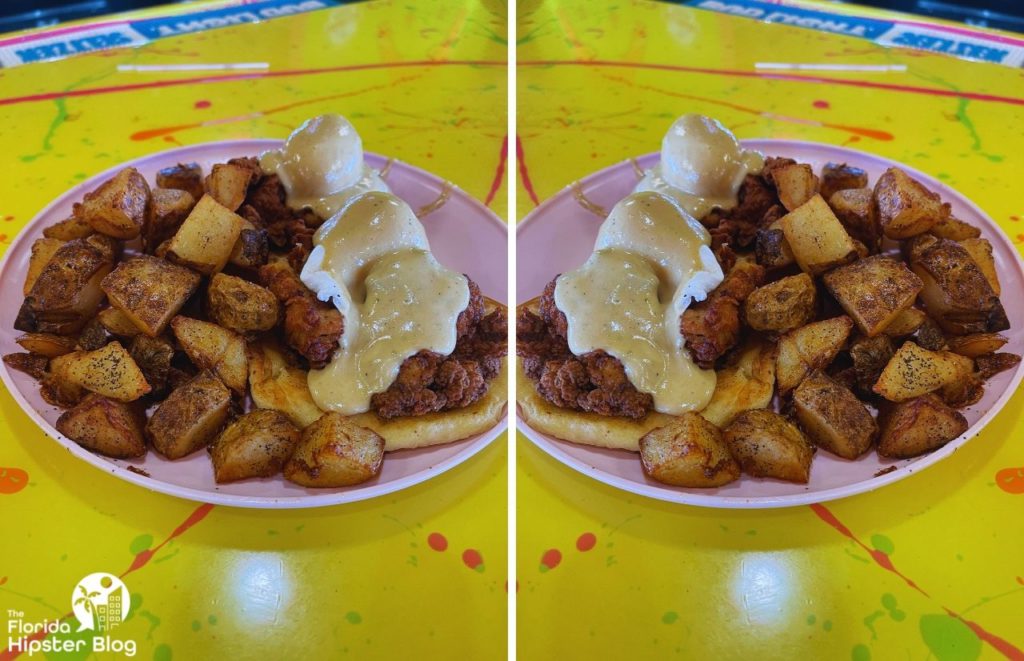 Five percent of their revenue goes straight to foster kids! They also have volunteer opportunities!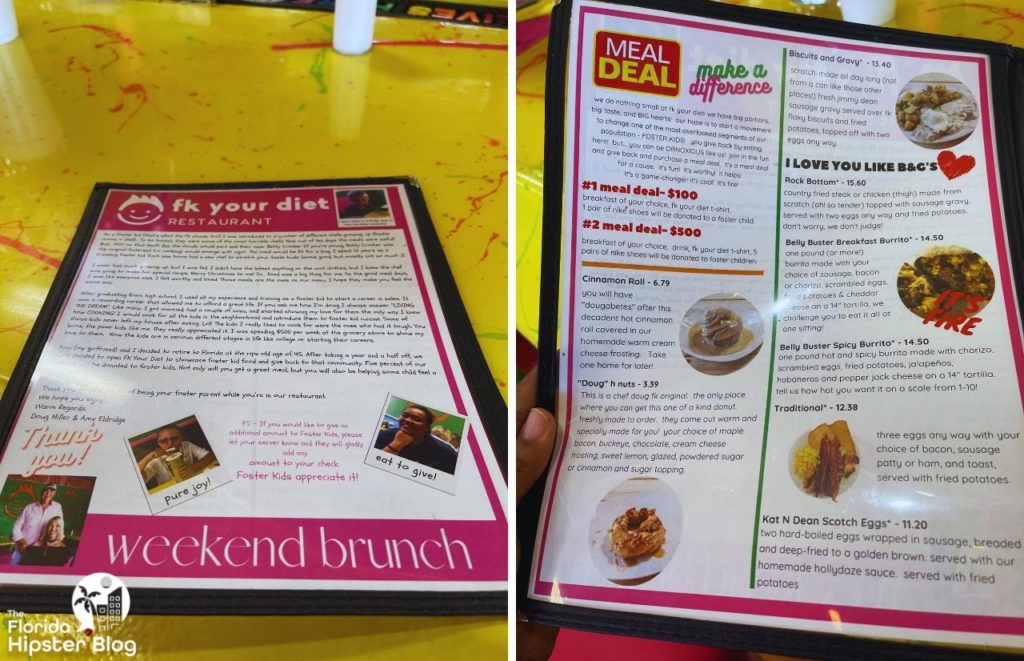 Their food might be on the heavy side, but it's made from scratch with love, plus when you eat here, you're giving back to your local community. Wins all around!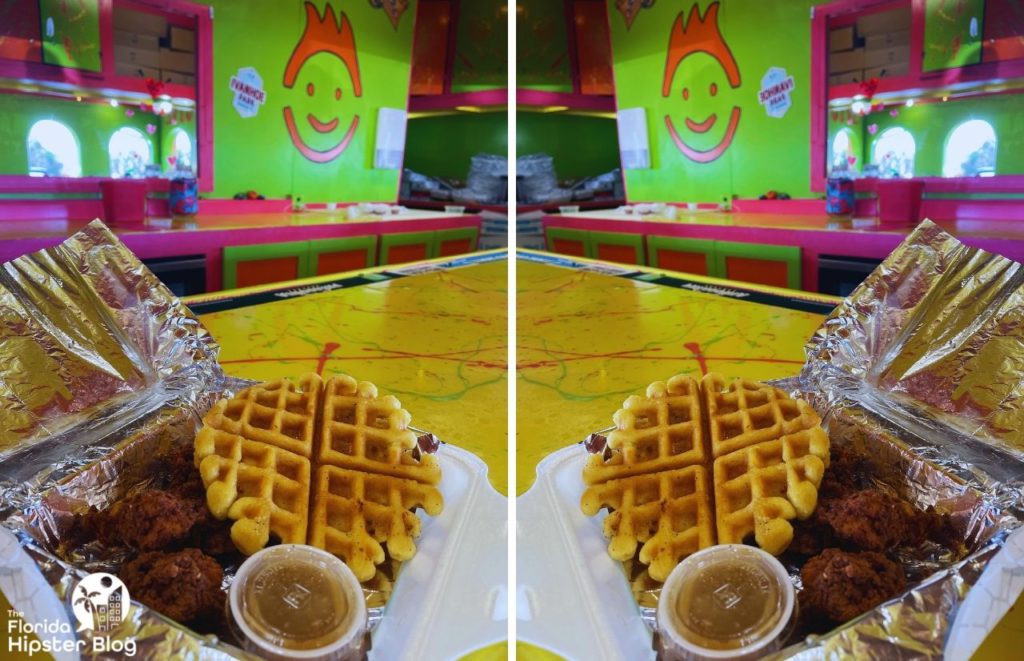 As you can tell, I absolutely LOVE this place! The food reminds me of something my mom would've cooked for me if she was still here. You can feel the love in each and every ingredient that you taste.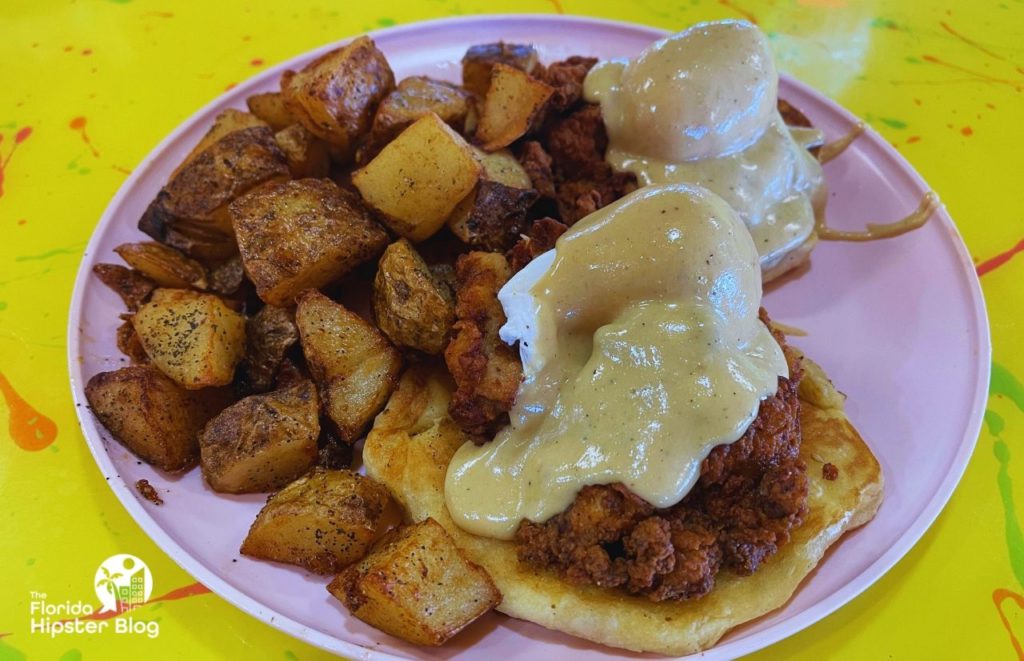 While you're here, you must EAT THE CHICKEN! I can't even describe just how perfectly seasoned it was. It took me by surprise that someone can care that much to make sure every dish that comes out of the kitchen is to your liking.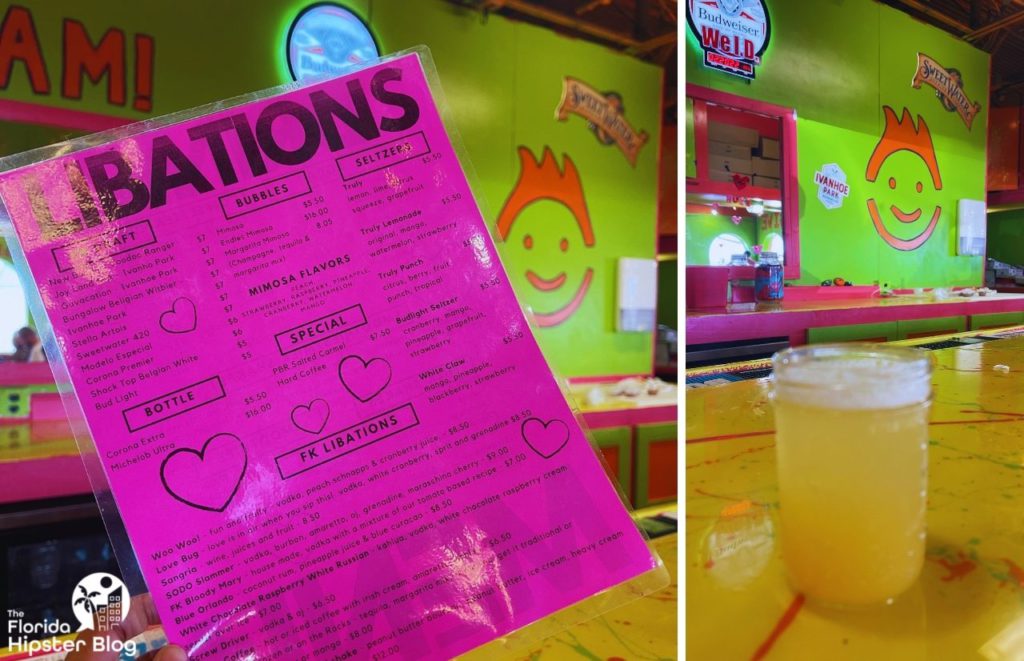 Also, the staff is welcoming, accommodating and very kind. FK Your Diet has the best breakfast in Orlando!
Top Breakfast Items From FK Your Diet:
Belly Buster Breakfast Burrito: One pound (or more!) burrito made with your choice of sausage, bacon or chorizo, scrambled eggs, fried potatoes & cheddar cheese on a 14″ tortilla a tortilla
Chimken & Waffle: Sweet and savory all one one plate. one big fluffy Belgium waffle served with a juicy battered chicken thigh
Southern Fried Chicken Benny: Hand-battered crispy fried chicken thigh, served over a fuzzy biscuit, topped with over med eggs, finished with the made-from-scratch hollydaze sauce, or sausage gravy (this one's my favorite) served with homemade fried potatoes or fresh fruit
Peach Mimosa
Address: 5406 Hansel Avenue Orlando, Florida 32809
6. Se7en Bites
Whether you're craving breakfast, brunch, or lunch, Se7en Bites has the good stuff!
Offering Southern comfort food with a modern twist, the kitchen here prepares everything scratch-made and with the fresher ingredients available.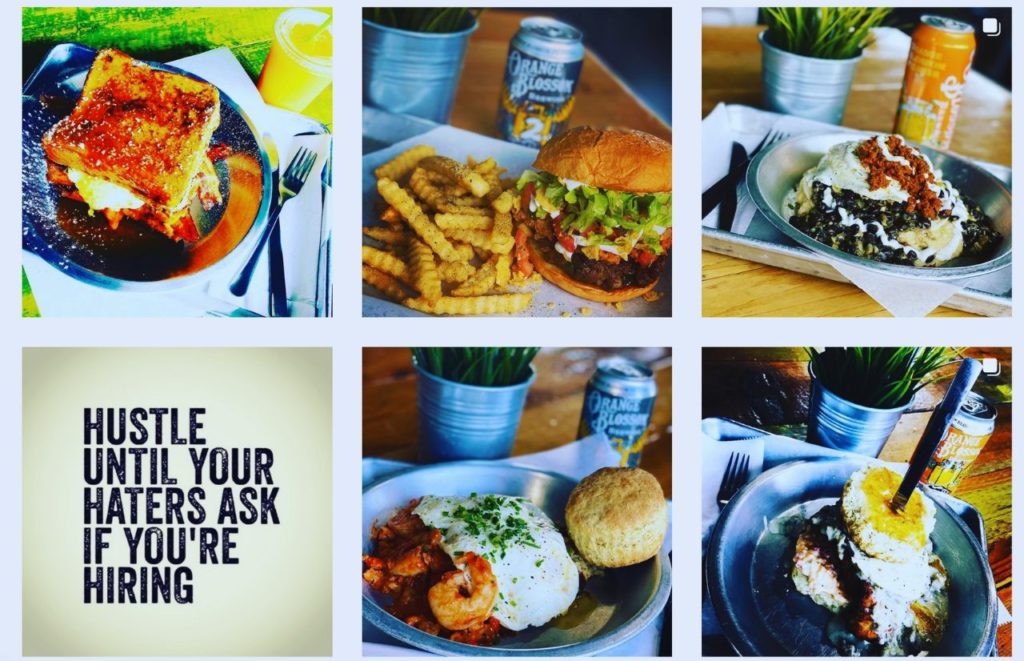 They have been featured on an episode of Diners, Drive-Ins, and Dives, so you know if Guy Fieri is stopping by, the food must be good! This proves why it has to be one of the best breakfast spots in Orlando.
Local favorites include the Chicken Pot Pies, which are made each day around 11 and available until they are sold out.
Top Breakfast Items From Se7en Bites:
Signature Chicken Biscuit: Fluffy buttermilk garlic biscuit with a generous dollop of red pepper jelly cream cheese & their "almost famous" buttermilk fried chicken
7th Trimester: Buttermilk garlic biscuit, over medium egg, applewood smoked bacon, smothered in our 5 cheese mac n'cheese, topped with a potato chip bacon crumble
Se7en Benedict: Buttermilk garlic biscuit, over medium egg, crispy green tomato, applewood smoked bacon, topped with peppercorn hollandaise
Minnie Pearl: Two pearl sugar waffles hugging their "almost famous" buttermilk fried chicken with a splash of HOT (spicy, kickin, buffalo- for all you temp-spice-level wonderers) honey & over medium egg , topped with vanilla bean butter syrup & served with a side of cheddar chive grits
Address: 617 N Primrose Drive Orlando, FL, 32803
7. Bagel World
I bet you can guess what they serve here! Bagel World serves freshly baked bagels plus some delectable breakfast sandwiches.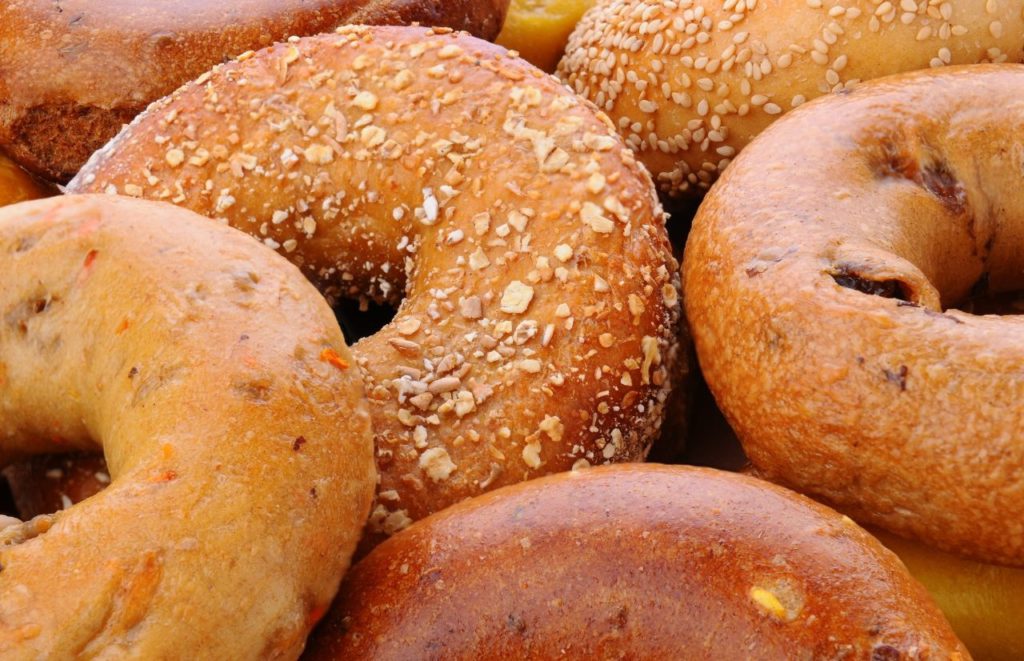 With simple, affordable options like the egg and cheese sandwich to the more elaborate J Papi, which has double egg, double turkey, pepper jack, cream cheese on a toasted jalapeño cheddar bagel, there is the perfect bagel sandwich for everyone.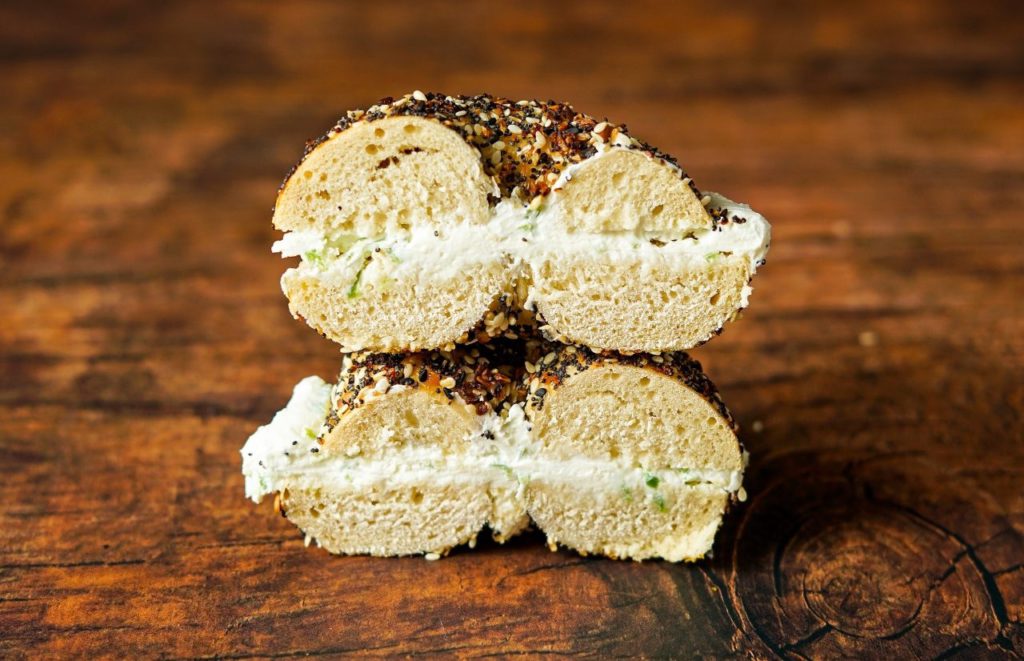 Top Breakfast Items From Bagel World:
J Papi: Double egg, double turkey, pepper Jack cheese on a toasted Jalapeno cheddar bagel with our BW house cream cheese
BW Smoked Salmon: Smoked salmon, capers, lettuce, tomato, on a bed of our specialty old bay cream cheese
420 Surfer: The surfer sandwich on a cinnamon-crunch bagel with honey vanilla cream cheese instead of American cheese
Address: 743 Magnolia Ave, Orlando, Florida 32803, United States
8. Metro Diner
Craving breakfast for dinner? You're in luck! Metro Diner is serving breakfast all day to satiate that desire for breakfast food at any time.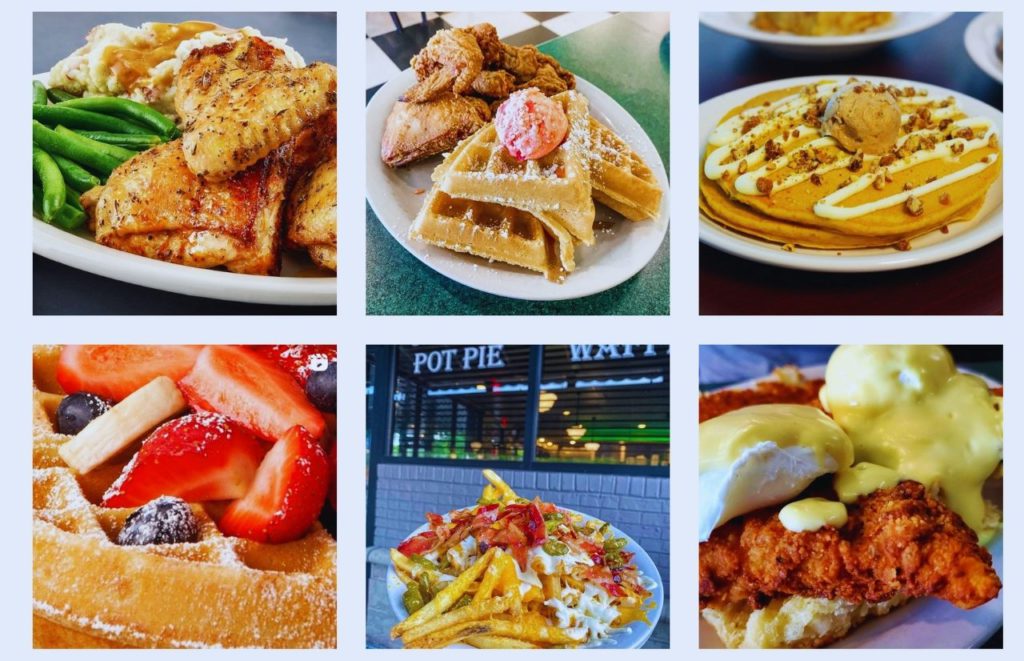 And they have tons of experience doing so! Their first location opened in 1992 in Jacksonville, and they have been steadily growing ever since, with over 50 locations open now.
They have an extensive menu that covers breakfast, lunch, brunch, and dinner and include diner classics such as burgers, pancakes, waffles, and even family meals that serve four. 
Guy Fieri also featured Metro Diner on Diners, Drive-ins, and Dives and raved about their famous meatloaf.
Top Breakfast Items From Metro Diner:
Red Velvet Pancakes or Waffle: Signature pancake or Belgian waffle, infused with red velvet, drizzled with cream cheese icing, and topped with cobbler crumble and fresh strawberries
Avocado Bacon Scramble Bowl: Avocado, bacon, scrambled eggs, and roasted grape tomatoes served over hash brown potatoes and drizzled with hollandaise sauce.
Fried Chicken and Waffle: Half a fried chicken and a Belgian waffle, topped with powdered sugar and sweet, strawberry butter
Biscuits and Sausage Gravy: Two buttermilk biscuits topped with our house-made sausage gravy, accompanied by two eggs any style and served with hash browns
Address: Multiple locations throughout Orlando, Florida.
9. The French Cafe
If you feel like taking your breakfast at a bakery in Paris this morning but the last-minute flight is a bit too expensive, just head over to The French Cafe instead!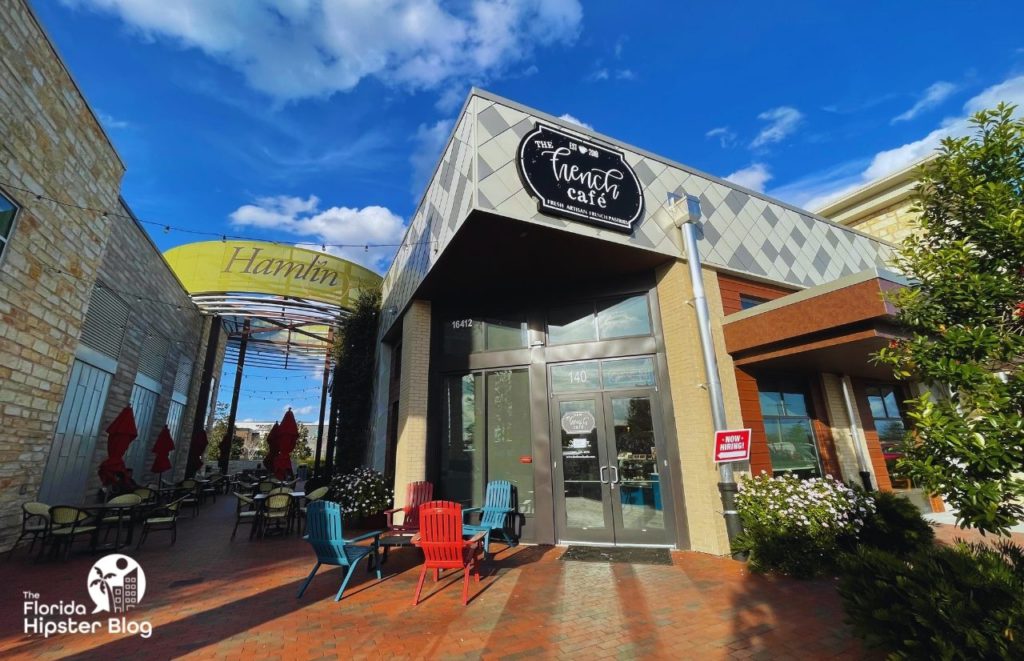 This French-owned cafe serves authentic French pastries, cafe meals, and coffee.
The cafe offers crepes, omelets, croissant sandwiches, quiches, and more, all made fresh each day while focusing on keeping the French authenticity alive and strong. Plus, the croissants here are wonderfully fluffy and buttery!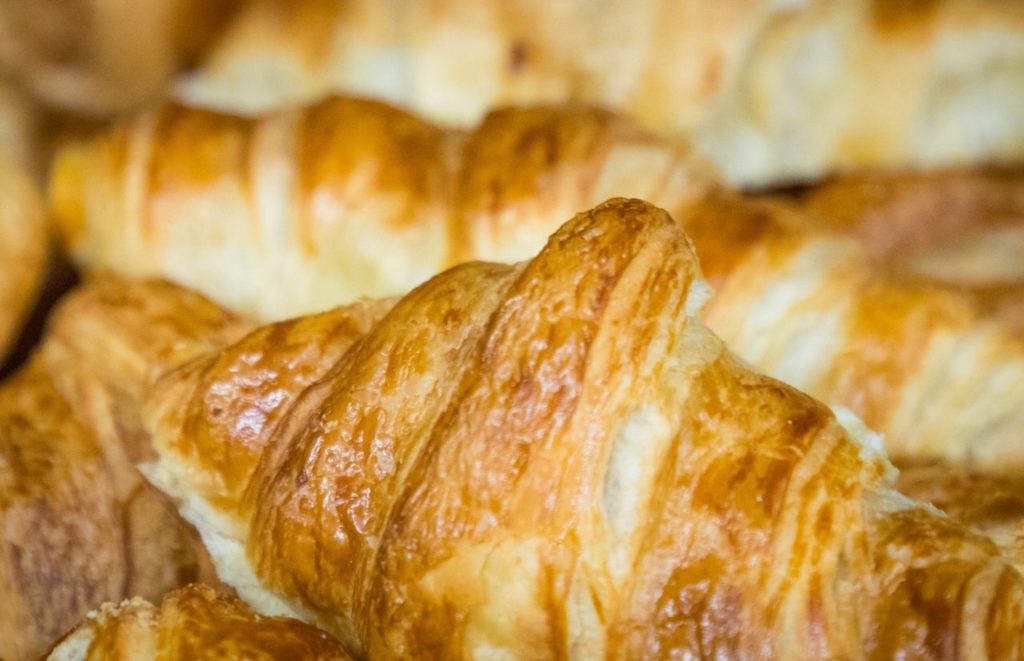 You might still be in Windermere, but you'll feel like you're getting that Parisian breakfast you were craving!
Top Breakfast Items From The French Cafe:
Signature French Toast: Original Flavor Served with Maple Syrup
Atlantic Crepe: Smoked Salmon, Goat Cheese, Spinach
Decadent Crepe: Whipped Cream, Banana, Nutella
Breakfast Croissant: Omelet inside Made-in-house Croissant with a Choice of Two Ingredients 
Nutella Beignet
Chocolate Croissant
Address: 5855 Winter Garden Vineland Rd, Suite # 160, Windermere, FL 34786 OR 16412 New Independence Pkwy, Suite #140, Winter Garden, FL 34787
10. Grand Floridian Cafe
Located inside Disney's Grand Floridian Resort and Spa, this breakfast joint offers a luxurious breakfast experience with views of rose gardens and the courtyard pool.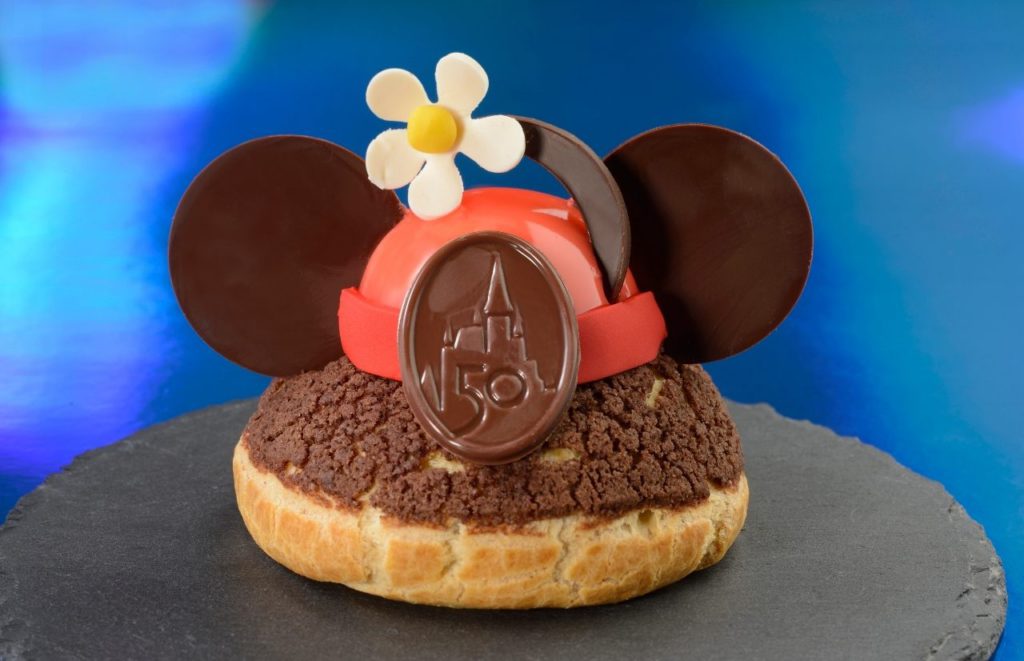 Open all day, this restaurant's favorite meal is what they call "brunch," their spin on brunch, slightly heavier on the lunch.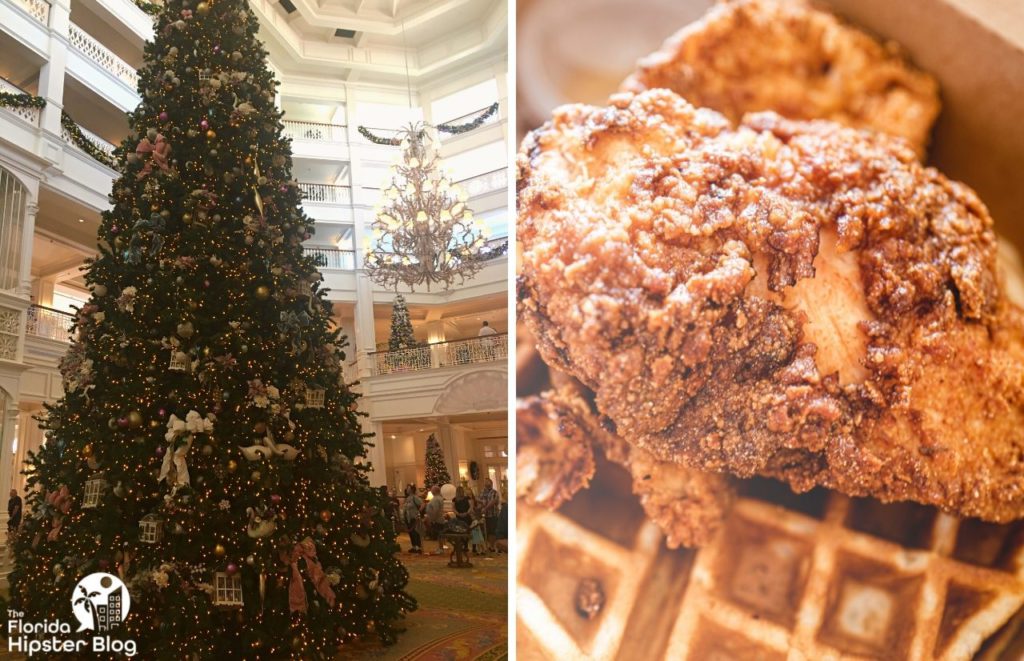 Local favorites include their Eggs Benedict and Lobster Thermidor Burger. You'll also find the Grand Floridian Bakery offering sweet desserts after your meal.
The menu also has plenty of cocktails, smoothies, coffee beverages, and more. There is something here for all ages!
Top Breakfast Items From Grand Floridian Cafe:
Banana Foster-style Steel-cut Oatmeal: Served with a Freshly Baked Banana Bread Muffin
Buttermilk-fried Chicken and Waffle: Hand-breaded Chicken Breast and Malted Waffle with Sriracha-Honey Drizzle
Lobster 'Thermidor' Burger: Artisanal 7-oz Burger Patty and Lobster-Parmesan Thermidor Sauce on a Seared Brioche Bun served with Cafe Signature Seasoned French Fries
Steak and Eggs: Sirloin Steak, Cheesy Hash Brown Casserole, Two Eggs, and House-made Steak Sauce
Address: 4401 Floridian Way, Orlando, FL 32836
For a no obligation, FREE Disney Vacation Quote you can fill out the form with The Park Prodigy by Clicking HERE!
Final Thoughts on the Best Breakfast in Orlando
Well Florida Hipster, I hope you enjoyed the Best Breakfast in Orlando round up!
As usual, I did my best to cater to all types of foodies out there – no matter what your taste bud and price point preferences may be.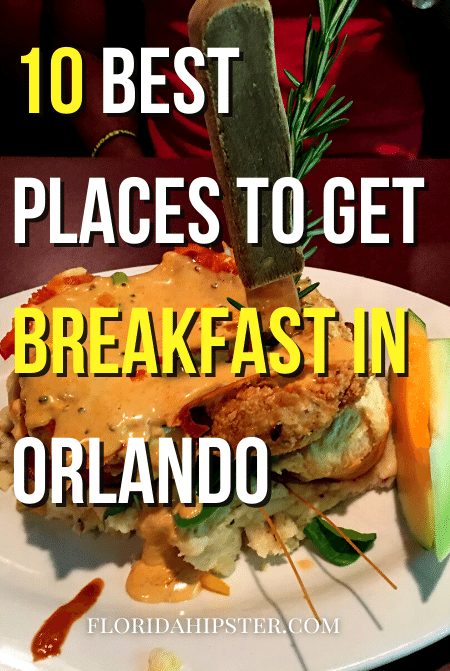 So, now that you've concluded our list of the best breakfast spots in Orlando, I've got to know – which one is your favorite and which one do you think you'll be trying next? I can't wait to hear all about it!
If you enjoyed this article, then you'll love these:
Happy Florida Travels!
Some Photos Courtesy of Canva.com