Are you ready to dine at the best steakhouse in Orlando?
If you're heading out to the Sunshine State to experience the famous Mouse or Boy Wizard, then you'll want to know where you can grab a top-notch piece of juicy steak.
No need to worry, I will take you on an epicurean journey into finding the perfect steakhouse in Orlando that's just right for you!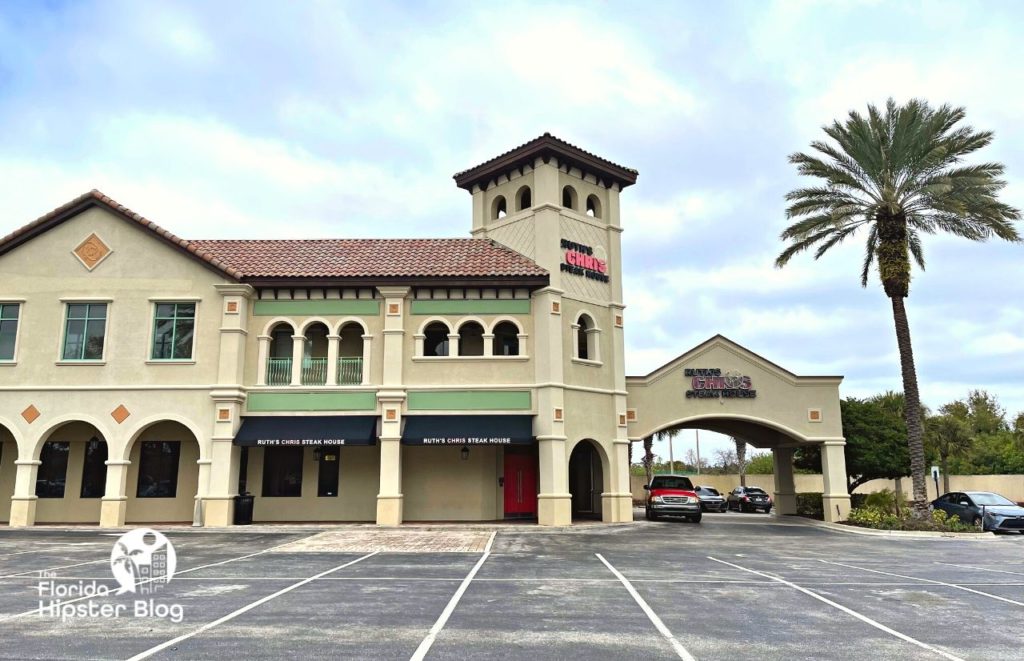 THIS POST MAY CONTAIN AFFILIATE LINKS. PLEASE READ MY DISCLOSURE FOR MORE INFO.  Which means if you click on certain links, I may receive a small commission at no additional charge to you.
1. STK Orlando
There's so much to shout about when it comes to Disney Springs' super-modern STK Orlando. Even though it's a huge restaurant, the atmosphere is on point with a live DJ hosting the main dining room.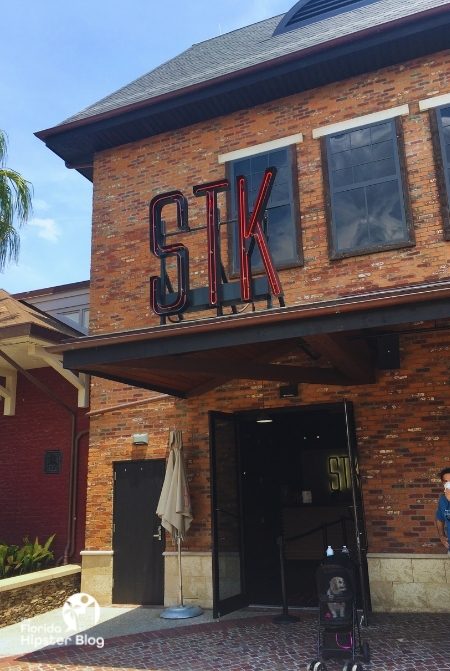 Want to step things up a notch? Chill out in the mesmerizing indoor fire pit lounge, or take in the sunset from the beautiful rooftop terrace.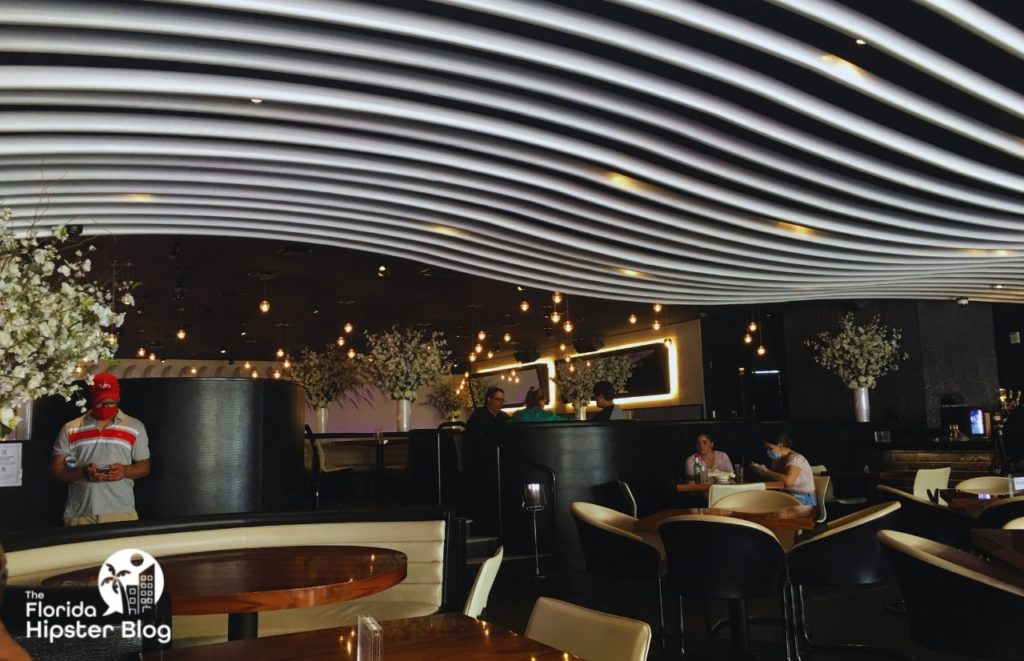 Then, of course, appreciate the gourmet food. Exquisitely presented and bursting with sumptuous flavors.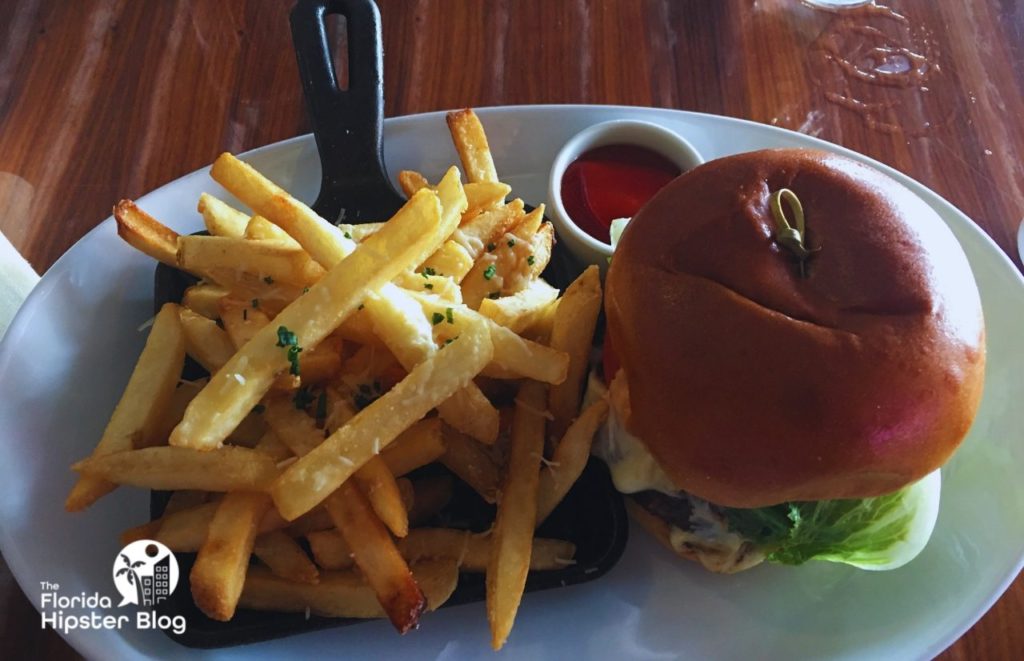 STK Orlando is a definite contender for best steakhouse in Orlando, so best to make a reservation.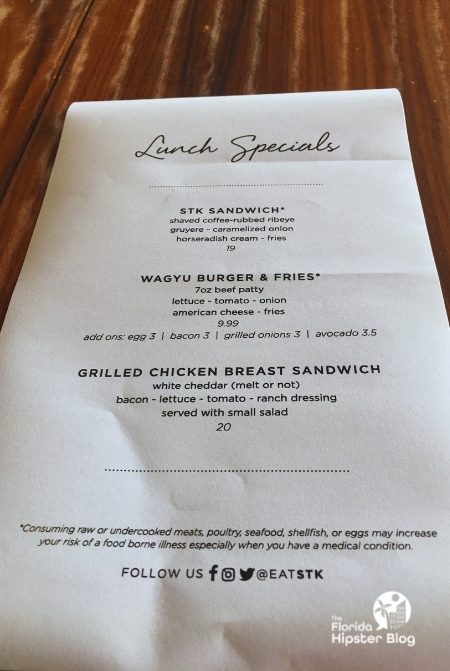 Specials include a Glitz & Glam Brunch on Sundays, featuring bottomless Mimosas and Bloody Marys and a special brunch menu. Treat yourself!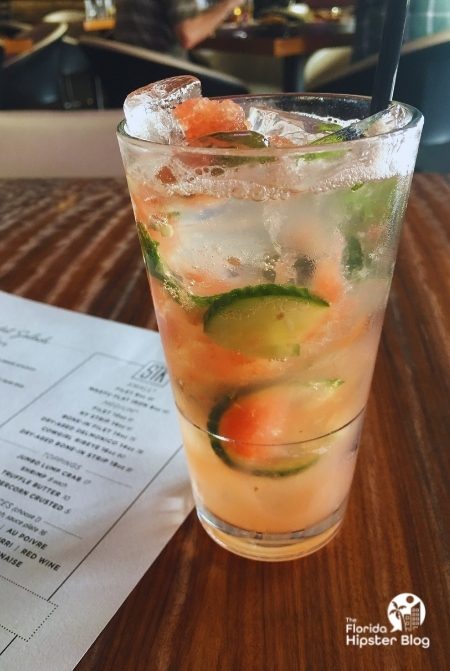 Top Dishes on the STK Orlando Menu:
Beef Tartare
Giant Wagyu Meatball
Fillet Lollipop and Truffle Fries
Lil Brgs
Wagyu Burger and Fries (Lunch time)
Filet
Dry Aged Delmonico
Mac & Cheese Trio
Bag O' Donuts
The Influencer Cocktail
Address: 1580 E. Buena Vista Drive Orlando, FL 32830
2. Shula's Steakhouse
Giant photographs celebrating the 1972 Miami Dolphins' "Perfect Season" adorn the walls of this signature American Steakhouse. This Orlando steakhouse is named in honor of the team's coach, Don Shula, who is widely regarded as the most successful NFL coach of all time.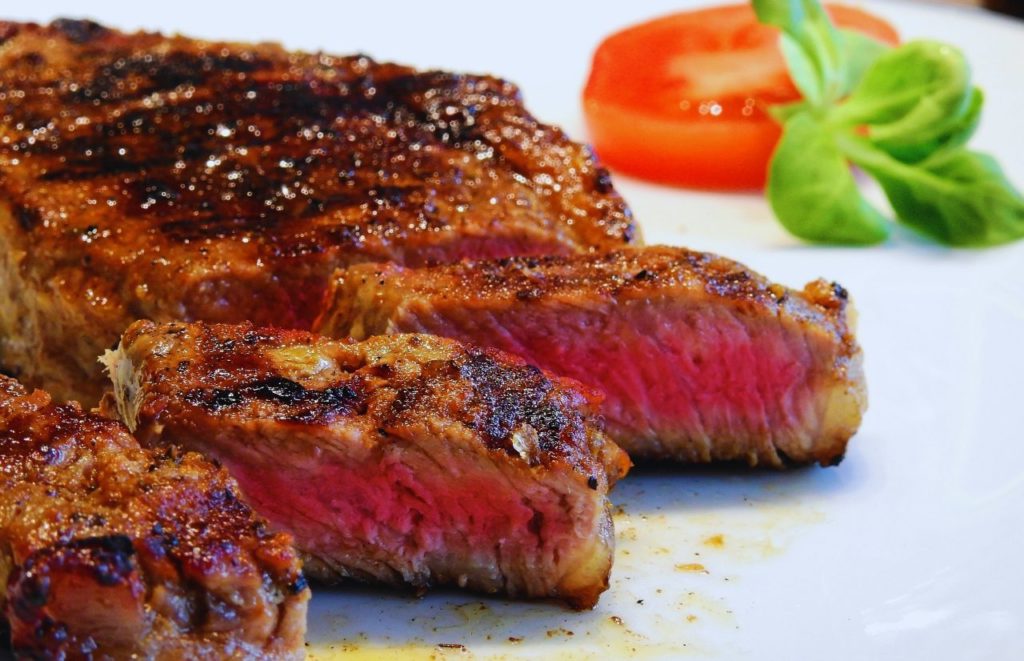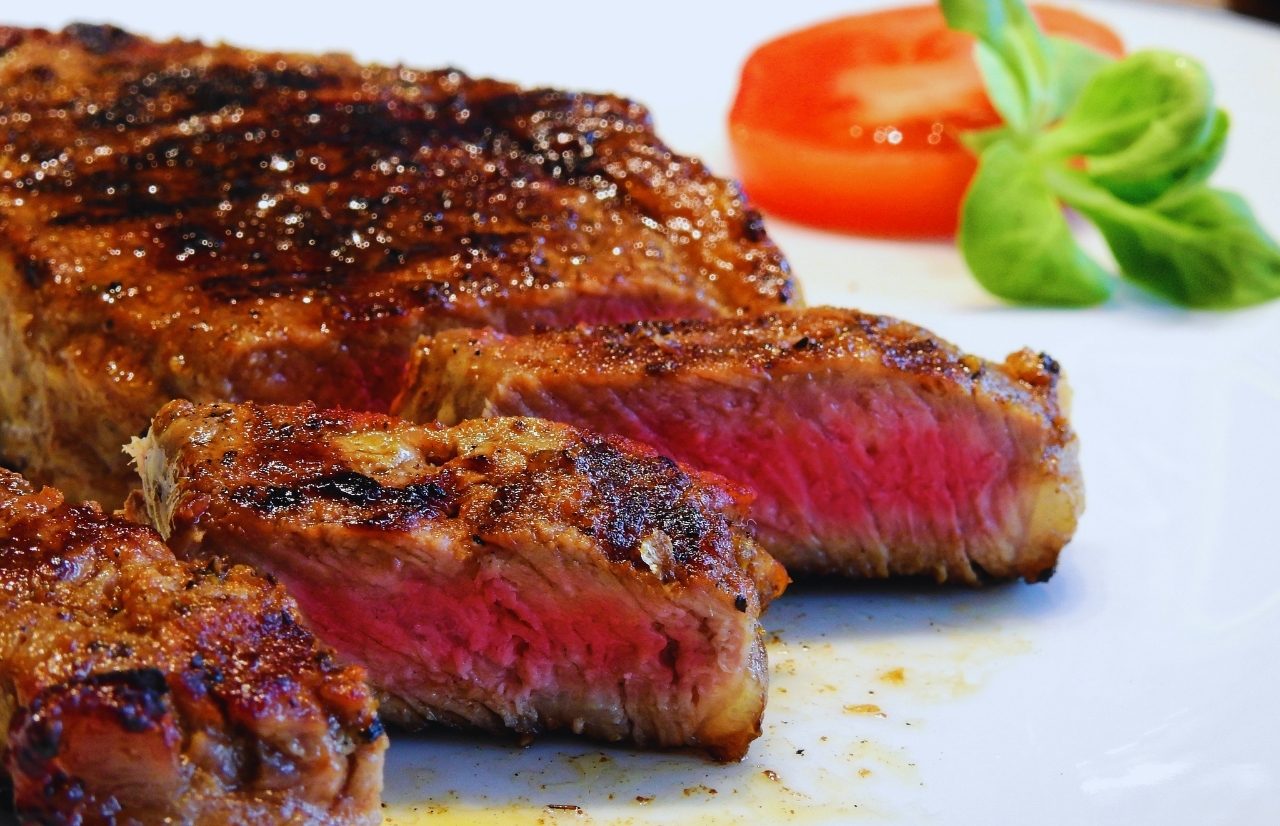 The steakhouse, situated at the Walt Disney World Dolphin Hotel, has won a host of culinary awards, including Critic's Choice for Orlando's Best High-End Steak House.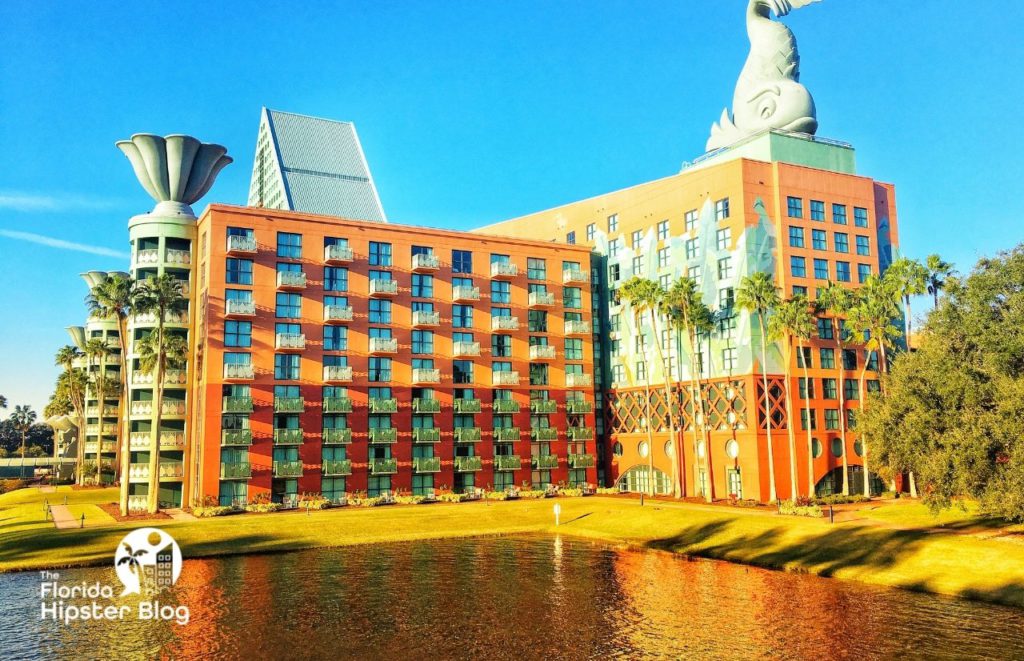 The menu is irresistible, with top quality cuts such as filet mignon taking a starring role. Surf and turf is an option, with delectable fish and seafood choices too.
Shula's Steakhouse is on the pricier end of steakhouses in Orlando, so well worth a reservation for a special celebration meal.
Top Dishes on Shula's Steakhouse Menu:
New Orleans Style Shrimp: Cajun Spiced Shrimp, Lemon, Garlic Butter and Toasted Crostini
Tuna Tartare: Diced Ahi Tuna, Red Chili, Sesame Vinaigrette, Avocado Cream and Crispy Wonton
Maryland Style Crab Cake: Jumbo Lump Crab, Mustard, Old Bay Seasoning with Remoulade Sauce
Black Angus Porterhouse
Prime New York Strip
Macaroni & Cheese: Cavatappi Pasta, Gouda & Cheddar Cheese Sauce, Bread Crumbs
Molten Chocolate Lava Cake
Cucumber Collins Cocktail: Hendrick's Gin, Cucumber, Mint, Fresh Lemon Juice
French 75 Cocktail: Ford's Gin, Mionetto Prosecco, Fresh Lemon Juice, Simple Syrup
Address: 1500 Epcot Resorts Blvd Lake Buena Vista, FL 32830
Recommended: How to Get From Epcot to Hollywood Studios (6 Easy Ways to Get to the Disney Parks)
3. Bull and Bear
This might sound like a rowdy outback steakhouse… until you notice the address. This luxury Orlando steakhouse can be found at the Waldorf Astoria Orlando, and absolutely lives up to its fancy zip code.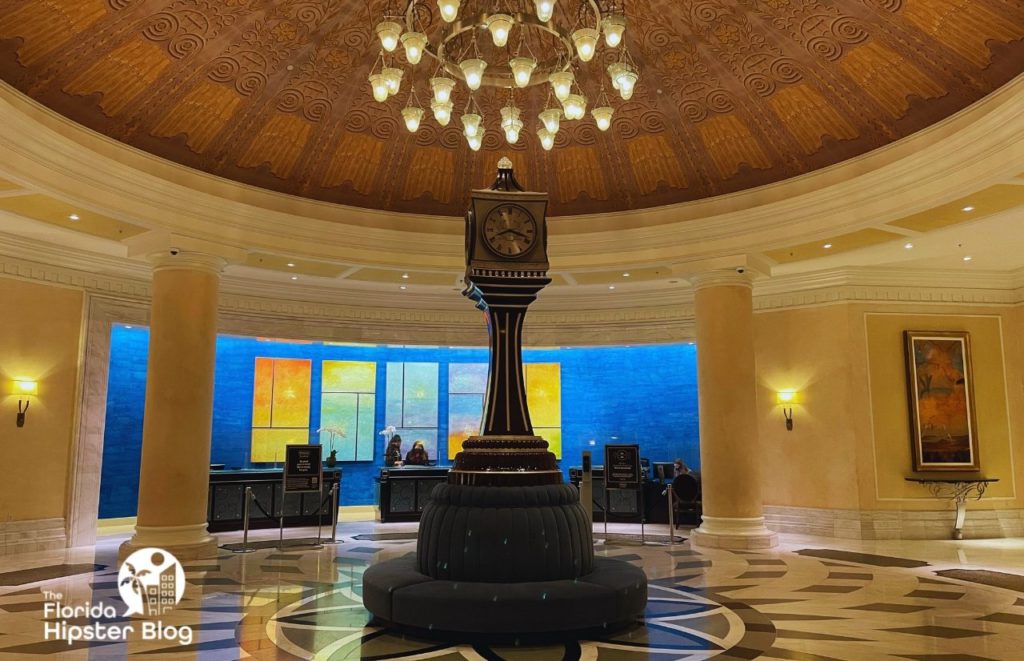 The dark woods and warm glow of this top-quality steakhouse makes it a firm favorite with discerning tourists and well-to-do locals. Open Table included Bull & Bear As one of their top 100 restaurants in the entire USA.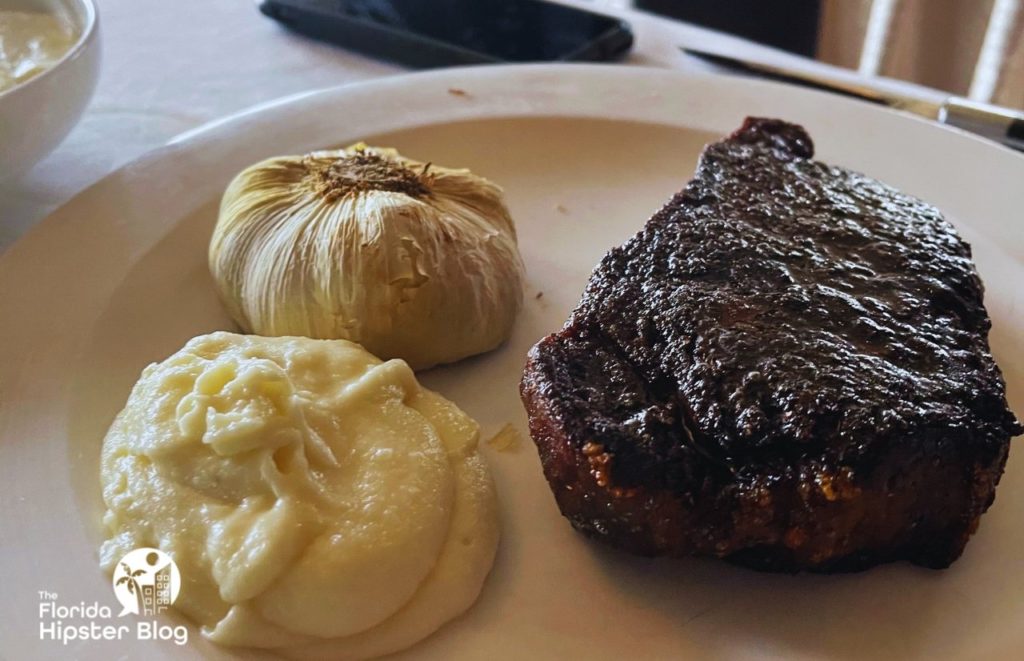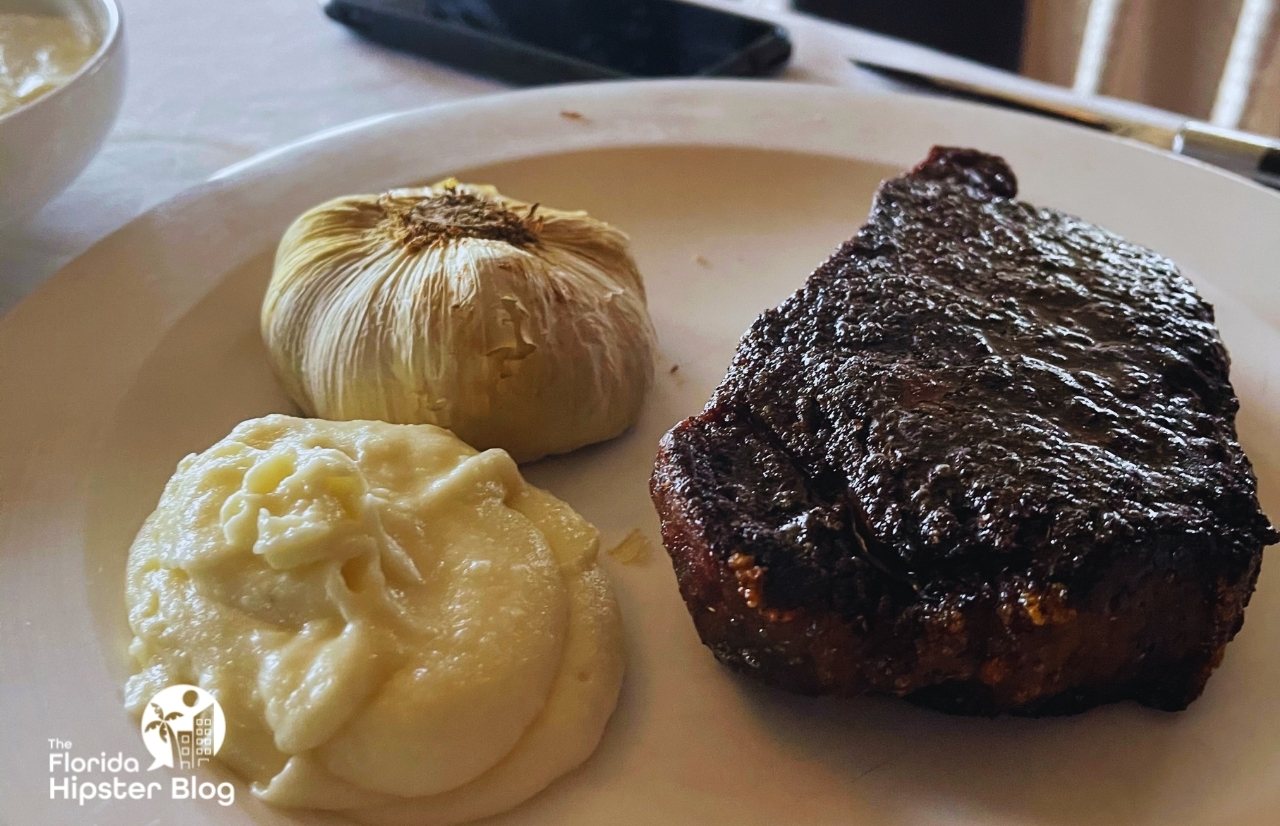 Guests especially rave about the Bull & Bear's famous table side preparation, and eye-catching dishes that you simply won't find anywhere else in town.
Be sure to leave space for dessert though, where you'll appreciate the French influence.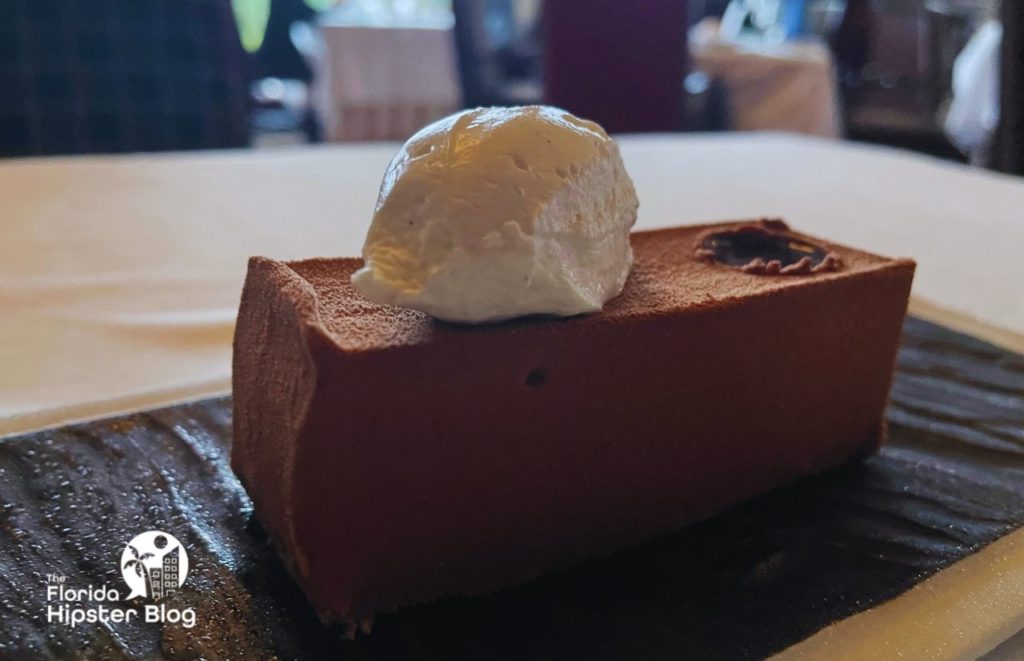 For sure, this is in the running for best steakhouse in Orlando, especially if you want to get dressed up and soak up some luxury.
Top Dishes on the Bull & Bear Menu:
Lobster Bisque 24: Butter Poached Lobster Medallion, Dry Sherry
Truffle Deviled Eggs
Wagyu Carpaccio: Thin Cut Wagyu, Seasonal Fresh Shaved Truffles, Mugolio 18 Month Shaved Parmesan, Reggiano Cheese, Pushed Egg Yolk, Served With Fuile De Bric
Classic Caesar Salad Prepared Tableside
Bull And Bear "Fried Chicken": Yukon Gold Mash Potato, Gravy (My Favorite)
Tomahawk For Two
Filet Mignon
Waldorf Beignets: Chocolate Sauce, Madagascar Vanilla Custard
Address: Waldorf Astoria Orlando 14200 Bonnet Creek Resort Lane
4. Del Frisco's Double Eagle Steakhouse
In prime position on International Drive, Del Frisco's Double Eagle Steakhouse is a spacious and modern, upscale chophouse.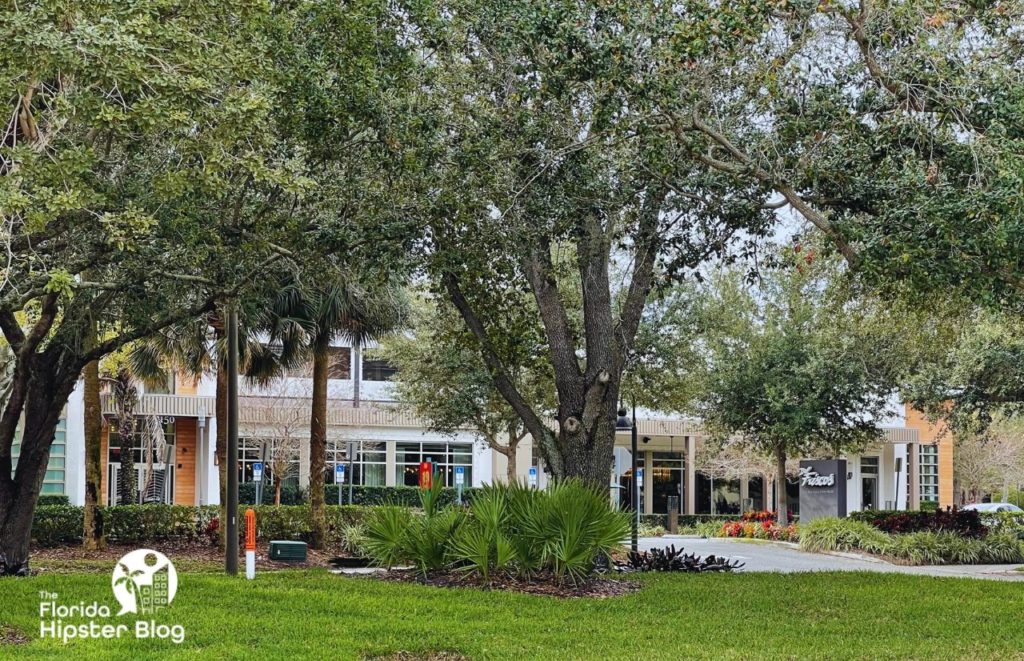 Come early for your reservation and enjoy a drink at one of the two eye-catching in-house bars before being taken to your table. If you're attending with a group and want a more private experience, talk to the restaurant about the five private dining rooms.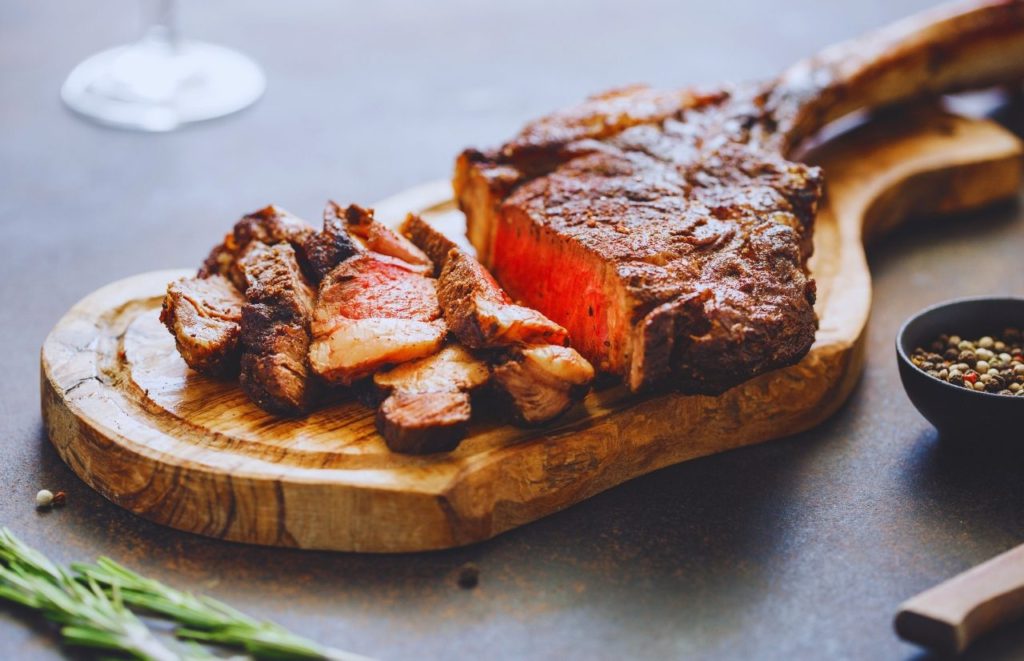 If you're struggling to choose from the tantalizing array of dishes in the menu, allow yourself to be tempted by the table tasting menus, and try a range of Del Frisco's top dishes.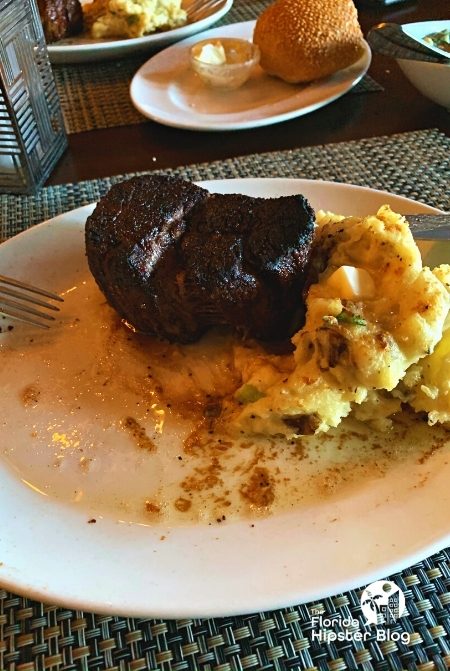 Wine lovers will be in heaven at this luxury Orlando steakhouse, with a wine list of more than 1200 labels. Where to start? It'll take a few visits to try everything!
Top Dishes on the Del Frisco's Double Eagle Steakhouse Menu:
Tuna Tartare: Avocado, Black Tobiko, Truffle Hot Sauce Aioli, Prawn Chips, Ginger Soy Emulsion
Oysters Broiled: Almond Herb Butter, Grilled Lemon
Del's Jumbo Lump Crab Cake: Cajun-Lobster Cream Sauce
Wagyu Meatballs: Tomato Fondue, Shaved Manchego Cheese, Red Fresno Chile, Fresh Basil
Thick-Cut Nueske's Bacon Au Poivre: Bourbon Molasses Glaze
Classic Caesar: Crisp Romaine Leaves, Shaved Parmesan, Croutons & Caesar Dressing
Prime Porterhouse
Bone-In Prime Strip
Prime Tomahawk For Two
Wagyu Steak
Creamed Spinach
Del's Delight: Nocello Walnut Liqueur, Crème De Cacao Chocolate Liqueur & Vanilla Ice Cream
Address: 9150 International Drive, Orlando, FL 32819
5. Firebirds Wood Fired Grill
Start your evening with Happy Hour at Firebirds' signature FIREBAR, before tucking into a juicy cut of the best wood fired steaks in town.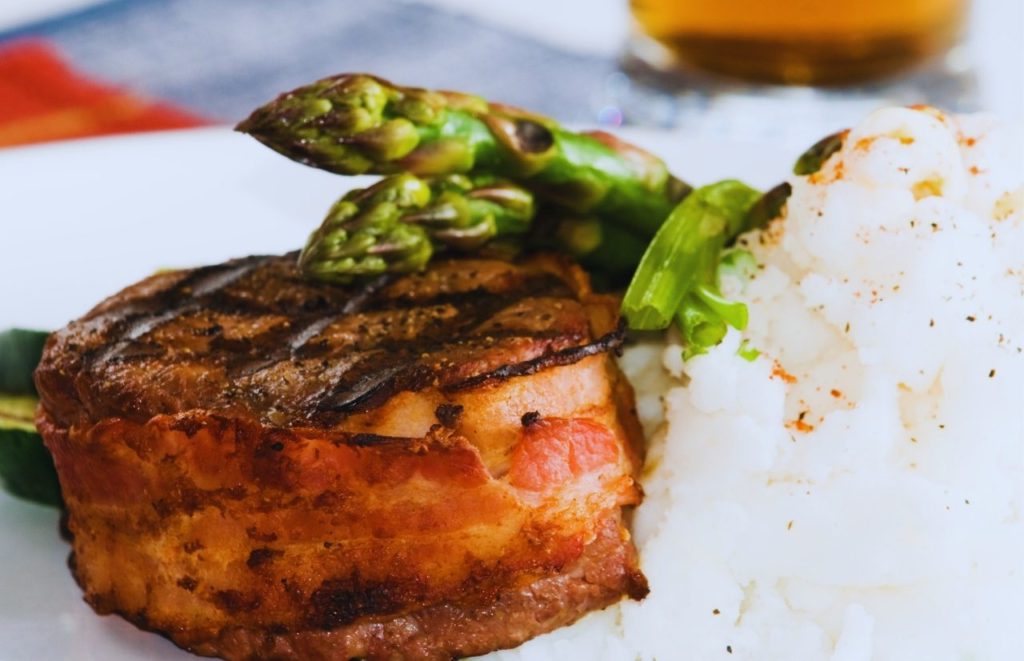 When looking for the best steakhouse in Orlando, Firebirds Wood Fired Grill is a winner for families and groups of friends, serving a fantastic meal in a welcoming environment, without busting the bank account.
Diners tend to dress smart casual at Firebirds, so expect to see a range of shirts, trousers, jeans and T's. Unlike some of the other top steakhouses in Orlando, you can comfortably leave the jacket and tie at home.
Top Dishes on Firebirds Wood Fired Grill Menu:
Ranch Rings: Panko-Breaded Onions, Roasted Garlic Ranch Dressing
Philly Cheesesteak Egg Rolls: Thai Chili And Hot Mustard Sauce
Aged Ribeye
Cajun Ribeye: Chile-Crusted Ribeye Topped With Cajun Butter
Roasted Garlic Sirloin: Wood Grilled Center Cut Sirloin, Sliced And Topped With Roasted Garlic Thyme Butter
Filet Mignon: Center-Cut, Wrapped In Applewood-Smoked Bacon, Choice Of Side
Striped Bass: Wood Grilled Striped Bass Topped With Large Shrimp In A Key Lime Butter Sauce, Served With Ancient Grains Pilaf And Asparagus
5 Layer Lemon Cake: Fresh blueberries in blueberry sauce
Address: 1562 North Mills Avenue, Orlando, FL 32803
Recommended: 10 Places to Get the BEST Ice Cream in Orlando
6. The H Orlando
Check out this chic, independently-owned Orlando steakhouse, inspired by the rich flavors of the Mediterranean.
Dress like the paparazzi are there for you, and treat yourself to flame-seared cuts from the open-fire kitchen.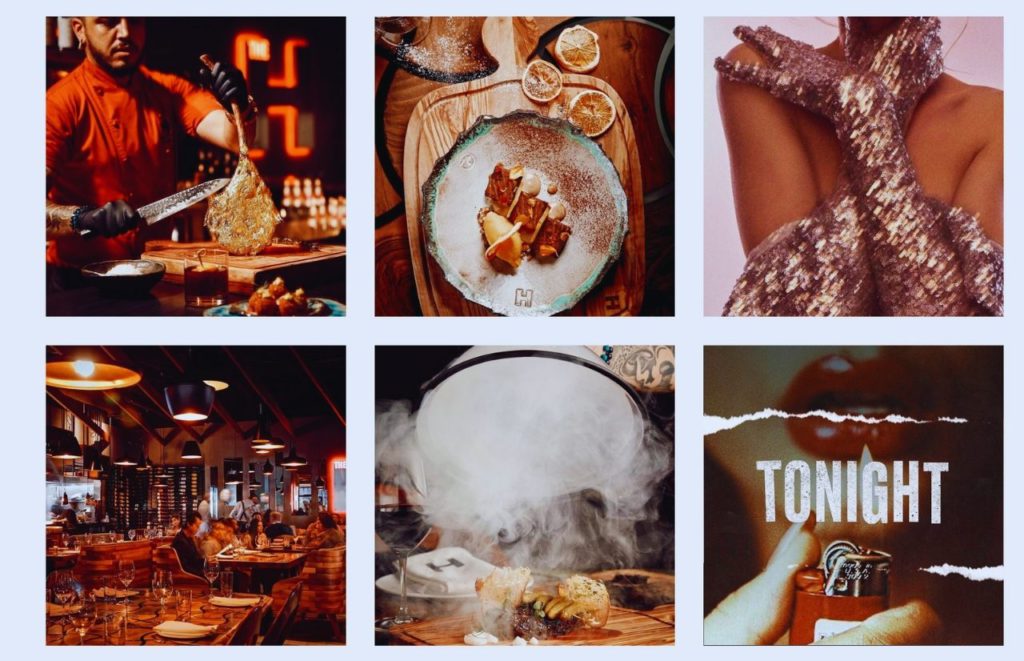 Drawing together diverse flavors from Europe's greatest culinary traditions, a meal at The H Orlando is best enjoyed slowly. Make a whole evening of your experience.
And be sure to check out the Happenings page on their website to see what else is going on at The H Orlando, because there are often DJ Sets and other special entertainment happenings to make your evening even more memorable.
Top Dishes on The H Orlando's Menu:
Beef Negimaki: Dry Aged Ny Strip Slices, Asparagus, Carrot, Scallions, House Made Teriyaki Sauce
Burrata: Heirloom Tomato, Pesto, Pumpkin Seed, Frisee, Balsamic Caviar, Basil Oil
H Signature Bone Marrow: Josper Grilled Bone Marrow, Onion Jam, Pickled Peppers, Micro Shiso, Grilled Sourdough
Smoked Wagyu Pastrami: Truffle Aioli, Cornichon, Crispy Sourdough, The H Steak Sauce
Prime Ny Striploin Steak: 14 Oz. 28 Days Dry Aged Sirloin Steak, Served With Roasted Garlic And Grilled Shishito Pepper
Tomahawk (For Two): 34 Oz. Wet Aged Or Dry Aged In Our Dry Aging Box
Filet Mignon: Grilled 8 Oz. Tenderloin, Celeriac Mousseline, Glazed Baby Carrots, Sauce Bearnaise
Wagyu Miyazaki A5: (Minimum 4 Oz.) Award Winning Japanese Beef, Cooked On Table Side With Japanese Grill
The H Martini: Empress Gin, Extra Dry Vermouth Di Torino, Orange Bitters, Lemon
Burgundy Mushrooms: Grilled Wild Mushrooms Braised With Shallot, Garlic & Burgundy Wine
No:80: Hibiscus-Infused Cazadores Tequila, Licor 43, Lime, Hibiscus Tea Syrup, Absinthe
Coffee & Citrus: Turkish Coffee Sponge Cake, Milk Foam, Caramel, Dehydrated Orange, Tangerine Sorbet
Address: 7512 Dr. Phillips Blvd, #80, Orlando, FL 32819
Get over 30% off on your Orlando CityPass here!
7. Steakhouse 71
Steakhouse 71 is the newest restaurant in Disney's Contemporary Resort. The restaurant's name gives a nod to the year that the Contemporary Resort opened, and you'll notice plenty of retro throwbacks to the 1970s in the décor.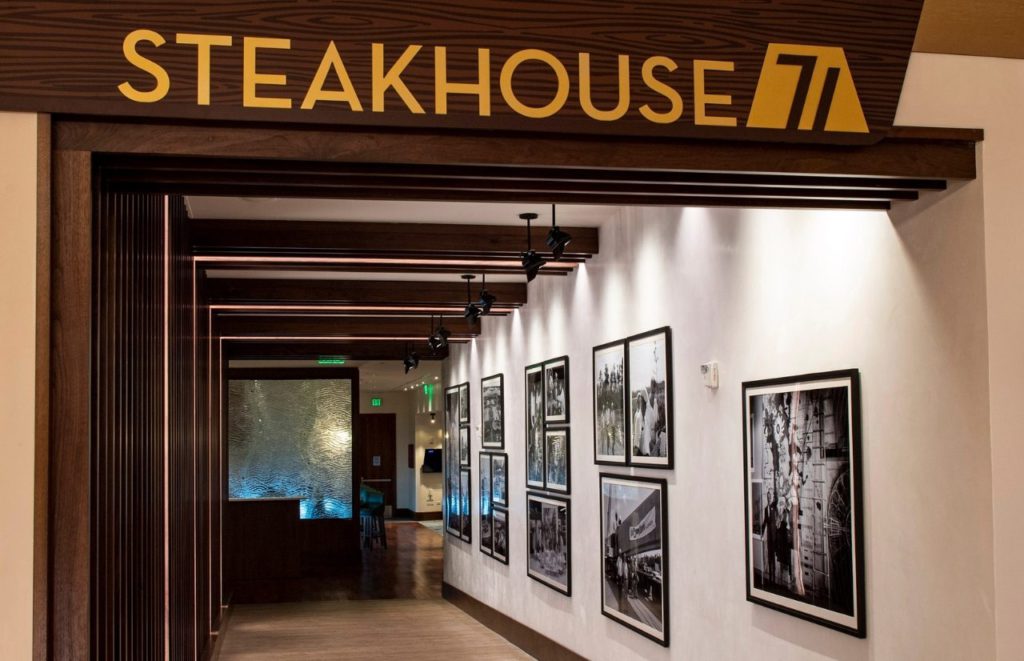 With a menu inspired by the great visionary himself, Steakhouse 71 offers a menu of Walt Disney's favorites. If you're staying nearby, consider booking to come for breakfast and try Walt's Prime Rib Hash for an unbeatable start to the day.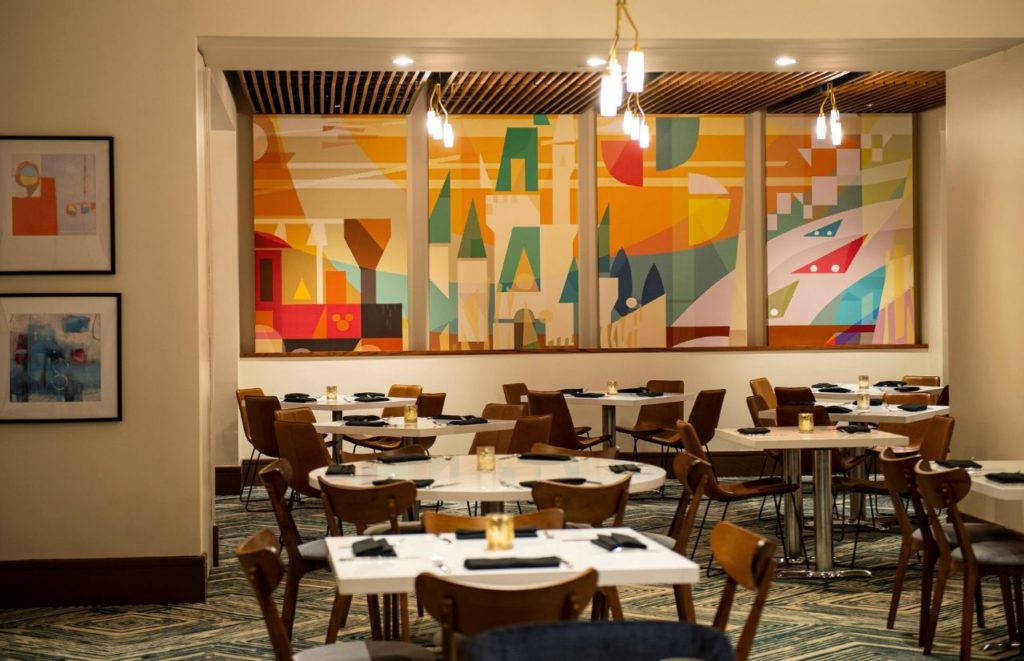 A laid-back lounge area doubles as a nostalgic bar, which serves locally-influenced cocktails and popular snack food, such as Mac and Cheese and tasty chicken wings.
Steakhouse 71 is one of the more casual restaurants in our roundup of the best steakhouses in Orlando, and with its Disney flair it's easy to see why it is so popular. Book ahead!
Top Dishes on Steakhouse 71's Menu:
Steak and Eggs: Two-Eggs Any-Style, Breakfast Potatoes, 4-oz Filet Mignon with Béarnaise Sauce (Breakfast only)
8-oz Beef Tenderloin Medallions
6-oz Filet Mignon
12-oz Roasted Prime Rib & Classic Yorkshire Pudding
Steakhouse 71 Chocolate Cake: Layers of Whiskey infused Chocolate Cake, Chocolate Mousse, Raspberries (Item made with or contains alcohol)
Pear French 75: Courvoisier VS Cognac, Pear Nectar, Agave Syrup, Lemon Juice, Prosecco
Address: 4600 World Dr, Orlando, FL 32830
8. Eddie V's Prime Seafood
If seafood is your thing, then you'll absolutely fall for the delicious menu at Eddie V's Prime Seafood. With an exquisite mix of steak and seafood, this elegant restaurant on Sand Lake Road offers everything a true foodie needs.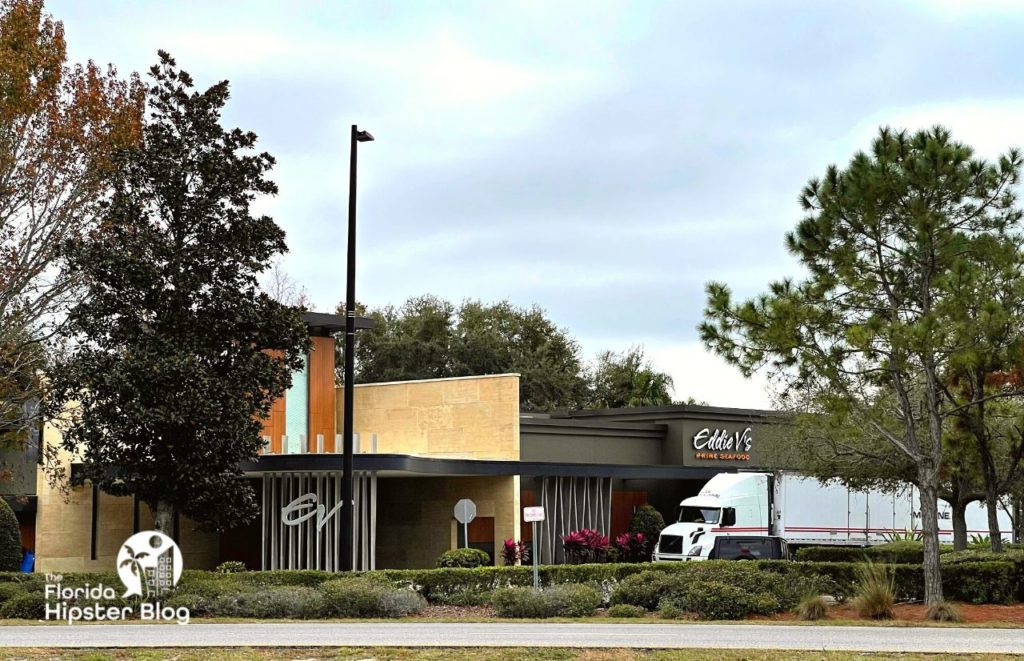 Start the evening with expertly crafted cocktails from the intimate V Lounge, and walk off your meal as your meander hand-in-hand around Big Sand Lake. Eddie V's Prime Seafood is the destination for a beautiful date night.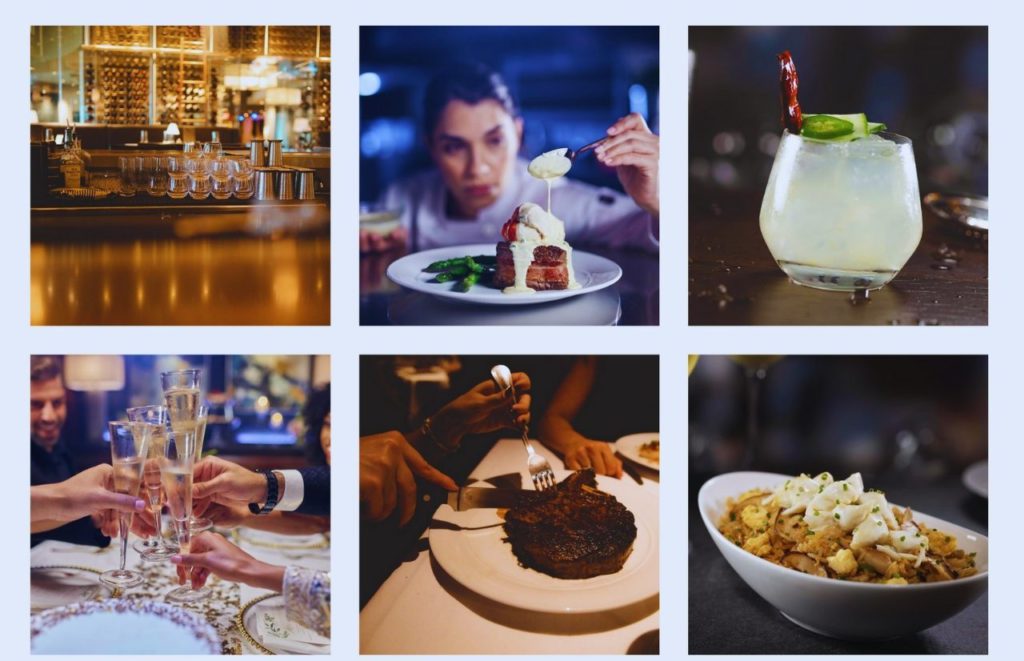 Plus, don't forget to take a selfie (or full-on photoshoot) in front of the restaurant. This place absolutely oozes glamor.
Top Dishes on Eddie V's Prime Seafood Menu:
Kung Pao Calamari: Wok-Fried Vegetables with Roasted Cashews
Signature Steak Tartare: Prepared Tableside, Hand-Chopped Filet, Fresh Egg Yolk, Capers and EVOO
Chilean Sea Bass: Steamed Hong Kong Style with Light Soy Broth
Center Cut Filet Mignon
Prime Bone-In Ribeye
Truffled Macaroni and Cheese
Bananas Foster Butter CAke: Flambéed Tableside and Served With Butter Pecan Ice Cream
Maverick Cocktail: Ketel One Vodka, St-Germain Elderflower Liqueur, Fresh Lime, Cucumber, Jalapeño
Smoked Old Fashion: Basil Hayden's Bourbon, A Dash Of Chocolate Bitters, Served On A Smoked Plank Tableside
24 Karat Cocktail: Belvedere Vodka, Grand Marnier, Peach Liqueur, Raspberries, Roederer Rosé, Gold Sugar Rim
Address: 7488 West Sand Lake Rd Orlando, FL 32819
9. Fleming's Prime Steakhouse & Wine Bar
Fleming's leads with premium steak options with a fine dining flair. Situated in Orlando's most desirable locations, this destination is an award-winning spot for a memorable dinner.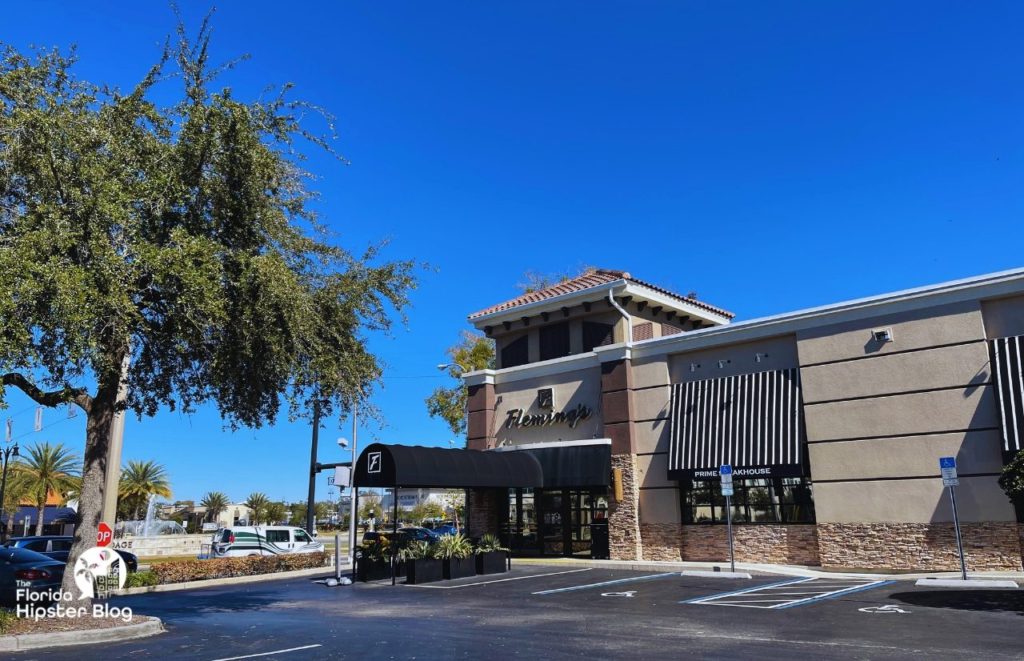 The food is all freshly sourced and attractively presented, with an equally good range of options for vegetarians and pescatarians, so this is a fantastic option for the whole family to enjoy a group dinner as part of your vacation.
Compared to some of the other restaurants in our list of the best steakhouses in Orlando, Fleming's is a trusted brand in Central Florida, so it's a really good idea to book ahead.
Top Dishes at Fleming's Prime Steakhouse & Wine Bar:
Beef Carpaccio: Toasted Gruyère Croutons, Caper-Creole Mustard Sauce, Shredded Egg & Red Onion
Sweet Chili Calamari: Lightly Breaded, Tossed With Sweet Chili Sauce
Filet Mignon
Prime Bone-In Ribeye
Prime Tomahawk
Chiptole Chedder Mac & Cheese: Cavatappi, Smoked Cheddar, Chipotle Panko Breadcrumbs
Chocolate Lava Cake: Rich Chocolate Cake With A Molten Center Of Callebaut Belgian Chocolate, Served With Premium Vanilla Ice Cream & Chopped Pistachios
Old Fashioned: Basil Hayden's Bourbon, Aromas Of Orange Peel, Layered With Sweet Toasted Vanilla

Address: 933 Orlando Avenue Winter Park, FL 32789 and 8030 Via Dellagio Way, Building F, Orlando, Fl 32819
10. Delmonico's Italian Steakhouse
If anyone knows how to do food, it's the Italians. Treat yourself to a winner of a dinner at America's favorite Italian steakhouse – Delmonico's.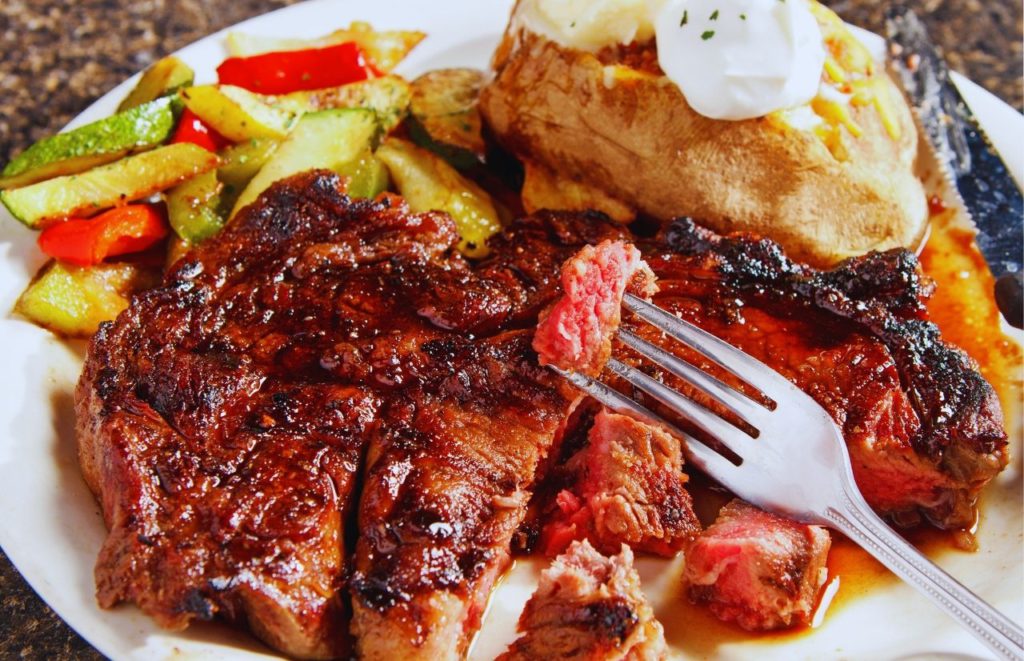 Serving up a delectable variety of cuts and meats, take your taste buds on a Mediterranean vacation right in the heart of downtown Orlando.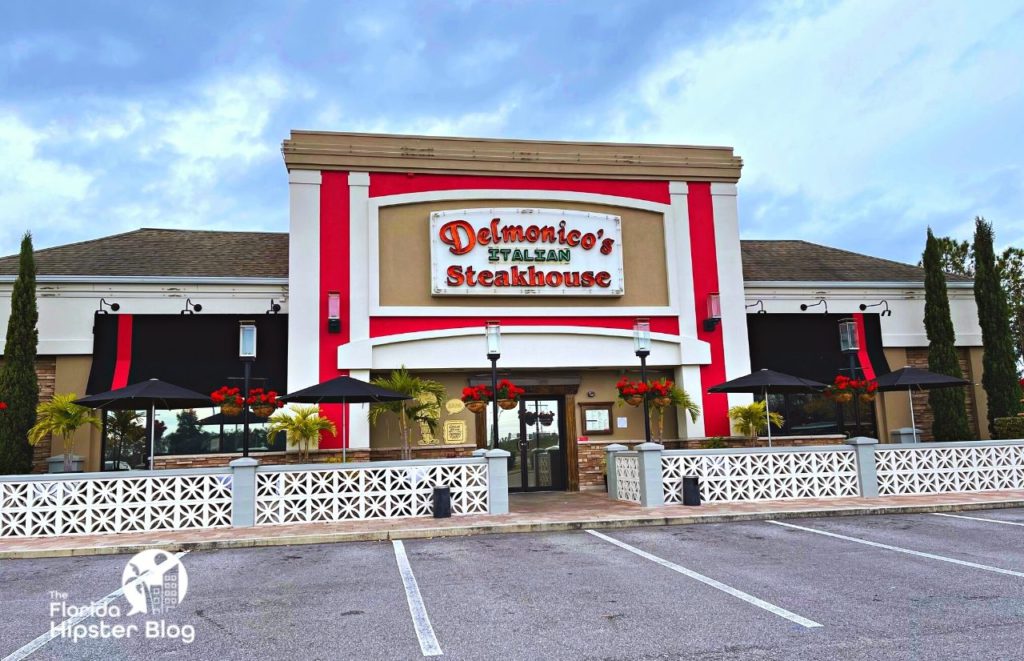 Now, the Italians take their desserts just as seriously as the primi piatti, so save space for a sumptuous sweet from their tempting dessert trolley. Homemade cannoli are especially tasty, or of course there's the ever-popular Italian classic, Tiramisu.
The best steakhouse in Orlando? We think it could be!
Top Dishes at Delmonico's Italian Steakhouse:
Delmonico's Garlic Cheese Bread: Thick Slices Of Country Italian Bread Baked With Garlic Butter & Provolone.
"Kicked Up" Calamari: Golden, Crisp, Fried Calamari Served With Sweet & Spicy Pepper Glaze, Enough To Share.
Filet Portabella: 9 Oz Of Choice Or Better Filet Tournedos With Cabernet Sauce, Portabella Mushrooms & Angel Hair Pasta.
New York Strip Sirloin: One Pound (16 Oz) Certified Angus Beef, Center Cut Seasoned & Perfectly Seared, With Penne Marinara.
Delmonico's Delmonico Steak: 1 – 1/2 Pound (Huge 24 Oz) Certified Angus Beef, Center Cut Rib-Eye Steak From Midwestern Grain Fed Heavy Aged Beef, Seasoned And Perfectly Seared. Served With Penne Marinara.
Homemade Cannoli: Sweetened Ricotta In A Homemade Cinnamon Waffle Shell With Chocolate Chips, Confectioner's Sugar & Homemade Chocolate Sauce.
Tiramisu: Espresso Soaked Cake With Sweetened Mascarpone Topped With Homemade Chocolate Sauce And Homemade Whipped Cream.
Delmonico's Ultimate Cosmo: Absolut Citron & Cointreau With A Splash Of Cranberry & Lime Juice.
Bellinitini: Stolichnaya Vodka, Peach Schnapps & A Splash Of Champagne.
Address: 6115 Westwood Blvd, Orlando, FL 32821
Final Thoughts
Of course, there's only one way to come to a conclusive opinion about which is the best steakhouse in Orlando… and that's to try them all! You can thank me later!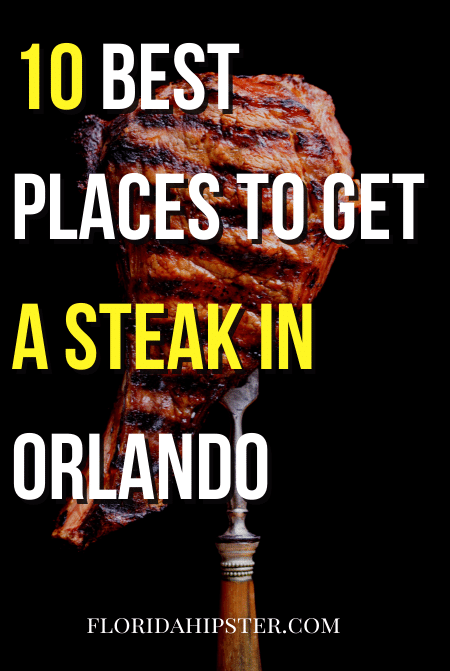 Did I leave something off this list? Let us know what your favorite steakhouse is in Orlando, Florida in the comments section below!
Happy Florida Travels!
UP NEXT: 27 Unique and FUN Things to Do in Orlando for Couples
Some Photos Courtesy of Canva.com