We all love a good brunch place to gather with your best girlfriends or family on a Sunday afternoon. Lucky for you, Winter Park, Florida has some incredible brunch place options when it comes to combining breakfast and lunch, pouring yourself a weekend mimosa and making memories with those closest to you.
If you're looking for the next best brunch spot to gather together at, these 10 memorable establishments below can help you decide on your next outing.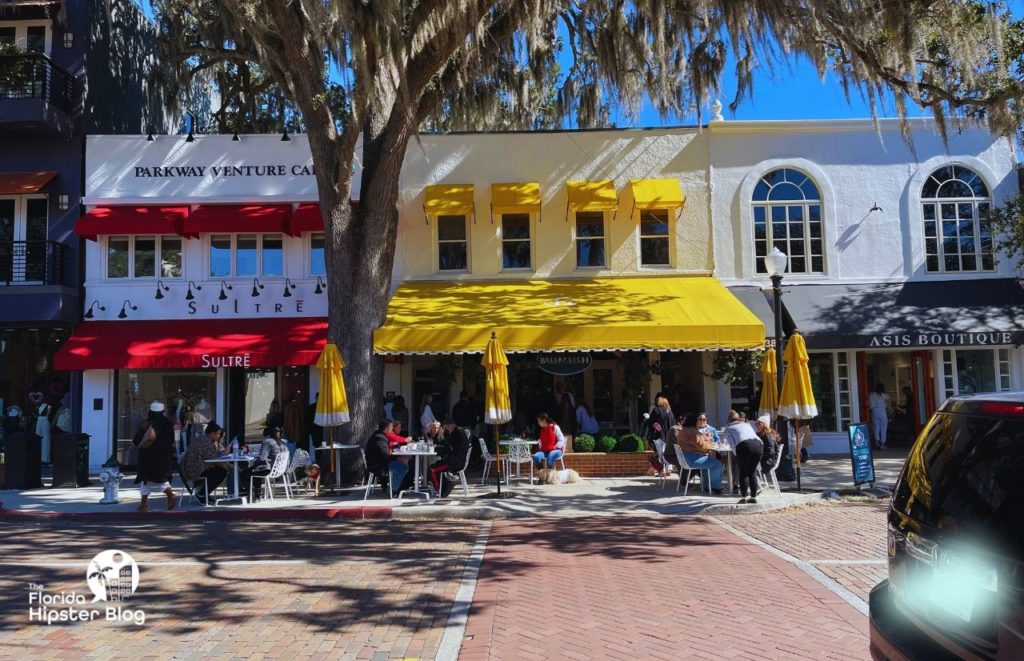 THIS POST MAY CONTAIN AFFILIATE LINKS. PLEASE READ MY DISCLOSURE FOR MORE INFO.  Which means if you click on certain links, I may receive a small commission at no additional charge to you.
1. Briarpatch Restaurant
Open since 1980, this iconic restaurant serves American cuisine in one of the coziest indoor and outdoor cafes overlooking central park. If the Southern charm doesn't immediately make you fall in love, the menu will do the trick.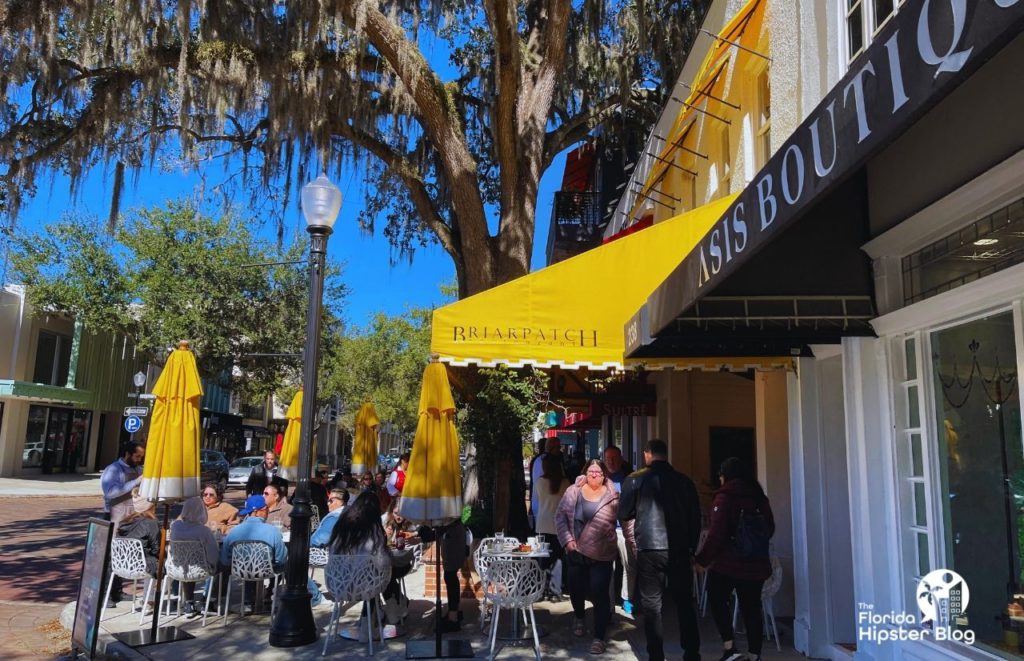 Their brunch menu is packed with unique and delicious dishes like the vegan almond butter tartine, the pear pancakes, the brioche pecan sticky buns, their Nutella waffles and their signature benedicts.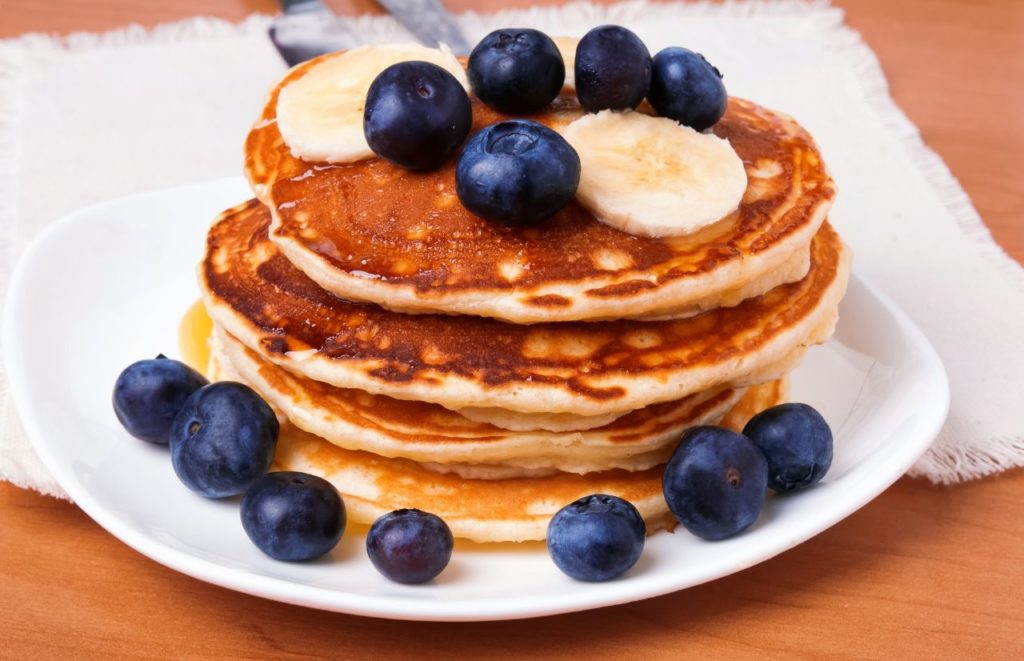 They even have specialty cocktails like the pumpkin spiked latte, kahlua mocha, and of course the classic mimosa making it one of the best places to have brunch in Winter Park, Florida.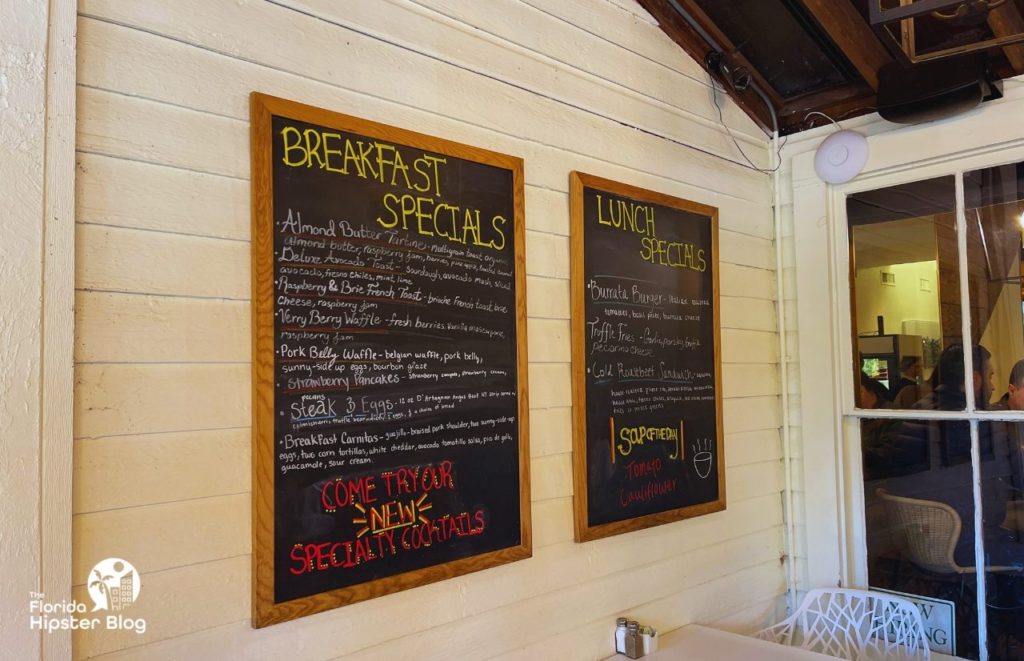 Top Brunch Dishes from Briarpatch Restaurant:
Crab Cake Benedict: two poached eggs, jumbo lump crab cake, homemade biscuit, old bay hollandaise, choice of home fries or grits
Pork Belly Waffle: bourbon-braised kurobuta pork belly, brown butter belgian waffle, two sunny-side-up eggs, maple bourbon glaze
Pumpkin Spiked Latte: kahlua coffee liqueur, pumpkin spice syrup, espresso, milk, whipped cream
Address: 252 Park Avenue North Winter Park, FL 32789
2. The Parkview
Sitting along Park Avenue in Winter Park, The Parkview provides an elevated experience with food, drink, and ambiance. They offer small dishes for a personal experience and large charcuterie cheese boards for the sharers of the world.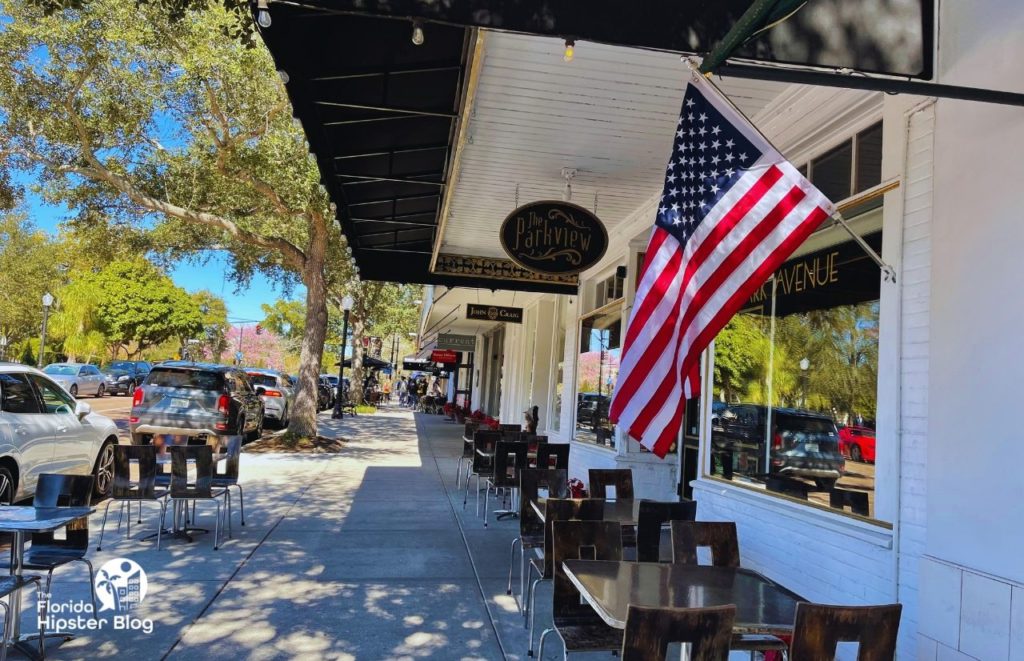 Their brunch menu changes every week and therefore allows you to be surprised at some of the dishes they offer. Here are a few noteworthy plates from the past, roasted tomato tartine, Parkview benedict and a bacon croissant.
They offer a weekend warrior drink option which consists of a bottle of champagne and your choice of 2 juices as well as a mimosa flight, bloody marys, and sangrias.
Top Brunch Dishes from The Parkview:
Parkview Benedict: French Batard, Poached Eggs, Bronzed Canadian Bacon, Hollandaise, Shredded manchego, Marble Fingerling Potatoes
Chef's Flatbread: House Smoked Brisket, House Made Carolina Mop Sauce, Gouda, Mozzarella, Queso Fresco, Red Onion, and Cilantro
Cowboy Butter: Bone Marrow, Macedon Salt, Garlic Confit, Pickled Onion, French Bread
$5 Mimosas
Address: 136 S Park Ave, Winter Park, FL 32789
ORDER NOW to secure your Universal Studios theme park ticket! GET MY TICKETS.
3. Hamilton's Kitchen
Situated in Downtown Winter Park, Florida inside the AAA-Four Diamond hotel, The Alfond Inn, this location is steeped in presidential history and carry's the legacy of a truly good time.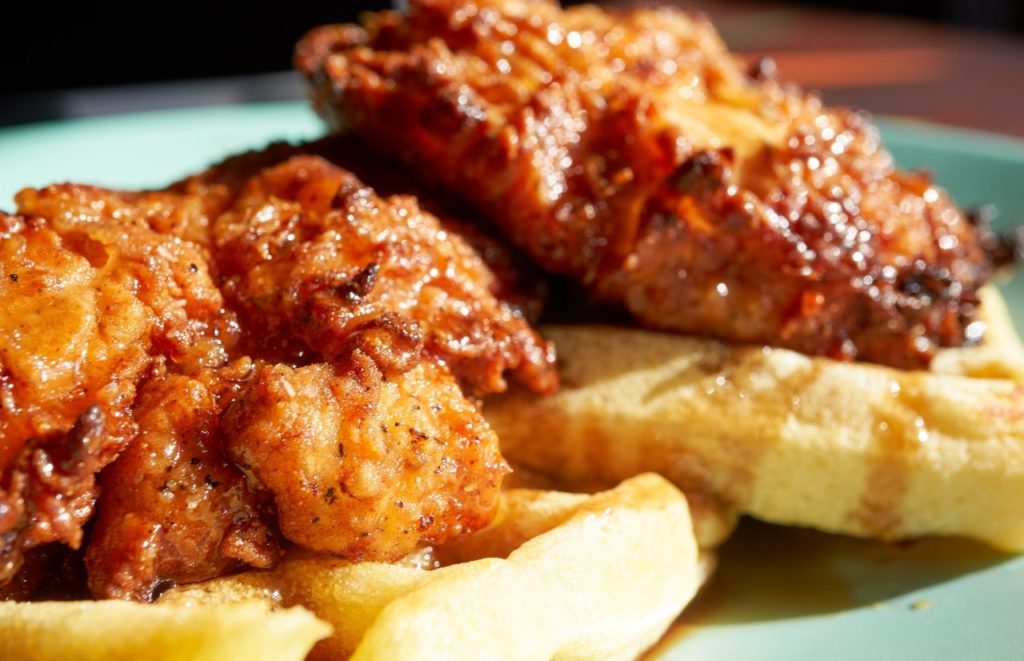 This unique restaurant offers some delicious brunch dishes such as the French toast made with French brioche, bourbon maple syrup and cardamom mascarpone whipped cream, the white cheddar grilled cheese and cup of soup, and their farmhouse platter that comes with 3 eggs, skillet potatoes, and a meat of your choice.
You'll have many cocktail options including their velvet horse, queen bee, and the tiffany twist.
Top Brunch Dishes from Hamilton's Kitchen:
Chicken & Waffles: buttermilk chicken tenders, golden belgian waffle, fresh vanilla bean maple-bourbon syrup, cardamom mascarpone whipped cream
Rollins Burger: creekstone all-natural beef, white cheddar, LTO, served on brioche bun, fires
French Toast: think french brioche, bourbon maple syrup, cardamom mascarpone whipped cream, strawberries
Farmhouse Platter: 3 eggs your way, skillet potatoes, irish sausage or smokehouse bacon, choice of toast
Address: 300 E New England Ave, Winter Park, FL 32789
4. Boca Winter Park
This American style restaurant lets you enjoy bottomless mimosas and unforgettable cocktails like the blue lagoon and watermelon collins for brunch.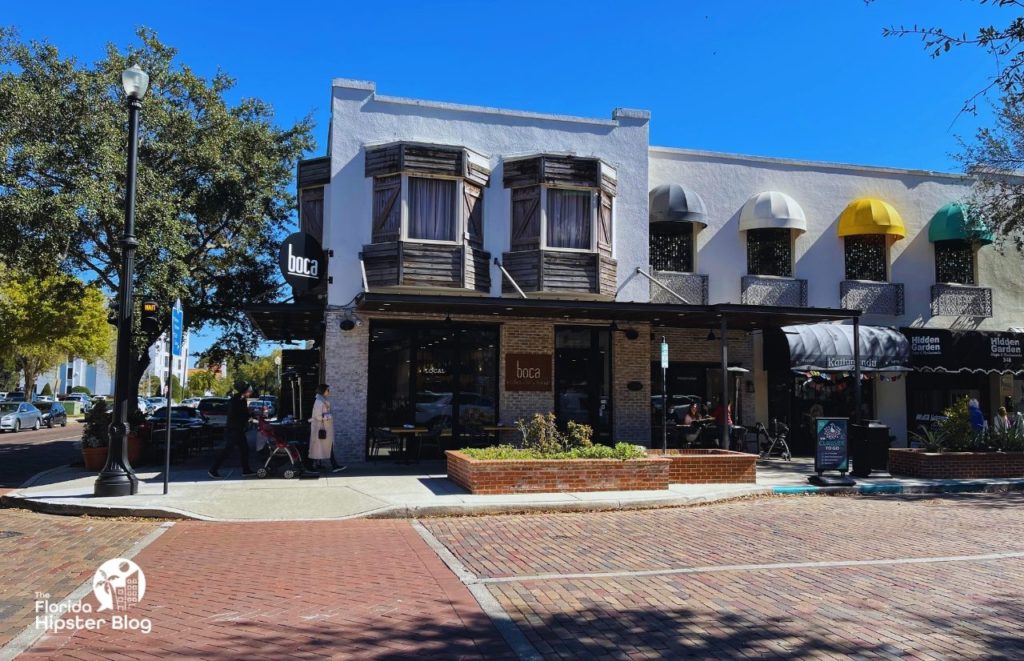 Their brunch dishes range from flatbreads and salads, to starters like the smoked fish dip and boca muffin to their favorites like the hangover panini and their old man egg platter.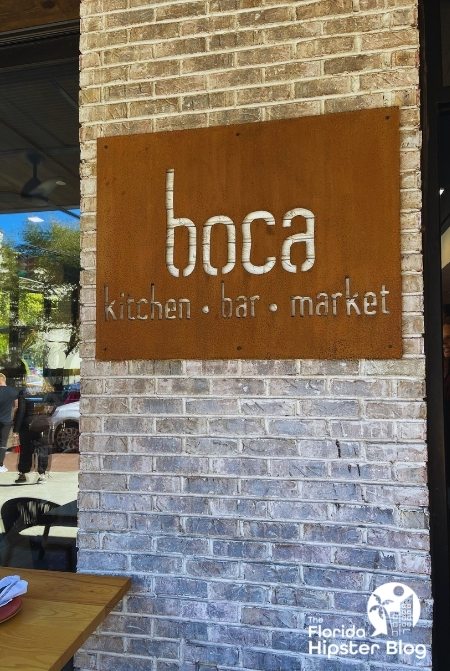 Every platter is made with the local food movement in mind where ingredients are sourced locally, and the term farm-to-table is implemented every day.
Top Brunch Dishes at Boca Winter Park:
Smoked Fish Dip: Smoked Fish Served With House-Made Pickled Accouterments
Parmesan Truffle Fries: True Cheese Sauce
Sambuca P.E.I. Mussels: Sambuca, Garlic, Fresh Herbs, Toasted Bread
Boca Corned Beef Hash: Two Eggs, Smoked Corned Beef, Roasted Onions, Red Peppers, Potato Hash, Hollandaise
Omg Burger: 100% Pasture Raised Beef, Bibb Lettuce, Aged White Cheddar, Pickled Onions, Tomato, Sweet Relish Aïoli, Parmesan True Fries
Steak & Grits: Butcher's Cut, Mushroom, Leeks, Two Scrambled Eggs, Gravy
Hangover Panini: Sausage And Bacon, Caramelized Onions, Scrambled Chicken Eggs, Gruyère Cheese, Potato Hash, Coee Infused Brown Mustard 13
Grand Mar's French Toast: Ick-Cut White Bread, Burnt Sage Butter, Grand Marnier Crème, Candied Oranges, Rosemary Maple Syrup
The Notorious P.I.G.: Italian Sweet Sausage, Brooklyn Tomato Sauce, Mozzarella, Shishito Peppers
Address: 358 North Park Ave. Winter Park, FL 32789
ORDER NOW to secure your Walt Disney World theme park ticket! GET MY TICKETS.
5. Sixty Vines
This chic location is the perfect brunch spot for people looking for a wide variety of choices AND wine! It's the place to go if you want to feel like a true Florida Hipster.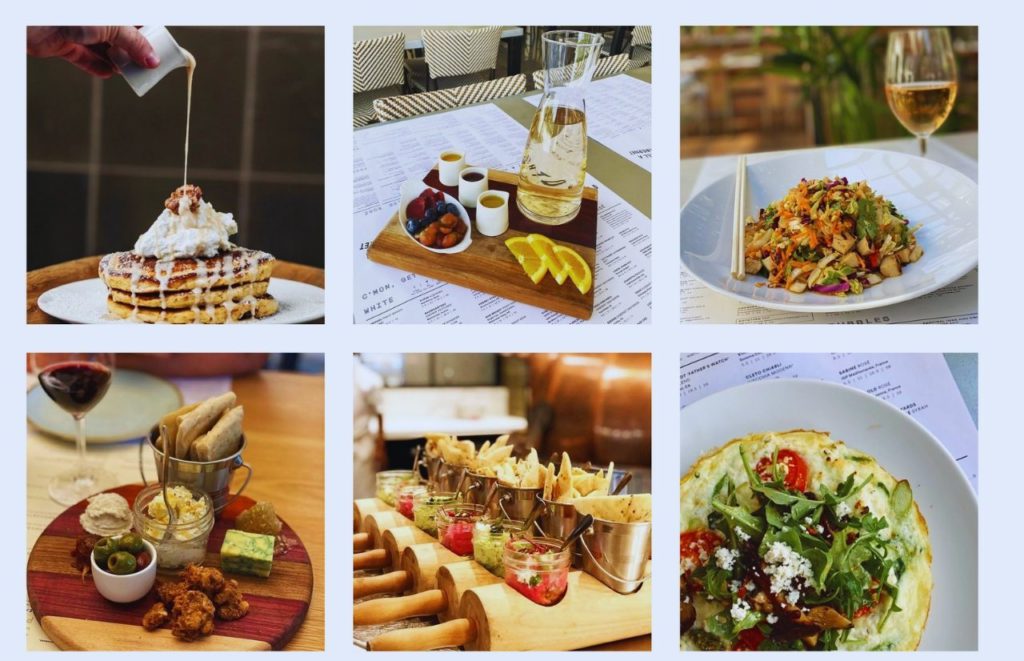 Their menu includes favorites like cheese and salami boards to eat on your own or share with others, shared platters like the salmon and bagel board, orange morning bread and pan roasted mussels, as well as pizza's, pasta's, and desserts.
Sixty Vines' drink menu has plenty for you to choose from including reds, whites, delicious bubblies, and signature cocktails you won't regret picking and making it one of the best places to have brunch in Winter Park, Florida. 
Top Brunch Dishes at Sixty Vines:
Salmon & Bagel Board: honey smoked, toasted everything bagel, scallion cream cheese, chopped egg, capers, onion, tomatoes
Butcher's Brunch: san marzano tomato sauce, soppresseta, coppa, calabrese, provolone, mozzarella, sunny side up local egg
Almond Chiffon French Toast: lemon curd, macerated blueberry, toasted almonds
Cabernet Brunch Burger: cabernet smothered beef patties, free range egg, everything bun, white cheddar cheese, caramelized onions, worcestershire mayo, tomato, garlic herb potatoes
Deviled Affogato: devil's food cake, salted caramel ice cream, coffee caramel, nitro cold brew coffee shot
The 60 – Signature Bloody Mary: Hangar One Vodka, IPA, Charleston Bloody Mary mix, Charcuterie Garnish
Address: 110 Orlando Ave. Suite 12, Winter Park, FL 32789
6. Brick & Spoon
This fun location makes an effort when it comes to your brunch plans. Their favorites include dishes like deviled on the bayou, the killer creole omelet, and sweet treats like OMG pancakes, bananas foster French toast, and shrimp and tasso mac-n cheese.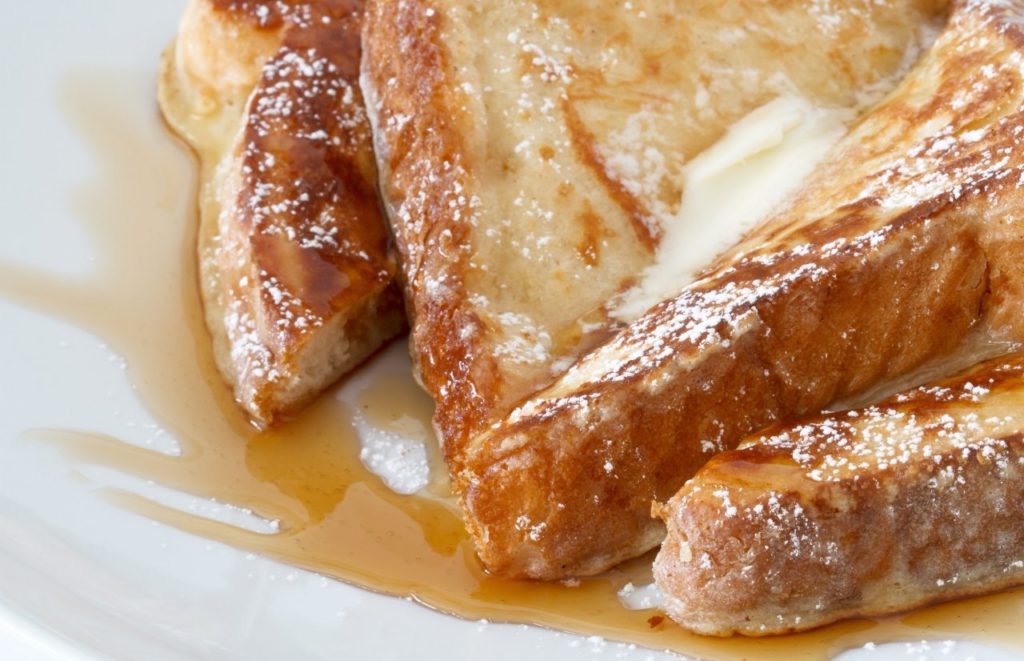 They even have a Be Creative section where you get to create your own plate from the a la carte menu. Their eye-opening cocktails like the cranberry cosmo, wild mary, and the French are delicious and perfect for a Sunday funday brunch.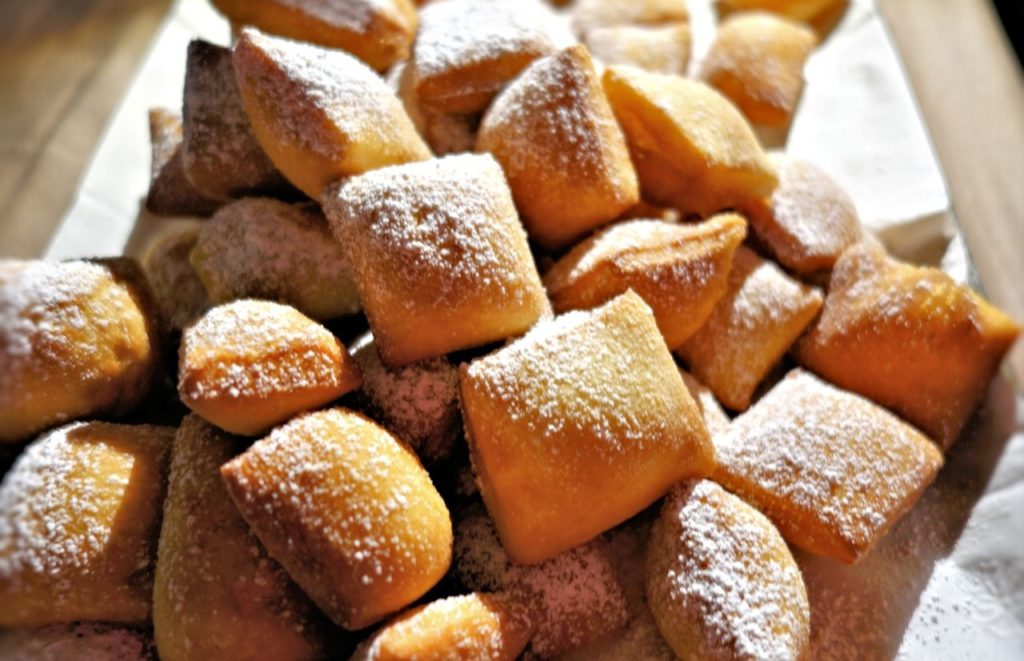 Top Brunch Dishes at Brick & Spoon:
Breakfast Tacos: Flour Tortilla, Chorizo Scrambled Eggs, Romaine, Sour Cream, Mango Salsa & Monterey Jack Cheese Served With French Fries
Shrimp & Grits: Shrimp, Red & Green Bell Peppers, Onion, Garlic Cream Sauce & Fire Roasted Corn Grits, Poached Egg
Corned Beef Hash Benny: Corned Beef Hash, Sauteed Spinach & Tomatoes, Topped With Two Poached Eggs, Housemade Hollandaise
Shrimp & Tasso Mac-N-Cheese: Gulf Shrimp, Tasso, Cavatappi Pasta, Smoked Gouda Mornay Sauce, Served With Toast Points
Bayou Benedict: Bayou Topping, Poached Eggs & Housemade Hollandaise.
Sunny Chicken Caesar: Grilled Chicken, Romaine, Parmesan, Croutons & Poached Egg
Café Beignets: Powdered Sugar & Marmalade (Chocolate, Strawberry, Blueberry)
Build Your Own Bloody Mary
Address: 933 S. Orlando Ave Maitland Fl 32751⁠
Get over 30% off on your Orlando CityPass here!
7. Bulla Gastrobar
The Bulla Gastrobar has a way of incorporating Spain's delicious classics and creating an entire experience in their location.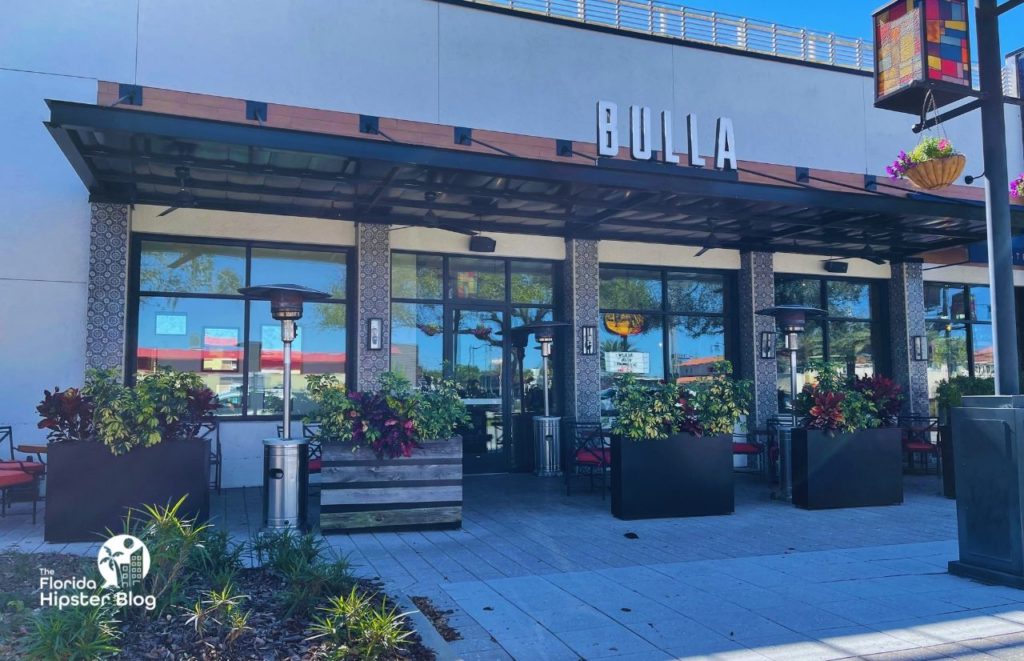 Even their Brunch Prix Fixe menu has a first, second and third course with unforgettable plates like their smoked salmon montaditos, croquetas de jamón, and the hazelnut waffles, made with nutella, chocolate shavings, white chocolate chantilly, and toasted almond.
I loooove Prix Fixe menus. It makes me feel as if I'm getting to taste all the delicious options for a budget-friendly price ($29 per person).
You can also enjoy their bottomless sangrias and mimosas at $18 for the best weekend get-together.
Address: 110 S Orlando Ave, Suite #7 Winter Park, Florida 32789
8. The Bridge A New York Restaurant
This location is inspired by the city of Manhattan and all its upscale dining and etiquette. The menu brings together New York tastes with a high-quality dining experience.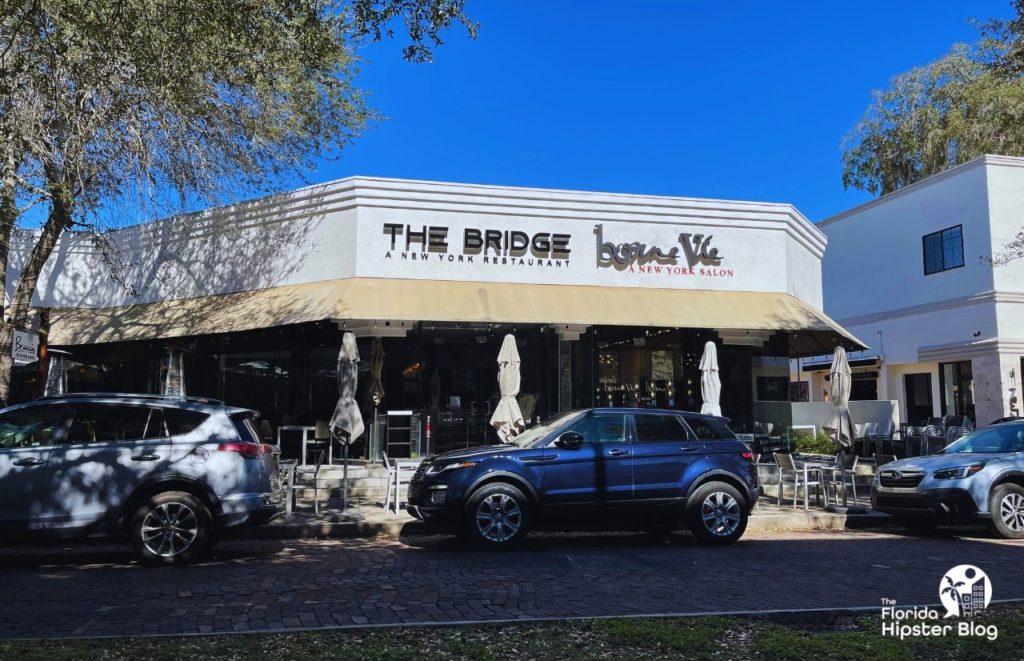 Brunch at The Bridge includes classics like Belgian waffles, blueberry pancakes, and benedicts for every palate.
They also offer crepes for ones with a heavy sweet tooth as well as a dessert menu with gems like New York cheesecake, tiramisu, and lava cake.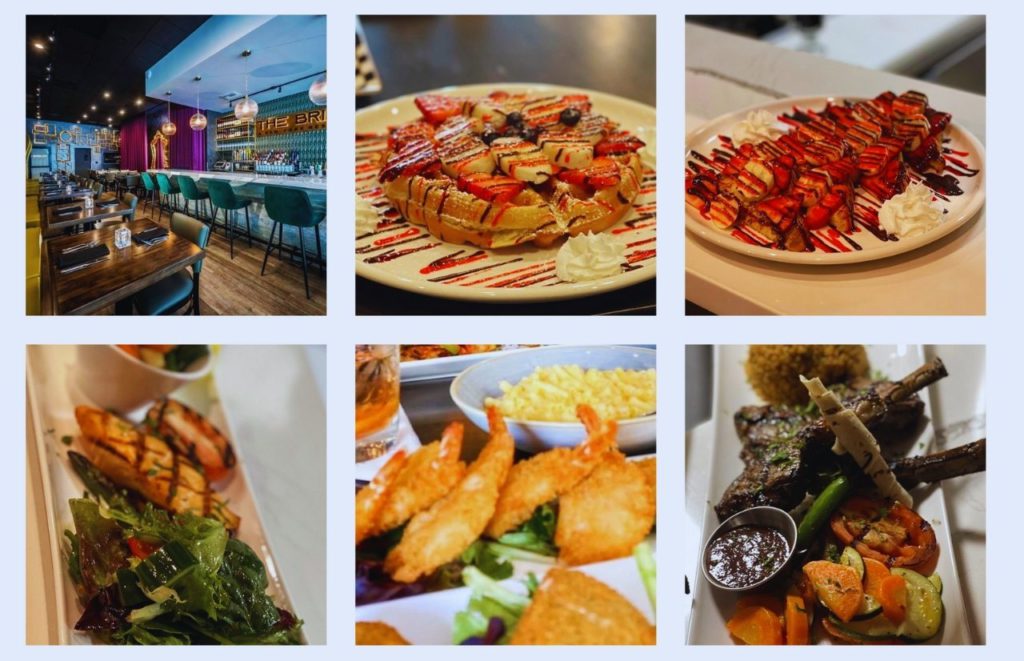 You won't have trouble finding a cocktail or wine to sip on from their long menu of wine, beer, and cocktails. 
Top Brunch Dishes at The Bridge Restaurant:
The Bridge Breakfast Platter: A Variety Of Premium Cheeses, Olives, Soujuk, Jam, Cheese Roll, Cherry Tomato, Sliced Cucumbers, And A Hard Boiled Egg
Challah French Toast: Served With Fresh Fruit, Maple Syrup, And Powdered Sugar
Smoked Salmon Benedict
Smashed Avocado Toast
Address: 155 East Morse Blvd., Winter Park, FL 32789
Florida Flexible Cancellation Vacation Rentals! Check it out here.
9. The Ravenous Pig
This laid-back establishment doubles as a brewery if you'd like to do something unique on the weekend. A good tip is to enjoy their brunch menu and then head on over to the Ravenous Pig Brewery for the next part of your outing.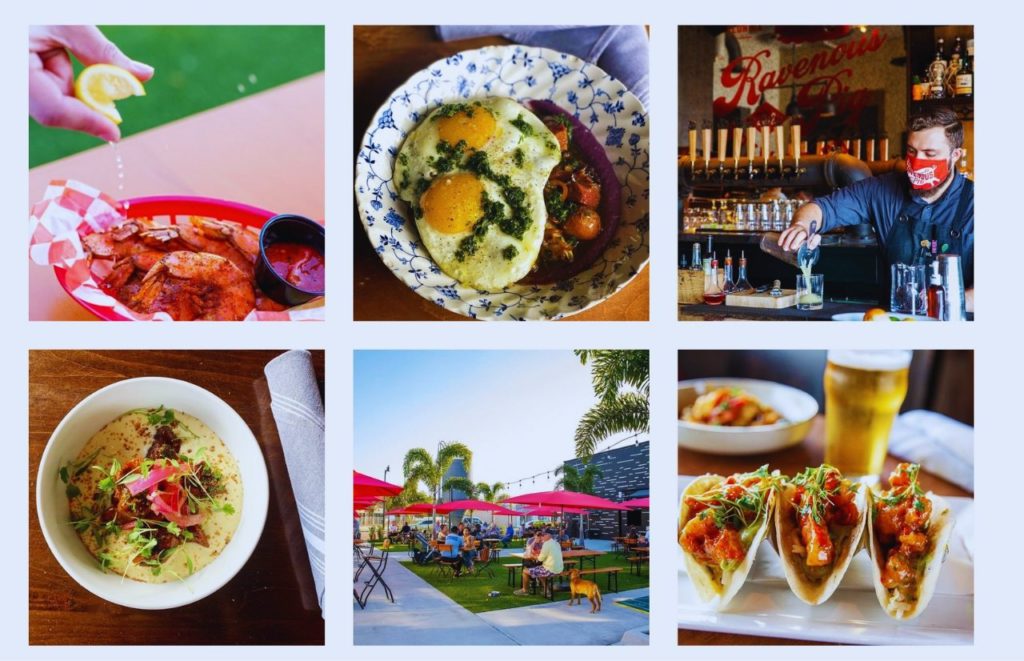 Their brunch menu has many great options and snacks starting out, like the pimento cheese fries, lobster tacos, and raw oysters.
Peruse the menu a little more and you'll see more delicious picks like apple fritters and coffee cake, as well as charcuterie platters, a brown butter ramen, and sandwiches like mahi sandwich and hot Italian.
Their drinks are just as delicious and the perfect add-on to the perfect brunch dish.
Top Brunch Dishes at The Ravenous Pig:
French Toast: Apple, walnut streusel, apple cider caramel
Lobster Tacos: Jalapeño, cabbage slaw, avocado
Biscuits & Gravy: pimento cheese biscuit, herb gravy
Crab Cake Benedict: Blue crab, green garlic hollandaise, coppa, English muffin
Venison Sausage Hash: Potato, celery root, honey nut squash, fried egg
Chicken & Waffles: Strawberry maple, whipped ricotta, pistachio
Gumbo & Grits: shrimp, andouille sausage, anson mills blue grits, crispy oysters
Steak & Eggs: porcini marinated prime NY strip, garlic aioli & truffle fries, fried egg
Ravenous Pub Burger: blue cheese, caramelized onion & house pickles
Address: 565 W Fairbanks Ave Winter Park, FL 32789
10. The Outpost, Kitchen, Bar & Provisions
The last pick on my list of best brunch in Winter Park is the Outpost, A hot spot for locals who know what's best in their town. The menu is rotated seasonally and offers ingredients only at their peak.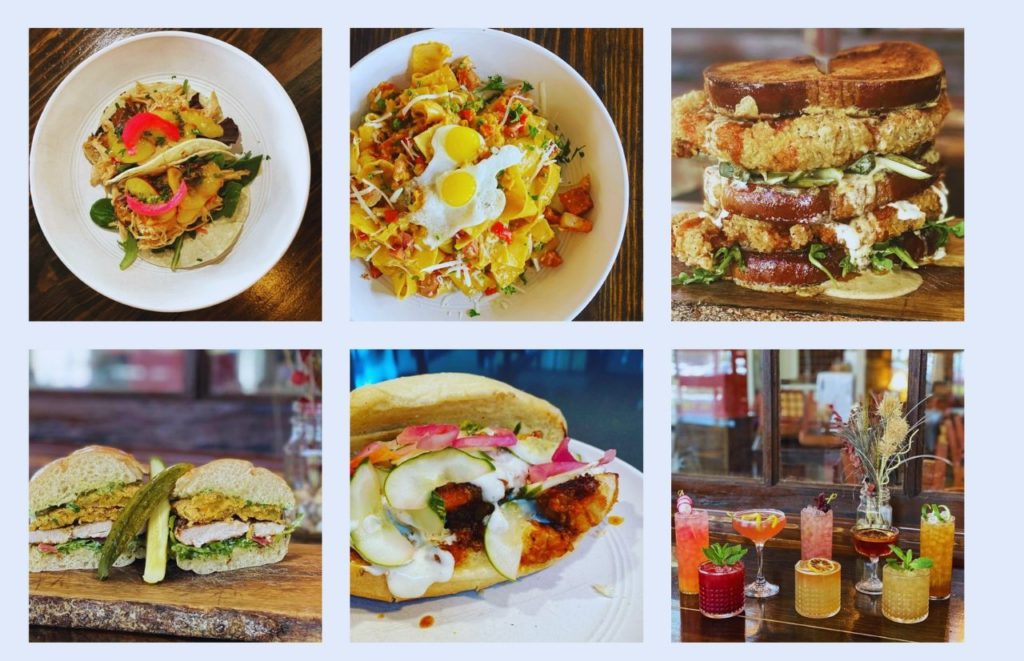 The handcrafted brunch menu is chock full of dishes you won't regret trying like the cinnamon bread, chicken and waffles, and farmhouse pot pie making it one of the best places to have brunch in Winter Park, Florida. 
They offer their popular boozy blueberry bread pudding and classic brunch beverages like their bottomless giggle juice, sangrias, and mimosas.
Top Brunch Dishes at The Outpost:
Roaster Oysters: cajun butter, parmesan cheese, cornbread crust
Wing Flight: thai chili glaze pig wings, Outpost chicken wings, red pepper glazed duck wings
Chicken Fried Chicken: creamy mashed potatoes, collard greens, red eye gravy
Shrimp & Grits: white Gulf shrimp, cheesy grits, shishito salsa verde, creole butter pan sauce
Address: 111 S. Orlando Avenue, Maitland, FL 32751, USA
For a no obligation, FREE Disney Vacation Quote you can fill out the form with The Park Prodigy by Clicking HERE!
Final Thoughts on the Best Brunch in Winter Park, Florida
Of course, there's only one way to come to a conclusive opinion about which is the best brunch in Winter Park… and that's to try them all! You can thank me later!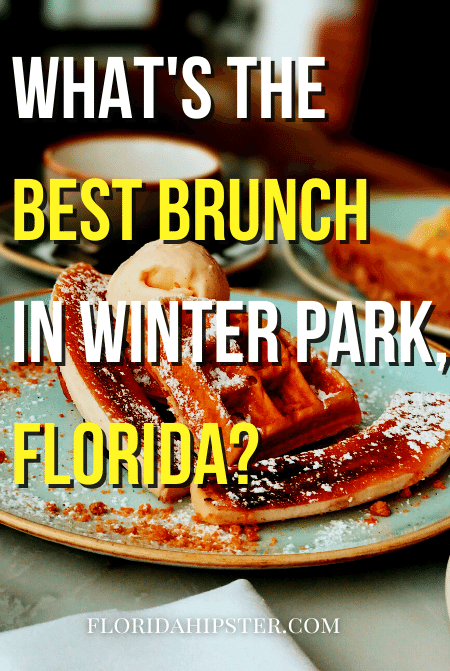 Happy Florida Travels!