Are you ready to dine at one of the best restaurants in Orlando?
A visit to the Sunshine State is nothing without tasting some fresh coastal and award-winning cuisine.
Orlando is home to more than a few renowned chefs that took their training overseas and brought back their knowledge and skills for us to enjoy in the best restaurants in Orlando.
My list of 25 best restaurants for you to try on your next trip to Orlando includes classics that have been favored by locals for their originality and entertainment value, as well as young establishments working hard to make a name for themselves, and let me just say, they're doing a fantastic job.
Make sure to check out one, if not all, of these revered restaurants on your next food tour through Florida.
THIS POST MAY CONTAIN AFFILIATE LINKS. PLEASE READ MY DISCLOSURE FOR MORE INFO.  Which means if you click on certain links, I may receive a small commission at no additional charge to you.
1. La Luce
I'm starting this list of best restaurants in Orlando with La Luce.
Created by famed Napa Valley chef Donna Scala, La Luce at Signia by Hilton Orlando Bonnet Creek brings a modern take on traditional Italian cuisine, including favorites like their thin-crust pizza, savory lasagna, and meticulously-spiced meatballs. 
Why We Love La Luce
The ambiance of this location is airy and open, bringing a sense of warmth and welcome to all guests. Making it one of the best restaurants in Orlando.
I also love the staff here who are so patient and gracious when guiding you through their spectacular menu!
Just be sure to request the fried olives. It's one of the BEST things to eat in Orlando.
Trust me when I say that you'll love them and be sure to let me know when you've tried them 🙂
Top Dishes on the Menu at La Luce
Barbabietole: Roasted Beets, Green Beans, Fennel, Avocado, Roquefort Vinaigrette
Olive Fritte: Fried Spanish Olives, Marcona Almonds
Pizza Ai Funghi: Sauteed Mushrooms, Pancetta, Spinach, Mozzarella, Truffle Cheese
Pappardelle Fantasia: Spicy Shrimp, Cherry Tomatoes, Garlic, Saffron, Pinot Grigio
Grilled Berkshire Pork Chop: Tuscan Farro, Roasted Butternut Squash, Kale, Aged Balsamic
Address: 14100 Bonnet Creek Resort Ln, Orlando, FL 32821
Get up to 76% off of the Orlando attractions with Groupon TODAY!
2. Bull & Bear
As if Waldorf Astoria couldn't get any better, the culinary experience they offer in Bull & Bear is one for the books. 
This location is modeled after the Bull & Bear spot in New York City and is best known for its club-like setting, creative handcrafted cocktails, and award-winning wine list.
I can't create a list of where to eat in Orlando and not include Bull & Bear.
The restaurant has received recognition with TripAdvisor and many others winning awards like AAA Four Diamond Award, Florida Trend Golden Spoon, and Orlando Sentinel FOODIE Award for Best Steakhouse.
Why We Love Bull & Bear
The service at Bull & Bear is top-notch, but the food is even better. You can pretty much choose ANYTHING on the menu and you won't be disappointed.
Also, their extensive wine list and unique cocktails are always a good way to start your evening culinary adventure.
That makes this a great place for couples, solo travelers, business travelers and one of the absolute best restaurants in Orlando.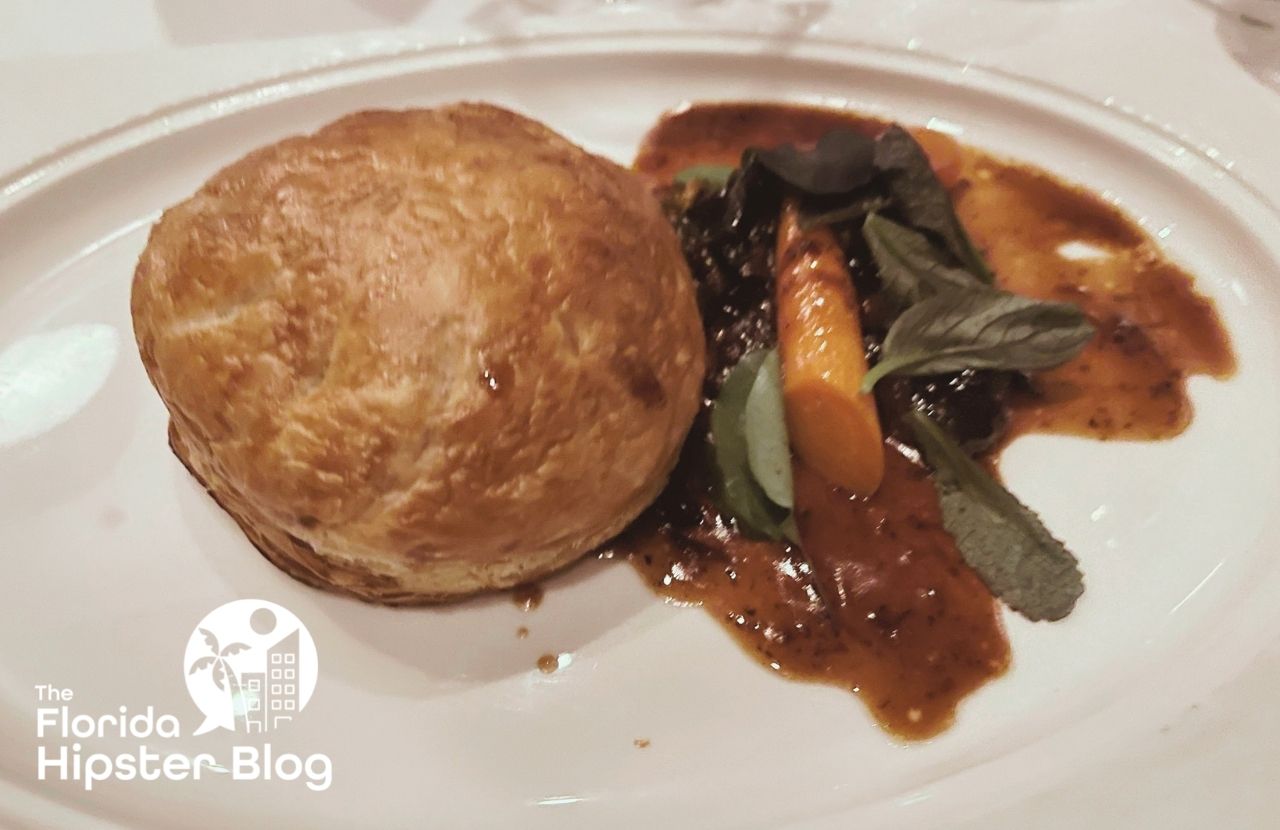 Please note that reservations are hard to get at this Orlando restaurant, so book your spot ASAP!
Top Dishes on the Menu at Bull & Bear
Truffle Deviled Eggs
Bull and Bear "Fried Chicken" with Yukon Gold Mash Potato, Gravy
Pan Seared Foie Gras: Wild Berries, Toasted Brioche, Bourbon Caramel
Classic Caesar Salad Prepared Tableside
Spanish Iberico Chop: Pork Chop, Potato Pave, Veal Demi-Glace, Madeira Reduction
Oyster Rockefeller: Peak Season Boutique Oyster, Pernod, Fresh Spinach, Cheesecrumb
Filet Mignon
Waldorf Beignets: Strawberry and White Chocolate Cheesecake
Chocolate Bar: Valrhona Carmélla Chocolate, Chocolate Vodka Syrup
Address: 14200 Bonnet Creek Resort Lane, Orlando, FL 32821
3. Victoria and Albert's
Home to some of the most sophisticated architecture, food, and drinks, Victoria and Albert's was created with inspiration from Queen Victoria's Jubilee Celebration. 
They have won numerous awards and are currently working to gain Michelin star status.
The price of dining here is pricey compared to other options I've written for you here but it's well worth it with exceptional service, unbelievably fresh and flavorful food, and award-winning drinks.
The menu changes daily so when you decide to go, you'll be getting unique options not displayed online. Making it one of the best restaurants in Orlando.
Why We Love Victoria and Albert's
In my past visit, the Victoria and Albert's team graciously explained every item on the exquisite menu (even the wine list).
They also made me feel comfortable doing my blogging thing, since I was taking a lot of pictures for the website.
As I sat in the superb Grand Floridian Resort restaurant, we were treated by the talented harpist playing classic Disney songs.
This was by far the most lavish dining experience I'd ever encountered.
Each menu item was skillfully presented combining a variety of complex layers of flavors. The wine pairing was also carefully crafted by the talented sommelier. Making Victoria and Albert's one of the best restaurants in Orlando, Florida.
Please note that reservations are hard to get at this Orlando restaurant, so book your spot ASAP!
Address: 4401 Floridian Way, Orlando, FL 32830
ORDER NOW to secure your Walt Disney World theme park ticket! GET MY TICKETS.
4. Kadence
I cannot do this list justice without talking about one of the best places to get sushi in Orlando and that's at Kadence.
Owners Mark, Jennifer, and Lordfer are all University of Florida alumni who, upon graduating, moved to London to train in Michelin-starred restaurants, creating experiences at their restaurant that are cultural and unique to their history.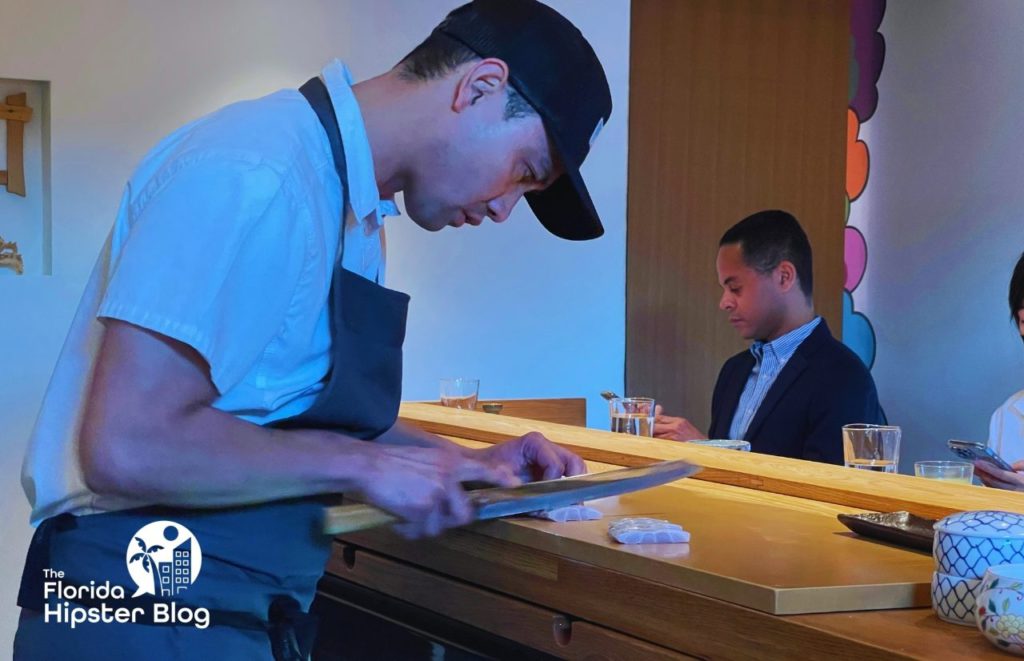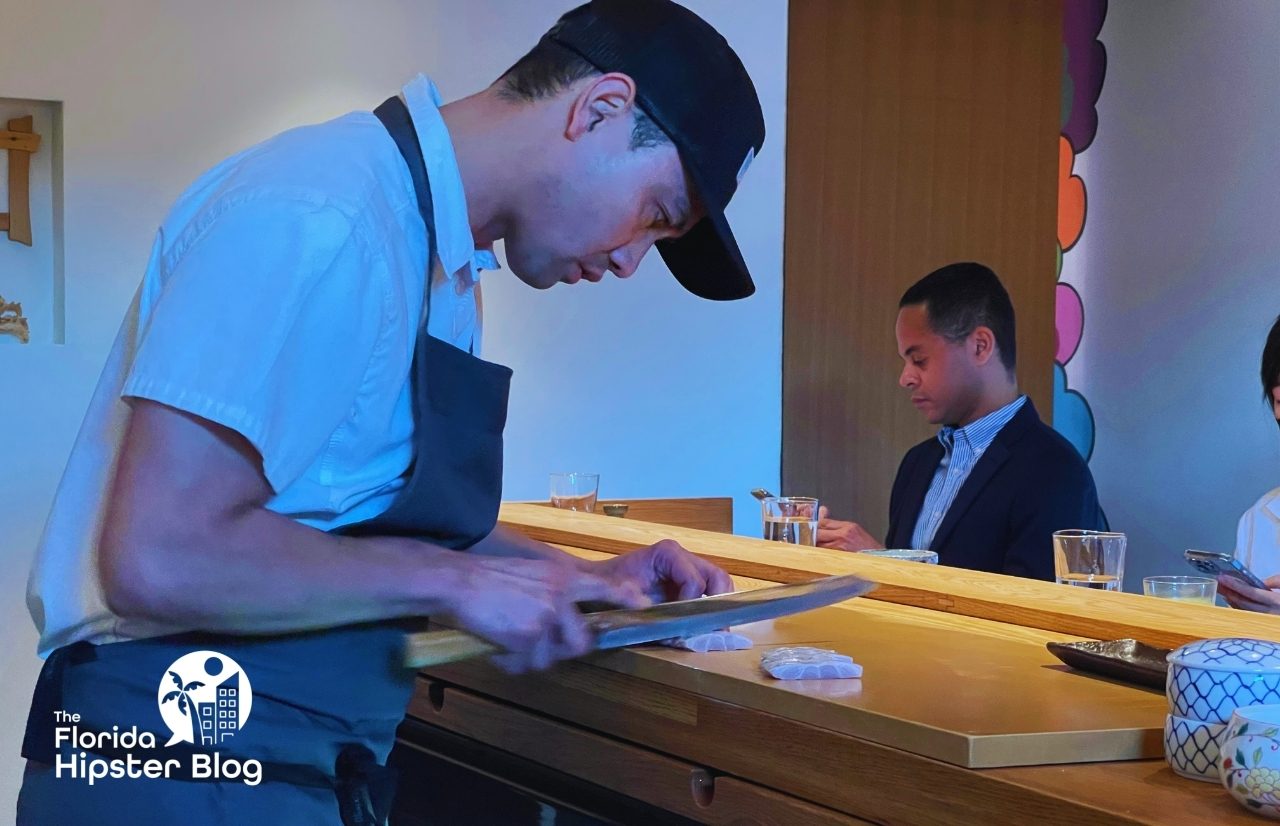 Why We Love Kadence
They specialize in multi-course menus and their exceptional selection of sake. Making it one of the ABSOLUTE best restaurants in Orlando.
Reservations at Kadence are required for lunch and dinner as their intimate establishment seats only 8 diners per seating.
Top Dishes on the Menu at Kadence
Some of the menu highlights include Rudderfish dressed with Tosazu Gel, Akagai, Poached Monkfish Liver with Dashi Gelée, and Shirako finished with Burgundian Truffle.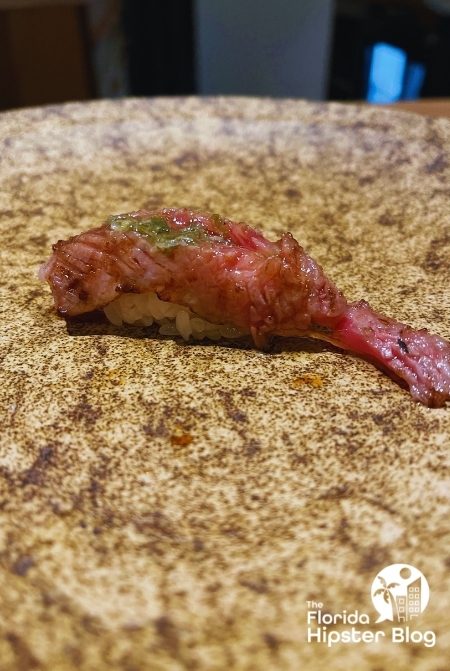 Please note that reservations are hard to get at this Orlando restaurant, so book your spot ASAP!
Address: 1809 Winter Park Rd, Orlando, FL 32803
5. California Grill
A Walt Disney World Favorite, California Grill rolls out American, seafood, and kids classics for you and your family. 
Why We Love California Grill
This exciting establishment is found on the 15th floor of Disney's Contemporary Resort and gives patrons panoramic views of Cinderella's Castle and the lagoon below.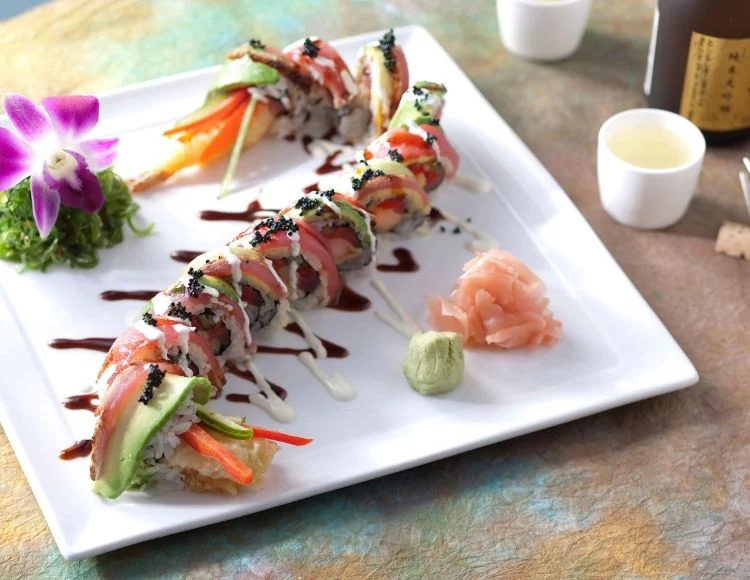 You can also experience the best fireworks view in all of Walt Disney World right from their restaurant patio.
Top Dishes on the Menu at California Grill
Florida Blue Crab Bisque: Zellwood Triple Sweet Corn, Popped Sorghum, Popcorn Shoots, Lump Blue Crab
Wild Alaskan Halibut: Crispy Blue Masa, Chipotle Heirloom Carrots, English Peas, Green Garlic, Confit Onion, Sweet Carrot Foam (plant-based)
Lavender Sugar Donuts: Coconut Frozen Dessert, Blueberry Gin Jam, Pistachio Crumble (plant-based)
Kids Grilled Citrus-Glazed Chicken
Address: 4600 World Dr, Lake Buena Vista, FL 32830
Compare and Book Cheap Flights on Over 600 Airlines with CheapOAir TODAY!
6. Wine Bar George
Master Sommelier George Miliotes uses his uncanny expertise to bring you a wine bar experience not found anywhere else in Florida.
George has been around Disney World for many years and is one of 269 master sommeliers in the world that brings his experience straight to your table. 
Why We Love Wine Bar George
Wine Bar George offers wines on tap, whites, reds, champagne, and wine experiences that introduce guests to a lineup of several different vintage wines dating back many years from all over the world.
They also offer a nice selection of foods to pair with your wine experience. Making Wine Bar George one of the best restaurants in Orlando.
Top Dishes on the Menu at Wine Bar George
Grilled Octopus Salad: Lemon Vinaigrette, Olive Vegetable Medley
Crispy Mac & Cheese Bites: with tomato nage, pecorino
Burrata: Seasonal Tomatoes, Olive Oil, Grilled Bread
House-Made Meatballs: with triple cheese polenta, tomato sauce
Saganaki on Fire: Vlahotiri, Metaxa, Crostini
The Big Board: 6 artisanal cheeses and 5 meats, condiments
Frozcato made with DOLE WHIP® Pineapple: Moscato, Vodka, Pineapple
Address: 1610 E Buena Vista Dr, Lake Buena Vista, FL 32830
7. Morimoto Asia
The Japanese Master chef behind Morimoto Asia is known worldwide for creating culinary connections between Chinese, Japanese, and Korean dishes.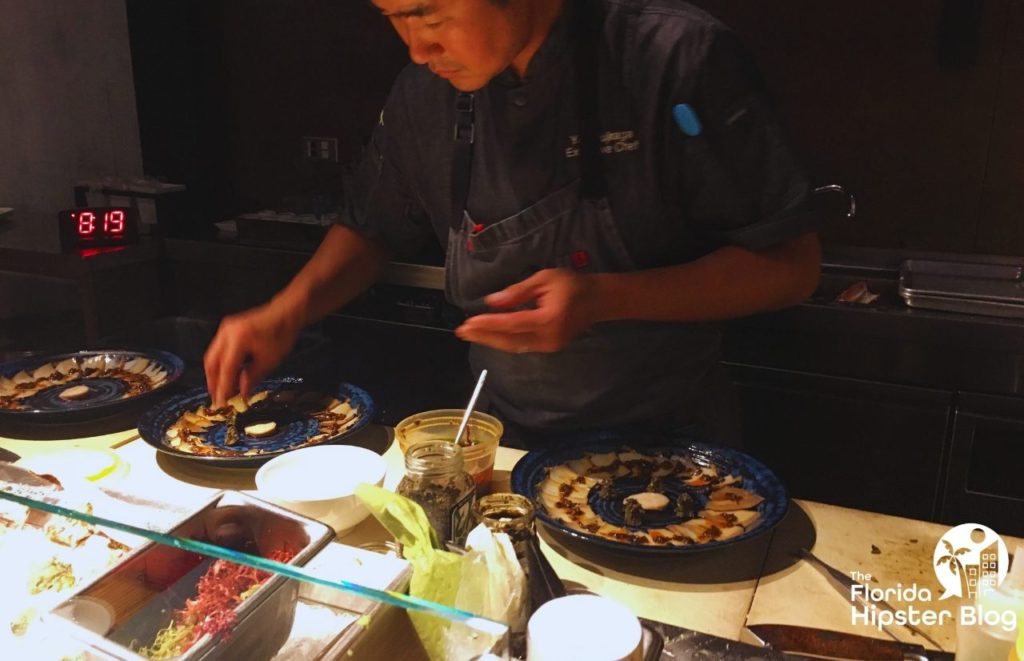 Morimoto Asia is located in The Landing section of Disney Springs right next to Raglan Road, Gideon's Bakehouse and Art Chef Smith's Homecomin restaurants.
Chef Masaharu Morimoto brings innovative Asian cuisine to his 36-foot tall restaurant space that includes dining areas and lounges that sit under massive chandeliers.
Morimoto Asia is magnificent with 2-stories overlooking the splendid Disney restaurant.
So, if you're coming in as a small group with no kids or on a solo trip, then I recommend sitting at the sushi bar or in one of the lounges.
Why We Love Morimoto Asia
You'll be able to find something from many of the Asian countries on the menu such as the:
Traditional Peking duck
Dim sum
Poke salad
Faro Island salmon
Succulent Bao buns
Asian-influenced cocktails
Sake
Even an Oreo tempura dessert
I have to say that on my visit, I was overcome with emotion when I tasted the Spicy Tuna and I am being so honest right now no matter how corny it may sound. It was at that point that I realized I'd never had any good sushi before.
It was after that moment that Morimoto Asia became a sacred place to me. Just be sure to sit at the sushi bar as I have found that the experience and taste of the sushi is much better there.
Top Dishes on the Menu at Morimoto Asia
Chicken Lemongrass Dumplings: Chicken, Lemongrass, Scallion, Sesame
Morimoto Peking Duck: Duck, Steamed Flour Tortillas, Apricot Sweet Chili, Hoisin Miso, and Brown or White Rice.
Sushi and Sashimi Imperial Tower: Chilled Whole Lobster, Alaskan King Crab, Oysters, Shrimp Cocktail, Nigiri, Sashimi
Address: 1600 E Buena Vista Dr, Lake Buena Vista, FL 32830
ORDER NOW to secure your Universal Studios theme park ticket! GET MY TICKETS.
8. Slate
Winning OpenTable's Diners' Choice for 2022, Slate is locally owned and features floor-to-ceiling windows, rustic wood accents, and a stone floor creating a modern and warm atmosphere to enjoy for lunch, brunch, or happy hour.
Why We Love Slate
Slate offers guests staples like wood-grilled meats, fresh seafood, pizzas that are baked in a wood-burning copper oven, and a Sommelier-created wine list.
Top Dishes on the Menu at Slate
Basil Hazelnut Hummus: Hazelnut Pesto, Sundried Tomato Aioli
Pancetta & Pepper Jack Hushpuppies: Pepper Jelly, Roasted Pepper, Shallot Aioli, Parmesan
Herb-Roasted Bronizini: Celery Root Puree, Seared Turnip, Almond Cream, Herb Oil
Address: 8323 W Sand Lake Rd, Orlando, FL 32819
9. Todd English's Bluezoo
This colorful and bright underwater themed restaurant sitting inside Walt Disney World's Dolphin Hotel is known for its award-winning international coastal cuisine.
Why We Love Todd English Bluezoo
Todd English Bluezoo's land and sea menu includes jumbo shrimp, sea scallops, beef dishes, creamy risotto, and veggies.
If you're over 21, you can also enjoy their award-winning wine menu and drinks list.
Be sure to check online or call and reserve a table before going.
Top Dishes on the Menu at Todd English's Bluezoo
Tuna Poke Tacos: Marinated Sushi Grade Tuna, Avocado Puree, Wasabi Aioli, Tobiko, Crispy Wonton
Mushroom Madness: Mixed Woodland Mushrooms, Fresh Thyme, Fontina Cheese, Roasted Garlic, Calabrian Chile
Steamed Pumpkin Nudi: Whipped Ricotta Cheese, Sage Browned Butter, Pumpkin Gremolata, Butternut Squash Puree
Chocolate Chip Cookie S'more: Caramel Fudge Filling, Toasted Marshmallow Ice Cream, Caramel Sauce
Address: 1500 Epcot Resorts Blvd, Lake Buena Vista, FL 32830
Compare and Book Cheap Flights on Over 600 Airlines with CheapOAir TODAY!
10. Domu
If you didn't know yet, Domu is slang for "dream come true" and chef/owner Sean "Sonny" Nguyen exudes that with every dish and drink he makes.
His Japanese technique combines years of cultural study with modern cuisine and seasonal cocktails. 
Why We Love Domu
If you're vegetarian or have allergies, Domu includes gluten-free and vegan options so every diner can enjoy their fresh and traditional dishes, making it one of the best restaurants in Orlando.
Top Dishes on the Menu at Domu:
Black Tonkotsu: Shio Pork Bone Broth, Menma, Scallions, Ajitama, Chashu, Black Garlic + Komi Oil
New Japan Mazemen: Shio Base Black Garlic Oil, Kewpie Mayo, Scallions, Japanese beech Mushrooms, Kikurage, Chashu Ends, Ontama, Bonito Flakes,
Curry: Spicy Chicken Broth, Fried Chicken Thigh, Japanese Beech Mushrooms, Menma, Thai Basil, Scallions, Thai Chili Paste
Address: Multiple locations around Orlando
11. Tori Tori
A local Japanese pub also founded by Sean Nguyen is best known for its bar bites, yakitori, sake, and unique drink options.
Just like its sister Domu, the restaurant finds inspiration in simple living.
Why We Love This Orlando Restaurant
The concept best used at Tori Tori is "Ichigo Ichie" a Japanese term that means to live in the moment because it might never happen again.
Also, the grilled dishes over charcoal are crowd favorites and the eclectic International bar food is perfect to pair with their house famous sake, Japanese beers, and cocktails.
Top Dishes on the Menu at Tori Tori
Blue Crab and Corn Croquettes: Served with Crab Fat Sauce, Scallions, Aonori, Lemon
Brussels Okonomiyaki: Wok-Seared Brussel Sprouts, Kewpie Japanese Mayo, Scallions, Pickled Red Ginger, Bonito, Lemon
Yakitori
Kushiyaki
Address: 720 N Mills Ave, Orlando, FL 32803
Florida Flexible Cancellation Vacation Rentals! Check it out here.
12. The Monroe
Known as a multi-use eatery that features a dining room, lounge/study area, backyard patio, semi-private area, and daytime coffee bar, The Monroe, located on the ground floor of The Julian Apartments, does it all.
Why We Love The Monroe
This location is upscale in style yet warm and welcoming when it comes to décor and atmosphere. Making it one of the best restaurants in Orlando.
The Monroe is a colorful and social stop on your tour of the best food in Orlando and with fantastic food options and beverages, I guarantee you'll be coming back time and time again.
Top Dishes on the Menu at The Monroe:
Local Royal Red Shrimp Campanelle: Orlando City Pasta Campanelle, Roasted Tomato Butter, Arugula, Capers, Fine Herbs
White Bean Hummus: Crispy Chickpeas, Spiced Oil, Naan, Crudite
Blistered Shishito Peppers: Pickled red onion, Smoked Paprika Aioli, Crispy Quinoa
Address: 448 N Terry Ave, Orlando, FL 32801
13. Café Tu Tu Tango
The Café Tu Tu Tango restaurant has served locals and visitors alike for more than 30 years with delicious plates, art-inspired craft cocktails, and live entertainment that keeps the party going.
Why We Love Café Tu Tu Tango
It's eclectic in not just its decor, but it's exquisite list of food offerings for you to explore as well!
The menu is just as lively as the music that guests come to listen to every week, so let's take a look at a few top dishes.
Top Dishes on the Menu at Café Tu Tu Tango
Tzatziki: Labneh, Greek Yogurt, Cucumbers, Dill, Garlic, Warm Flatbread
Moroccan Lamb Meatballs: Crispy Potatoes, Sumac, Dill, Parsley, Garlic-Tahini Sauce
Pibil Style Cauliflower Tacos: Sour Orange & Achiote Rubbed Cauliflower, Charred Peppers, Roasted Corn, Garlic-Basil Crema
Address: 8625 International Dr, Orlando, FL 32819
RECOMMENDED FOR YOU: We know that travel plans sometimes change and this is why most tours and activities can be cancelled for a full refund as long as travelers cancel at least 24 hours in advance! – Check individual tours details for eligibility.
14. Seito Sushi
Now you know there was no way I was going to leave one of my ABSOLUTE FAVORITE restaurants in Orlando off this list which is Seito Sushi!
Over the past 20 years, Seito Sushi has built a reputation for pure quality and taste. The sushi scene in Orlando is growing and Seito Sushi is one of the reasons why it's becoming a staple.
Why We Love Seito Sushi
But seriously, I love how the chefs at this Orlando restaurant always knock it out of the park for me each time I visit.
I have NEVER had a bad dish or experience here and every time I try something new, I am blown away by the absolute detail and mastery that goes into each foodie treat.
Also, the interior is gorgeous and lit up with natural lights, greenery, and a warm golden glow coming from their light fixtures. Making it one of the best restaurants in Orlando.
Whether you're going for a birthday party, a happy-hour reunion, or a first date, Seito Sushi is the perfect place to celebrate.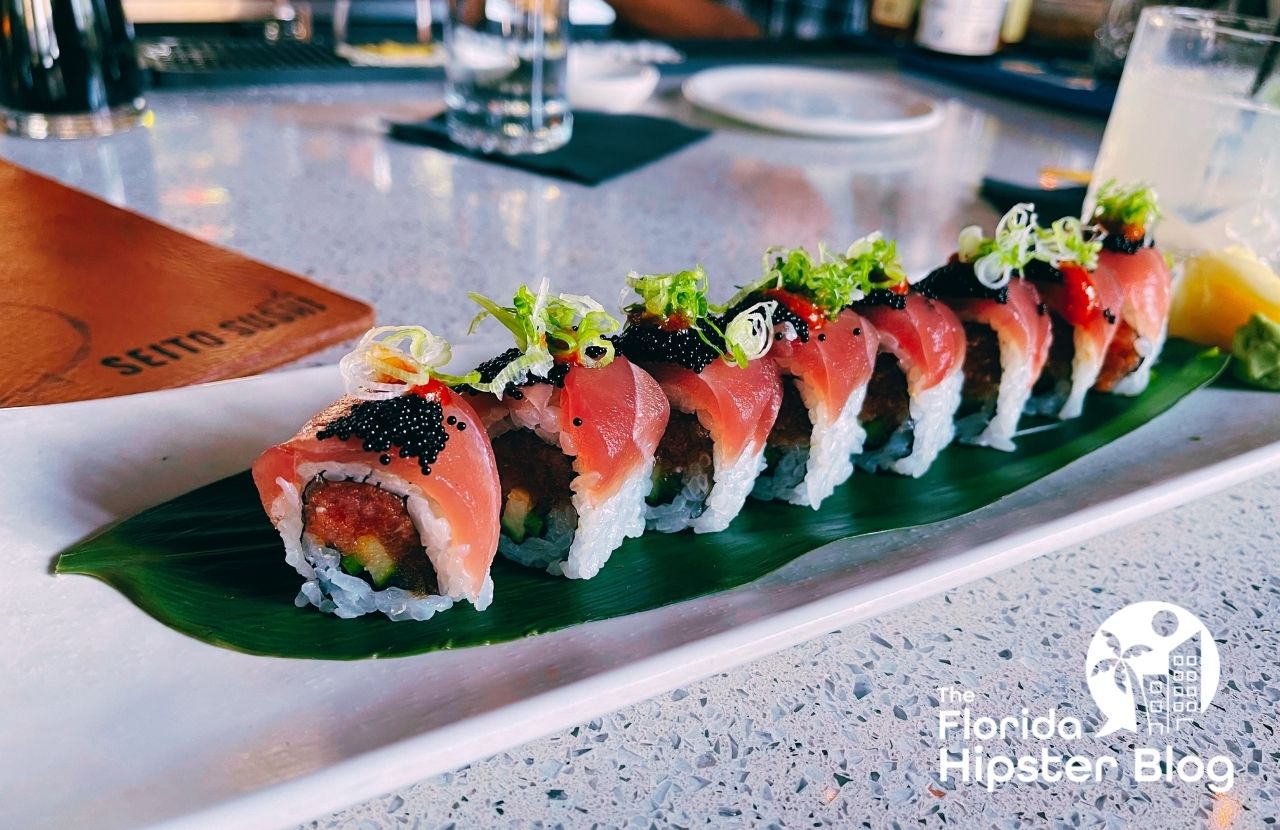 Top Dishes on the Menu at Seito Sushi:
Wagyu Beef Tartare: Crispy Rice, Parmesan, Gochujang
Tonkotsu Ramen: 18-hour Pork Broth, Caramelized Onion, Chashu, Beni Shoga, Fried Garlic, Scallion, Soy Egg
Wreckfish: 7 oz. Atlantic Seabass, Thai Eggplant, Bamboo Red Curry
Corona Roll: Grilled Jumbo Shrimp, Spicy Snow Crab, Tempura Asparagus, Avocado, Cucumber, Masago, Jalapeno, Pico de Gallo, Cilantro, Spicy Mayo, Spicy Kobachi Sauce, Maldon Sea Salt
Hot Chicken Bao Bun: Korean Fried Chicken, Szechuan Peppercorn Pickle, side of Shiso Lime Buttermilk Ranch
Spicy Tuna Crispy Rice: Tuna Tartare, Fresno Chilis, Eel Sauce, Spicy Mayo, Scallions
Address: Multiple locations in Orlando
15. The Hampton Social
If you want to get away and feel like you've entered a hip little beach house, then The Hampton Social is the perfect place for you.
The natural light, ocean blue and white accented décor, and live music will make you feel like you're on your own mini vacation. 
Why We Love The Hampton Social
The vibe here is not only a welcomed feature to Orlando, but the food is well-crafted with an array of simple, yet impeccable flavors that bring the New England theme to life.
This location offers an indoor dining room, a large outdoor patio, a private dining room, and a "Rosé All Day" Lounge. Check out more events and their menus at the link above.
Top Dishes on the Menu at The Hampton Social:
Bang Bang Chicken: Hand-Breaded Chicken, Slaw, House BBQ, Bang Bang Chili Sauce, Seafood Salad
Tuna Tartare: Avocado, Taro Chips, Honey Chili Vinaigrette
Hampton Caesar: Mesclun Greens, Crispy Bacon, Croutons, Parmesan, Housemade Caesar
Lobster Roll: Manhattan Style: warm + buttery -OR- Maine Style: chilled + creamy
Shelter Island Chicken Sandwich: Crispy Fried, Slaw, Apple, Swiss, Pickles, Spicy Aioli, Egg Bun
Hampton Mac and Cheese
Hampton Frose: Tito's Handmade Vodka, Rosé Wine, Peach Purée
Montauk Point: Fortified Wine, Salted Cucumber, Aloe, Spearmint, Prosecco
Address: 9101 International Dr, Orlando, FL 32819
Want DAILY Florida Travel Photos? Follow Florida Hipster on Instagram TODAY!
16. The H Orlando
You'll be happy to know that The H Orlando is a Mediterranean Steakhouse that allows guests to indulge in the very best dry-aged steaks, cocktails, live entertainment, and ambiance. 
Why We Love This Orlando Restaurant
Their "Out of Office" Boozy event that happens every Friday with a live DJ is a night you need to plan for.
Their "The Affair" DJ party on Saturdays will have you enjoying delectable dinner dishes, show-stopping performances, and handcrafted signature cocktails.
Let's just say it's a continuous party, and one you don't want to miss. Making it one of the best restaurants in Orlando.
Top Dishes on the Menu at The H Orlando:
Horiatiki Salad: Tomatoes, Cucumber, Red Onion, Bell Peppers, Pepperoncini, Kalamata Olives, Barrel-Aged Feta, oregano, Olive Oil
H Signature Bone Marrow: Josper Grilled Bone Marrow, Onion Jam, Pickled Peppers, Micro Shiso, Grilled Sourdough
Smoked Salmon Croquette: Roasted Pepper Sauce, Shaved Pecorino, Cilantro Aioli
Address: 7512 Dr Phillips Blvd #80, Orlando, FL 32819
17. Four Flamingos
If you're looking for something to cover all your senses, Four Flamingos is your go-to spot here in Orlando, Florida!
Why We Love Four Flamingos
TV personality and chef Richard Blais is responsible for creating the perfect place to experience an immersive night.
A night that combines a dreamy tropical oasis with fresh-caught seafood, vibrant cocktails, and lush grounds surrounding the five different dining areas you have to lounge in.
Top Dishes on the Menu at Four Flamingos:
Cachapa Caviar: Italian Osetra, Corn Fraiche, Cachapa Blini
Oxtail & Foie Gras Empanada: Mango Chutney
Lobster Bucatini: Jalapeño, Lemon Butter
Coconut Yuzu Cake: Coconut Layered Cake, Coconut Mousse
Address: 1 Grand Cypress Blvd, Orlando, FL 32836
Get more Orlando travel planning tips right here!
18. Shula's Steakhouse
Another fan favorite sitting deep inside the Dolphin Resort in Disney World is Shula's Steakhouse.
This Orlando restaurant was made to commemorate the perfect 1972 season the Miami Dolphins had – the only team in NFL history to ever achieve such an honor.
Why We Love Shula's Steakhouse
This food here is some of THE BEST that you will get in all of Orlando! Don't let its location of being on Walt Disney World property fool you.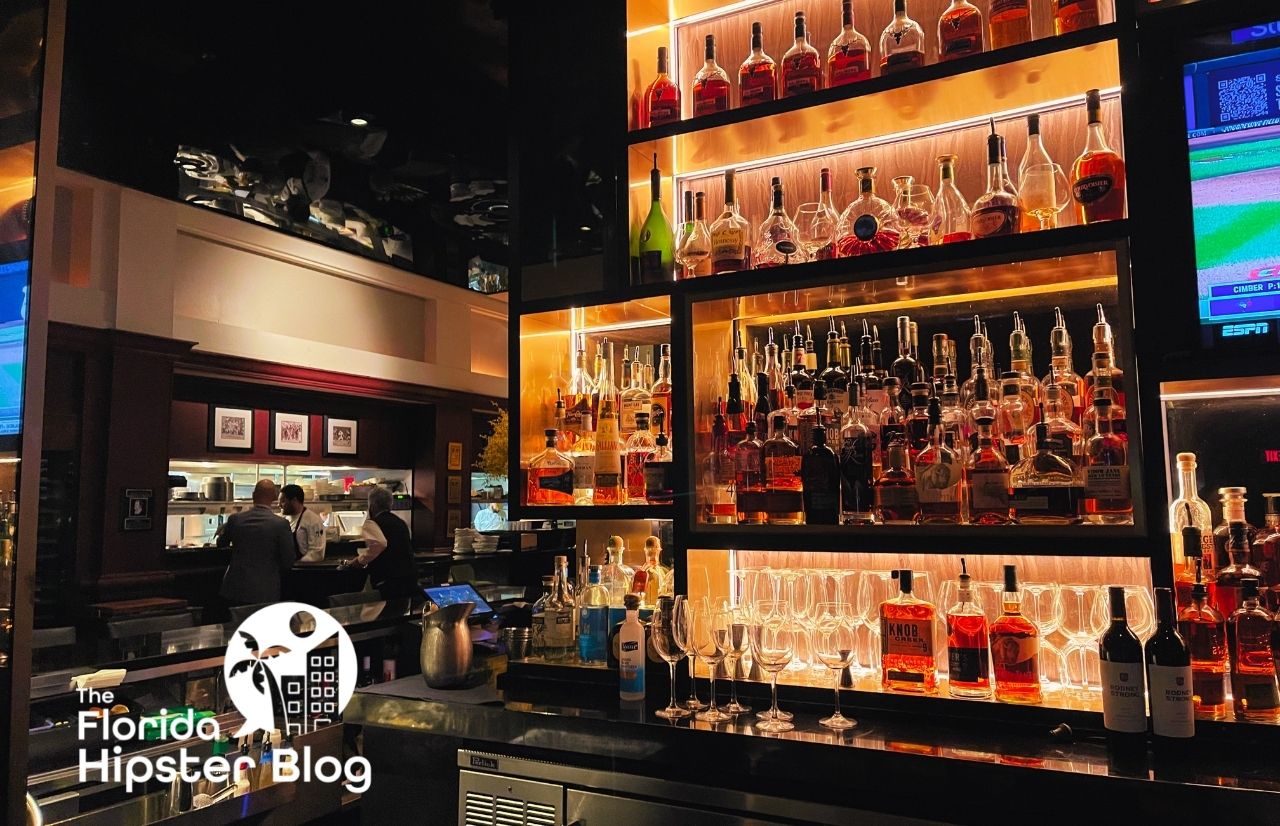 It's one of the top places to get a great steak and a tantalizing cocktail here in Central Florida.
Before you go, make a reservation online and take a look at their dress code for both men and women.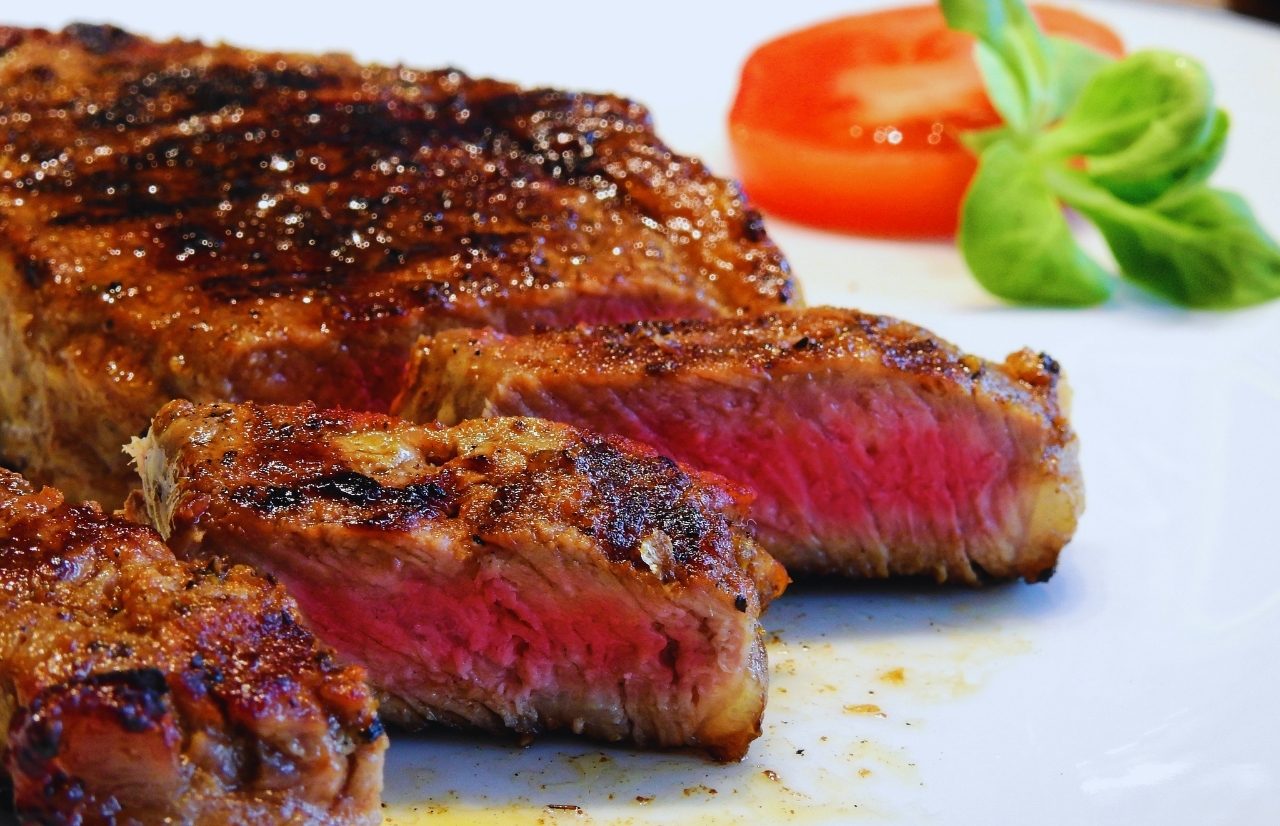 While it's a more casual establishment, they do accommodate formal gatherings so be aware of your wardrobe when you head there.
Top Dishes on the Menu at Shula's Steakhouse
New Orleans Style Shrimp: Cajun Spiced Shrimp, Lemon, Garlic Butter, Toasted Crostinis
Tomato Burrata Salad: Basil Pesto, Extra virgin Olive Oil, Balsamic Vinaigrette
Coaches Cut Prime Rib: Herb Crusted and Served with Yorkshire Pudding and Au Jus
Tuna Tartare: Diced Ahi Tuna, Red Chili, Sesame Vinaigrette, Avocado Cream and Crispy Wonton
Maryland Style Crab Cake: Jumbo Lump Crab, Mustard, Old Bay Seasoning with Remoulade Sauce
Black Angus Porterhouse
Macaroni & Cheese: Cavatappi Pasta, Gouda & Cheddar Cheese Sauce, Bread Crumbs
Molten Chocolate Lava Cake
Cucumber Collins Cocktail: Hendrick's Gin, Cucumber, Mint, Fresh Lemon Juice
French 75 Cocktail: Ford's Gin, Mionetto Prosecco, Fresh Lemon Juice, Simple Syrup
Address: 1500 Epcot Resorts Blvd, Orlando, FL 32830
19. Yachtsman Steakhouse
We have yet another Walt Disney Resort find. Yachtsman Steakhouse serves delectable steaks and fresh seafood in their nautical-themed dining room.
Why We Love Yachtsman Steakhouse
Because Yachtsman Steakhouse is only open for dinner, the vibe is very adult for Walt Disney World. This is a great date night spot for couples, or a treat yourself type of foodie spot for solo travelers.
I enjoyed my array of dishes from Beef Carpaccio to my amazing Filet Mignon washed down with a French 75 to complete my own little foodie tour at this wonderful Orlando restaurant.
Making Yachtsman Steakhouse one of the best restaurants in Orlando.
It has quickly been added to one of my favorite places to eat in Orlando ever since my recent first visit.
Top Dishes on the Menu at Yachtsman Steakhouse
Beef Carpaccio: Truffle Aioli, Parmesan, Fried Capers, grilled Artichoke, Smoked Sea Salt
Sweet Potato and Seasonal Mushroom Dumplings: Haricot Vert, Petite Sorrel and Soubise (plant-based)
Pineapple and Coconut Tart: Roasted Pineapple Curd, Coconut Crema, Sable Cookie Crunch and Cherry Gelée (plant-based)
Caesar Salad with Anchovies
Address: 1700 Epcot Resorts Blvd, Orlando, FL 32830
For a no obligation, FREE Disney Vacation Quote you can fill out the form with The Park Prodigy by Clicking HERE!
20. Kabooki Sushi
Another award-winning restaurant that combines international flavor, preparation, and curation, Kabooki Sushi is revered by locals and tourists as a place to experience flavors from all over the world.
This location offers hot and cold tastings, sushi, dessert, and greens. They specialize in sake, Japanese Whiskey, Mezcal, and many other spirits.
Why We Love Kabooki Sushi
The vibe of Kabooki is real chill and great for a date night or a place to visit on your solo trip to Orlando, Florida.
You can also do a custom Omakase experience here as well.
I love sitting at the sushi bar here and chatting with the chefs. They're super helpful and are able to help guide you to the best dish on your visit.
Be sure to take advantage of their social hour from 5 p.m. -7 p.m. Monday through Thursday and experience their unique and free-spirited culture.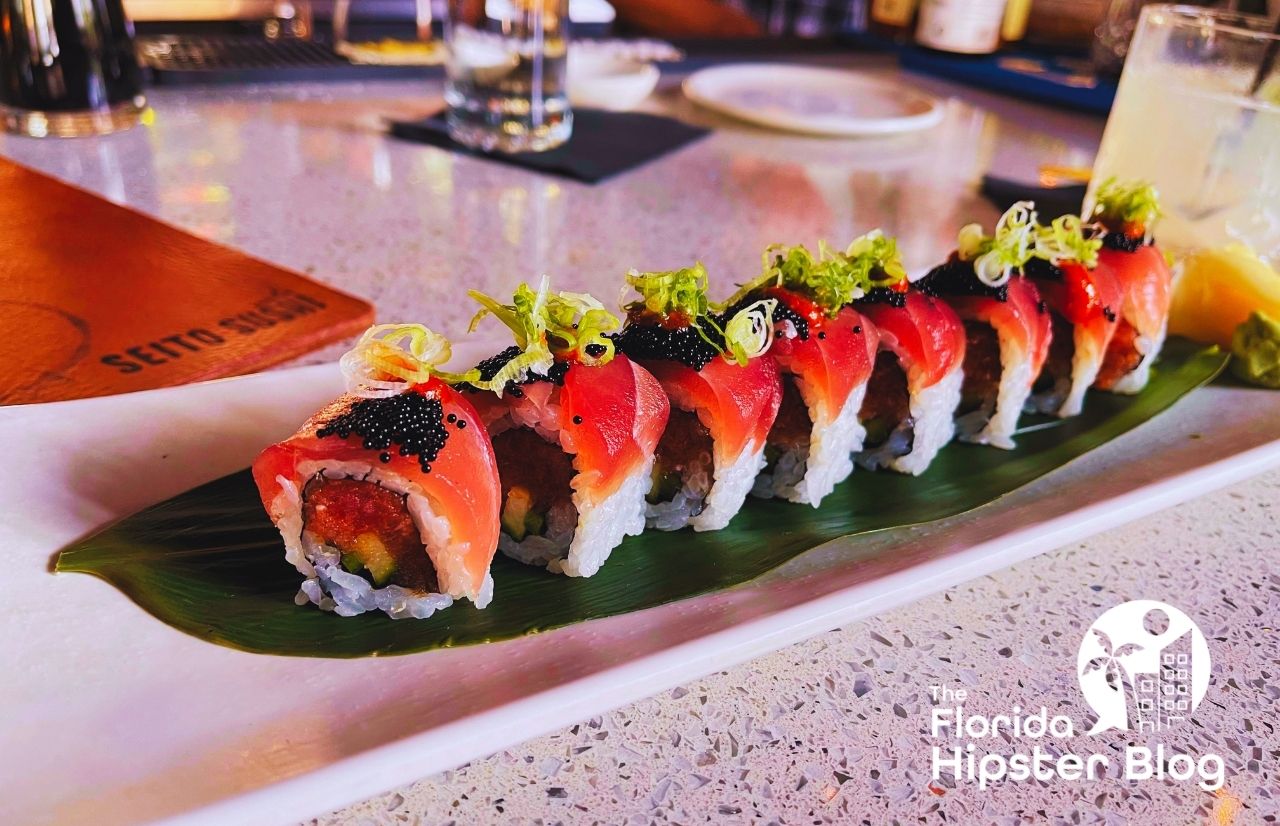 Top Dishes on the Menu at Kabooki Sushi:
Handmade Ebi Gyoza: House-Made Dumpling, Shiitake Mushrooms, Mojo Emulsion
Leche de Tigre: Torched Salmon, Truffle Pate, Kizami Wasabi, Aji Amarillo, Smoke Trout Roe, Sunchoke Chips
Makimono (Sushi Rolls) Booki Booki, Chill, Hokkaido, Akami Unagi
Spicy Tuna: Tuna, Chives, Masago, Kobachi Sauce
Hamachi Carpaccio: Japanese Yellowtail, Yuzu Tobiko, Ponzu, Kafir Limeoil, Thai Kosho, Serrano Peppers
Hokkaido: Lumpcrab, Tempura Flakes, Avocado, Tobanjan Aioli Topped with Scallops, Black Garlic, Orange Chili Sauce
Address: Multiple locations in Orlando
21. Capa
Sitting high on the 17th floor of the Four Seasons Orlando, you'll find Capa, a chic spot inspired by Spanish influence.
Why We Love Capa
The views from the patio overlooking Disney are unmatched and the interior design is definitely Instagram-worthy.
Their menu comprises mouthwatering tapas, fresh Florida seafood, and cooked cuts made to perfection on their wood-burning grill.
Top Dishes on the Menu at Capa
Dátiles: Medjool Dates, Almond, Bacon, Maple, Tamarind
Gambas: Shrimp, Egg Yolk, Chili, Celery Root Chips
Patatas Bravas: Potato, Chipotle Aioli, Paprika Tomato Sauce, Cornichons
Address: 10100 Dream Tree Blvd, Lake Buena Vista, FL 32836
Get up to 76% off of the Orlando attractions with Groupon TODAY!
22. Soseki
Winter Park is lucky to have such a keystone Japanese experience like this one. Soseki seats only 10 guests and is a multi-course experience.
Why We Love Soseki
This chef's choice dinner allows you to let go a little while trusting your chef and putting your night right into their experienced hands.
You'll even meet a beverage director and team who knows a thing or two about sake and beverage pairings.
The menu changes monthly, so you'll have to go with your instincts and trust that whatever the chef prepares for you, you'll absolutely love.
Address: 955 W Fairbanks Ave, Winter Park, FL 32789
23. Knife & Spoon
We've got a MICHELIN Star winner on our hands! In 2022, Knife & Spoon won the prestigious star of the MICHELIN Guide Florida for their bold flavors and riveting experiences that leave guests wanting more.
Why We Love Knife & Spoon
Knife & Spoon is one of Orlando's best kept secrets (well, at least before the recent MICHELIN Star Award) that offers a dinner, bar, and lounge menu depending on what mood you're in for the night.
It's an honor to have such an incredible dining experience here in central Florida and I'm glad to add it to the list of the best restaurants in Orlando!
Top Dishes on the Menu at Knife & Spoon
Pappardelle Bolognese: Pancetta, Beef, Veal, Lamb, Tomato, Parmesan
Asian Chili Lobster: Butter Poached, Sriracha
Hamachi Crudo: Avocado, Florida Grapefruit, White Soy Sriracha, Micro Cilantro
Address: 4012 Central Florida Pkwy, Orlando, FL 32837
Get more Orlando travel planning tips right here!
24. Bombay Street Kitchen
I had to add something unique for you on my list of restaurants. Indian street food is some of the best flavors I've ever had.
Why We Love Bombay Street Kitchen
Inspired by the delicious flavors of cities like Mumbai, Delhi, and Bangalore, Bombay Street Kitchen offers visitors in Orlando a chance to step into the Indian food culture.
You'll also get to dive deep into the colors, flavors, spices, and scents of places we dream of traveling to in the world. 
Top Dishes at Bombay Street Kitchen
Bhel Puri: Puffed Rice, Potato Onion with Mint and Tamarind
Fish Colombi: Fish, Carrom Seeds, Paprika, garlic, Mango Powder
Bombay Paneer Tikka: Cottage Cheese, Fresh Herb Marination, Grilled
Address: 6215 S Orange Blossom Trl, Orlando, FL 32809
25. The Ravenous Pig
I'm ending my list of where to eat in Orlando with the Ravenous Pig, a restaurant that sits right next to its owners' new brewery that they opened in 2019.
Why We Love The Ravenous Pig
James and Julie Petrakis of Winter Park built The Ravenous Pig with an industrial aesthetic that includes an open kitchen that lets us visitors glimpse our way in.
In the kitchen, you'll be sure to taste Southern-style cooking that experiments with modern dishes and techniques.
Peruse the menu a little more and you'll see more delicious picks like apple fritters and coffee cake, as well as charcuterie platters, a brown butter ramen, and sandwiches like mahi sandwich and hot Italian.
Top Dishes at The Ravenous Pig
Mushroom & Gruyere Beignets: Tarragon Aioli, Romesco
Tagliatelle Bolognese: Beef Ragu, Tomato, pecorino
50 oz. Wagyu Tomahawk: Australian A9+ Wagyu Beef, Bordelaise, Bearnaise Butter
Address: 565 W Fairbanks Ave, Winter Park, FL 32789
Want DAILY Florida Travel Photos? Follow Florida Hipster on Instagram TODAY!
Final Thoughts on the Best Restaurants in Orlando
Now, I truly hope you enjoyed my list of best restaurants in Orlando.
I know it can be difficult finding a place that meets everyone's needs but trust me on this, the best food in Orlando is not far. In fact, it's right around the corner.
Whether you're a carnivore at heart, a sushi lover through and through, or you're looking for some delicious freshly caught seafood of the day, these popular spots won't disappoint you or your tastebuds.
What's your favorite restaurant in Orlando? Let us know in the comments section below!
Happy Florida Travels!
UP NEXT: 19 Romantic Getaways in Orlando You'll Fall in Love With