In search of the best things to do in Florida for Halloween and a wickedly awesome good time?
Well, let me stop you dead in your tracks. The Florida Hipster Blog is creepin' it real and has dug up all the ghoulish Florida Halloween events.
Come explore the dark side of the Sunshine state and spend Halloween in Florida. So, let's get this party startled! Read on to find out our list of 30 fun things to do in Florida for Halloween.
THIS POST MAY CONTAIN AFFILIATE LINKS. PLEASE READ MY DISCLOSURE FOR MORE INFO.  Which means if you click on certain links, I may receive a small commission at no additional charge to you.
Central Florida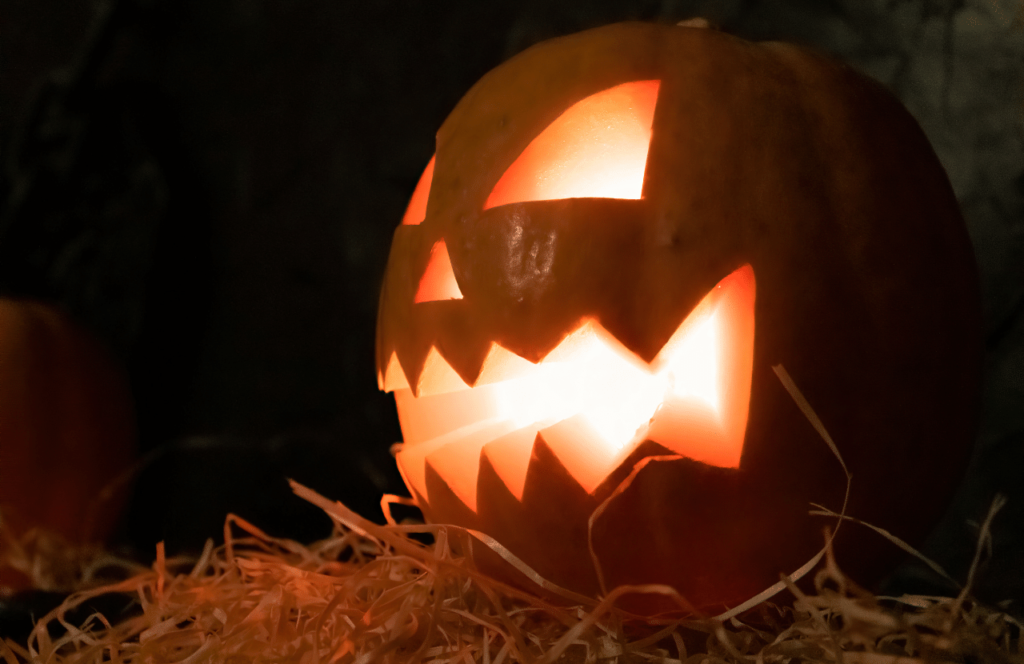 1. Cassadaga Haunted Attractions
With this year's theme of Lobotomies, you know it is going to be one frightful night. Keep calm and scare on through the haunted house and fright maze of twisted and historical medical practices.
Cassadaga Haunted Attractions will also have mediums to connect with speaking with those on the other side.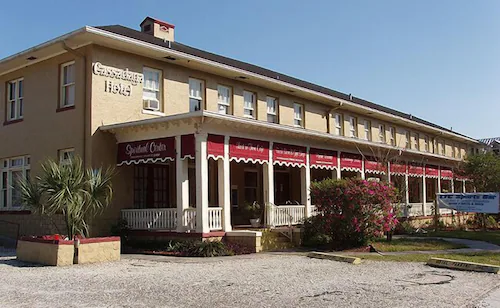 And of course, plenty of food, drinks, and alcohol in case you want to hang with your boo crew!
So, eat, drink and be scary at one of Central Florida's up close and nightmarish haunted houses in a truly haunted hotel…
Location: Cassadaga Hotel 355 Cassadaga Rd, Lake Helen, FL, 32744
Get up to 76% off of the Orlando attractions with Groupon TODAY!
2. Halloween Horror Nights
Halloween Horror Nights is THE premiere haunted experience in all of Florida.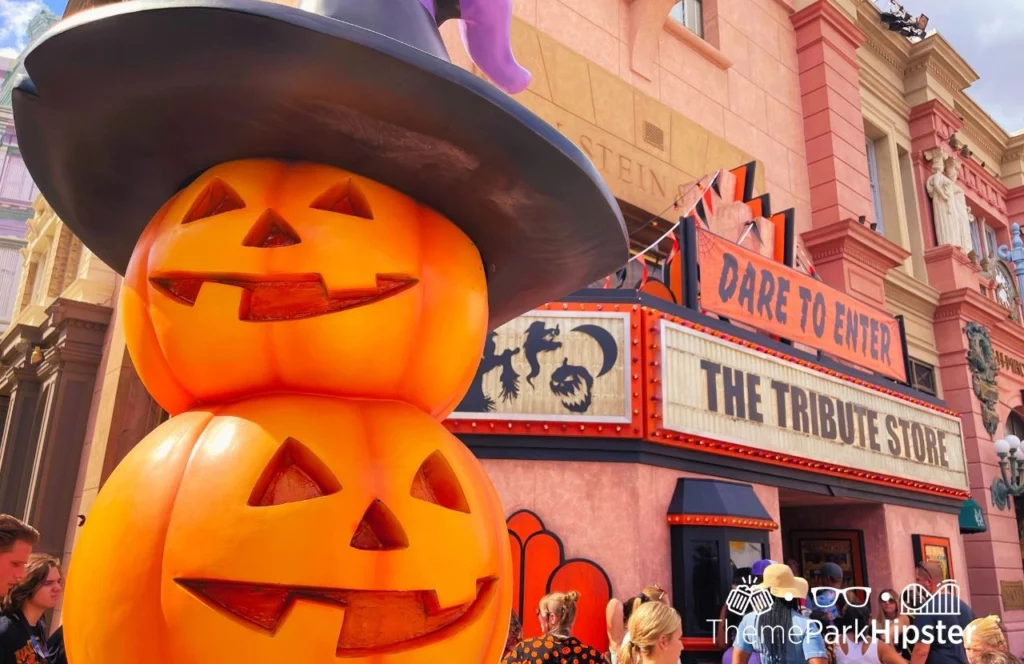 Each year it debuts new levels of terror within its haunted houses, scare zones, and entertainment. Making it one of the best Florida Halloween Events.
If you did not know, Halloween Horror Nights is an annual event that takes place from September until November at Universal Studios in Orlando, Florida.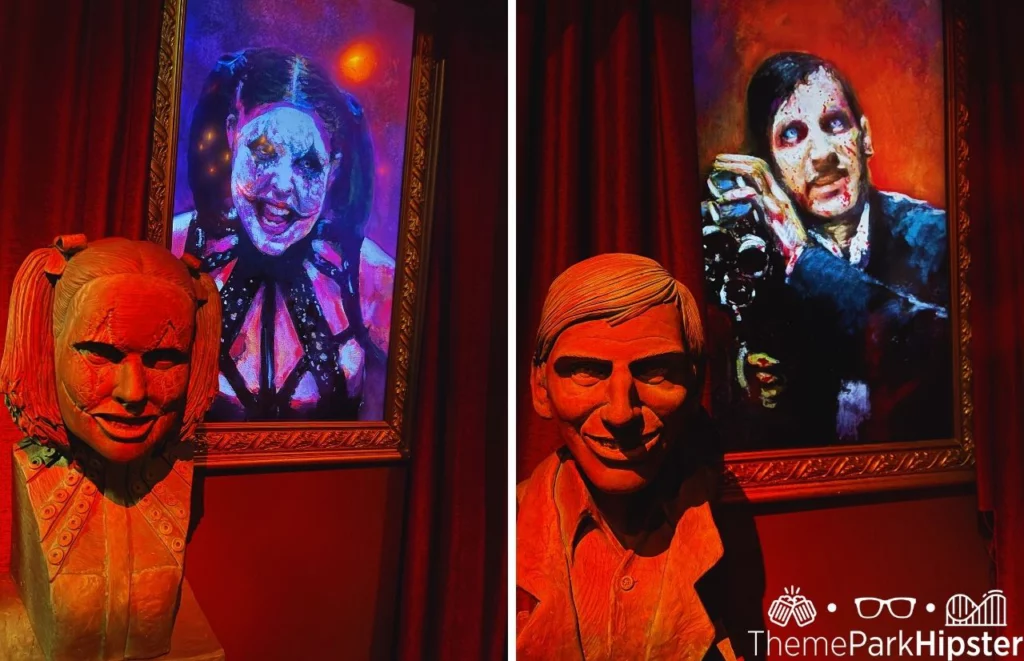 With ten haunted houses and multiple scare zones, outstanding shows, delicious treats and one-of-a-kind experiences, you'll love visiting this place during the spooky season!
Get your discounted Halloween Horror Nights Tickets on Groupon TODAY!
3. Tales of Terror Haunted Attraction
Orlando's haunted trail leads you into the wasteland to see if you can survive.
Lurking in the wings of the wasteland's darkness are creatures just waiting for you to face your ultimate fears.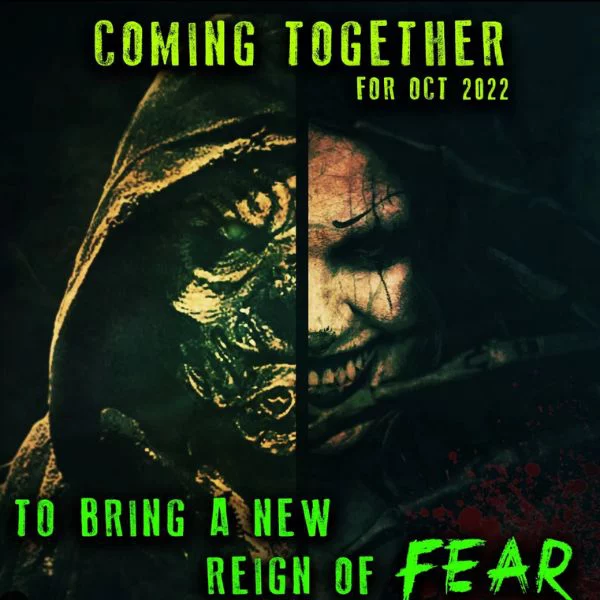 Tales of Terror is a fangtastic night out with food, vendors, and even some zombie gellyball.
Location: 4603 W Colonial Drive Orlando, FL. 32808
4. Brick or Treat at LEGOLAND Florida Resort
Did you know that LEGOLAND Florida offers their own Halloween experience?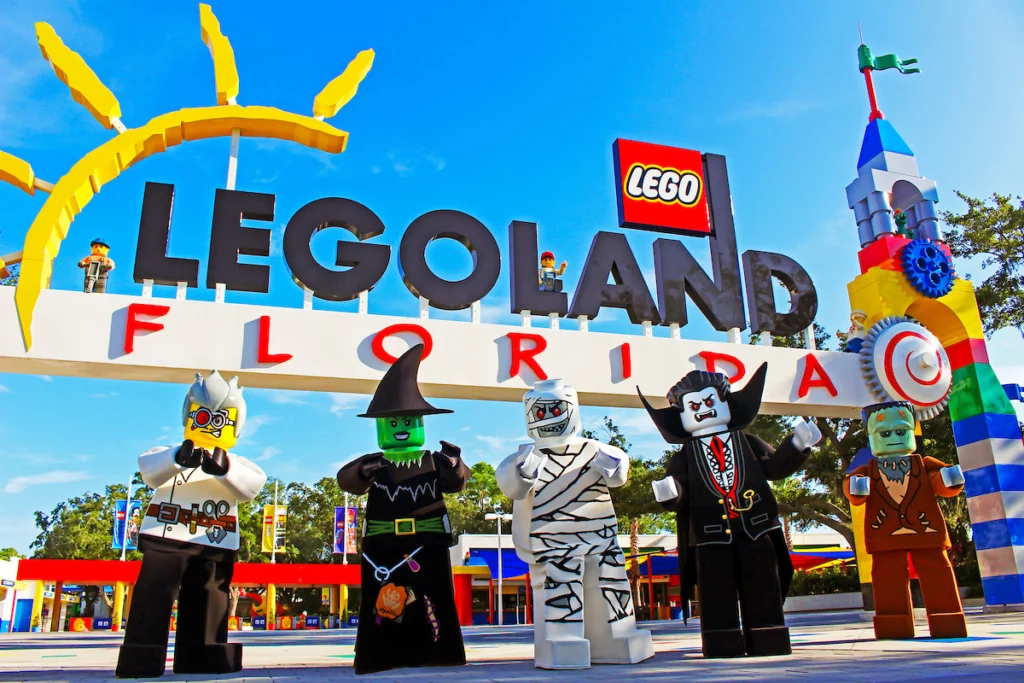 Be sure to venture out to Polk County to enjoy trick-or-treating in LEGOLAND during the Brick or Treat Halloween event.
What to Expect from Brick or Treat at LEGOLAND:
Brick-or-Treat Trail
LEGO Halloween Characters
Brick-or-Treat Scavenger Hunt
The Tale of Pirates' Cove Fireworks Spectacular
Read the full travel guide for LEGOLAND Florida here!
5. Scream N'Stream
Scream N'Stream is a bit different with its drive-through haunted house. Your ticket gets you not just one ghoulish good time but two!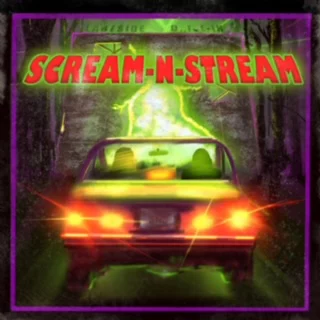 A 20-minute haunted drive takes you through 7 different zones of screams and scares. Then head indoors to the scare zone at The Florida Mall.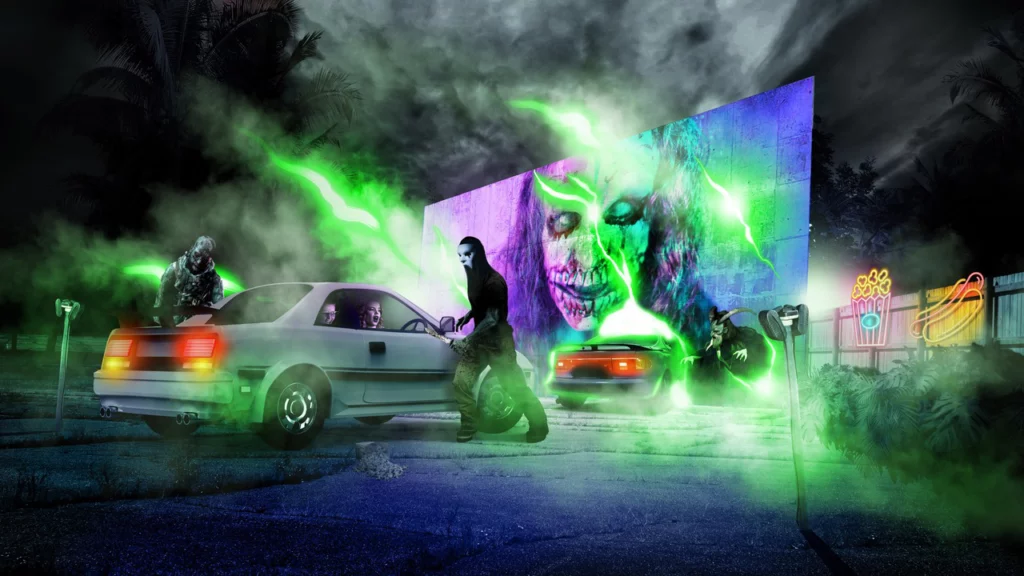 Dance like the devil, meet monsters, and take plenty of pictures inside the haunted lobby. Come out and enjoy a night at the Die-In.
Location: The Florida Mall 8001 S Orange Blossom Trail Orlando, FL 32809
6. SeaWorld's Halloween Spooktacular
Be sure to make your way over to SeaWorld Orlando if you want more of a family-friendly Halloween vibe.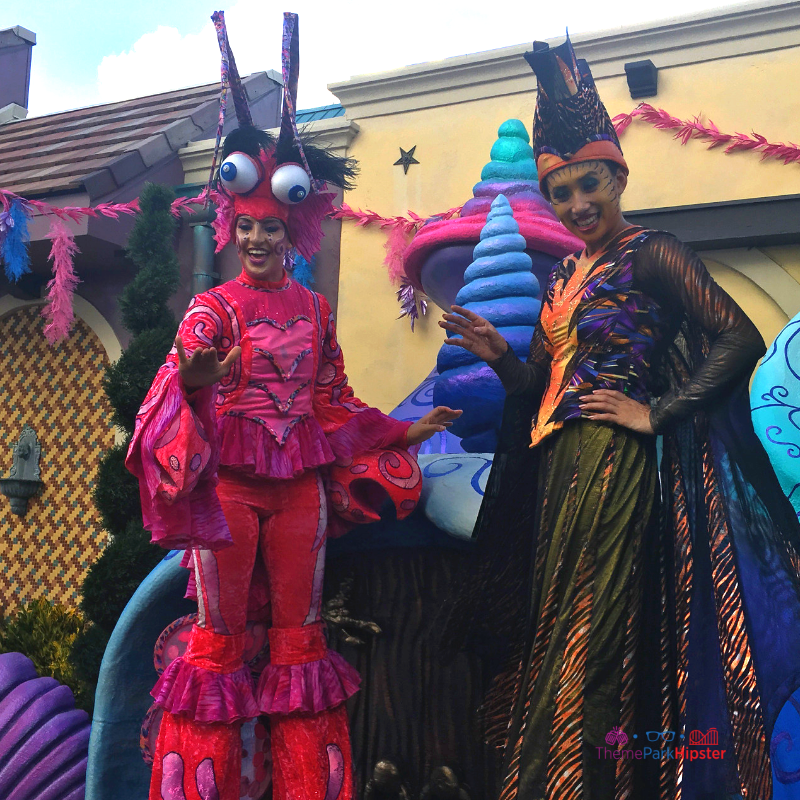 SeaWorld Spooktacular is another Florida fall event that gives you the opportunity to enjoy the amazing attractions along with Halloween shows, treats, and more!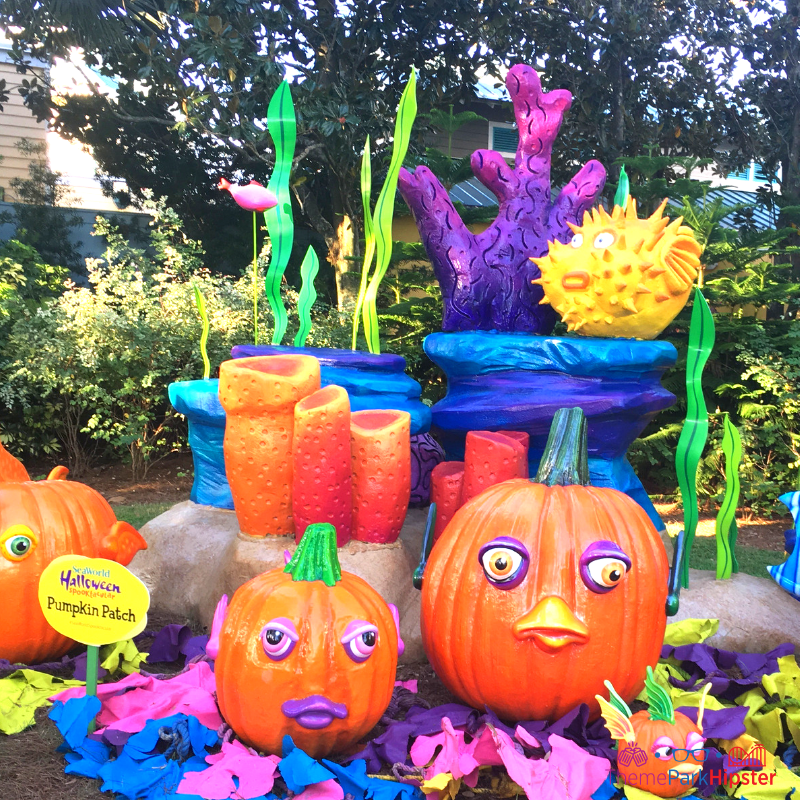 SeaWorld Orlando Halloween Activities
Candy Walk/Trick-or-Treat Tral
Sesame Street Halloween Show
Special SeaWorld Spooktacular Halloween Character Meet-and-Greets
Pets Ahoy Halloween Show
7. Petrified Forest (Altamonte Springs)
With your ticket price, Petrified Forest: Nature's Fury gives you access to 3 terrifying trails. Into the Petrified Forest, you go to seek the wrath of land, sea, and sky.
Mother nature is not happy! Can you survive Extinction's Revenge, an Invasion from Beyond, and the wretched waters?
It's not just tricks here, there are treats too. Food trucks will be set up along with plenty of tasty goods as well as entertainment in the front yard. So, stay for a bit of wicked fun!
If you want to bring the family, they have put together special nights just for you.
Come out on Saturday, October 15th from 9 a.m. to noon for Kids Day. Wednesday, October 12th has been set aside for Special Needs night from 7:30 p.m. until 10 p.m.
Location: 1360 E Altamonte Dr, Altamonte Springs, FL 32701
8. Howl-O-Scream Orlando (SeaWorld)
One of the newest events to the Central Florida haunt scene is Howl-O-Scream at SeaWorld Orlando!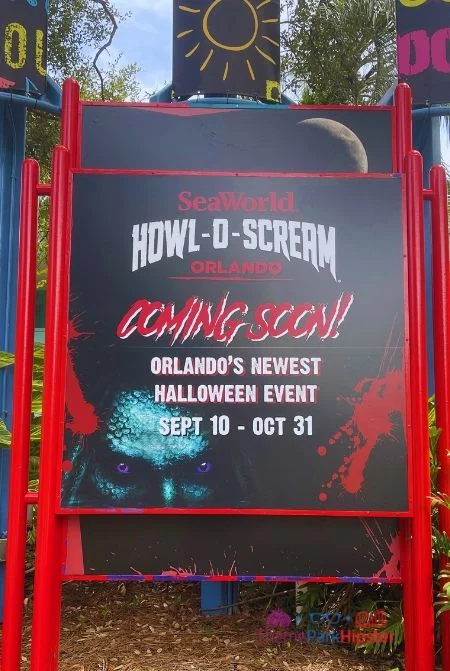 Similar to the one in Busch Gardens Tampa, you'll come face-to-face with terrifying houses and scare zones as SeaWorld puts its fun aquatic spin on this event.
SeaWorld Orlando Howl-O-Scream Halloween Details
Dates: September 9th through October 31st 2022
Cost: Tickets start at $44.99
Get up to 63% off of your SeaWorld Orlando Howl-O-Scream tickets TODAY with Groupon!
9. The Haunted Road: A Drive-Thru Halloween Experience
Orlando's infamous Drive Thru Halloween Experience is back. This year promises to be even more bone-chilling.
Cruise through the 30-minute Haunted Road of epic fear. Along the way stop to set your sights on the scenes of some of the most demented minds.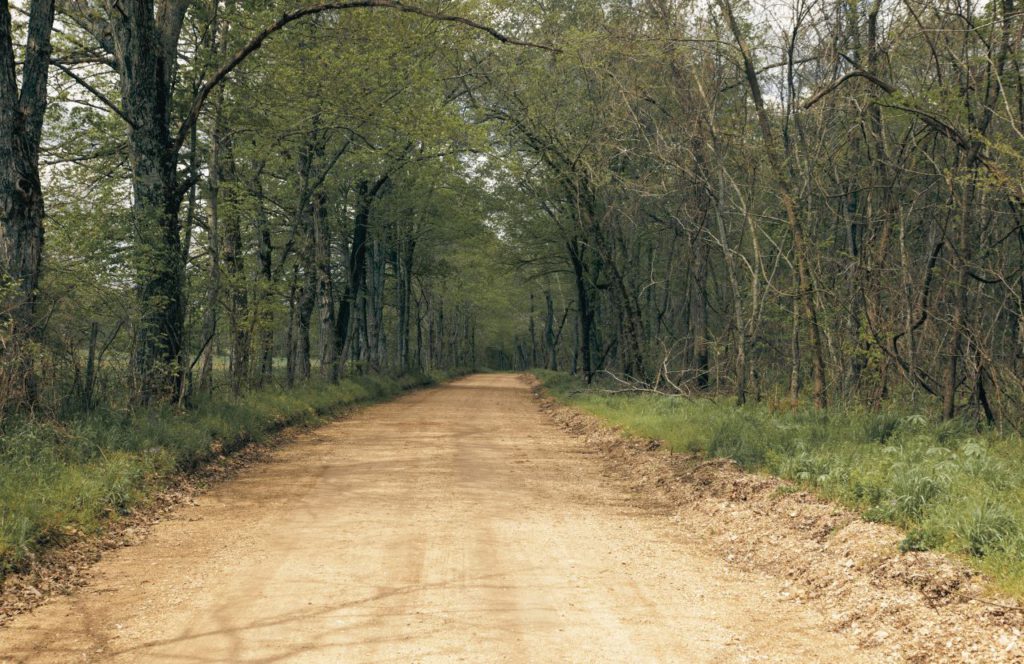 The grotesque sites sprawl before you, sending chills up your spine. If you survive to the end then a spooktacular reward awaits you.
Admission into the afterlife party where you can party with the dead. Pick up some haunted souvenirs at the Haunt Market or creepy and dark art.
Location: 15239 Lake Pickett Rd, Orlando, FL 32820
10. Disney's Mickey's Not-So-Scary Halloween Party
The Mickey's Not-So-Scary Halloween Party is back this year and in full gear!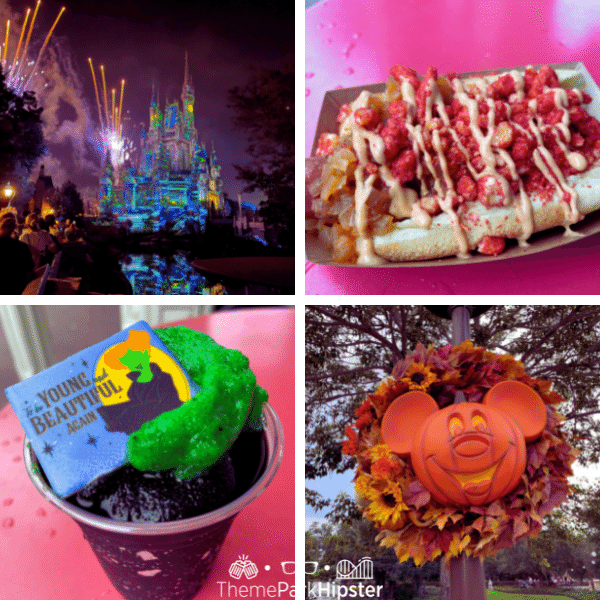 If you want to experience the classic Disney Halloween adventure, then this After Hours event is for you!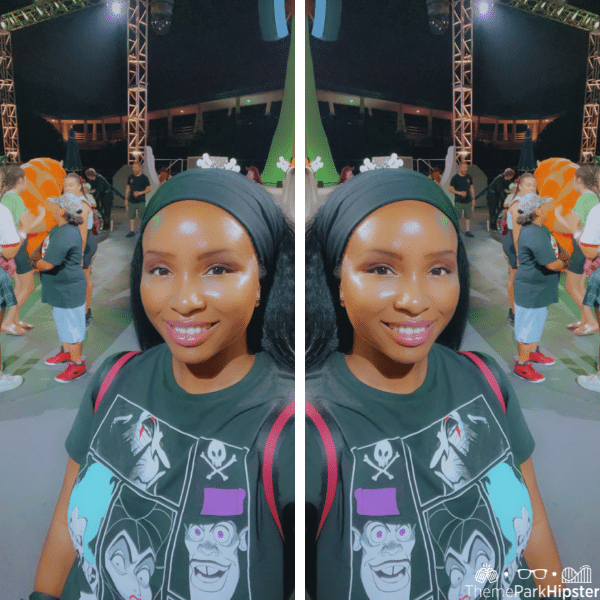 Mickey's Not-So-Scary Halloween Party allows you to go trick-or-treating, dress up like your favorite Disney villain, watch incredible shows, and even meet some of your favorite Disney characters.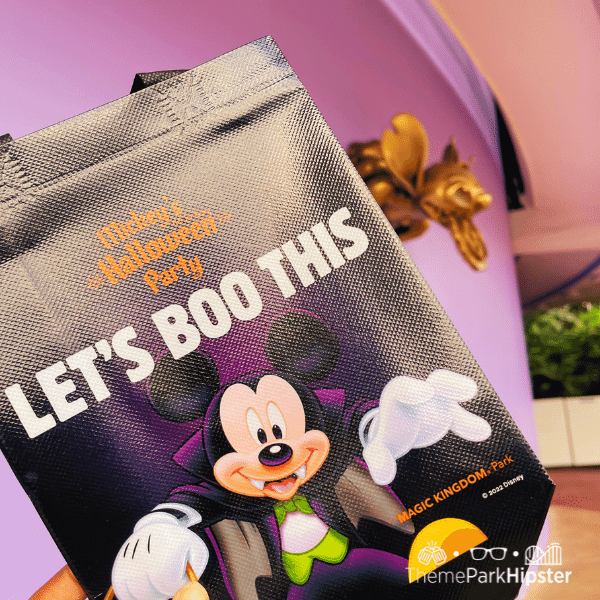 Mickey's Not-So Scary Halloween Party Details
Dates: Select Dates now to October 31st 2021
Cost: Tickets are now sold out for the year (2022)!
Check out more things to do at Disney World for Halloween here!
11. Screamland Fright at The Museum
Screamland Fright at The Museum is an art exhibit transformed into a haunting dark gallery. It is an experience of both hauntings and horrors.
Made up of over 30 different artists it brings forth some hair-raising creations and performances.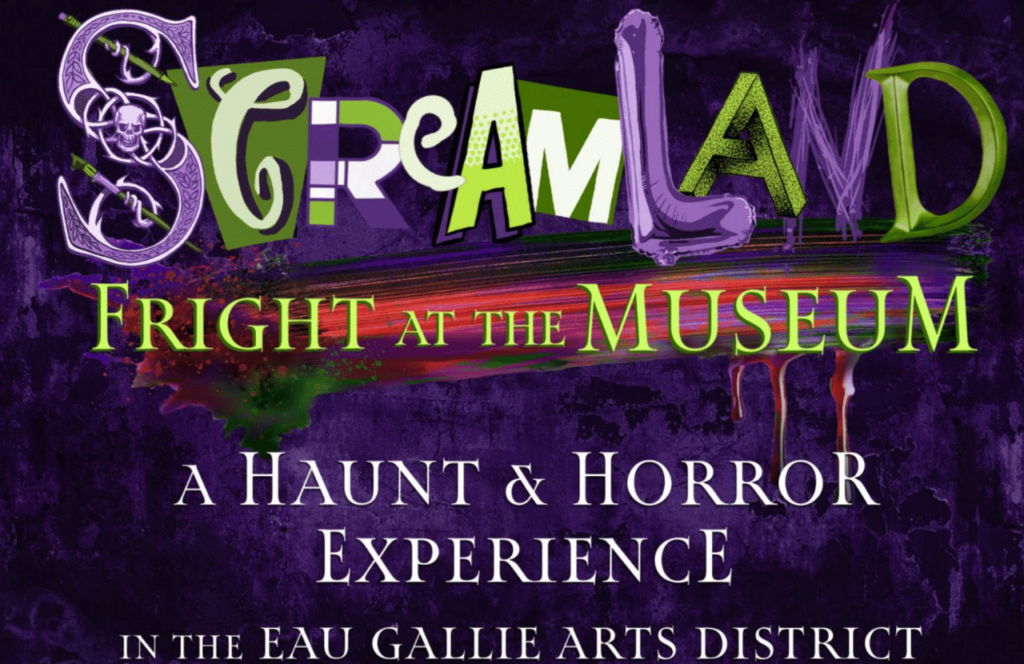 If you are willing to be bad to the bone, then take on some extra scares. Put on the glow bracelet provided to let them know you have no fear!
This event isn't recommended for children under 12. But if your young one is brave, just have them come with an adult and get ready to be terrorized.
Location: Eau Gallie Arts District 1463 Highland Ave. Melbourne, FL. 32935
Want DAILY Florida Travel Photos? Follow Florida Hipster on Instagram TODAY!
12. Face the Fear House – Longwood
Face the Fear in Longwood creates some of the award-winning haunted houses each year.
You'll be happy (or terrified) to know that you will be able to explore the new house called NOPE & NEVER.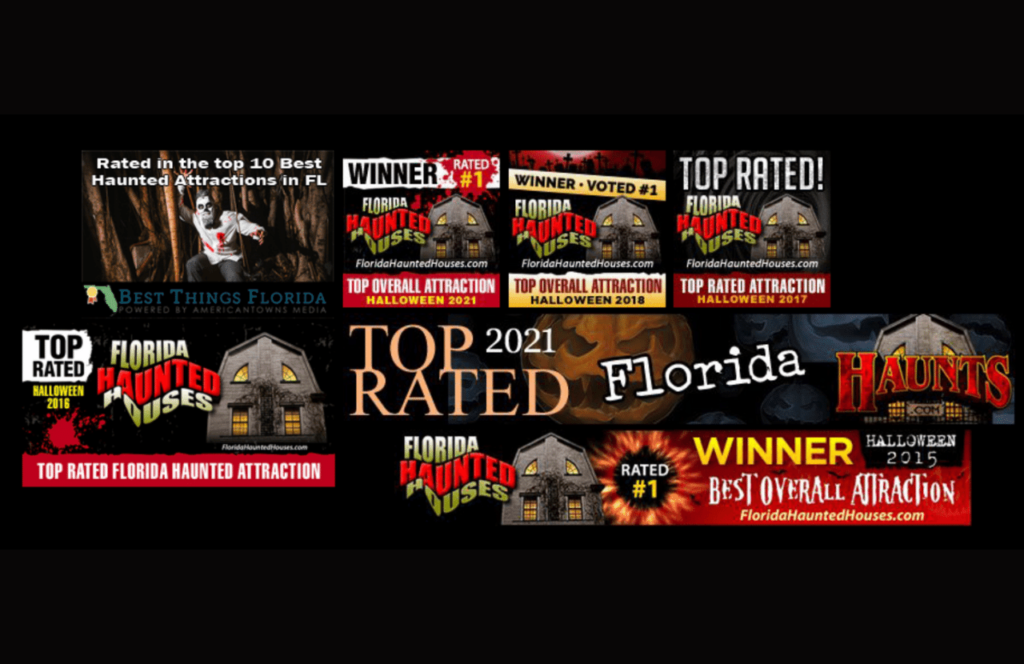 This haunted Florida attraction will place you deep inside of a restricted area of Winter Springs.
While you trespass into places unknown, you'll come face-to-face with the terrorizing legends told from the mysterious folklore known to this part of Central Florida.
What to Know Before You Go to This Orlando Halloween Event:
Dates: October 21, 22, 28, 29 from 8 p.m.-11 p.m.
Location: The campus of The Church @ 434 at 817 E. State Road 434 Winter Springs, FL 32708
13. Mortem Manor-Old Town, Kissimmee
Just outside of Orlando lies one of the "scariest haunted houses in America" by the Travel Channel.
Old Town, Kissimmee features Mortem Manor. An old Victorian-themed haunted house with two levels of terror.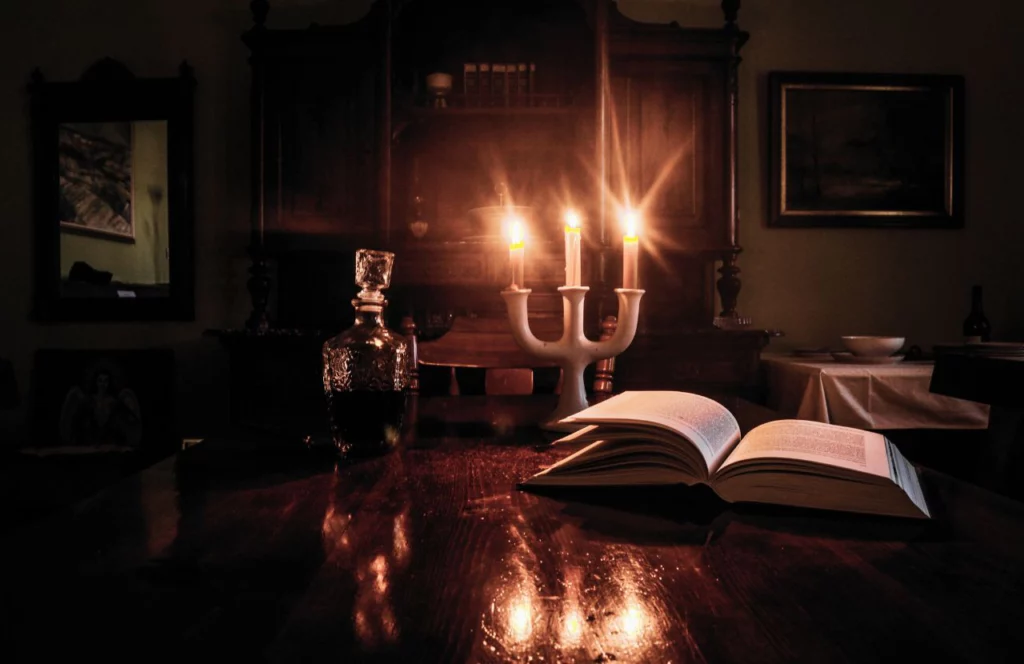 With live actors to knock your socks off and state-of-the-art special effects, you may just go a little bit mad.
For the ultimate test of fear, try out the coffin burial simulator. If you are lucky, you will come out alive!
If you can't make it out during the Halloween season, no need to fear. It's open for a scare year-round!
Location: 5770 W Irlo Bronson Memorial Hwy, Kissimmee, FL 34746
ORDER NOW to secure your Universal Studios theme park ticket! GET MY TICKETS.
14. Cocktails and Screams
Nothing starts the day right like a Sunday afternoon Ghostly Brunch. Am I right? 
Have some Texas Chainsaw Toast or some Eggs of Purgatory or a plate of The Big Bad Wolf for your Sunday Brunch.
Wanting a night out, then the drink menu has some spooktacular choices. Sip on some Scarlett Fever or wash it down with a trick shot of Children of the Corn.
Choose from choices off of the shiver & shrills, classic & monsters, or some cocktails & screams. Don't be scared there is something non-alcoholic too for those that are driving.
Location: 39 West Pine Street Orlando, FL 32801
Save over 45% on admission with the ICON Play Pass TODAY!
15. Atomic Horror Store
Stop into the horror shop of your dreams, or nightmares perhaps. Pick your poison, it has all your haunted horror needs to get your creative juices flowing.
A walk through the Atomic Horror Store brings back the nostalgia of days past. From vintage Halloween décor and memorabilia of iconic terror tales of the past to childhood favorite scares.
From the horrors of today, masks, costumes, trinkets, souvenirs, and quirky things it has what you need to make your Halloween just right. 
Location: 4805 E Colonial Dr, Orlando, FL 32803
16. The Hollow Pumpkin Store
This gift shop can get you your personalized spooky goods made to order in 7 days or less. It almost sounds too gourd to be true!
The Hollow Pumpkin Store has all those creepy items that you never knew your life needed to add that perfect touch. From Grem-a-lin and hatchet bath bombs, ghoulish scrunchies to slasher leggings.
You will go batty going through all the horrific items.
Location: 20 W Dakin Ave, Kissimmee, FL 34741
Get over 30% off on your Orlando CityPass here!
17. Phantasmagoria XIII
The thrills and tales of terror from Edgar Allan Poe come to life through Central Florida.
Performing in Orlando, Ocala, Tampa, and Deland the macabre and haunting works fill up the stage.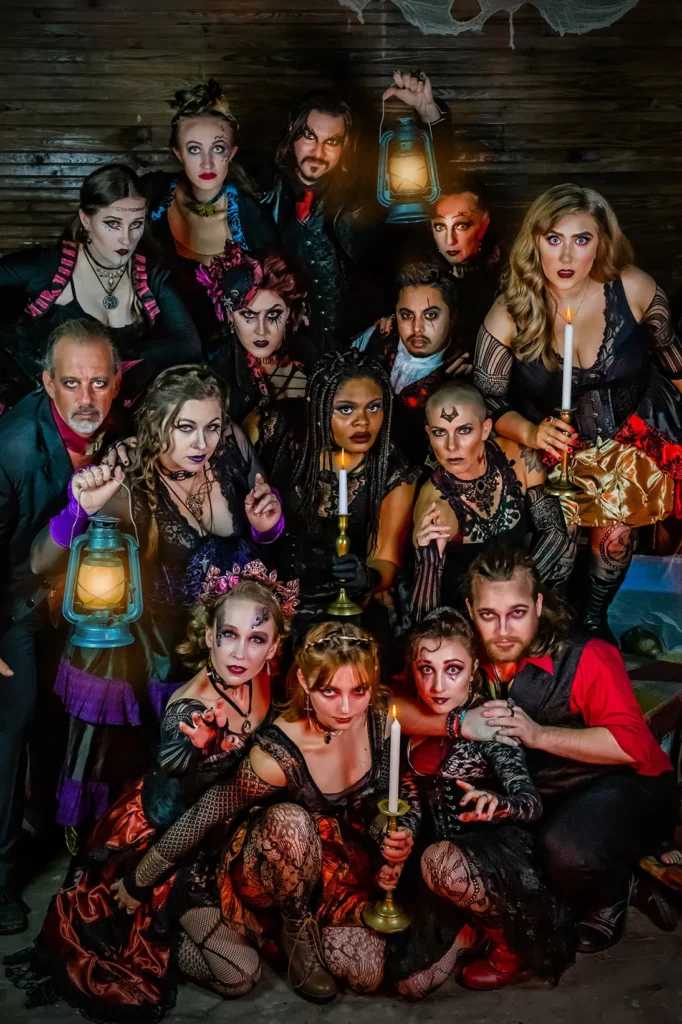 Come out and have a bloody good time! The dancing, music, and storytelling will put you right into the Halloween spirit.
Location: Orlando, Ocala, Tampa, Deland
18. Scott's Maze Adventures at Long & Scott Farms
Charming Mt. Dora gets into the spooky season with maze adventures and old-time fun.
Get lost in the Cornfusion Tree maze of over 1,000 trees or venture into the corn maze and pumpkin patch. It is sure to be a gourd of a time.
Ye be entering pirate territory since this year it is all about pirates!
Bring the family for the 60 ft super slide, humongous jumping pillow, and castle playground. There is also a country market and café on site to fuel up at.
Location: 26216 County Road 448A, Mt Dora, FL 32757
Recommended: Top 10 Farms in Orlando You MUST Visit
North Florida
19. The North Florida Nightmare
Cabin fever is spreading through Orange Park and it might be contagious.
North Florida Nightmare has unleashed a local family that can no longer bear the isolation and has escaped into the outside world.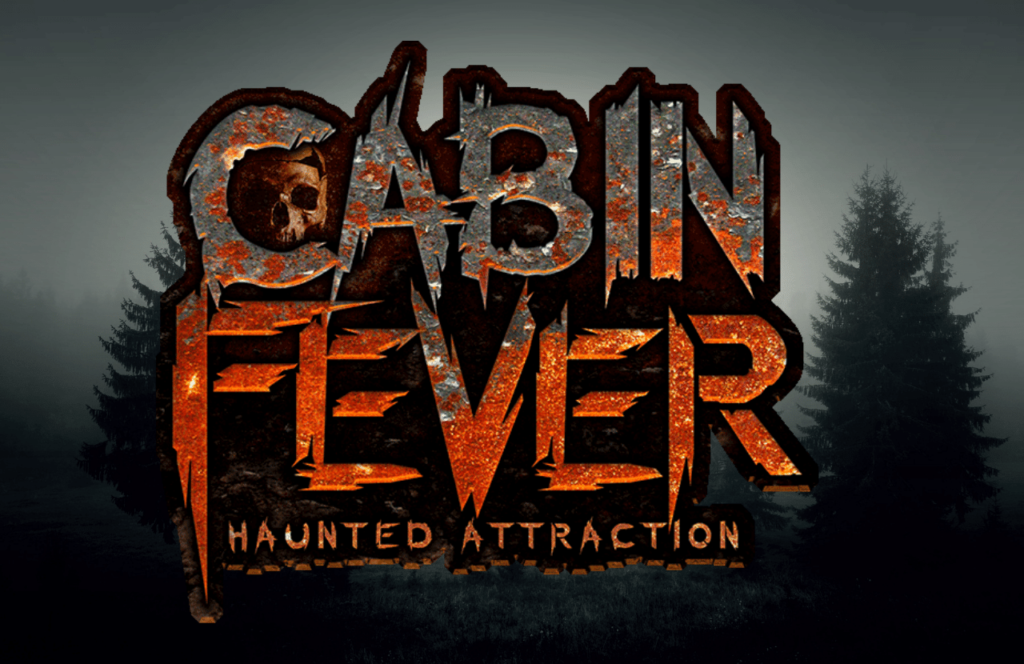 Walk through the haunted attraction and see if they can scare the insanity out of you. Don't forget the Fotofusion Photo Booth to capture the memory of you and all your ghoulfriends.
Location: 83 Blanding Blvd, Orange Park, FL 32073
Get your Weekend Hotel Deals from as low as $45/night TODAY!
20. The 13th Floor Haunted House (Jacksonville)
With 5 years of ongoing fear, the 13th Floor Haunted House knows exactly how to scare the jeepers creepers out of you.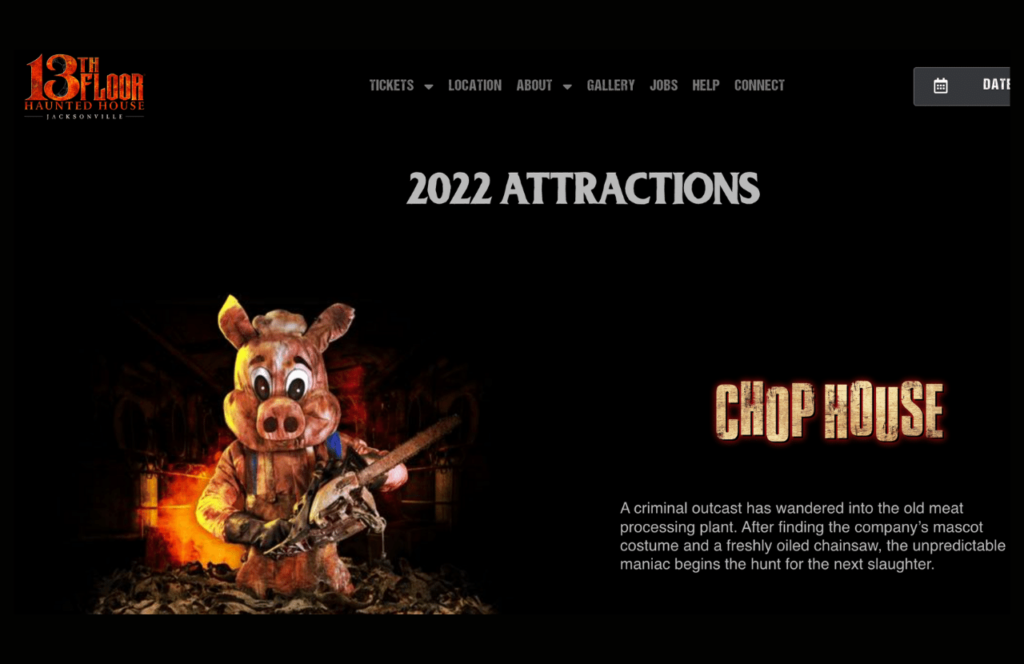 Don't become the next slaughter at the Chop House! A maniac is on the loose with their chainsaw.
If you can fight for your life through the meat house then All Hallows Eve awaits you. Legends of the Deep is in search of souls and is your final challenge.
Location: 9230 Arlington Expy, Jacksonville, FL 32225
21. Scary Train (Willingston)
Kirby Family Farm is a must to put on your list of things to do for Halloween in Florida. This non-profit education organization does amazing outreach for children and families. A visit here is a wonderful way to support them.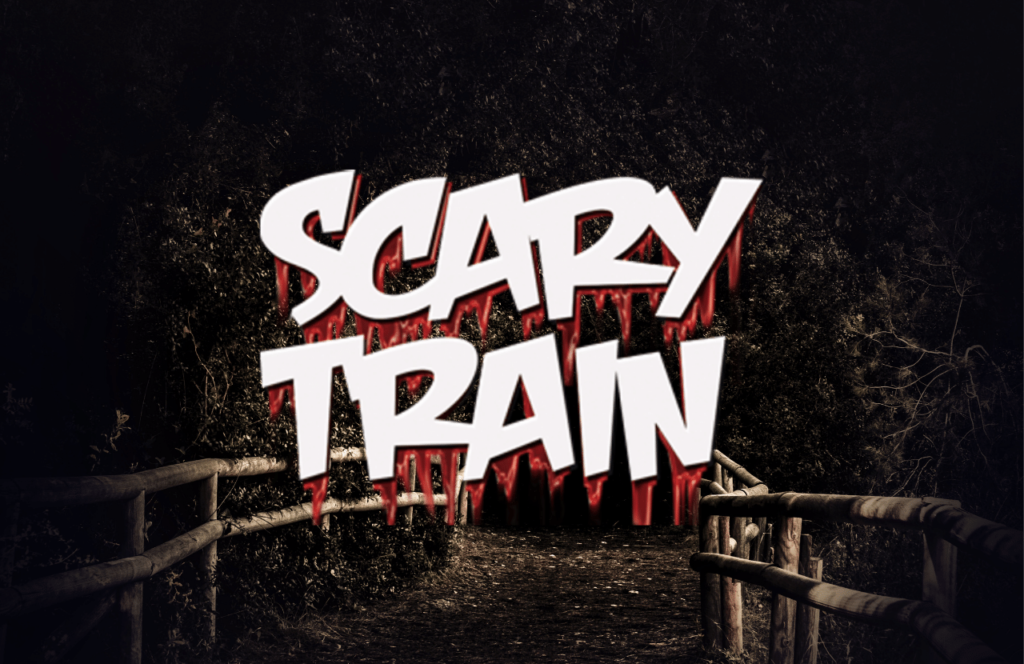 Frightening creatures roam through the farm and 5 frightful attractions invite you. Making it one of the best things to do in Florida for Halloween.
The scary train is a must! Ride on the 1800s historic locomotive hearing terrifying tales then beware as you enter into the Clown Woods.
The Trailer Park isn't friendly to visitors and the mutant possums in Possum Holler aren't your average critters. Are you afraid of the dark? Enter to find out!
Location: 19630 NE 30 St, Williston, FL 32696
Get More Gainesville travel planning tips right here!
22. Pensacola Downtown Halloween Bar Crawl
Something wicked has come to Pensacola for another year. The Pensacola Downtown Halloween Bar Crawl!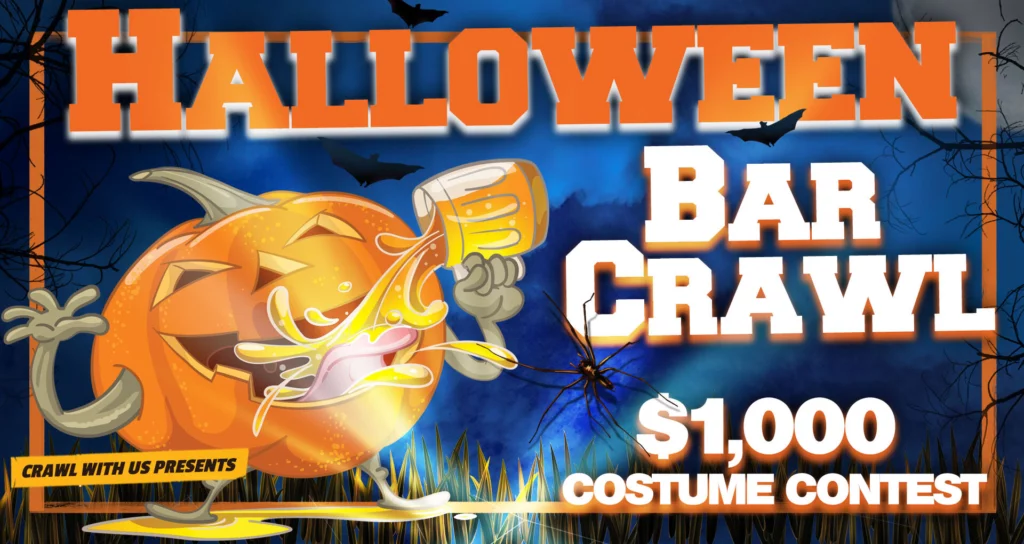 Get out your double, double, toil, and trouble, and hit up some of the best local bars and restaurants in Pensacola.
Dress sweet as candy or as handsome as a devil. Give yourself an extreme makeover, costume up and get out crawling.
Location: Pensacola
Hipster Power Tip: Not interested in the downtown bar crawl? Check out the Halloween Pub Crawl on the beach!
23. Pensacola Beach's Beach O'Ween
Fun for all ages, it is one of the best family-friendly Florida Halloween events.
Oh, and did I mention it is free? Yep, this annual spooktacular is totally free, so there's no excuse to miss out.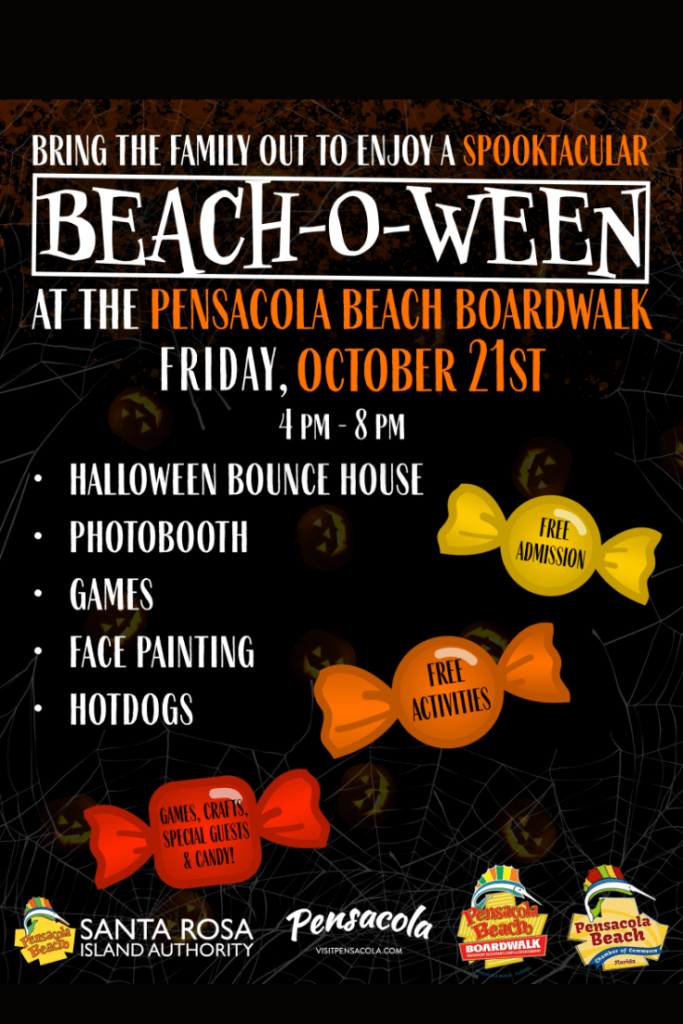 Face painting, Halloween bouncy house, hot dogs, and games for everyone. Don't miss out on the photo booth to see how boo-tiful you look in your killer costume.
Pick up some candy, try out some crafts, and have a ghostly time at the beach!
Location: 1 Via de Luna Dr.Pensacola Beach, Florida 32561
24. Terror of Tallahassee
The Backrooms will take you to places that you never imagined and may never want to see again. It's terrorizing! Making it one of the best things to do in Florida for Halloween.
This extreme haunted house takes you through what seems like endless corridors of horror dimensions.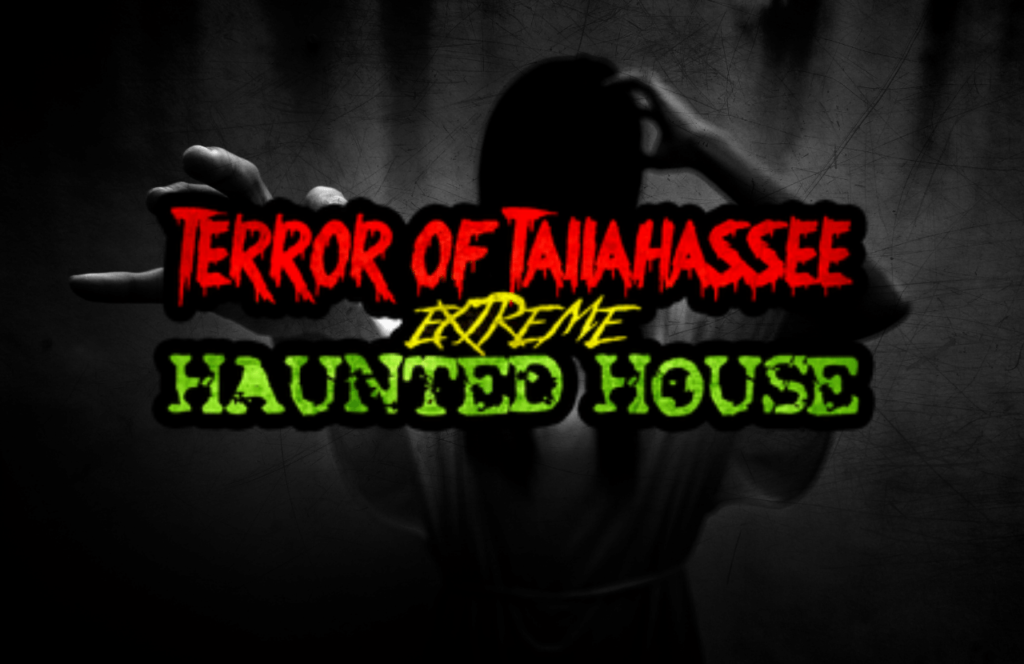 Prepare to be scared out of your wits by the mysterious life forms lying ahead. Will they be contained or will you be contaminated?!
Can't wait to be terrified? Then level up and get the fast pass to get you to the front of the line.
Location: 1408 Lake Bradford Rd, Tallahassee, FL 32304
Reserve Ripley's St Augustine Deals on Wheels Combo Tickets today!
Southwest Florida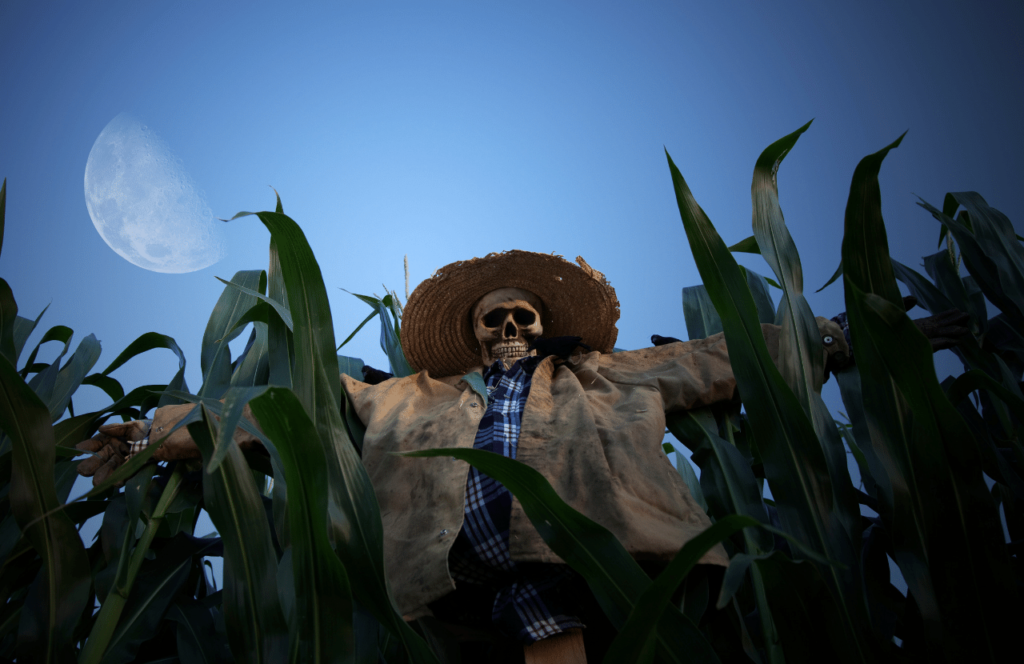 25. Scream-A-Geddon
Monster midway, food court, beer garden, and zombie paintball takes Scream-A-Geddon to the next level. It's not just your typical haunted outing.
Six different attractions await you. The urban legends of Bloodwater Bayou are ready for their victims to go missing. And the sensory overload of Rage 3D wants to push you to insanity.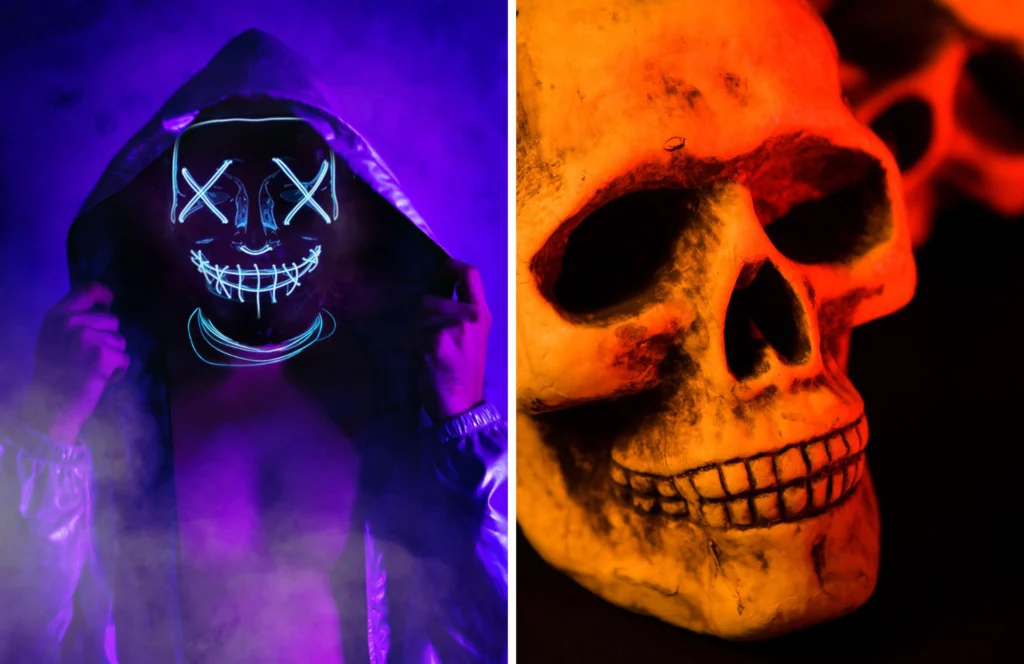 If you still feel sane, then test your limits at Ravenhill Asylum and battle Demon's Revenge. Still not afraid, well then enter Blackpool Prison and see if you can survive to your release date.
Location: 27839 Saint Joe Rd Dade City, FL.33525
26. Howl-O-Scream at Busch Gardens Tampa
If you're ready for a wild take on Halloween, then Busch Gardens Howl-O-Scream is a Florida haunt that you can't miss!
Since this is Tampa's premiere Halloween event, you can expect top-notch attractions, haunted houses, scare zones, tantalizing treats and more as you make your way through this Florida theme park.
This year there are 5 houses, 8 scare zones, and multiple stage shows to enjoy during this frightful adventure.
Get your discounted Howl-O-Scream tickets TODAY on Groupon!
27. Eerie Family Fun: Creatures of the Night
It's time to get spooky at the Tampa Zoo. All ages can make their way to the Tampa Zoo for a safe night of adventure. Making it one of the best things to do in Florida for Halloween.
Creatures of the Night is a fun way to get out and have some eerie fun. Come find out about their newest resident in the zoo, Blackwater Mattie. Have you met the Swamp Witch yet?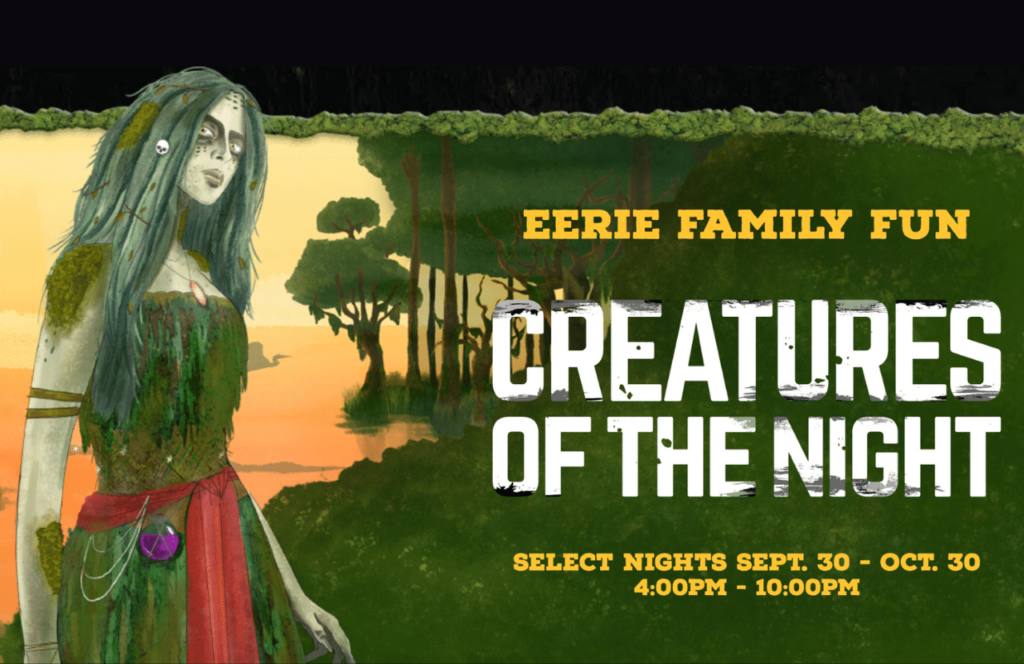 Sink your teeth into some monstrous treats, get up close to the animals and take in some of their howling shows. The zoo has set up its eerie realms to connect with some of their boo crew.
If you are already a ZooTampa member then you are in luck! This event is free for you and don't forget to use your discount on dining and some spooky souvenirs.
Location: 1101 W. Sligh Avenue Tampa FL,33604
Get up to 82% off of the Tampa Bay attractions with Groupon TODAY!
28. The Vault of Souls
The vault has been unsealed and is ready for you to face your fears in one of Tampa's premier haunted events. 
Come out and play with the spirits at The Vault of Souls. Set up with 3 interactive performances, it is an evening of elegant fear.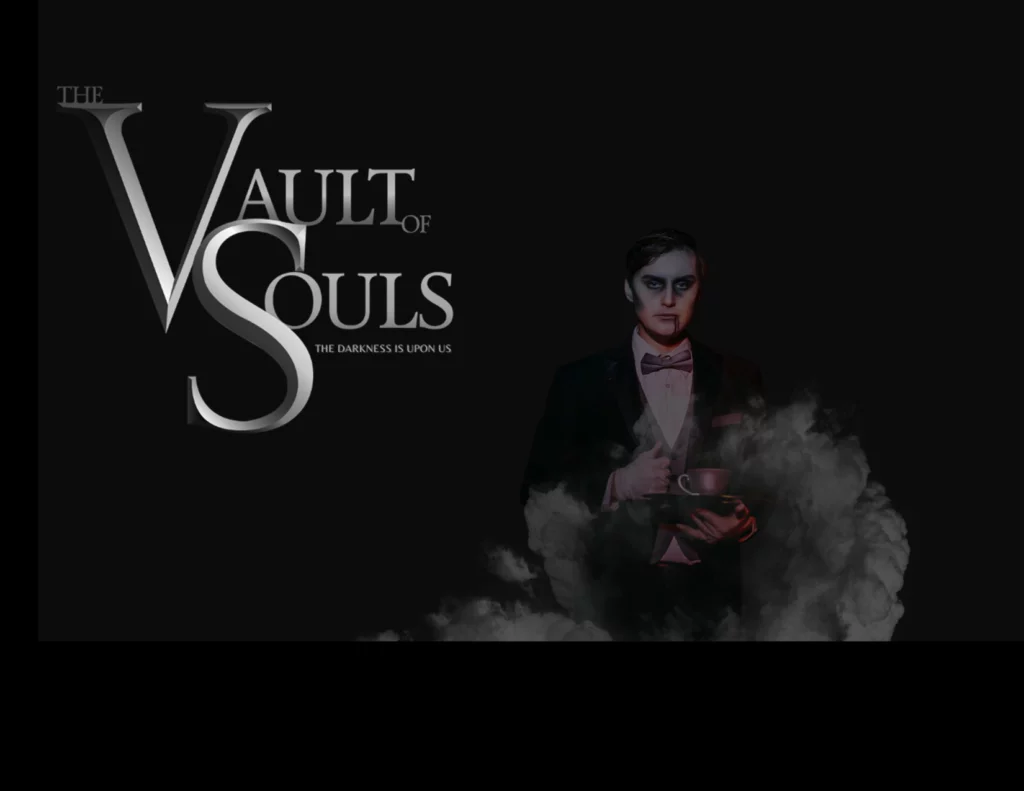 Arrive to tarot readers and magicians and cocktails. Then descend to the Ritual if you dare to the underground labyrinth.
Dine out in the garden and its oasis of aperitifs for the final Starlight Portion. It is a night of luxurious hocus pocus. Reservations are required for this event. 
Location: 611 N Franklin St Tampa, FL 33602
29. UNDead in the Water: The Gathering (The American Victory Ship Presents)
Try something a bit different and visit the UNDead in the Water. Can you stay afloat at Tampa's nautical haunted attraction or end up becoming the next sacrifice?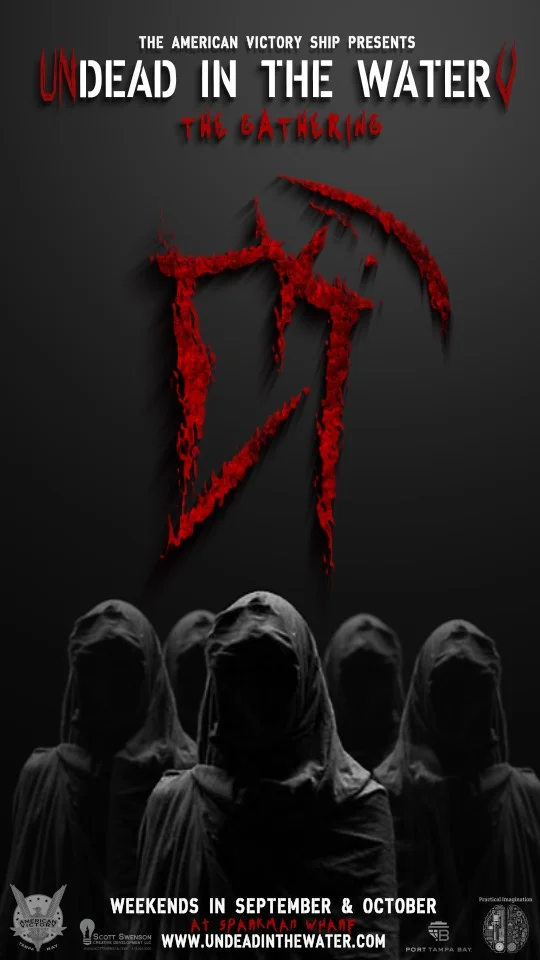 Step aboard The American Victory Ship amongst the crew that has fallen into The Gathering.
Endure the screams of those on the run from the possessed cult that has overtaken the WWII cargo ship.
Something wicked has come across these waters, be careful not to fall under its spell.
Location: Sparkman Wharf 615 Channelside Dr. Tampa, FL.
Save 53% at MUST-SEE Tampa Bay attractions TODAY with Your CityPASS!
30. Sir Henry's Haunted Trail
The bravest of souls can make their way to Plant City and Sir Henry's Haunted Trail. It's considered to be I-4's premier fear park.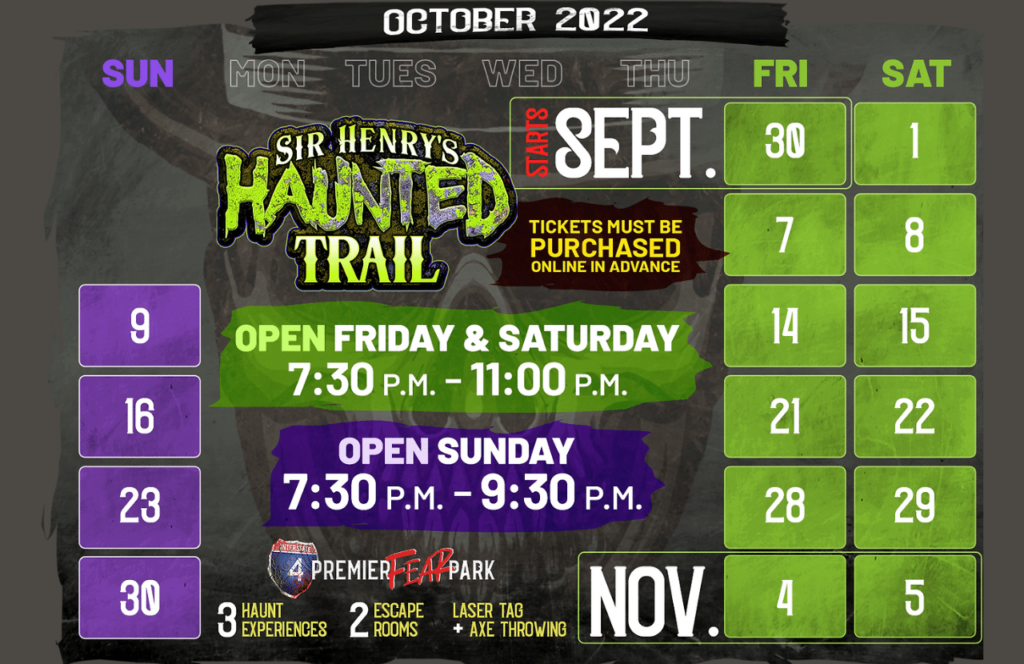 Three Haunted Trails are wreaking havoc on those that dare to enter. The horror trails are interactive so don't say we didn't warn you!
Try your arm at axe throwing, mind-boggling escape games, and laser tag.
If you plan on adding this to your must-do list of things to do in Florida for Halloween, be sure to buy your tickets online. They need to be purchased in advance before you go haunting.
Location: 2837 S Frontage Rd, Plant City, FL 33566
31. Spookeasy Lounge and The Catacombs Lounge
Spookeasy Lounge invites all ghouls and ghoulfriends out for an alcohol-free good time. Sit back with some tea, kava, or coffee, and bring the kids if you want. Before 6 pm children are welcome.
If you feel like drinking, then head down to The Catacombs. How about a Vampire's Kiss or a cup of lotion potion off the drink menu?
Don't know what you want? Then ask the ghostess with the mostess! They can concoct you just the right spirit.
Location: 1909 N 15th St. Tampa, FL. 33605
When to Buy Flights tool, Get the Lowest Fare at CheapAir.com TODAY!
South Florida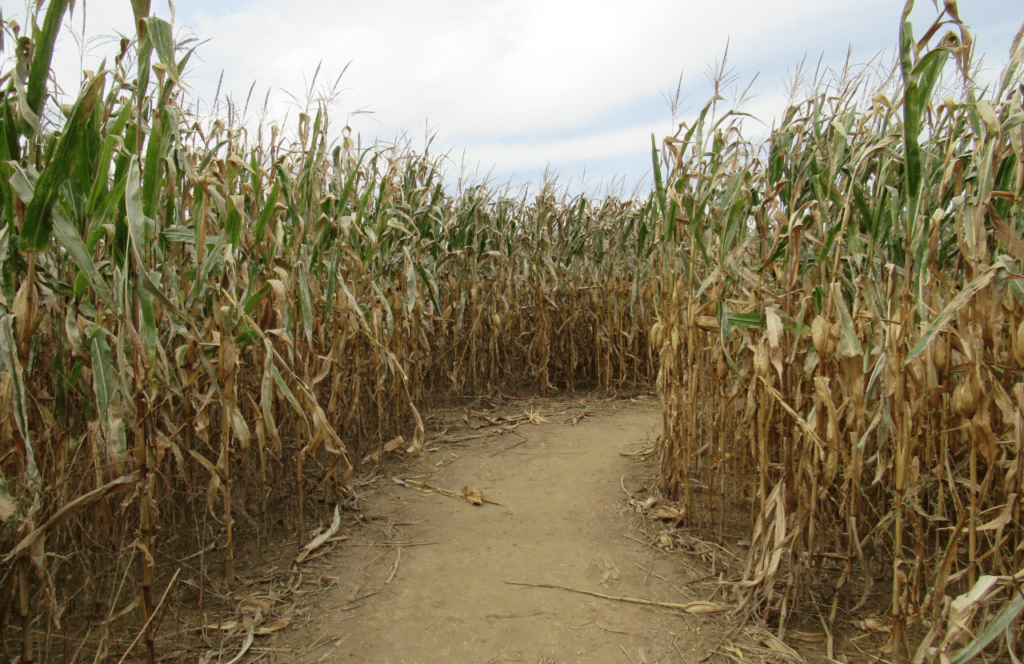 32. The Terror Trail
Terror Trail has been awaiting your return in Sebring! It's a night of mischief and a horrific good time. Making it one of the best things to do in Florida for Halloween.
We hope you don't have a fear of rats because these rotting rats have been brought back to life. These zombie rats want revenge so do your best not to fall into their traps.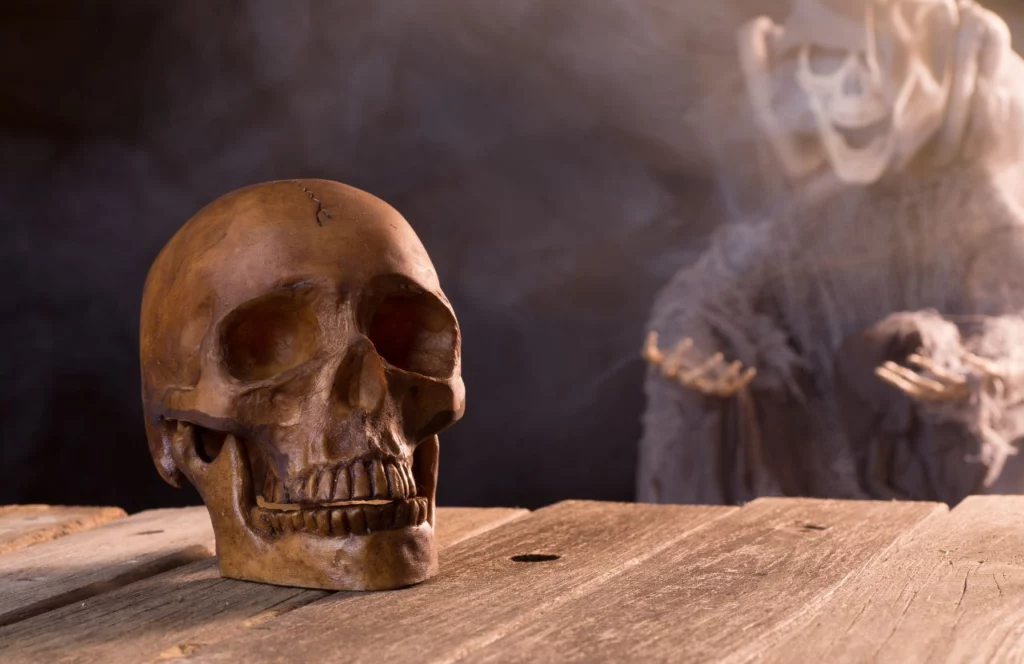 A mummy museum of cursed corpses, swamp saws, nightmares, and toxic clowns rising from chemical waste.
It's that time of year again, the season of soul collection. The Blood Harvest has begun! We wish you luck in escaping the clutches of the scarecrows stalking the fields.
Location: 7421 Haywood Taylor Blvd, Sebring, FL 33876
33. Fright Nights The South Florida Fairgrounds: Xtreme Action Park Nightmare Village
South Florida has some of the scariest haunted houses leaving you sleepless for nights to come
Celebrating their 20th anniversary of frights, you know their haunts must be terror-ific. Just ask the Haunted Attraction Association, which has named it "Top Haunted Attraction yet" again.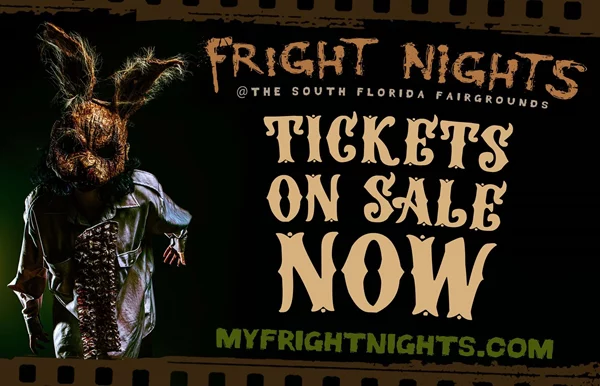 Will you fall victim to the ghosts of Christmas past in their Dead of Winter or end up served up at Country Bill's Meat Market? Tune out the songs of Siren's Revenge and don't be lured into their dark waters. 
Spend the rest of the bone-chilling night at the carnival midway being bribed by all the sweet candies.
With scare zones and live entertainment, it's a full frightening night out. It's not recommended children under 12 come out so leave the little ones at home.
Location: 9067 Southern Blvd, West Palm Beach, FL. 33411
Get your discounted Key West Tour Tickets here on Groupon TODAY!
34. No Way Out Haunted City Miami
Dolphin Mall hosts No Way Out Miami. The Cabin graciously invites you in to explore their cabin of horror, but…do you accept the invitation?!
Step back in time to the 1900 and enter to discover if the rumor is true, is this cabin truly cursed?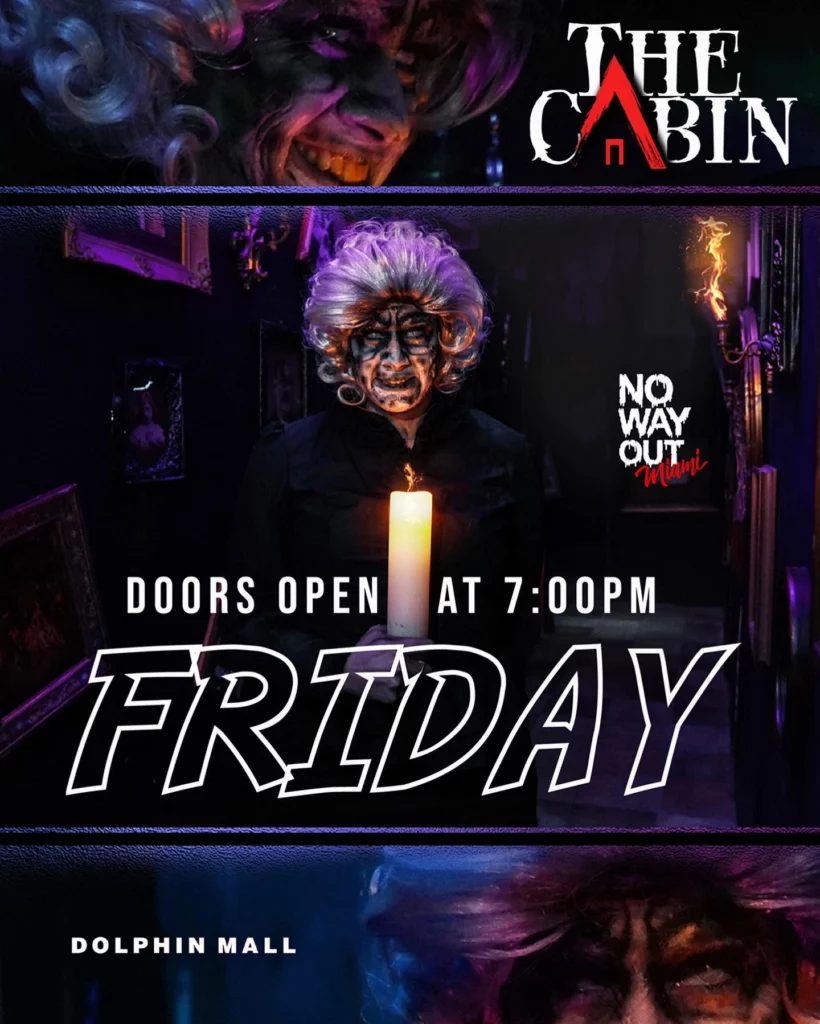 Can you navigate through the haunted houses or will you find yourself in the portal to hell?
Spooky-themed and safe for all ages. It is kid-friendly, but just don't send the young ones on their own.
Location: 11401 NW 12th St Space E515, Miami, FL 33172
35. The Horrorland Miami
Jungle Island has just gotten wild and the vampire circus has arrived in town. Still feeling brave then the 5 haunted houses will test your will to live.
This isn't your cute pumpkin patch here, the scarecrows aren't out to play in Hell Pumpkin's abandoned field.
And there is nothing holy about this nun, she is out for revenge and at demonic proportions in Nun's Revenge.
Calm those nerves at the spooky beer garden and coffin bar and refuel for more fun at the macabre food village.
The Horrorland Miami is back again to torture the souls of those that dare to enter!
Location: 1111 Parrot Jungle Trail, Miami, FL 33132
Get your discounted Halloween Horror Nights Tickets on Groupon TODAY!
My Final Thoughts on Things to Do in Florida for Halloween
Halloween is a night bone to be wild! How many of The Florida Hipster Blog's best things to do in Florida for Halloween can you stab off your list?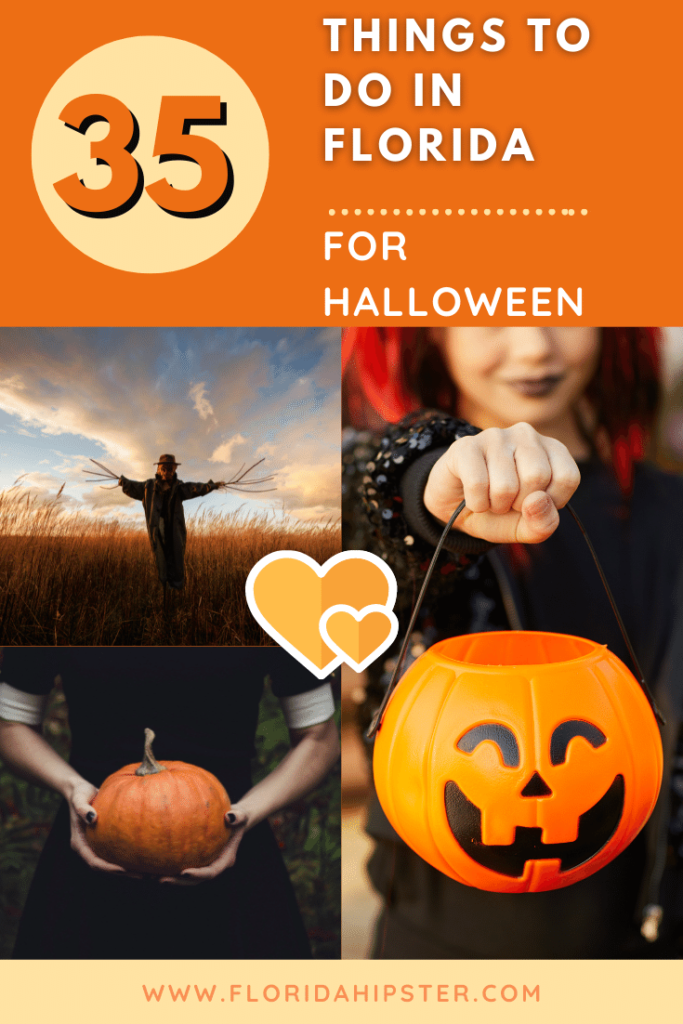 We dare you to try them all! So, get out there, have some fun, and have a bloody ghoul time!
Happy Spooky Florida Travels!
UP NEXT: Where to Stay in Orlando: Top 10 Hotels and Resorts for ALL Budgets