Are you looking for some of the BEST things to do in Florida at Christmas?
Where in the world can you experience all the joy of the Christmas season, without the need for a thick winter coat? Does that place even exist? Of course it does! It's right here in the Sunshine State.
Christmas in Florida is the place to be if you want to soak up the holiday spirit while catching some rays. The only person wearing a woolly coat round here is Santa Claus… and that's only because he's got the rest of the wintery world to visit on his rounds too.
Here are twenty things to do in Florida at Christmas this year.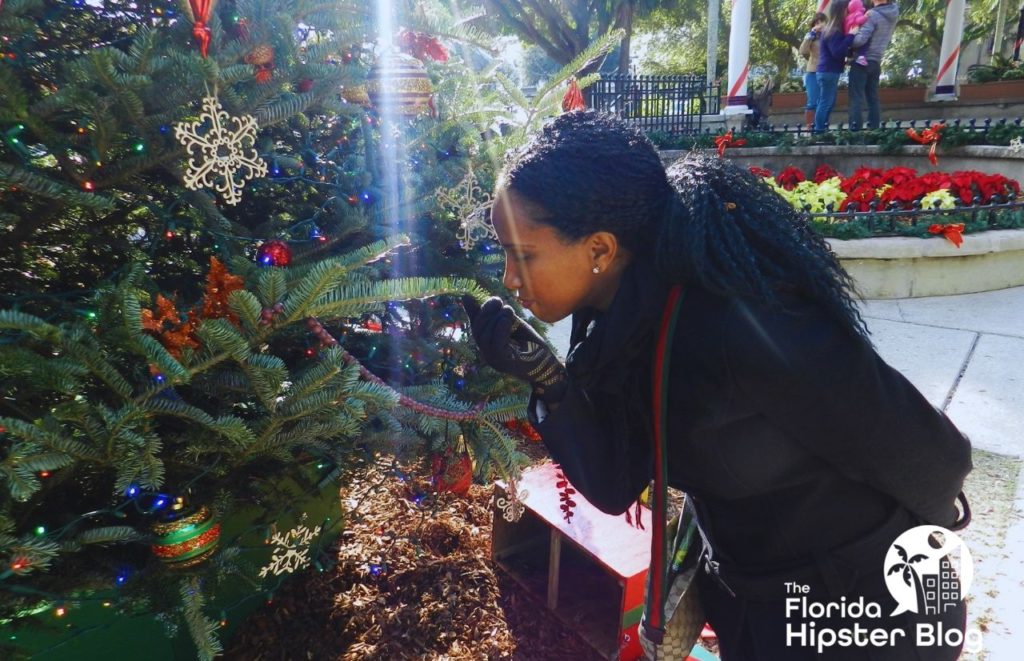 THIS POST MAY CONTAIN AFFILIATE LINKS. PLEASE READ MY DISCLOSURE FOR MORE INFO.  Which means if you click on certain links, I may receive a small commission at no additional charge to you.
1. Visit Christmas, Florida
There's a special place in Florida where it's Christmas all year round. Really! February, it's Christmas. June, still Christmas. September, Christmas!
More than 1000 people live in a small neighborhood called Christmas, in Orange County.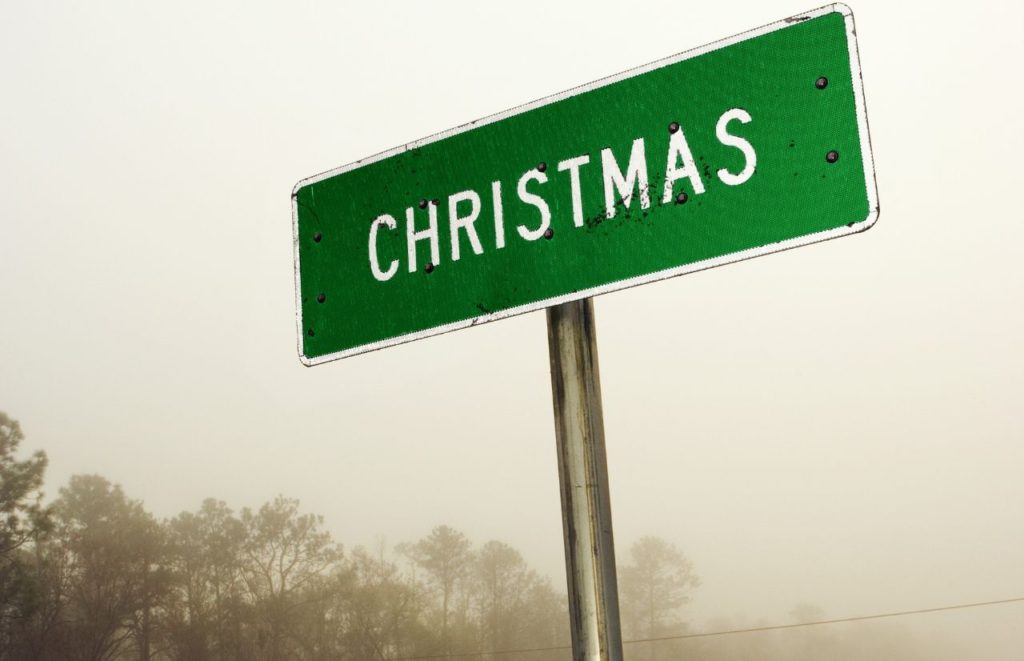 Is it particularly Christmassy? Well, no. Not in the typical sense. But it is home to the world's largest alligator-shaped building – and that's got to count for something, surely!
If you are in the area and want to give your Christmas cards and little Christmassy extra, send them from the local post office and they'll be franked with the Christmas postmark.
Get up to 76% off of the Orlando attractions with Groupon TODAY!
2. Santa's Enchanted Forest (Miami, Florida)
In its new central Miami location of Hialeah Park, this seasonal favorite returns from November 9, 2022 until January 8, 2023.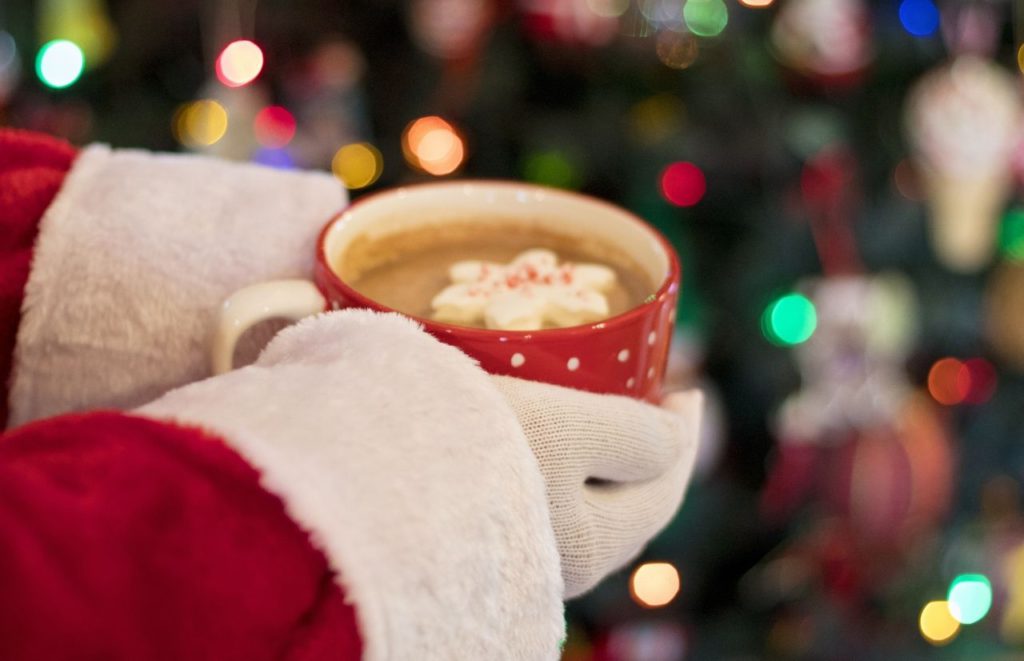 Santa's Enchanted Forest is one of the best things to do in Florida at Christmas with the family! The kids will love the rides, and will be talking about the incredible shows for months to come.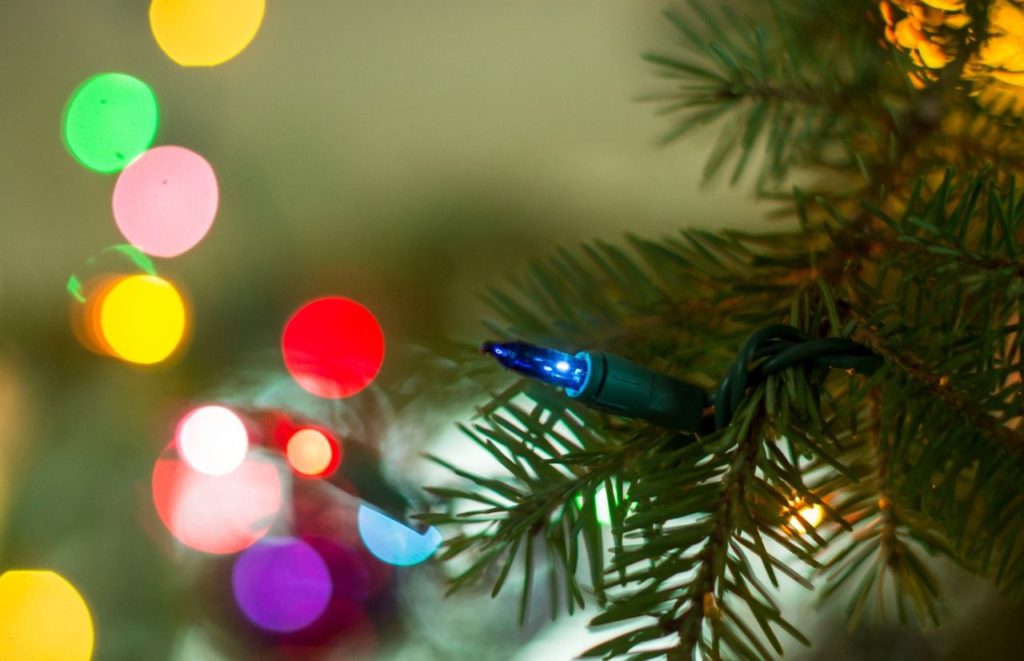 The pop-up attraction boasts being the largest holiday theme park in the world, and with over 100 attractions, it's sure to be a massive hit. Add it to your Florida Christmas list!
3. Bayfront Park (Miami, Florida…Final Details Pending)
Bayfront Park has been the heart of Miami's public events scene since 1896. The giant 50-foot tree towers over Biscayne Bay, decorated with a slew of over a thousand lights.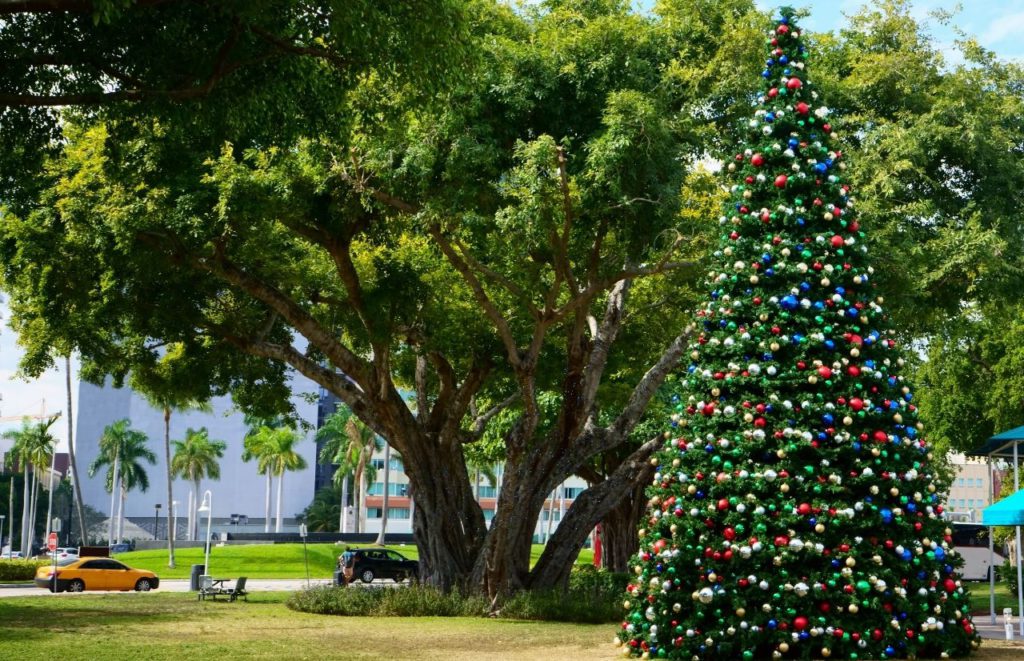 If there every was an obligatory Florida Christmas selfie – this is it!
Get the family together and snap your family photo in front of the tree. If you're early enough, you could get the photo printed onto the front of this year's Christmas cards for your family and friends.
Bring some Christmas spending money too, because the Bayfront Holiday Village is a Christmas Market with a bit of everything! Crafts, food, entertainment… even ice skating!
Book your next Miami special tour with up to 81% off on Groupon TODAY!
4. Zoo Lights at Miami Zoo (Miami, Florida)
Miami Zoo turns dark winter nights into something truly spectacular with their lights shows, some of which feature special appearances from Santa Claus himself!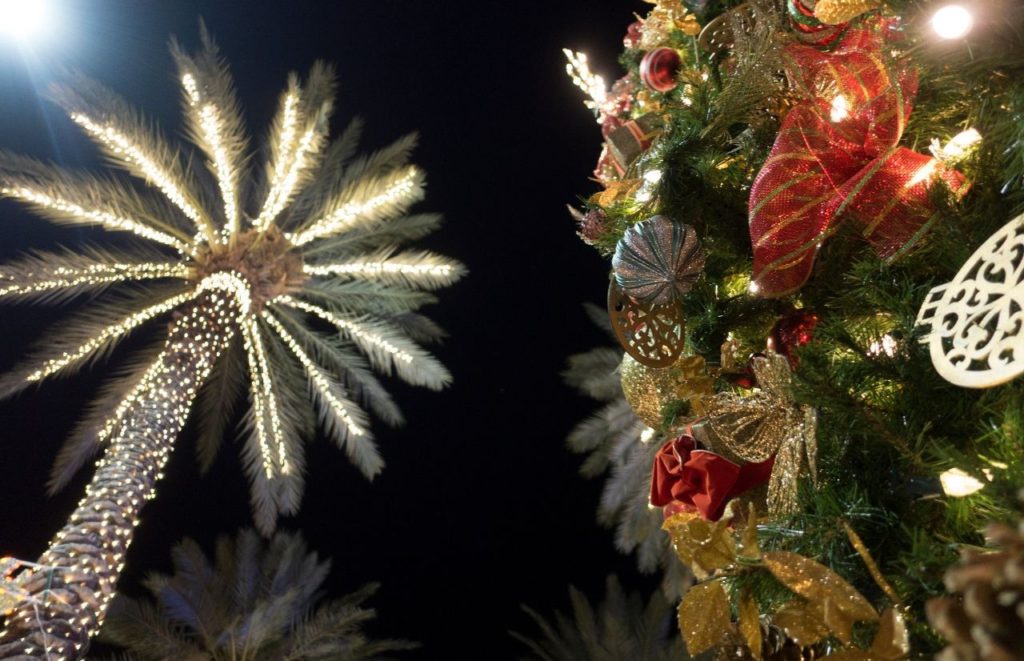 This year's event stars a brand-new LED holiday tree, and fantastic snowman river boat rides. Make sure to grab some hot chocolate and cookies to keep you warm for the evening.
Tickets for this special event are really popular, so book ahead if you're celebrating Christmas in Florida this year.
Zoo Lights Miami will take place on select nights November 25 – December 30, 2022 from 6:30 p.m. – 10 p.m.
Book your luxury Miami Vacation Rental with our discount here!
5. Key West Holiday Fest: "Bight" before Christmas Celebration (Key West, Florida)
Celebrating Christmas with a distinctly nautical theme, the Key West Holiday Fest promises to be a uniquely memorable waterside experience.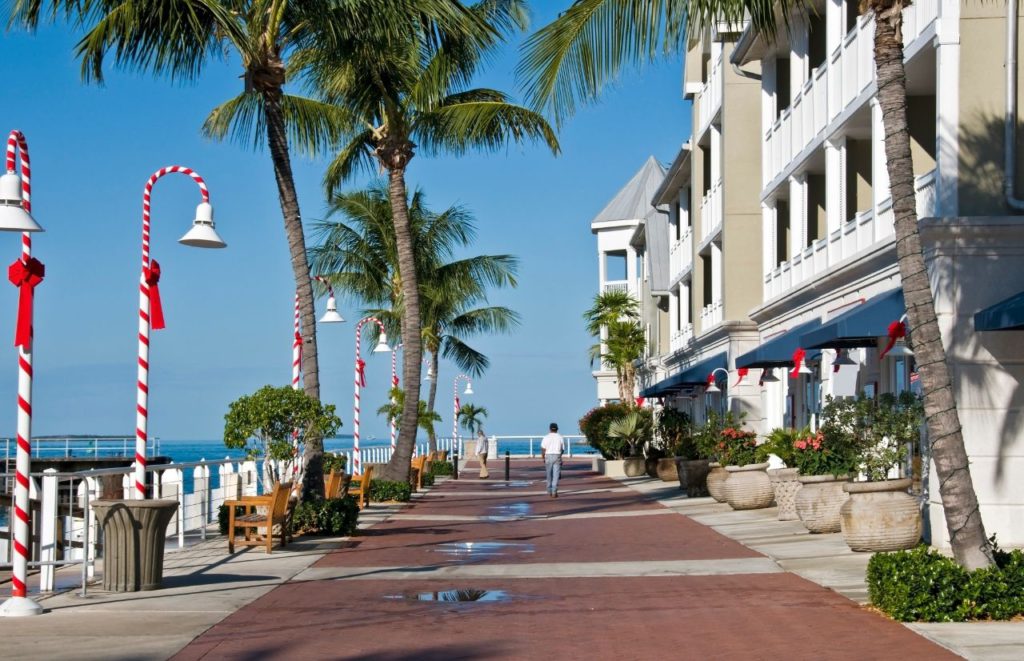 Maybe Christmas 2022 is going to be the first Christmas for your Lockdown Pooch? That's surely something to celebrate!
And Key West is ready to celebrate with you, from Sunday, December 4th, with their Pet Pictures with Santa.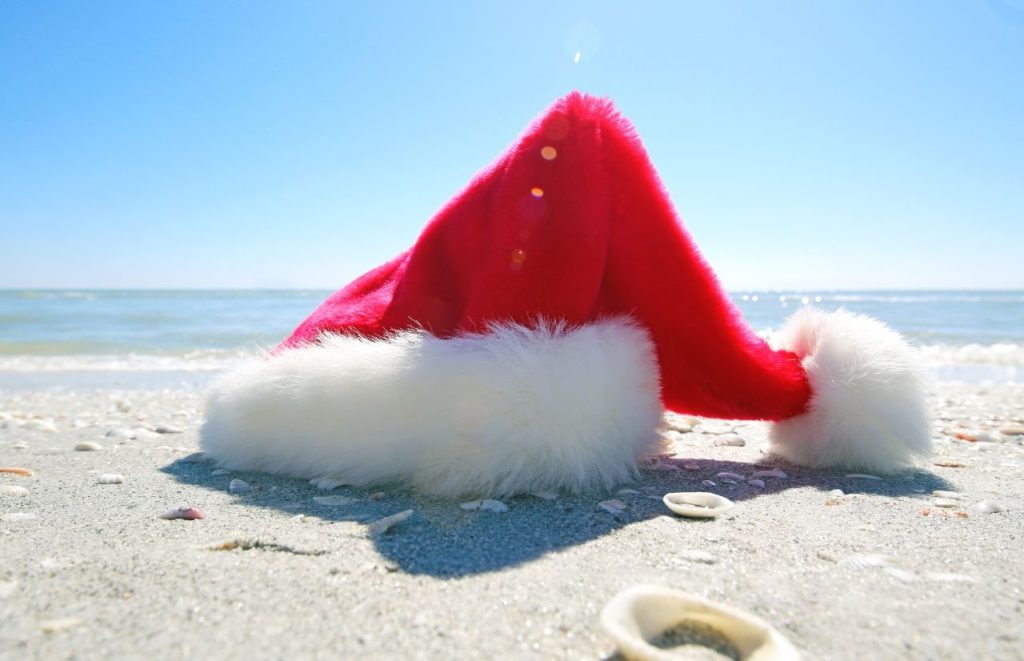 You'll get a professional photo of your gorgeous fluff-ball with the man in red, plus you'll be supporting the local Boys & Girls Club.
On Saturday, December 3rd the Key West City "Hometown Holiday Parade" promises to be a festive spectacle you won't want to miss! The parade starts on Truman Ave. and heads through to Eaton St.
Book your discounted Florida Key West Vacation Resort TODAY!
6. Holidays at the Square (West Palm Beach, Florida)
The Square is an entertainment, culture and shopping hub in West Palm Beach, and they're known for putting on a great holiday special.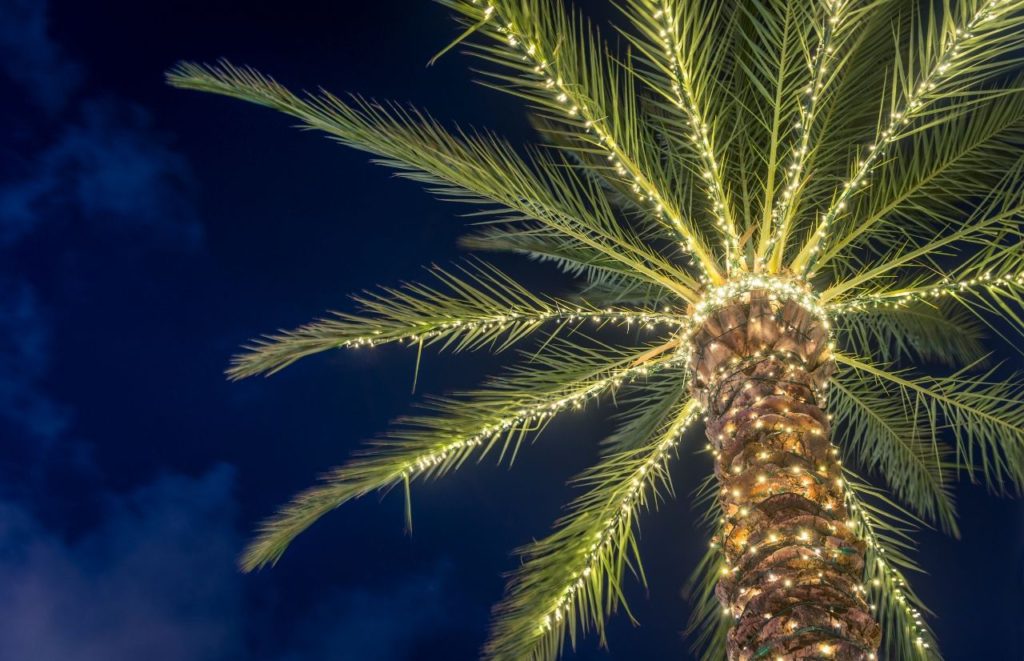 The beautiful Christmas tree is in support of The Salvation Army, who aim to put new clothes and toys under the tree for 1 million American children who would otherwise go without this year.
You can support by buying a Salvation Army angel for the tree at Guest Services.
Also, check out the Mistletoe Trail with a loved one, and enjoy the excuse to get into the smoochy festive spirit around the neighborhood.
The Square would love to see your selfies and will share some on their Instagram if you use the hashtag #thesquarewestpalm.
7. The 60th Annual Christmas on Las Olas (Fort Lauderdale, Florida)
Las Olas Boulevard in Fort Lauderdale loves to get into the festive mood, and for the 60th year they're back at it again on Tuesday November 29th, from 5 p.m. – 10 p.m.
The annual family night-out is hosted by the Las Olas Association and is the largest free outdoor event for the community all year.
Check out the bungee trampolines, 75-foot snow mountain, and the ice rink!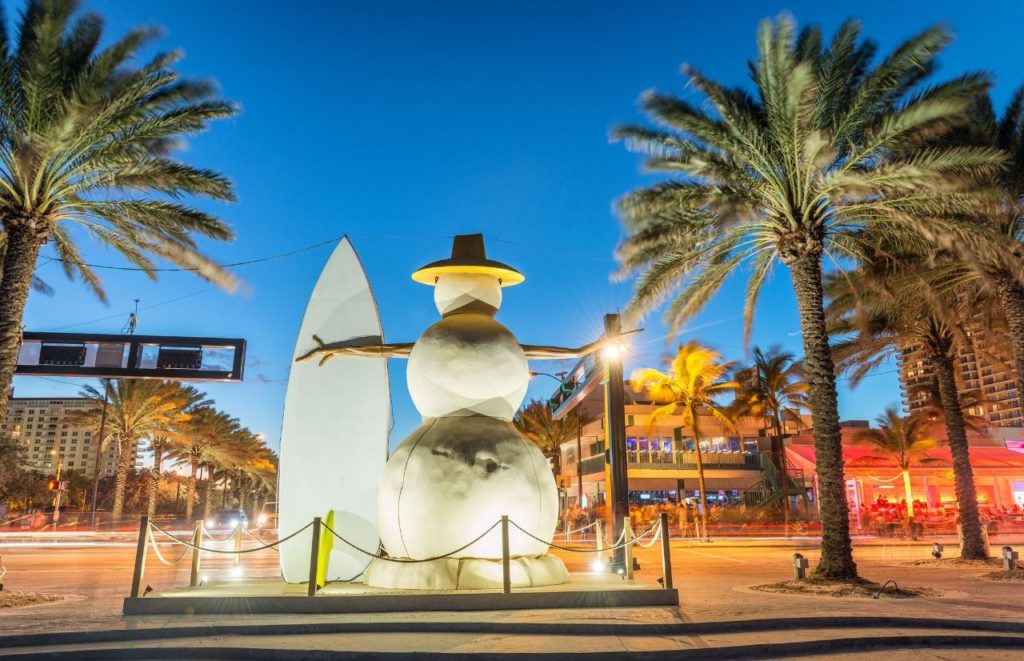 There's a load of parking in the nearby area, and your family is going to have the best night together.
8. Space Coast Light Festival (Palm Bay, Florida)
Come and be wowed by the twinkling of more than three-million holiday lights at the Space Coast Light Festival – a mesmerizing drive-thru Florida Christmas event.
The 1.3-mile trail transforms Palm Bay's Fred Poppe Regional Park into a magical winter wonderland, complete with animated displays and effects.
Plus, the highlight of the trail is a 200-foot light tunnel, which is literally exploding with color and light.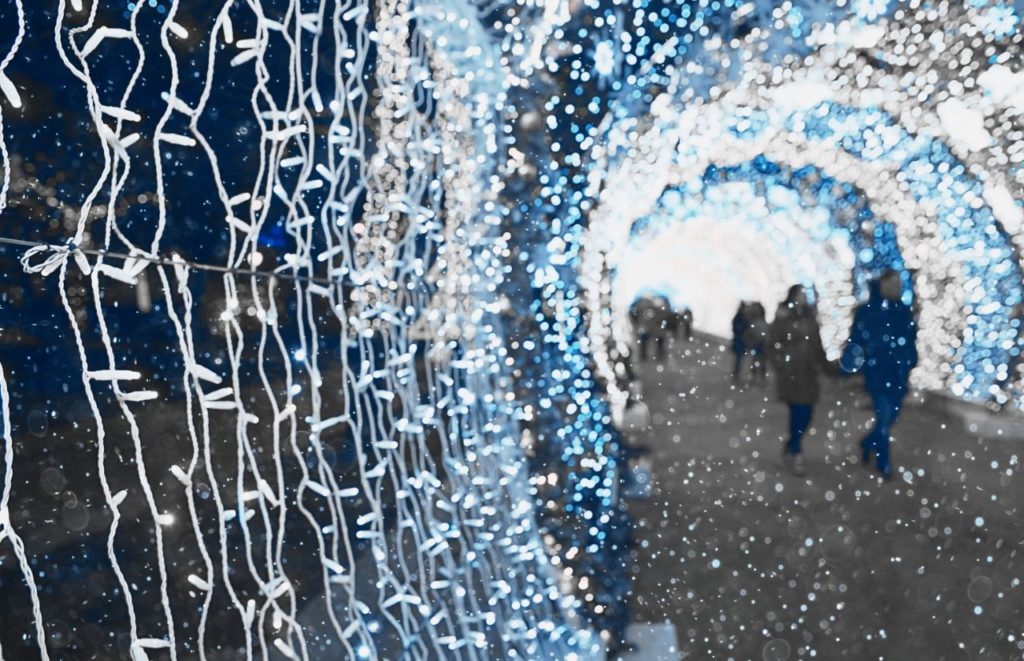 Unlike many things to do in Florida at Christmas, Space Coast Light Festival is even open on Christmas Eve, Christmas Day, New Year's Eve and New Year's Day.
There are special dates available to walk the route without any cars if that's what you prefer.
9. Christmas on Fifth Avenue South (Naples, Florida)
The annual Christmas Walk and Tree Lighting Ceremony at Fifth Avenue South in Naples, Florida, has been a highlight of the calendar for 49 years.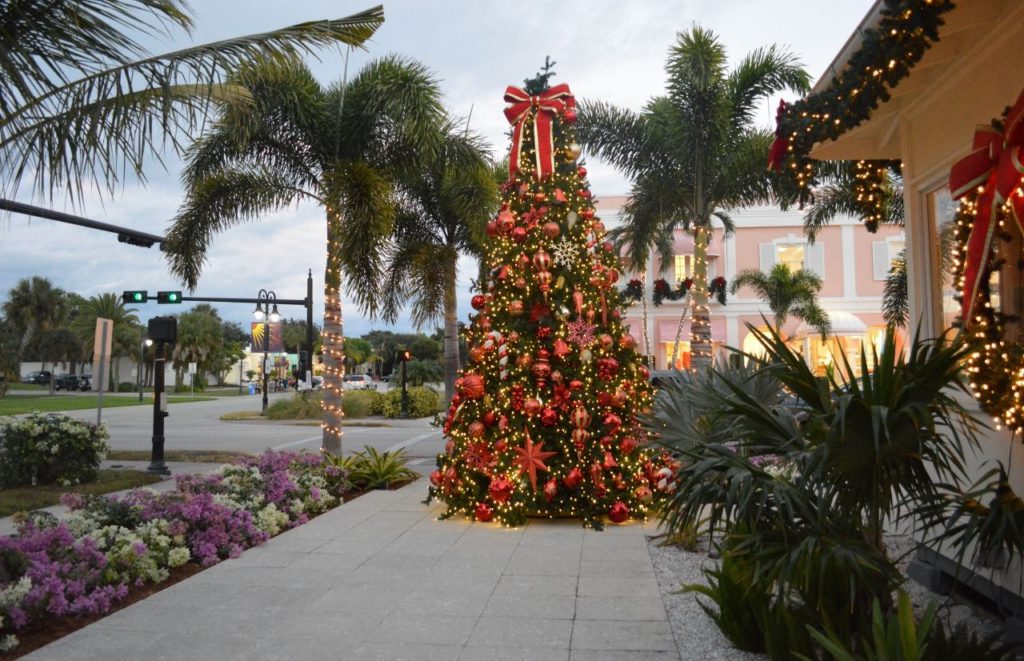 This year, the event will take place on Friday, December 2nd from 5 p.m. – 10 p.m., and Saturday, December 3rd from 10 a.m. – 10 p.m.
The street is famous for its al fresco dining, and with the road closed to traffic for the event this is the most splendid time to enjoy eating on Fifth Avenue South.
The tree will be lit at 6 p.m. and Santa Claus will be around both evenings of the event. Families love the half-block long ice-skating rink, and the Christmas Market is a great spot to finish (or start!) your Christmas shopping.
10. Holidays on the Green (Sarasota, Florida)
The Mall at University Town Center(UTC) in Sarasota hosts a range of exciting events throughout the holiday season.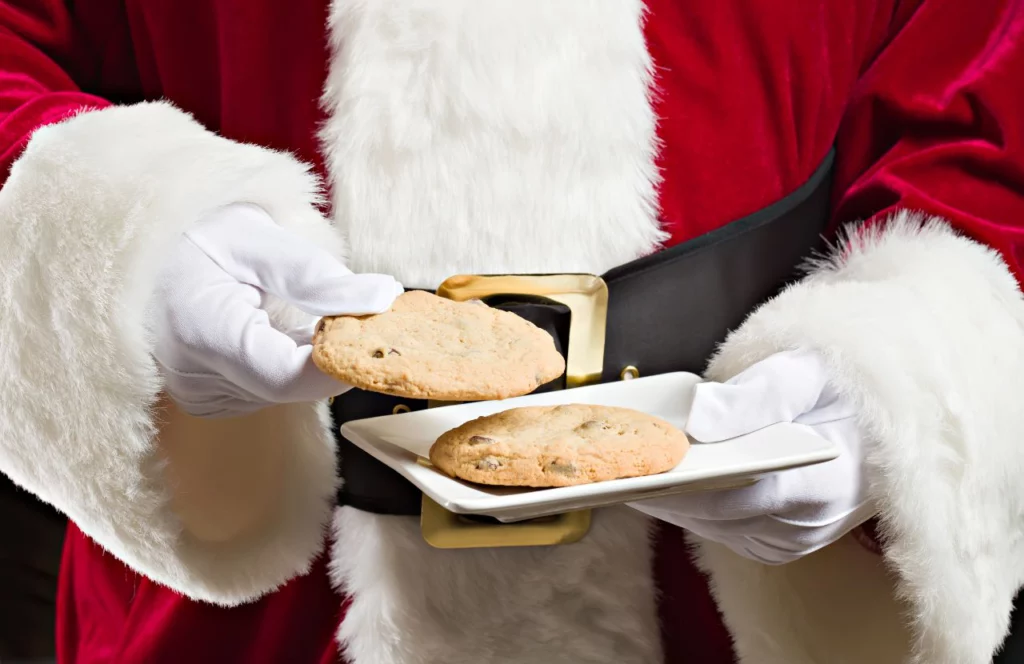 In partnership with Girl Scouts of Gulfcoast Florida, UTC is the 14th Annual Gingerbread Festival from December 1st to December 19th.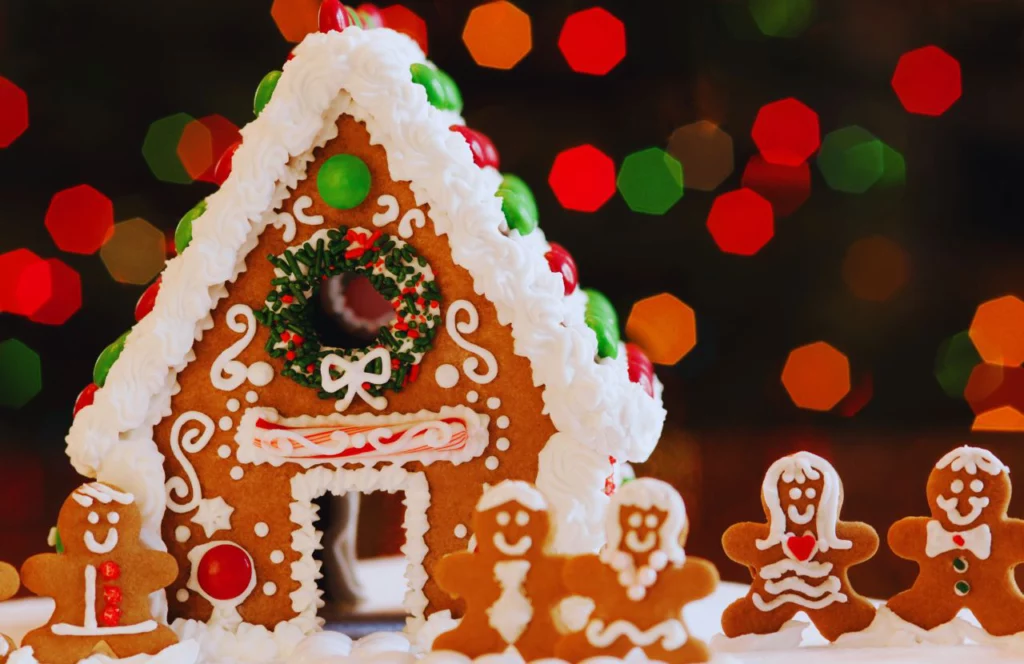 This year's gingerbread festivities will be on display along the upper level of The Mall along with the UTC Festival of Trees.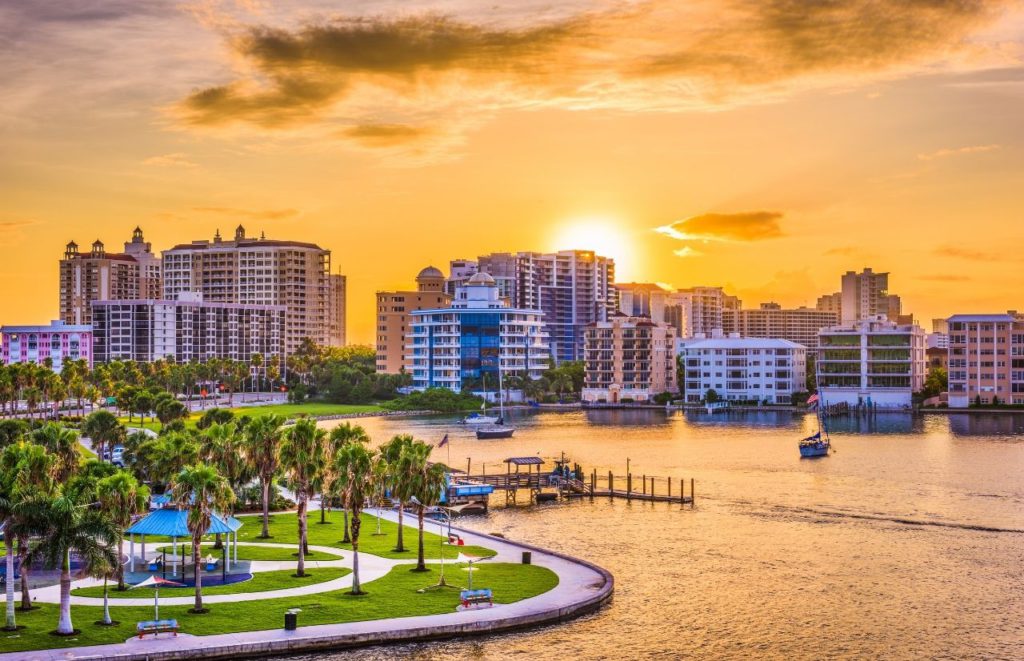 This year's holiday activities in Sarasota will bring unique crafts, delicious food, movies under the stars, live music, and photos with Santa (in his sleigh)!
11. Holiday Tour of Lights (Sarasota, Florida)
Pick up your trolley outside the Regions Banks and enjoy the famous tour of the best light displays around!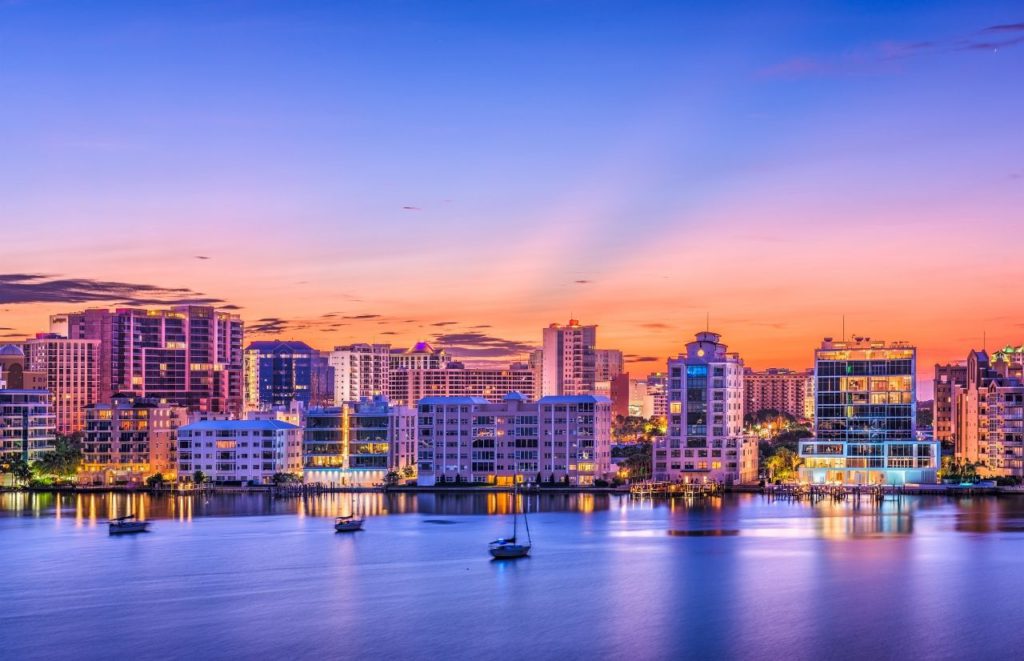 This year's tour promises to showcase arch lit streets, a full-size gingerbread house and a copy of the National Lampoon Vacation home.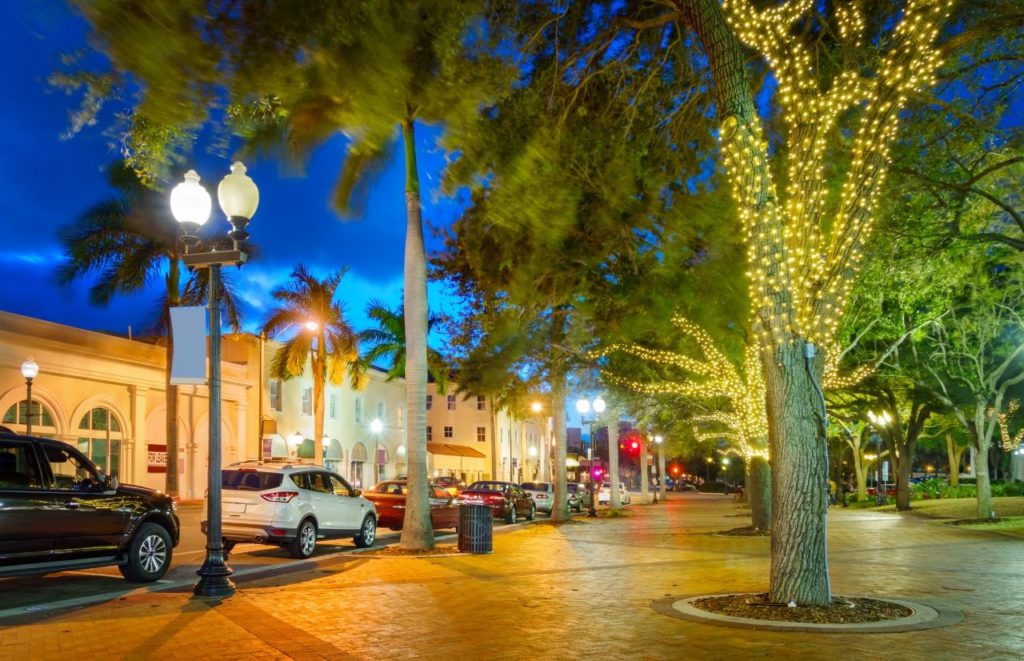 Grab a ticket on one of the two nightly departures, or you could take out a private trolley just with your family and friends.
Different sizes of trolleys are available, so book one that's right for you and enjoy a magical private tour of Sarasota as you've never seen it before.
By the way, you can bring your own drinks to enjoy during the tour!
12. Enchant Christmas Market (St. Petersburg, Florida)
Enchant Christmas is a special Christmas extravaganza in St Petersburg, Florida.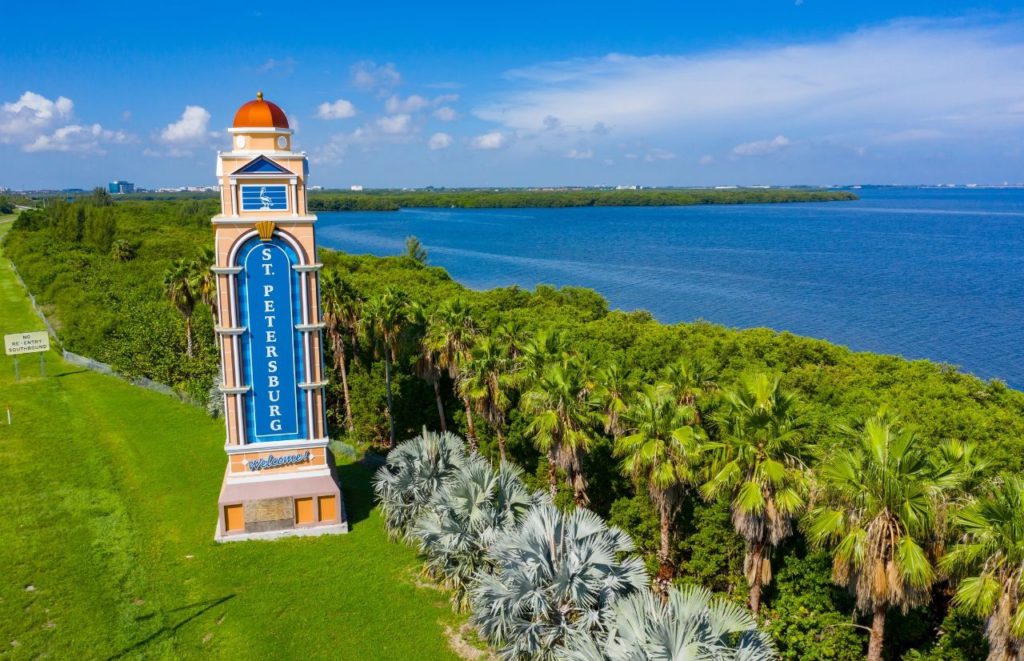 Glide around on St Petersburg's real ice rink, which is stunningly decorated with twinkling trees. Then take your time as you wander the village and treat yourself to a gourmet bite at the Enchant Eatery.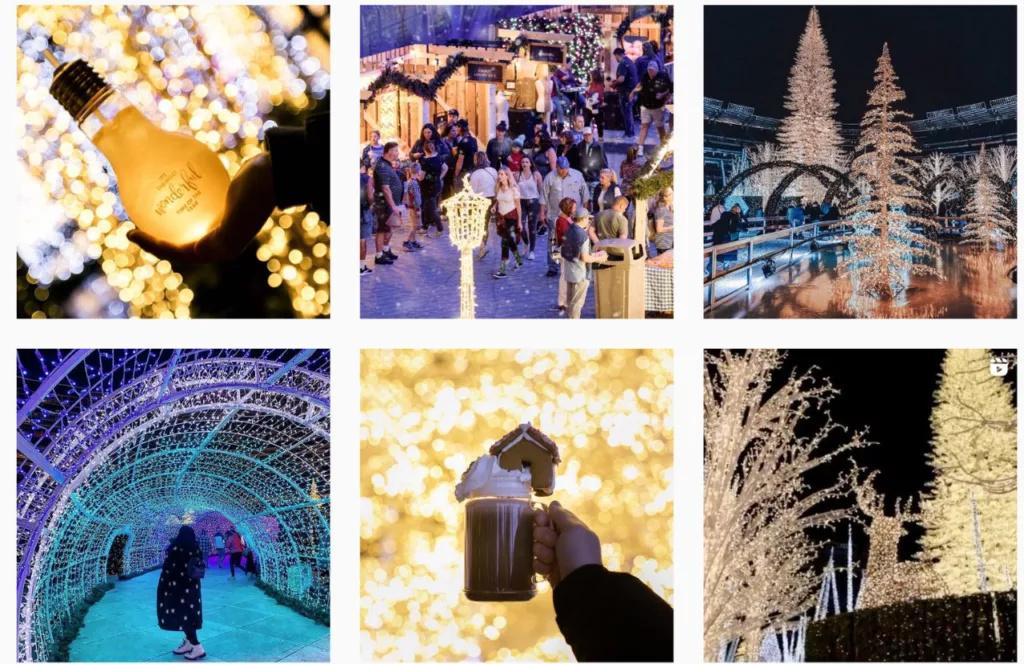 Specially for 2022, a new sky curtain means it's always the most stunningly magical starry night when you visit Enchant Christmas this year.
Bring your camera because you will definitely want to get your photo in the incredible light maze. If your social media needs a spruce up after a couple of years "off", this is just the ticket!
13. Visit Christmas Town at Busch Gardens (Tampa, Florida)
Busch Gardens is one of the world's most stunning park that dresses the evening with more than 10 million lights.
Plus, Christmas treats, Santa's house, Rudolph and more can be found in this annual Winter Wonderland experience right in the heart of Tampa Bay.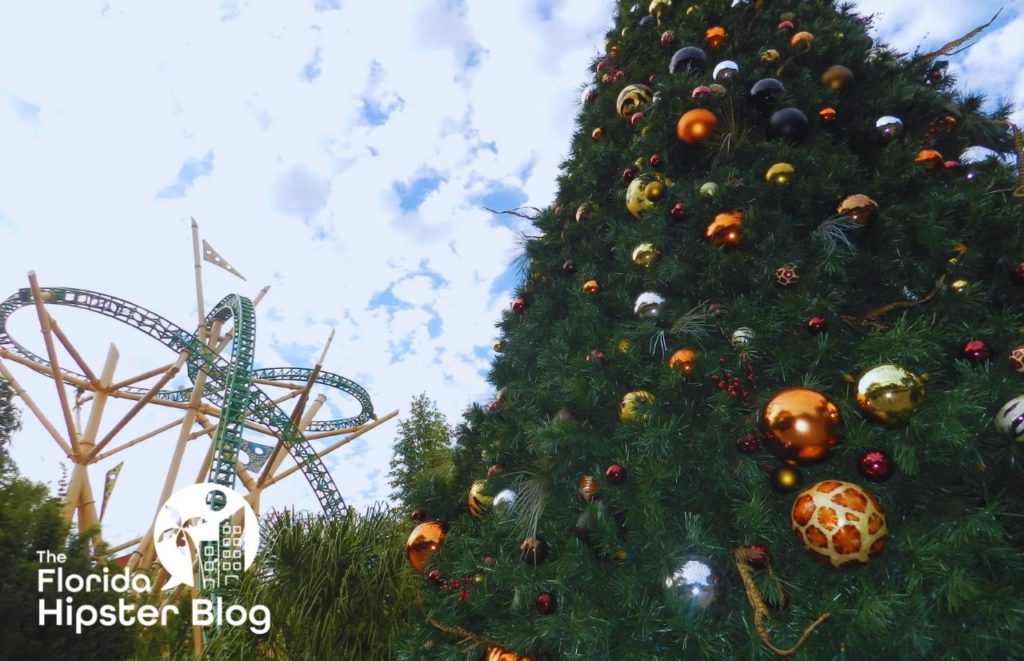 Christmas Town is Busch Gardens way of showing you a unique way of celebrating the holidays in the wilds of the African-inspired theme park.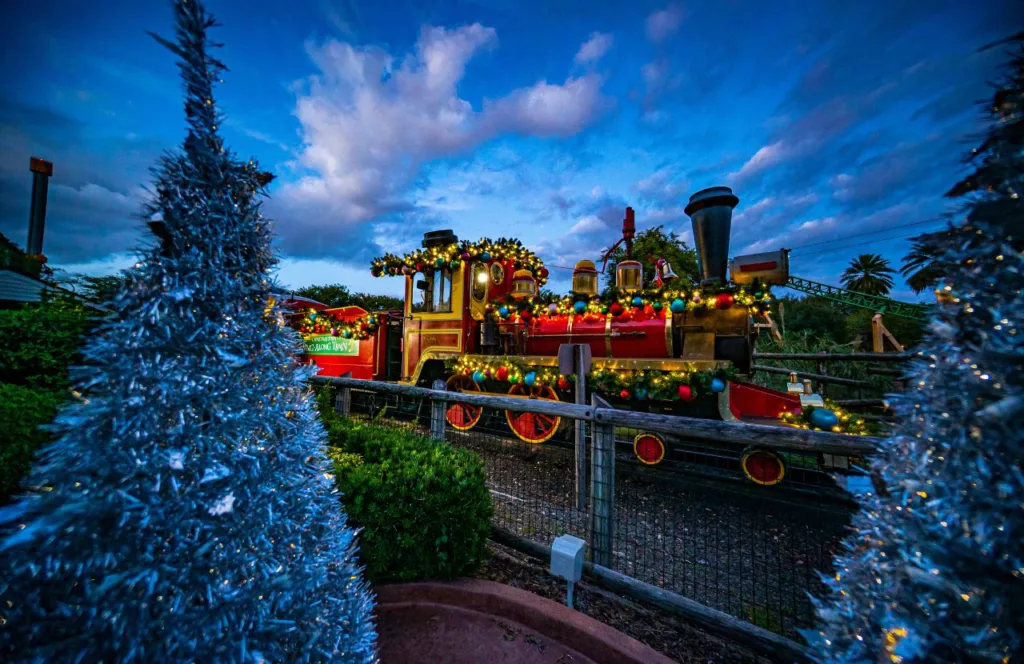 At this Tampa theme park, you'll enjoy a holiday-themed sing-along train ride, heart-warming shows, fine dining, electrifying festive shopping, Santa's workshop, and a chance to watch twinkling lights.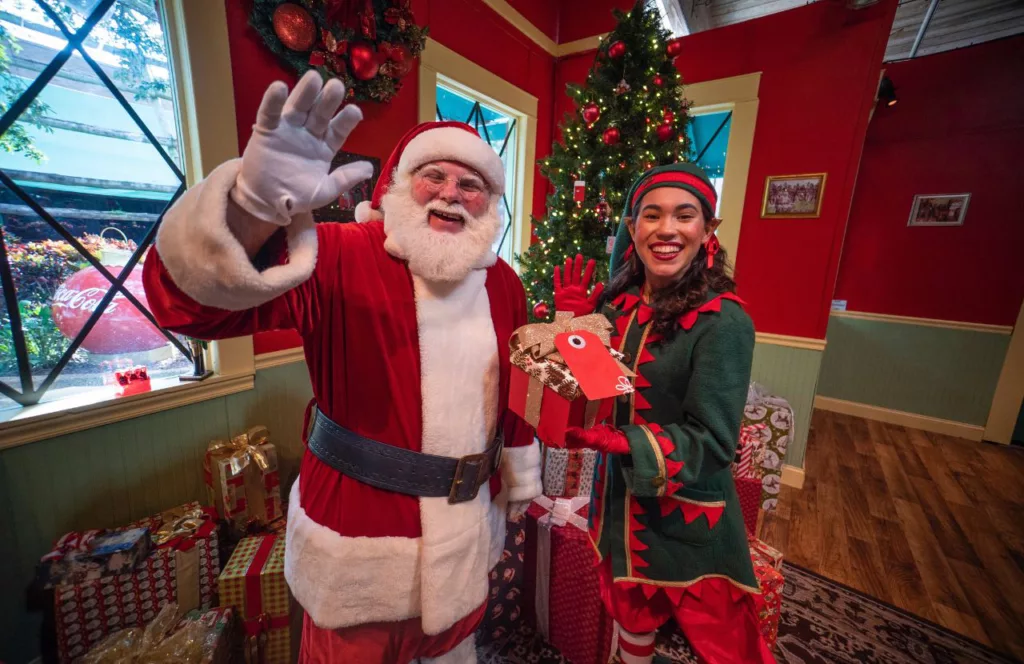 These are just a few things that makes Christmas Town Busch Gardens a must do holiday event for both the young and the old. Plus, it's included in your theme park admission.
14. LEGOLAND (Haines City, Florida)
One of the more unique things to do in Florida at Christmas is to take a visit to LEGOLAND.
It's nestled on Lake Dexter and you'll get to see a gigantic LEGO Christmas tree, festive shows, holiday characters, thousands of lights and delicious Yuletide treats!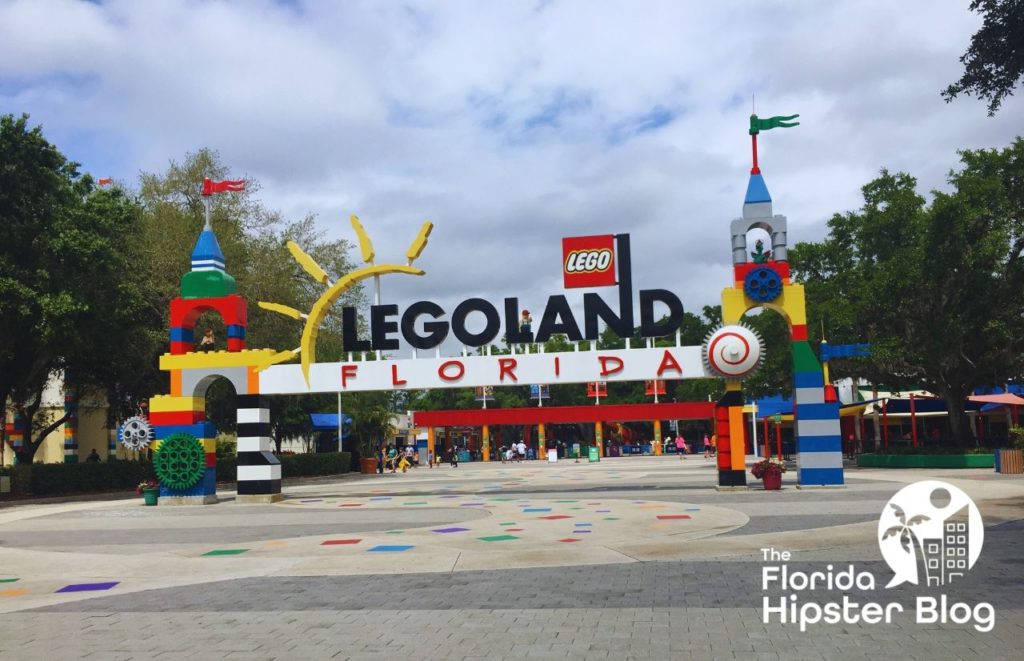 The best thing about this fun experience is that it's included in your theme park admission. The dates are November 26th – 28th, December 4th – 5th, 11th – 12th, 18th – 19th, 24th – 31st.
Recommended: 27 Most Festive Things to Do in Orlando for Christmas
15. Visit Celebration, Florida
Celebration is a community close to Walt Disney World. In fact, it was originally designed and developed by the Walt Disney Company. But real people live there… not giant mice.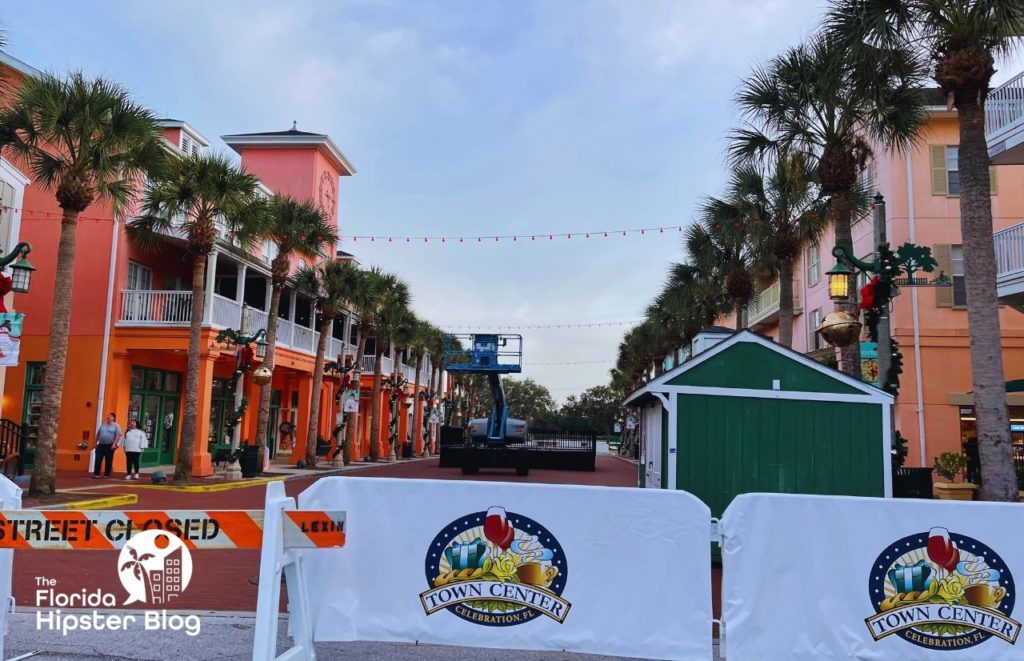 If you're looking for a lovely afternoon out in Florida, this town is a charming throwback to Walt Disney's American Dream, played out in real life.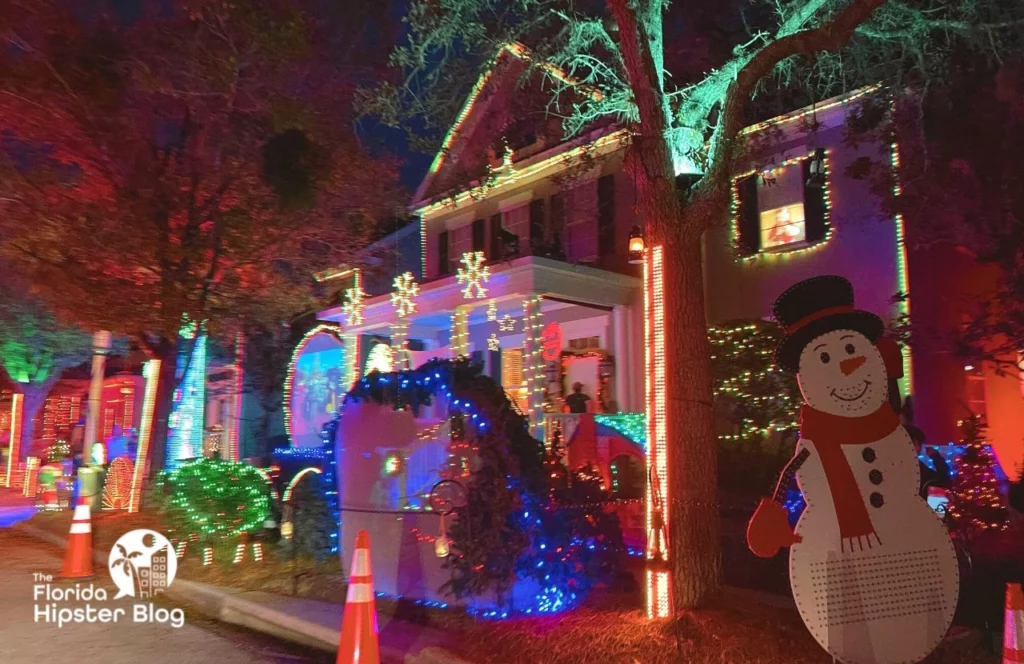 At Christmas, Celebration gains an extra level of magic, with snow machines turning the main street into the epitome of Christmas (minus the freezing temperatures) every evening from 6 p.m. – 9 p.m.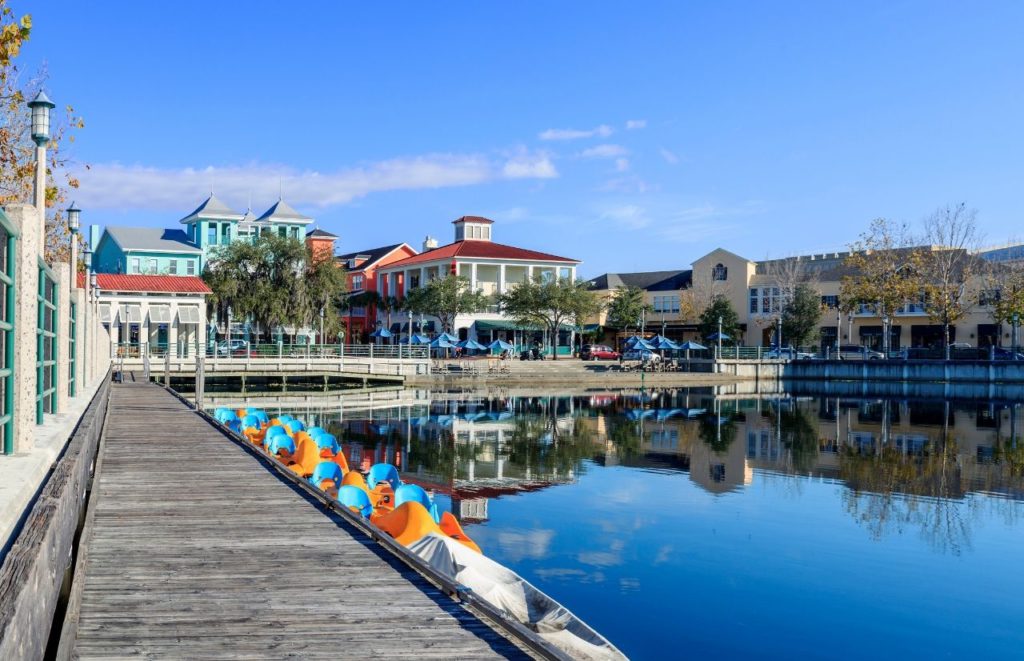 Locals and tourists join together to revel in the marvelous, Disney-reality. There are even some special holiday concerts in the diary for an extra special memory.
16. Enjoy the Holidays at Gaylord Palms (Kissimmee, Florida)
Gaylord Palms is luxury resort in Kissimmee, operated by Marriott. Known in the area for being a top place to stay, especially at Christmas, this year's plans do not disappoint.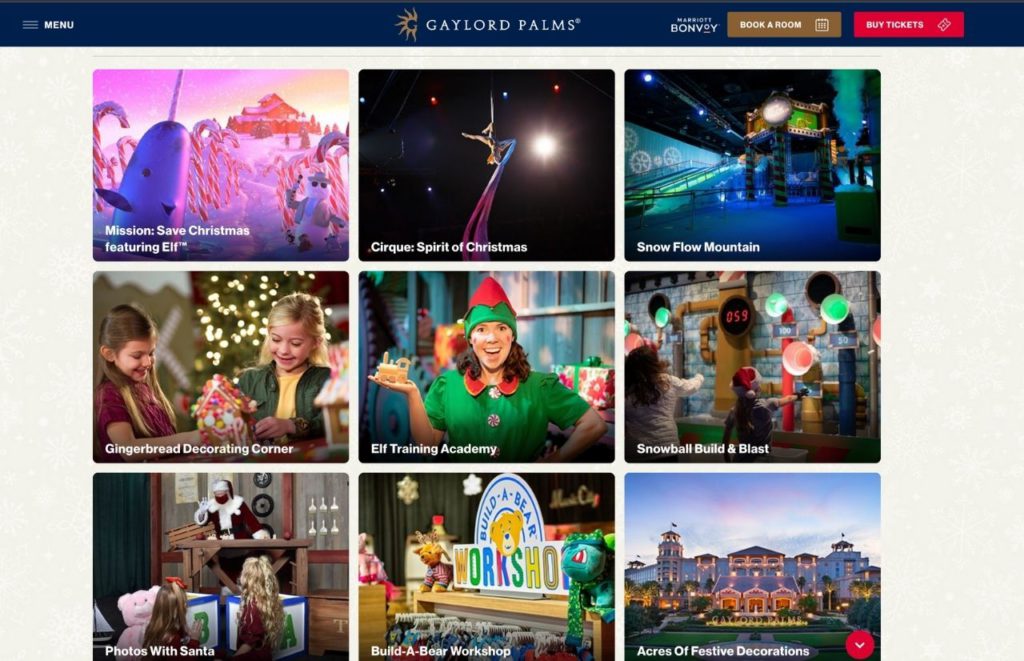 The two main highlights of Christmas at Gaylord Palms are the Naughty or Nice Escape Room, and their specially-produced Cirque-style show (Cirque: Spirit of Christmas) featuring acrobatics and breath-taking stunts.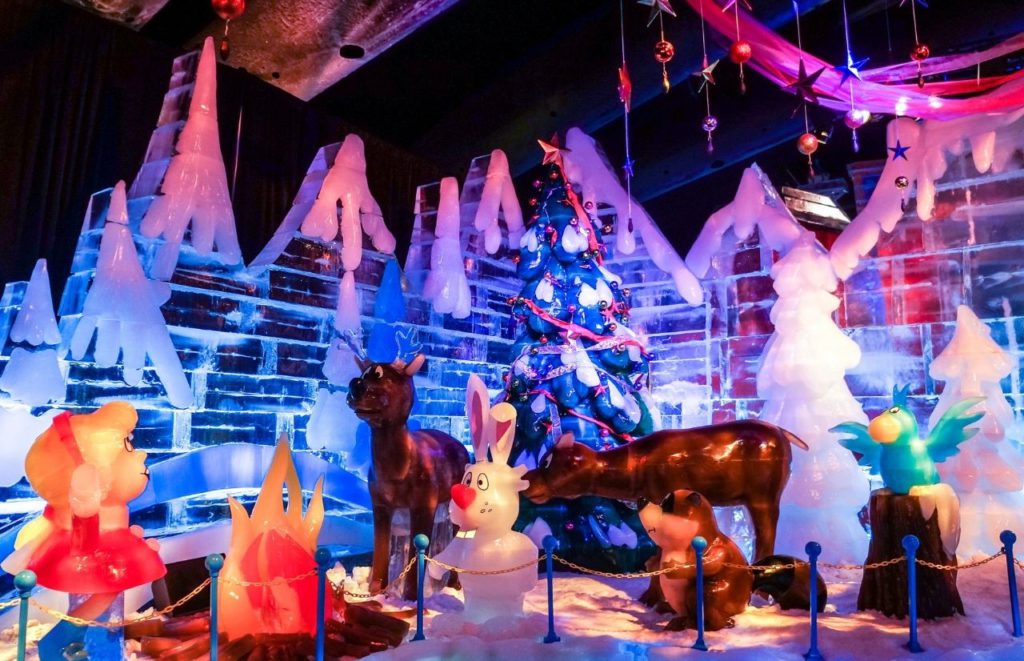 If you're planning a theme-park vacation for Christmas, then Gaylord Palms makes for an unbeatable hotel. Their Elf partnership promises a touch of the theme-park magic right on your doorstep.
17. Enjoy Christmas at Disney World (Lake Buena Vista, Florida)
Are you ready to experience Christmas at Disney World?
Chances are, at this Christmas just like the rest, families like yours will be looking to a visit fun destination where you all can make magical, new holiday memories and have the experience of a lifetime.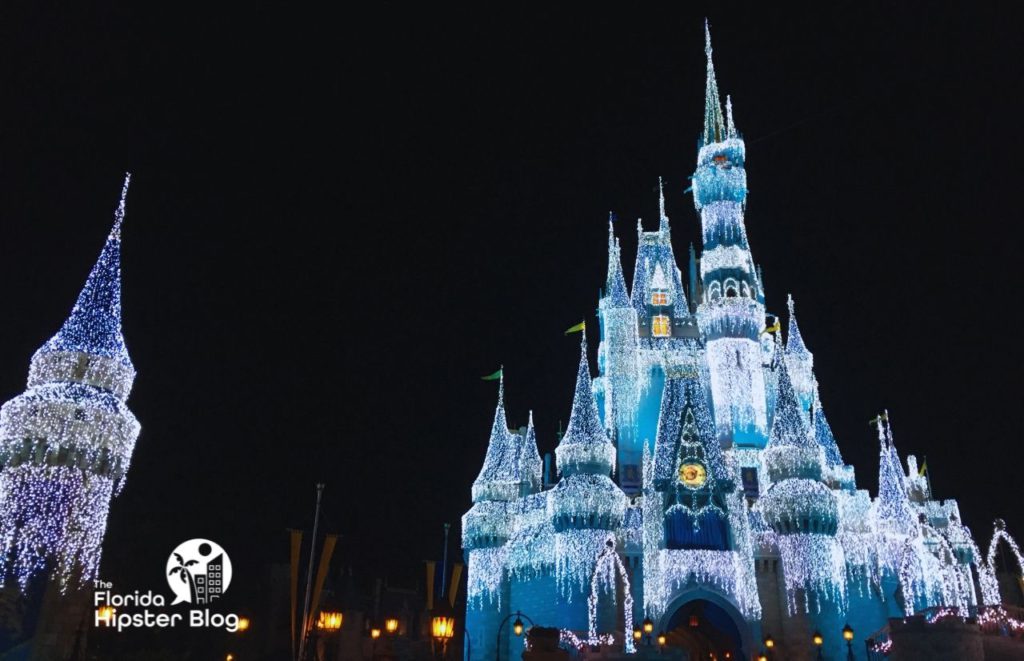 On your Disney trip you can expect to see so many Christmas decorations that are unlike anything in the world.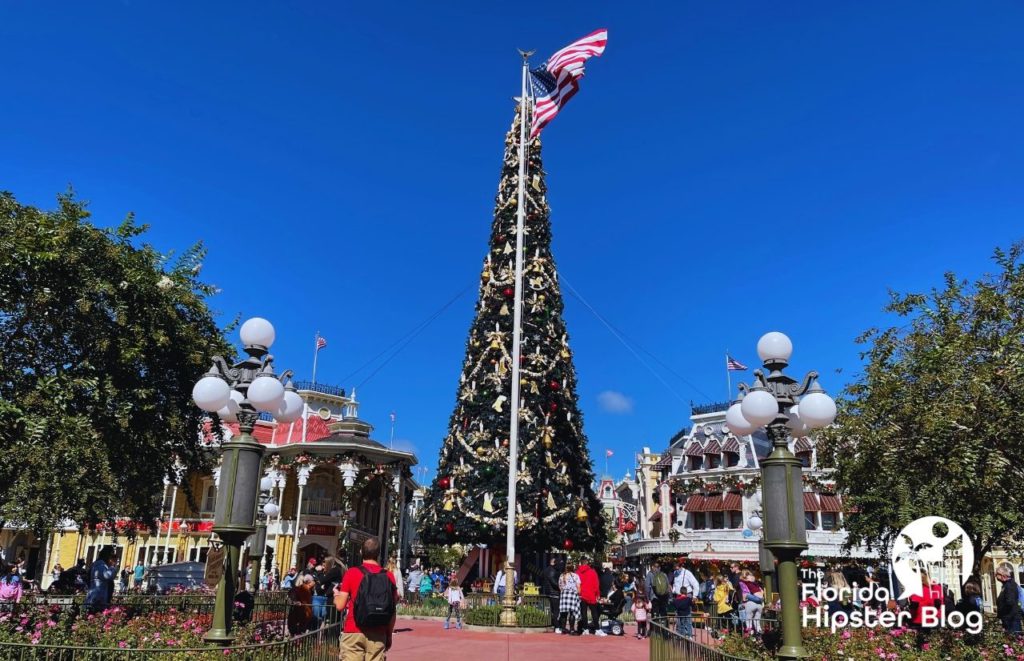 You'll get to see a castle covered in thousands of ice-inspired lights (postponed this year) to some of the largest Christmas trees you probably ever seen.
There are so many other things to see and do during this season at the resort such as:
A Star-studded Twist on Christmas at Hollywood Studios
A Wild Holiday Adventure at Disney's Animal Kingdom
You'll also get to meet the famous Disney characters like Mickey Mouse, Minnie Mouse and Goofy in all their holiday gear.
Recommended: How to Get From Epcot to Hollywood Studios (6 Easy Ways to Get to the Disney Parks)
18. Visit Universal Orlando Resort for the Holidays (Orlando, Florida)
Can you imagine spending the holidays with the Grinch, wizards in Hogsmeade, and giant parade floats galore?
Well that's what you'll get when discovering the holiday happenings for Christmas at Universal Orlando from November 12, 2022 through January 1, 2023.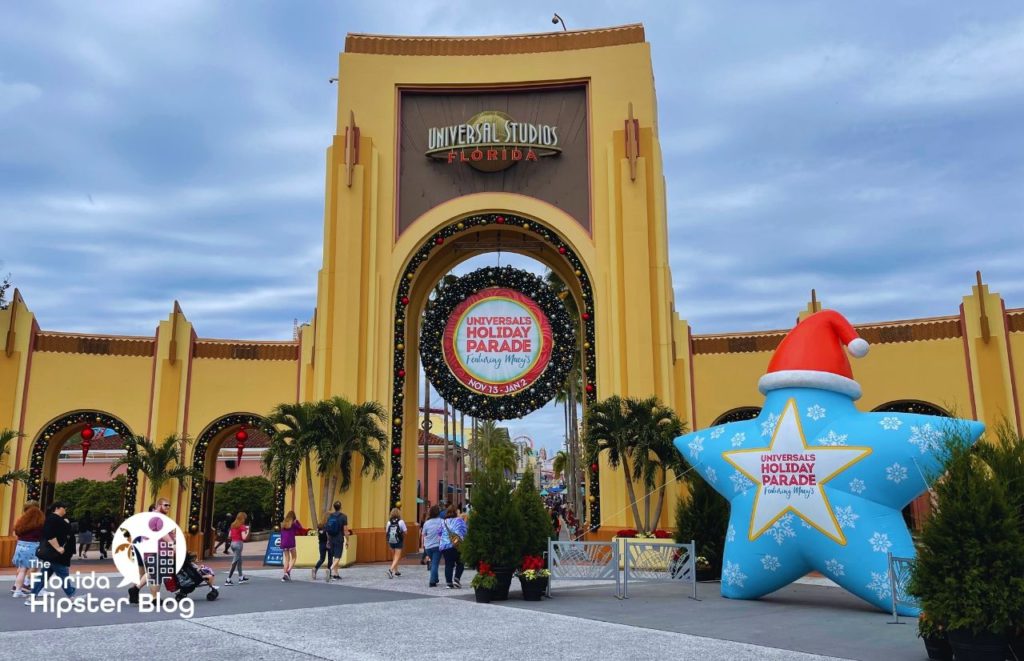 From enjoying fun interactions with one of Dr. Seuss's classic characters, to the enchanting Macy's Holiday Parade at Universal Studios, there's something for everyone at this resort.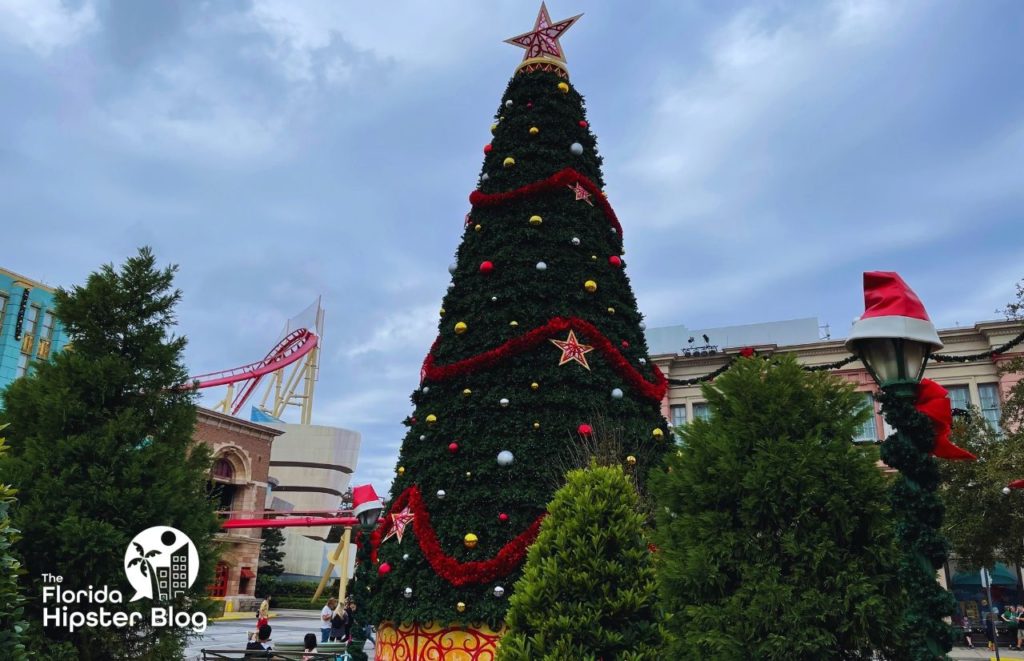 There are so many other things to see and do during this season at the Universal Orlando such as:
Enjoying the holidays in The Wizarding World of Harry Potter
Saying hi to the Grinch during Grinchmas
Doing a Holiday Tour at Universal Orlando Resort
Watching Universal's Holiday Parade featuring Macy's
Meeting Santa Claus
Going on a Christmas Tree Hunt
Listening to Mannheim Steamroller play your favorite holiday tunes
Resort hopping to look at the holiday decorations
19. Enjoy a Christmas Celebration at SeaWorld (Orlando, Florida)
One of the best places to celebrate Christmas is at SeaWorld Orlando which is located at the heart of the tourist scene in central Florida.
This festive period is usually filled with many seasonal activities and if you are one of those people who don't have plans yet.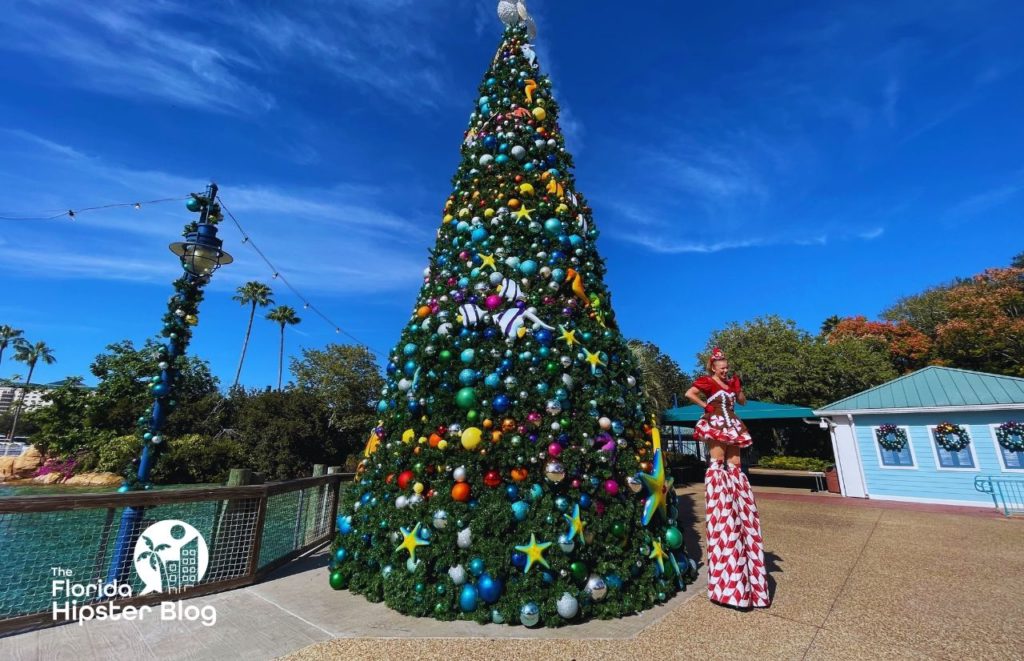 The SeaWorld Christmas Celebration is where the park is transformed into your own Winter Wonderland.
You can visit this Orlando theme park at any time, but going to SeaWorld at Christmas is one of the best experiences you can have during this Yuletide season in Central Florida.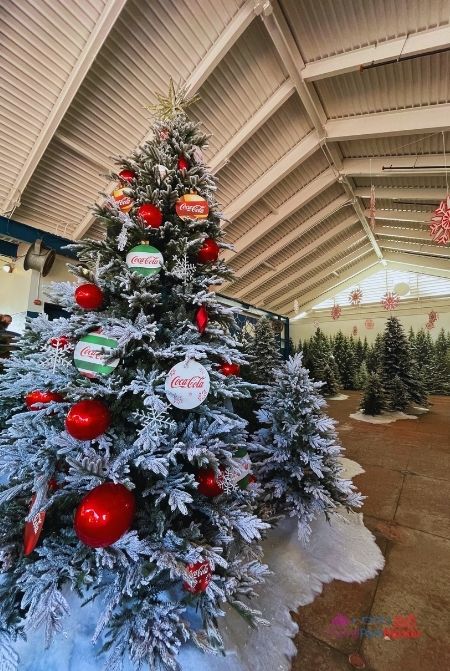 At this aquatic theme park, you'll enjoy heart-warming shows, meet-and-greets with Santa and all his holiday friends, seasonal treats, a chance to watch over 3 million twinkling lights and so much more!
Plus, it's included with your theme park admission.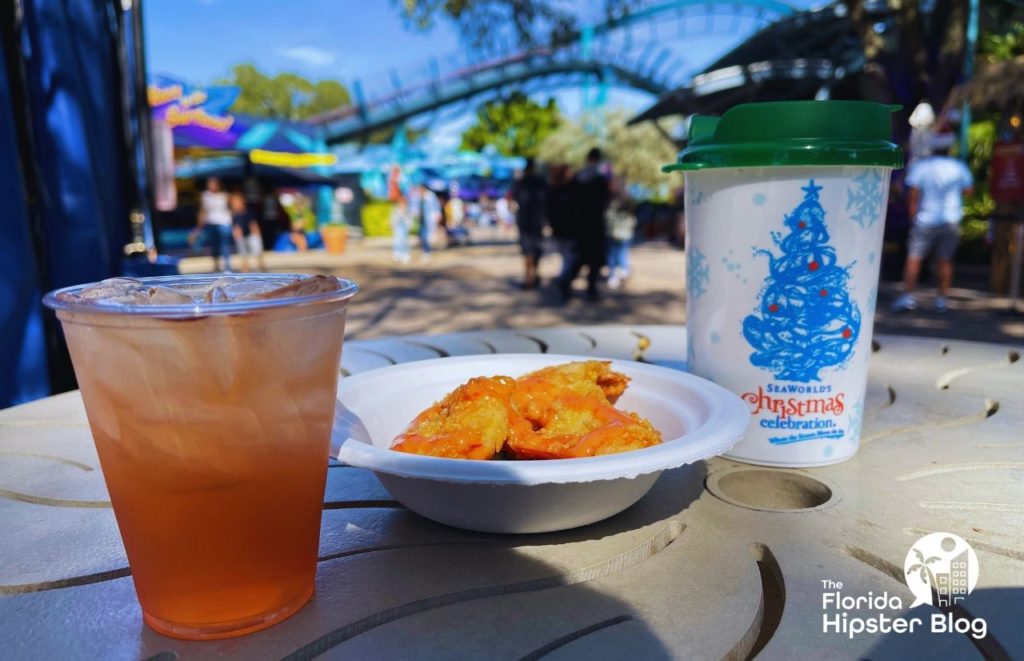 With all these fun holiday activities, you can see why Christmas at SeaWorld is truly one of the best seasonal events in Orlando that offers so much more for your money than other parks in the area.
When Does Christmas at SeaWorld Start?
The SeaWorld Christmas Celebration will take place from November 11th 2022 to January 3, 2023.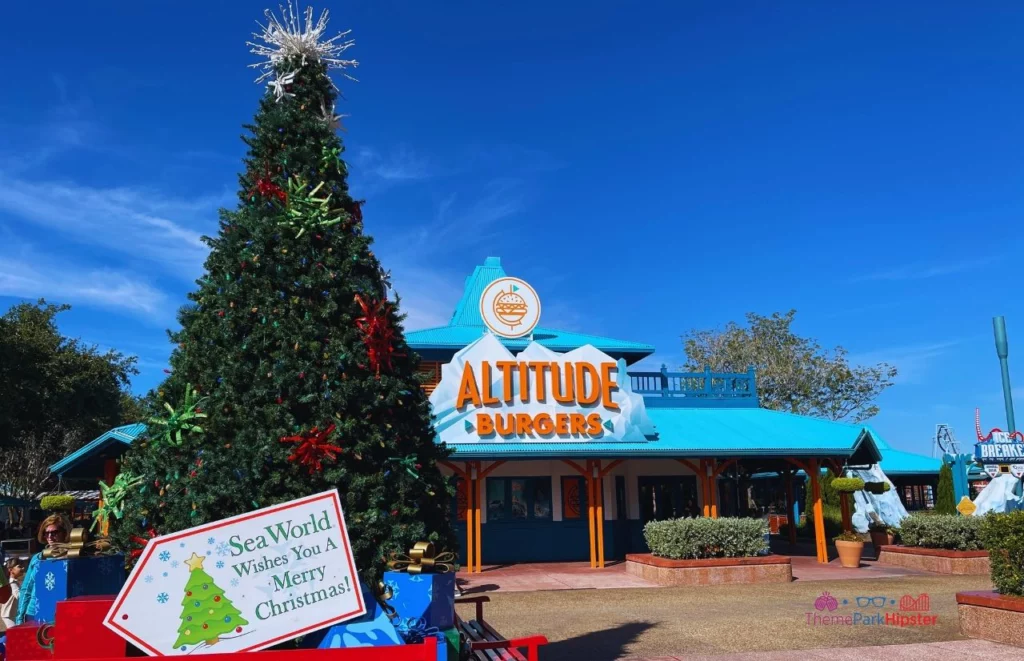 There are so many other things to see and do during this season at the SeaWorld Orlando Christmas Celebration such as:
Meeting Santa Claus and Rudolph the Red-Nosed Reindeer
Eating your way around the holiday food festival
Go Christmas shopping
Watching the holiday fireworks show
Hanging out with the Sesame Street characters during the Christmas Parade
Playing in the snow
Going ice skating
Don't forget that you can buy some unique Christmas gifts from SeaWorld all over the park, but particularly in the Christmas Market.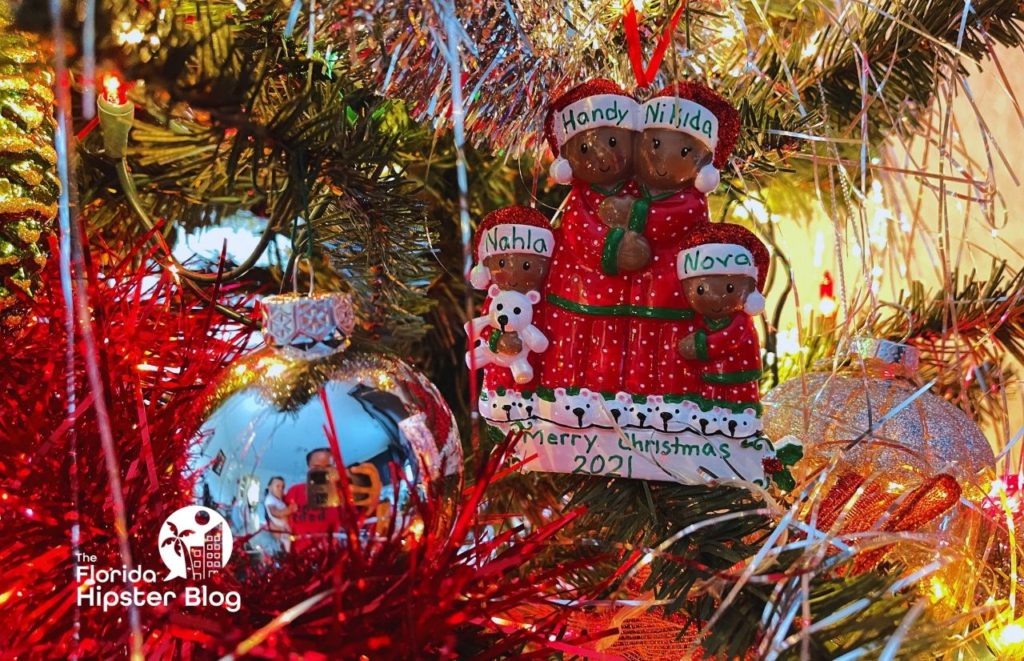 You can even customize your holiday gifts while you're in the park like this Christmas tree ornament.
Recommended: 39 Best Souvenirs From Florida You MUST BUY from Your Trip!
20. Visit Lake Eola Tree Lights (Orlando, Florida)
Not that it's a competition, but Orlando's Christmas Tree is ginormous! The massive 72-footer stands proud on the south-east bank of Lake Eola in downtown Orlando.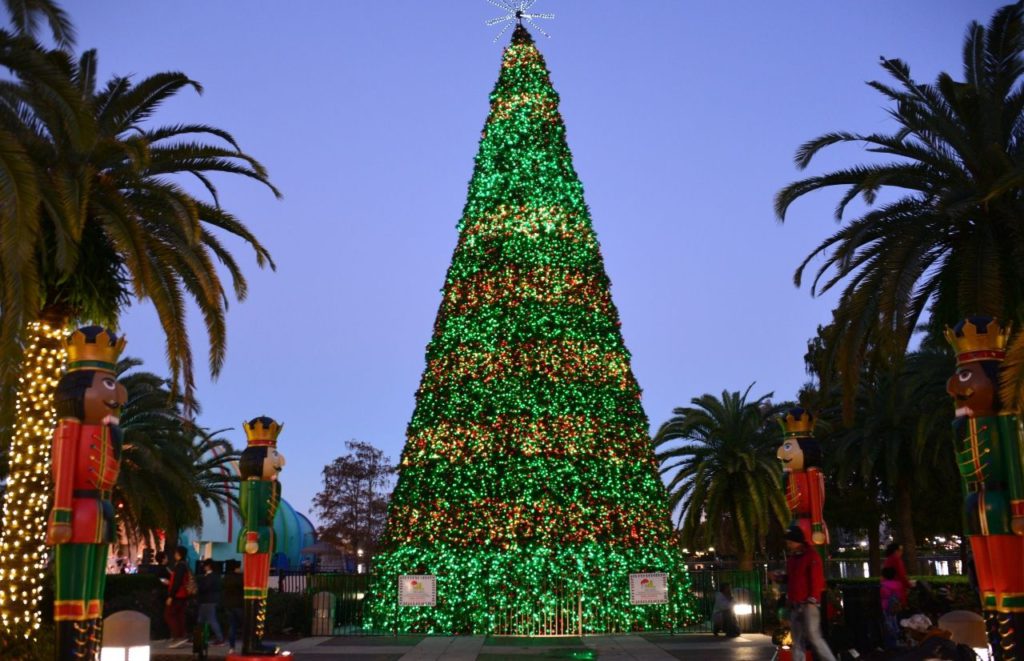 The tree lighting ceremony takes place on December 2nd from 5 p.m. – 9 p.m. It's a free event with entertainment, food trucks and a holiday market too.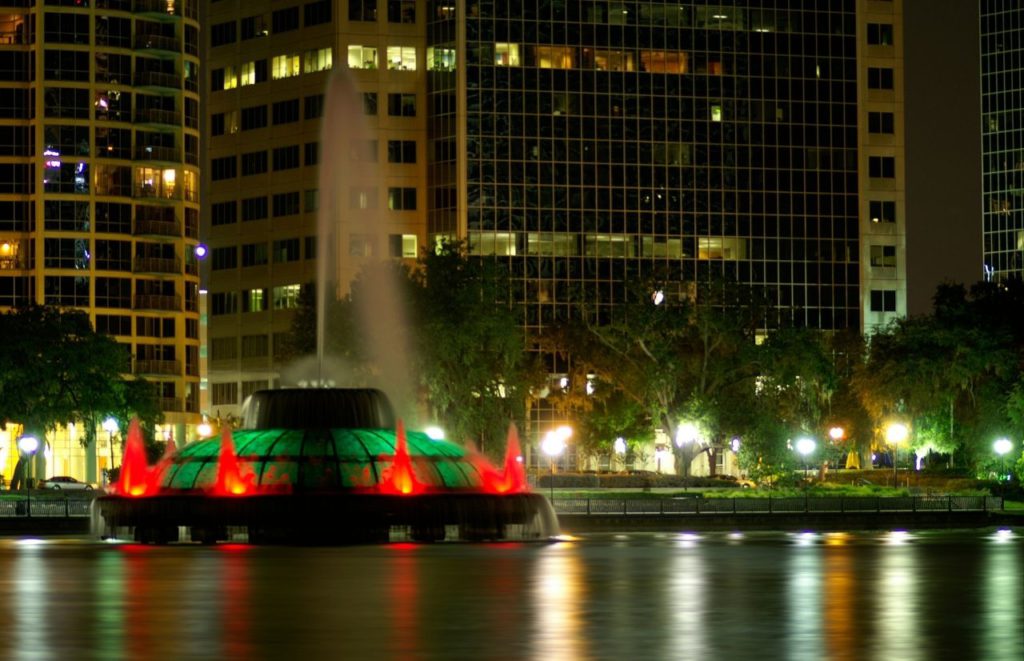 The lake's fountains transform into festive colors for the entire holiday season, right up to early January.
21. Enjoy the Night of Lights Festival (St. Augustine, Florida)
Imagine taking the sparkle and magic of a Christmas movie and painting it all over a town. That's exactly what the citizens of St. Augustine do every night from mid-November to the end of January.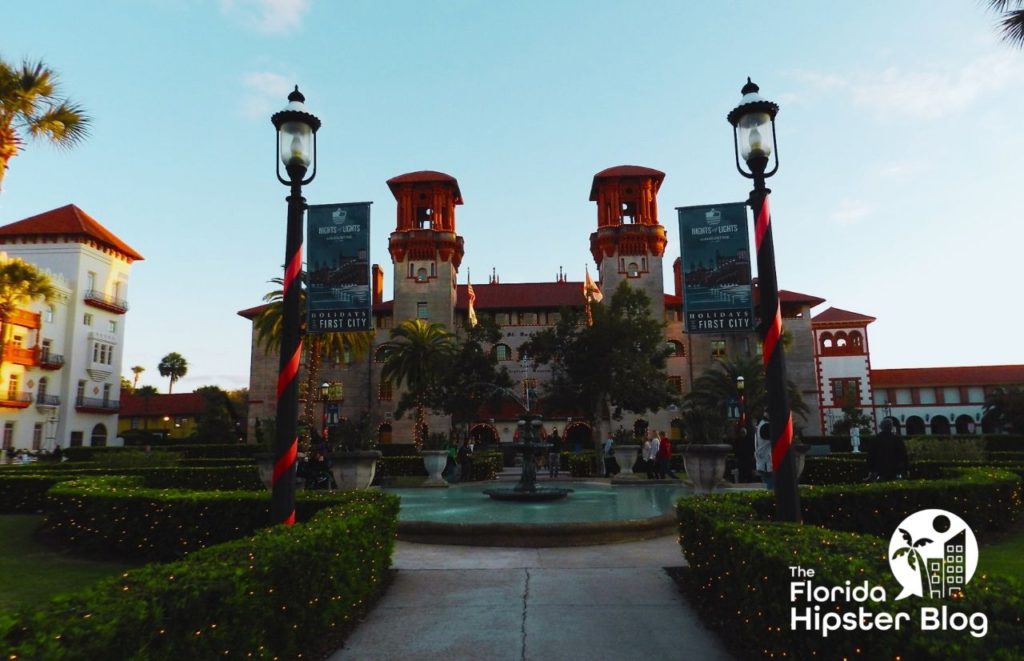 Local businesses stay open later into the evening so you can absorb the warm glow of countless twinkling lights that adorn the city for this special time of year.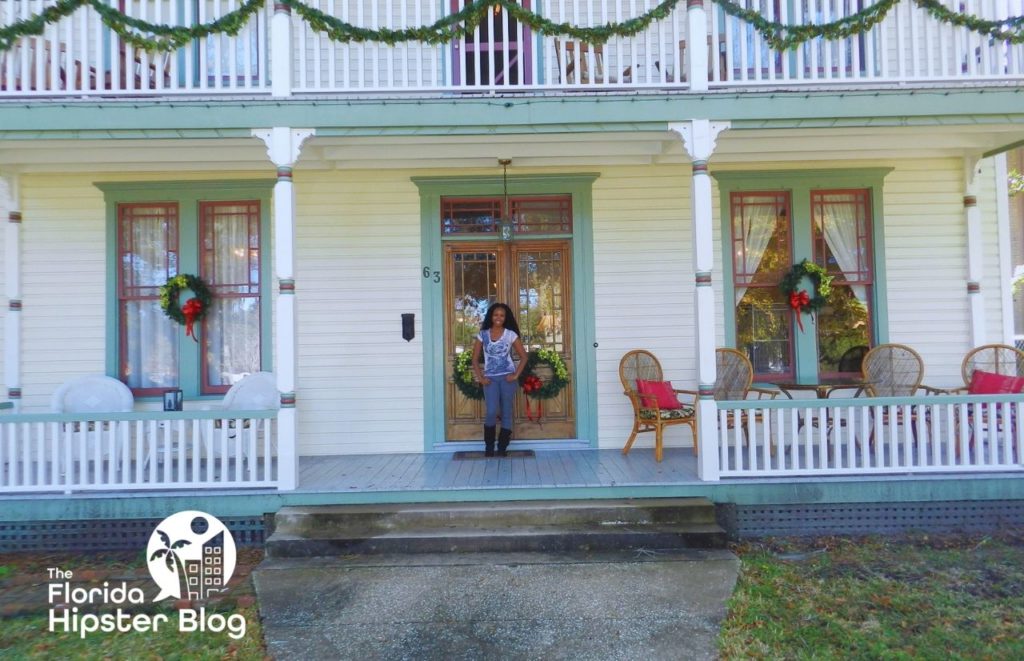 Incredible photo opportunities await you along the bayfront, and especially by the beautiful tree in the center of the Plaza de la Constitución. You could even take a boat tour and enjoy the lights from the water.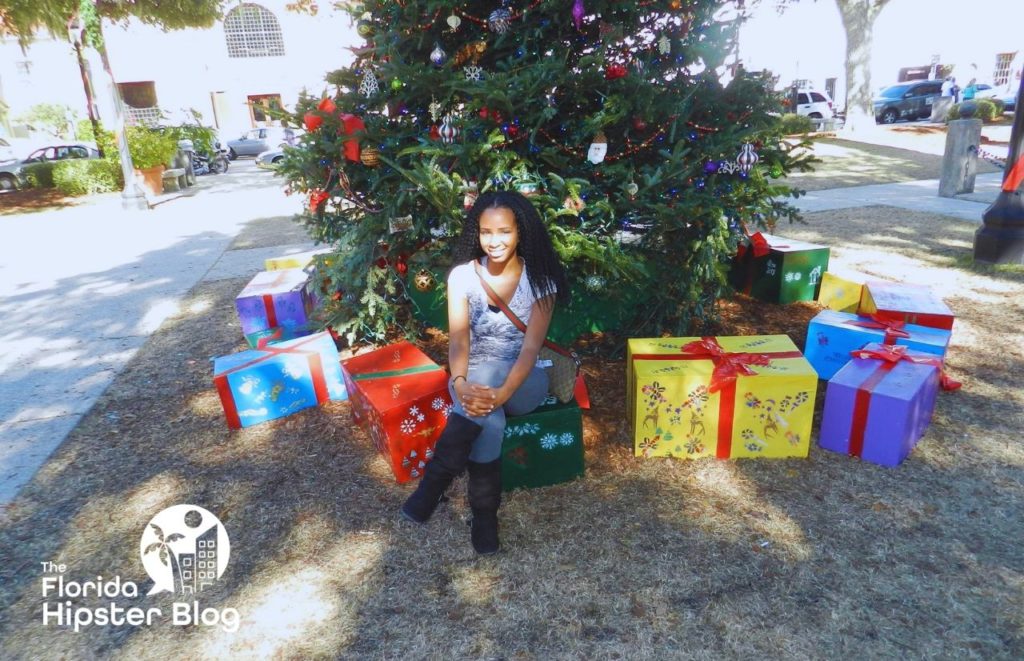 Check out the Night of Lights: Booze Cruise, or (if you're feeling energetic) explore The Night of Lights by Golfcart.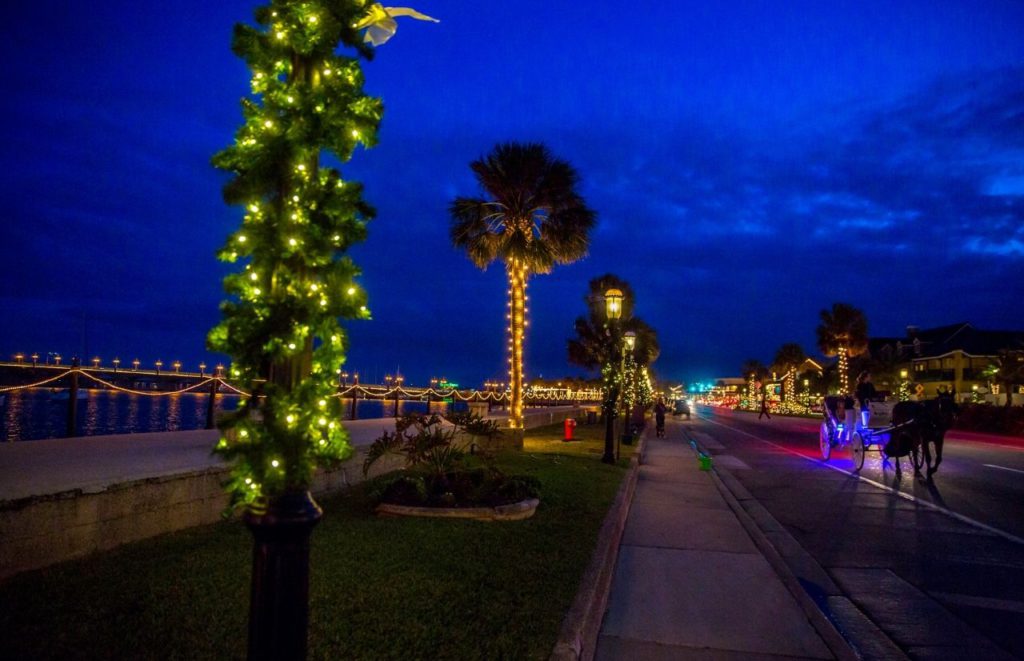 The city offers a free park and ride service for the Nights of Lights season, until December 30. More information on that is available on their website.
22. Have Fun at Jax Illuminations (Jacksonville, Florida)
Jax Illuminations prides itself as being Jacksonville's best drive thru holiday light show.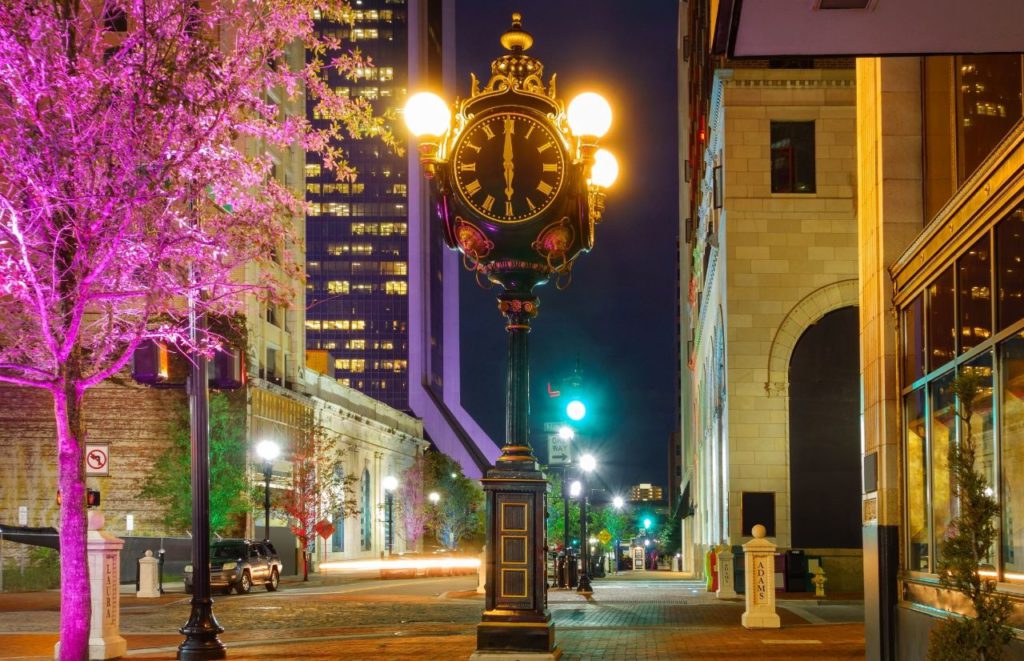 If you're a local or planning a big Christmas vacation for 2022, this is definitely an evening activity to add to your list.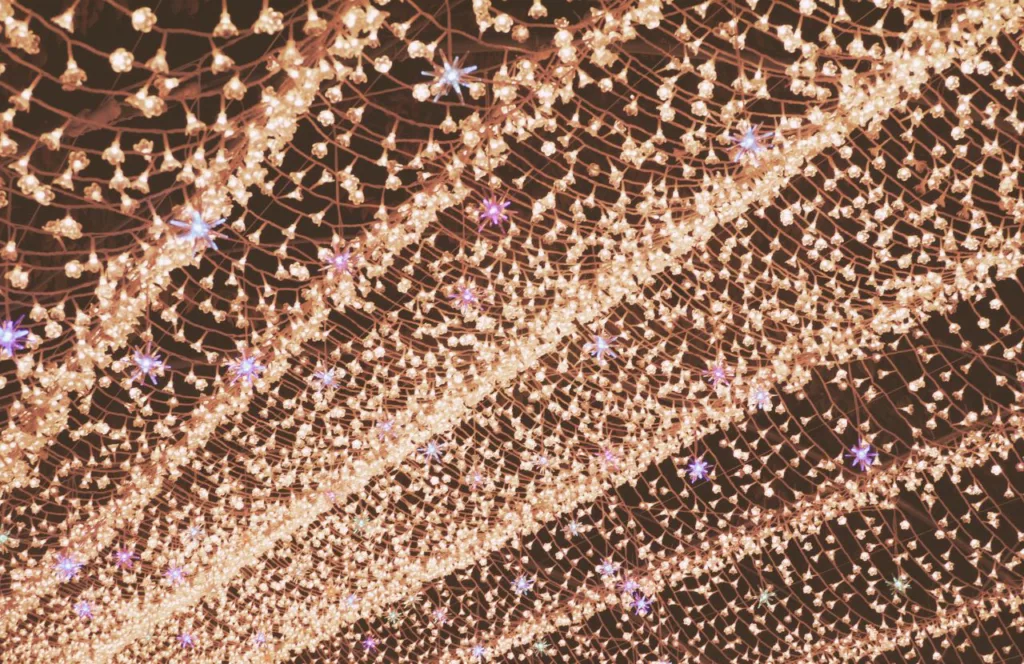 You'll enjoy millions of LED holiday lights with this drive-thru experience!
23. Visit Light Up Tioga Town Center (Near Gainesville, Florida)
Light Up Tioga Town Center near Gainesville is turning into a Florida Christmas staple.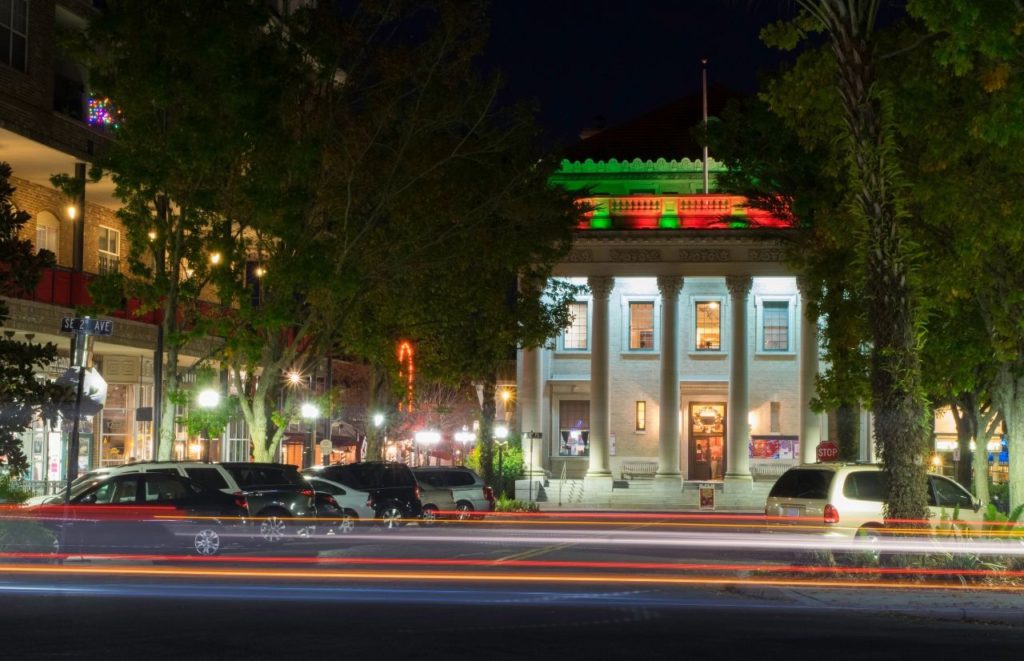 This tree-lighting and Christmas celebration takes place on November 27th from 4 p.m. – 8 p.m., making it the perfect pre-Christmas party for the whole family.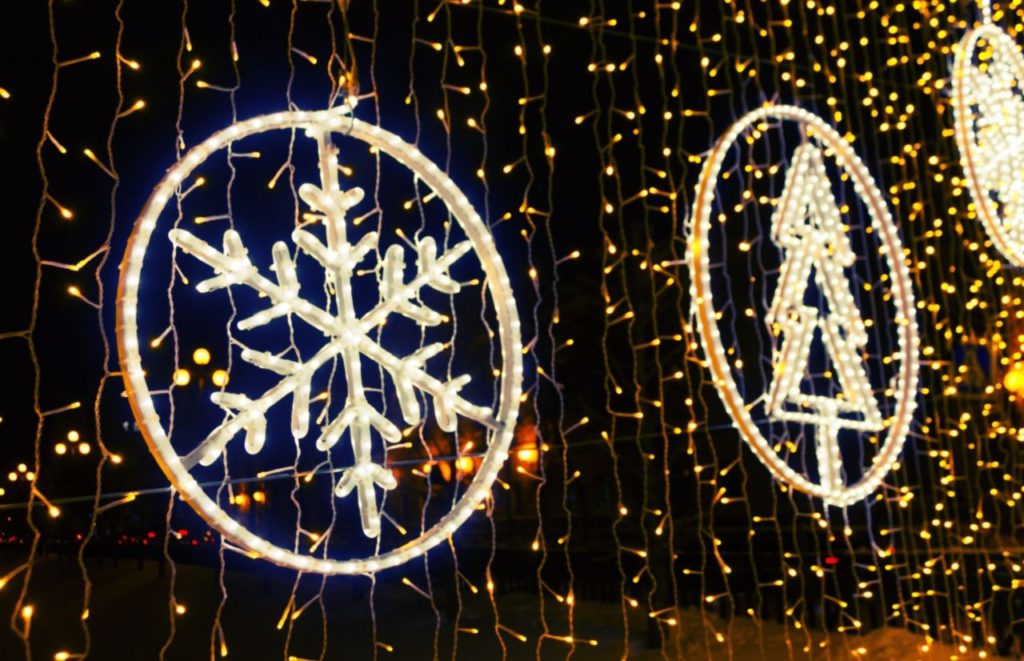 If you've got young kids, this is the choice for you as the earlier time means there's always lots of excited children around, making the most tremendous festive atmosphere for all.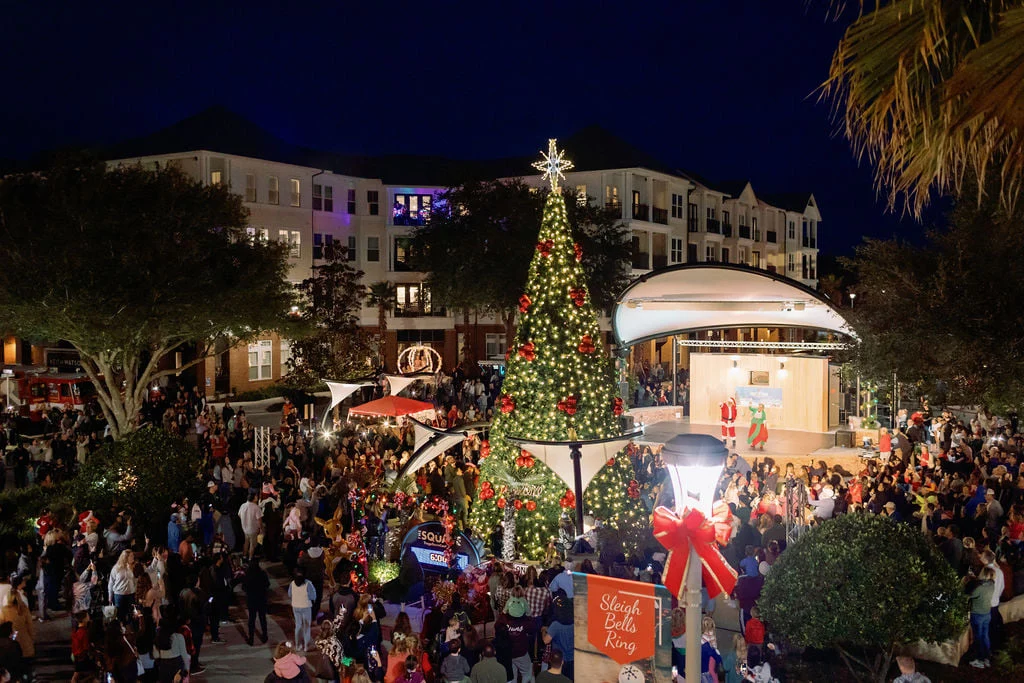 Santa has booked himself in, and there'll be no end of food, drink and festivities for all.
Recommended Guides on Gainesville, Florida
24. The Winter Festival (Tallahassee, Florida)
Check your diary for Saturday December 3rd. If you're free, write in it: 36th Annual Winter Festival in Tallahassee. If you're busy, cross out whatever you've already written and then go back to step one.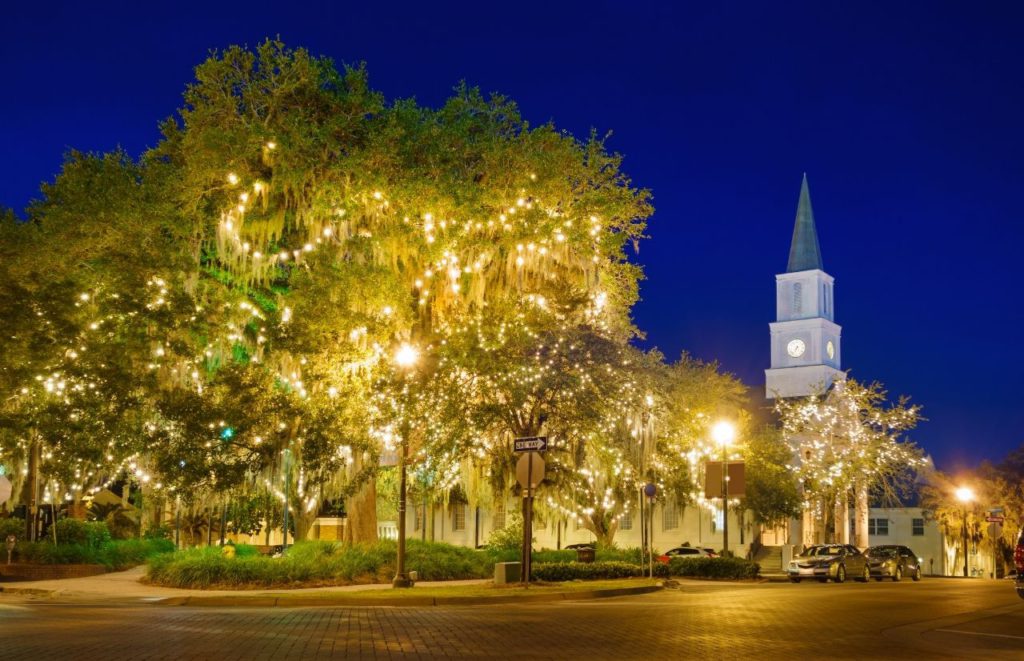 The annual celebration of lights, music and the arts fills downtown Tallahassee with so much festive joy.
Plus, the smell of Christmas food and drink teases you the moment you arrive, and the entertainment and shopping will keep you going from 3 p.m. – 10 p.m.
The lighting ceremony takes place at 6 p.m. and there's even a parade to match! Amazing!
If you're taking the kids, they will love the children's activity zone on Kleman Plaza, where family-friendly movies are screened from 6 p.m. – 10 p.m.
25. Pensacola Winterfest (Pensacola, Florida)
If Cajun isn't the first word you associate with Christmas, then you've not been to the Pensacola Winterfest before!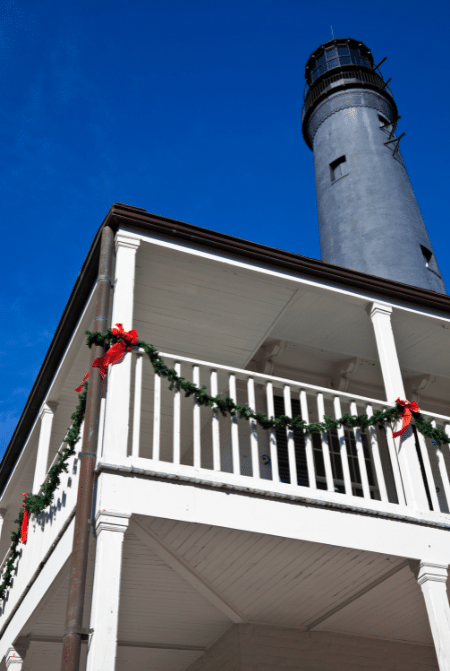 Experience Christmas in a new and exciting way, featuring gator karaoke (yes, that's karaoke with an alligator!) and free mini shows every evening of the season at the Winterfest Plaza at Government and Palafox.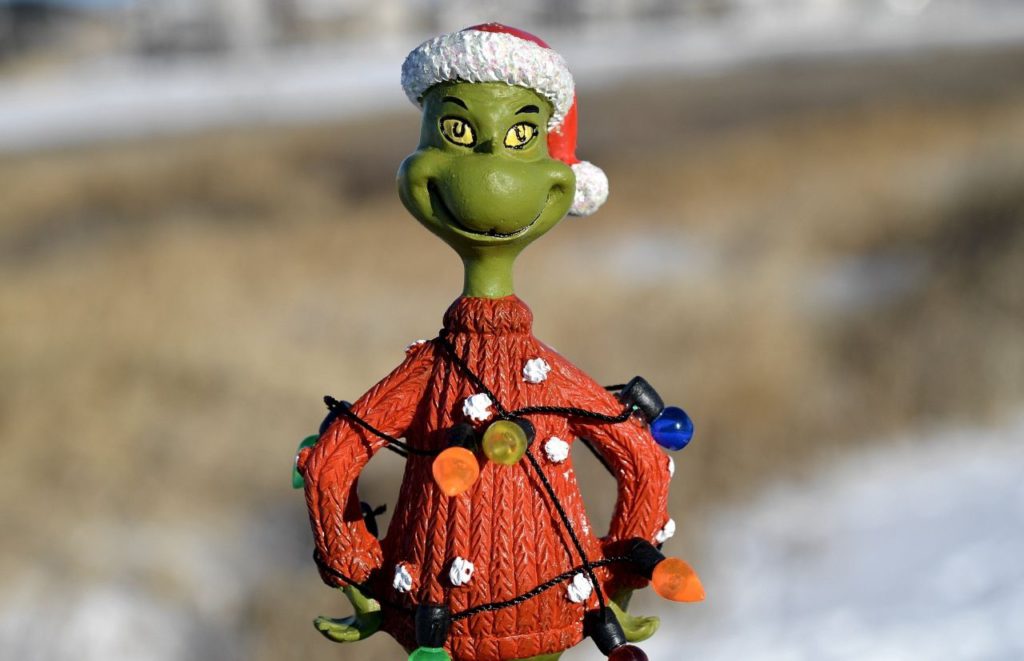 Not only have the Winterfest team managed to book Santa for photos, they've even managed to convince the Grinch to join in the fun. How's that for an endorsement?!
Recommended: 15 Fun and FREE Things to Do in Gainesville TODAY
10 BEST Florida Christmas Parades for 2022
I have listed a few of my favorite holiday parades that are taking place all over Florida this year.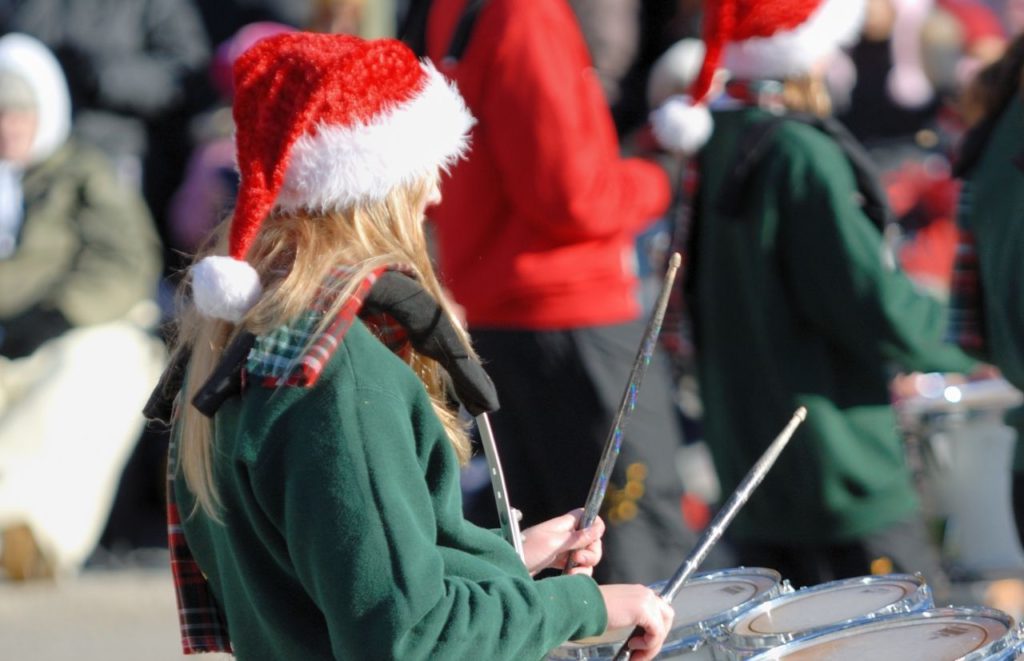 Check them out below!
Want DAILY Florida Travel Photos? Follow Florida Hipster on Instagram TODAY!
Wrapping Up…
If you're spending Christmas in Florida this year, you won't be short of festive entertainment!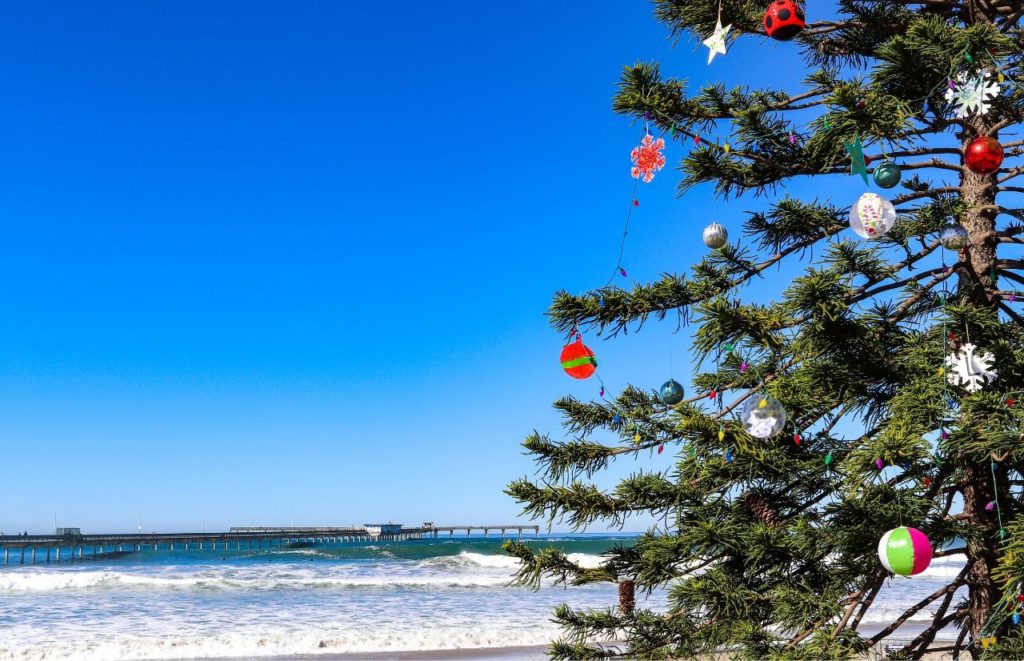 Just make sure you keep your camera batteries charged as there will be so many incredible sights and beautiful memories you'll want to capture forever.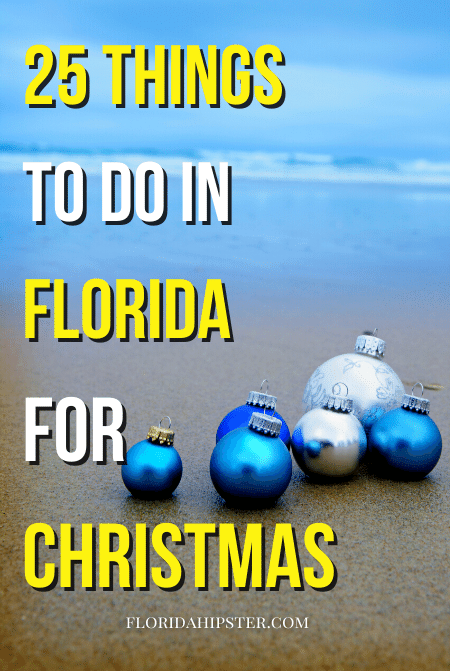 Now it's your turn. What's your favorite free thing to do in Florida at Christmas? Let us know in the comments section below!
Happy Florida Travels!
UP NEXT: 10 Festive Things to Do in St. Augustine for Christmas
(Original Article Date: December 2, 2021/Updated on November 16, 2022)
Some Photos Courtesy of Canva.com