All roads in Gator Nation are leading to some of the best things to do in Gainesville for Christmas to put you in the festive spirit.
It's not just the infamous sunny weather brightening up Florida this time of year.
It's the lights and magic of all the Christmas activities in Gainesville that are making things merry and bright.  
The Florida Hipster Blog has unwrapped 13 of the best ways to celebrate a Gainesville Christmas. So let us present you with a holiday season to remember!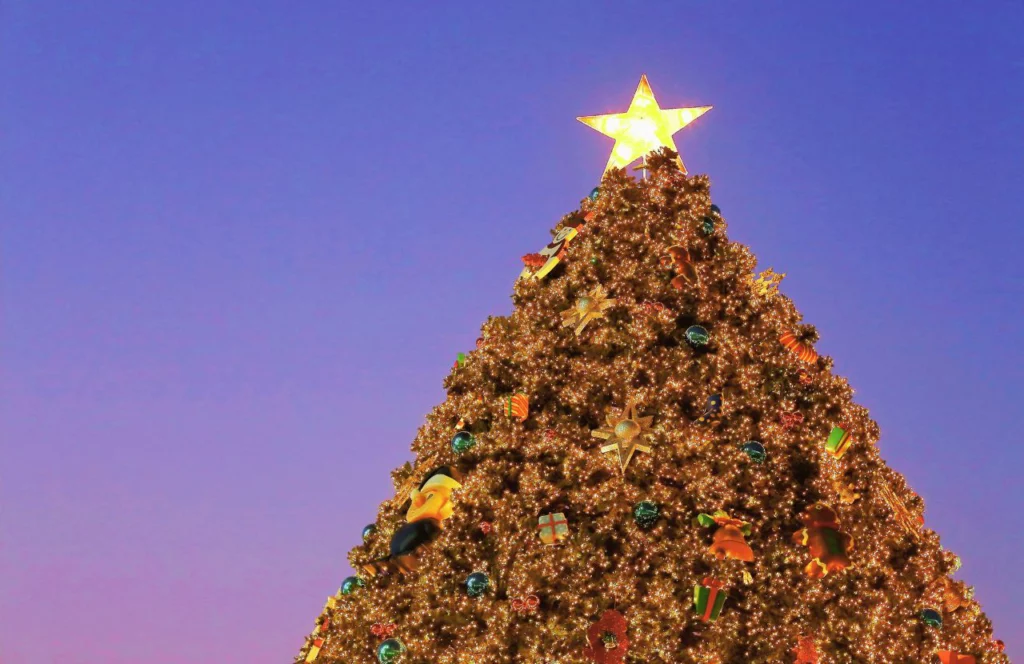 THIS POST MAY CONTAIN AFFILIATE LINKS. PLEASE READ MY DISCLOSURE FOR MORE INFO.  Which means if you click on certain links, I may receive a small commission at no additional charge to you.
1. Mannheim Steamroller Christmas
The sounds of Christmas fill up the Exactech Arena at the Stephen C. O'Connell Center on November 17th.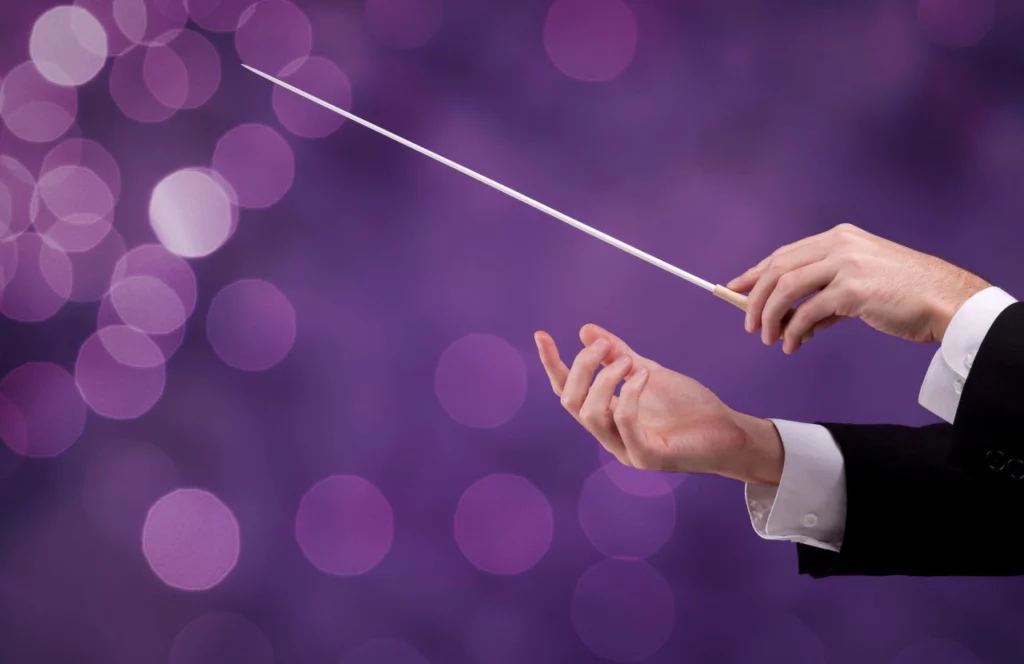 Why We Love This Christmas Event in Gainesville, Florida
Mannheim Steamroller Christmas is a tradition that is loved every holiday season throughout America.
With pricing from $29 to $80, everyone can experience a little fa la la and get themselves into the spirit of Christmas.
Location: 250 Gale Lemerand Dr. Gainesville Fl. 32611
Get up to 87% off of the Gainesville attractions with Groupon TODAY!
2. Christmas Carol at the Hippodrome
A Gainesville Christmas isn't complete without one of the city's favorite holiday traditions, this year marks the 40th anniversary!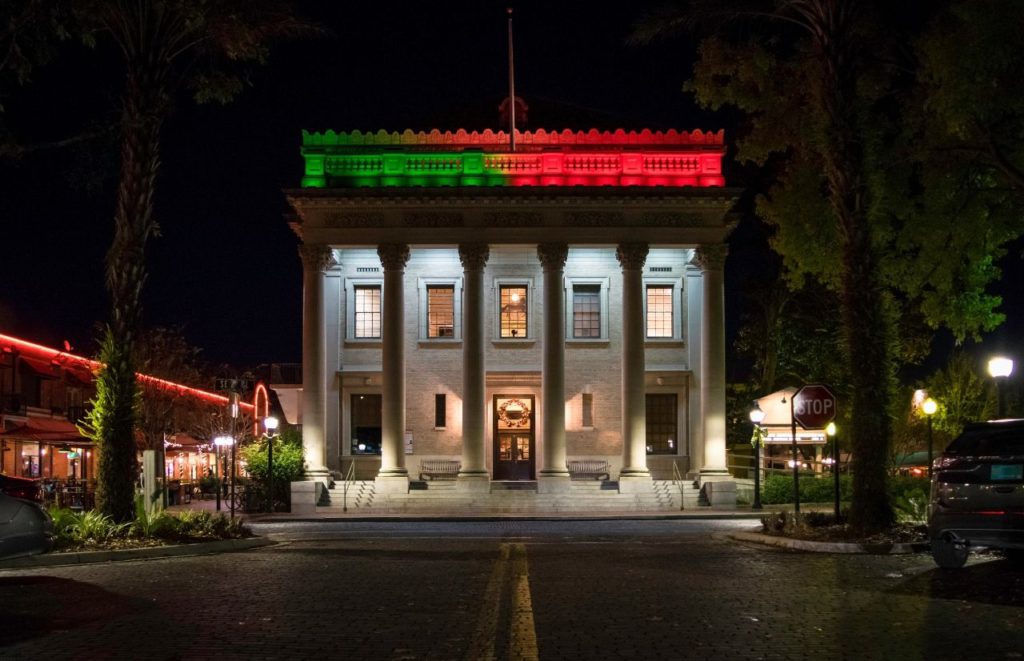 Why We Love This Christmas Event in Gainesville, Florida
Running from November 26 to December 23 the Christmas Carol's timeless classic brings Christmas joy to the hearts of all ages.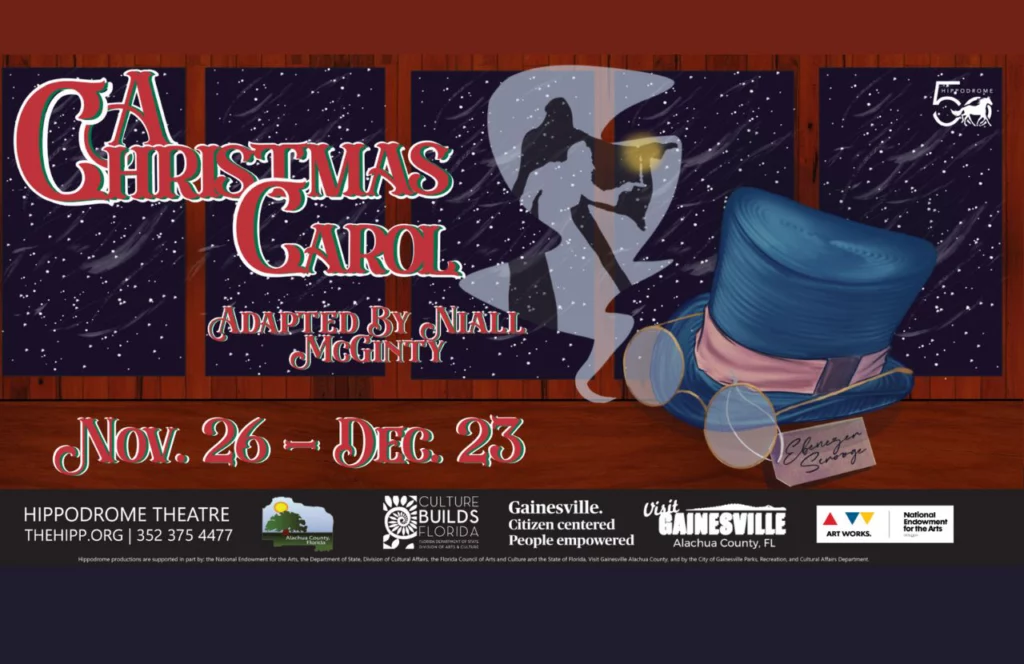 Lighthearted, spirited music and always with a bit of laughs. You won't find a single bah humbug in the seats of the Hippodrome Theatre
Location: 25 SE 2nd Place Gainesville, FL. 32601
3. The 10th Annual Holiday Showcase
Hurry down the chimney on December 7th and make your way to Sweetwater Branch Inn.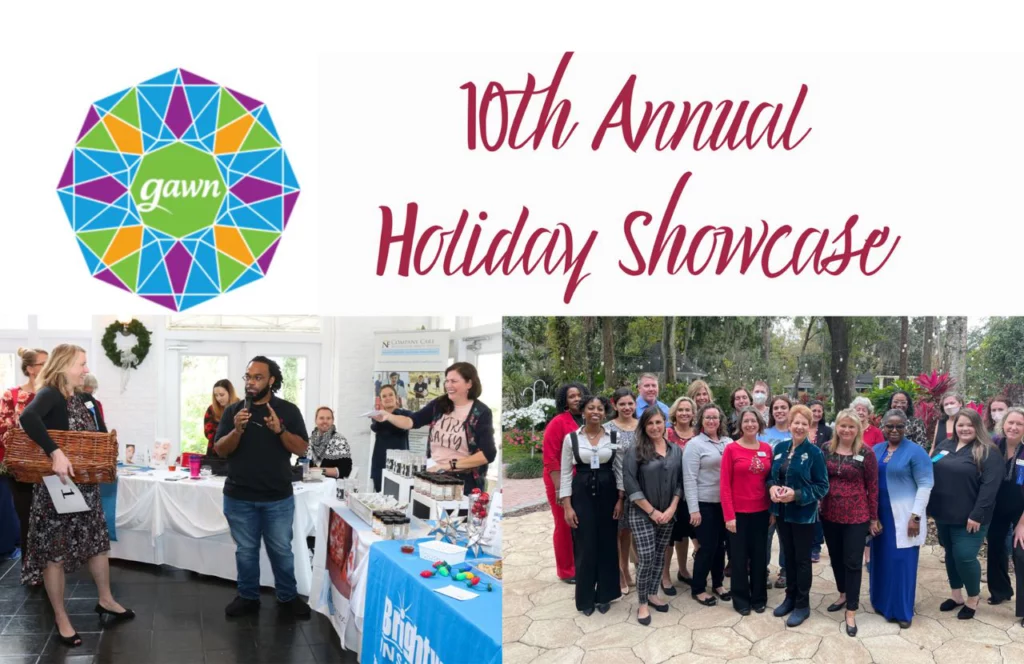 It's time for the 10th Annual Holiday Showcase for one of the best Christmas activities in Gainesville to get you in that ho- ho- holiday spirit.
Why We Love This Christmas Event in Gainesville, Florida
You can support Christmas in Gainesville by shopping locally while enjoying hors d'oeuvres and even a chance at plenty of door prizes.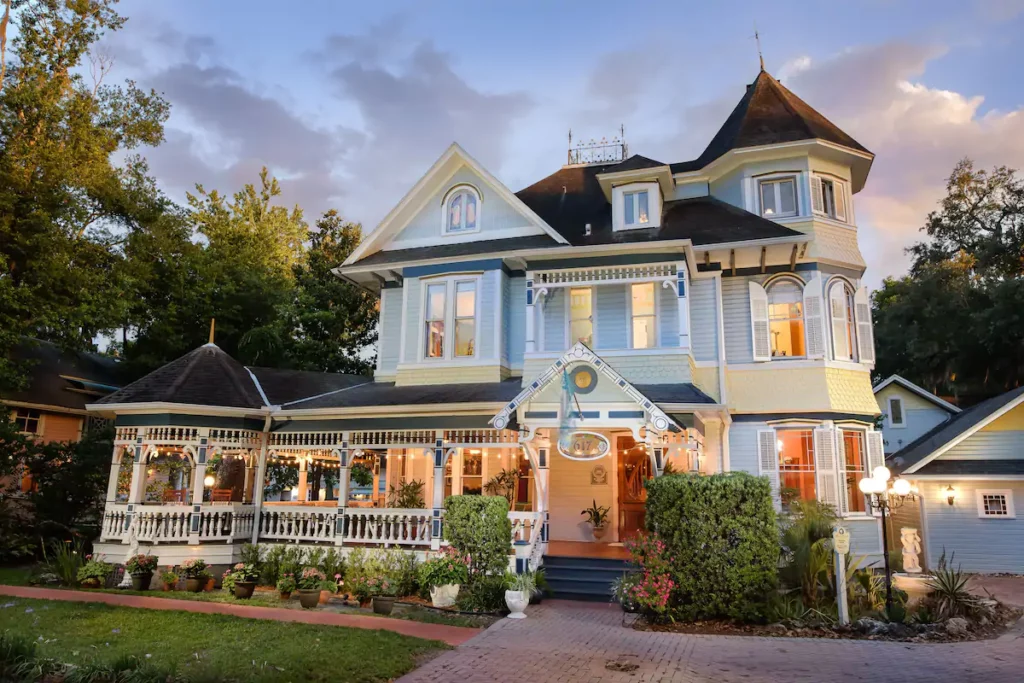 If you have non-perishable food items to bring, don't forget to do so. Tis the season to share and the Displaced Homemakers Program will be receiving some extra love and care.
Location: Sweetwater Branch Inn, 625 E University Ave. Gainesville, FL.
4. Winter Outdoor Market (Williston)
Sparkly bows and mistletoe adorn the winter outdoor market in Williston Horseman's Park.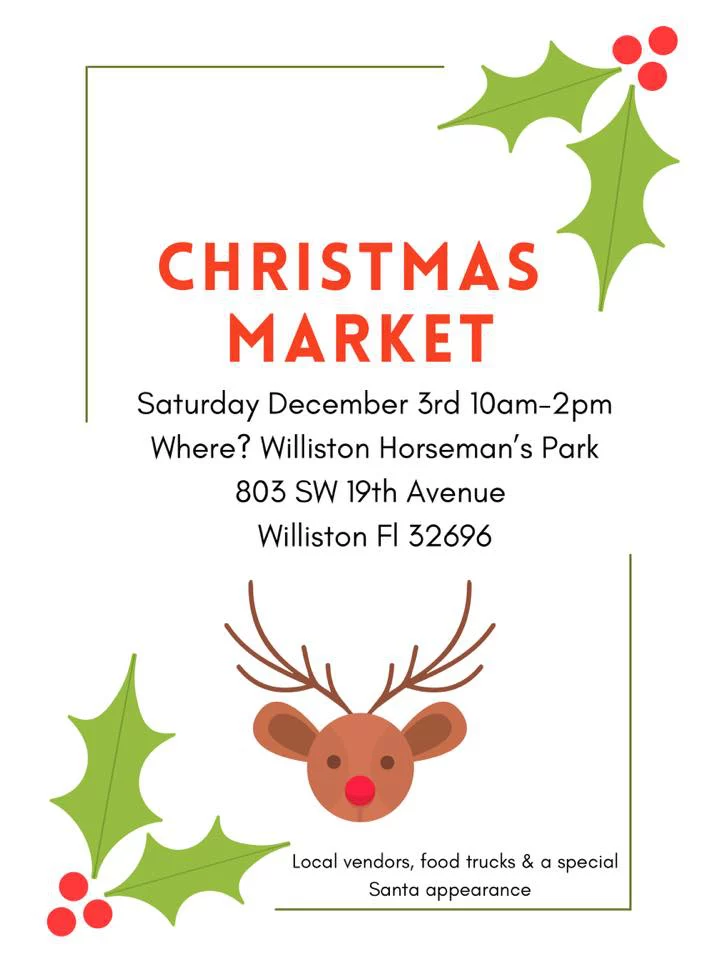 It may be beginning to cost a lot like Christmas but not at the Williston Winter Outdoor Market. It's free to walk around and enjoy a day out amongst 35 vendors.
Why We Love This Christmas Event in Gainesville, Florida
Returning for its 4th year the annual outdoor market will be lined with food vendors to fill your bellies like Santa on Christmas Eve.
Bring the family and stop in to see Santa when he makes his jolly ol'appearance.  
Location: Williston Horseman's Park 803 SW 19th Avenue Williston, FL. 32696
5. Depot Park Christmas Lights
Christmas in Gainesville is beginning to sparkle and shine! All thanks to the holiday light display at Depot Park.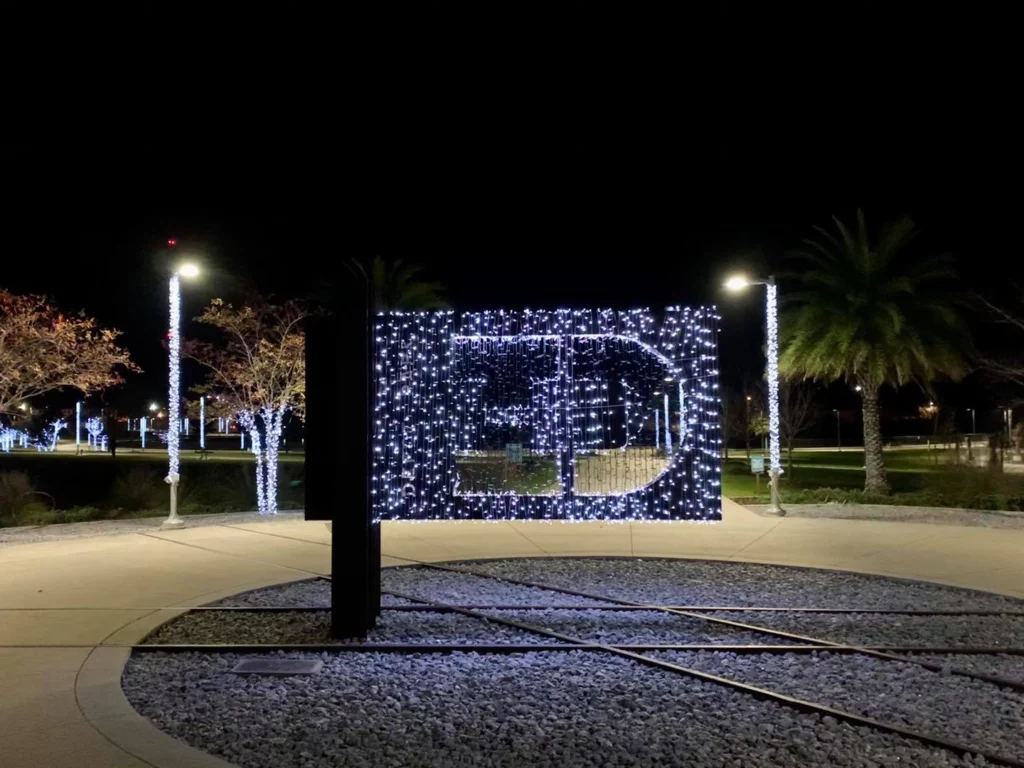 Come early enough to watch the colors of the Florida sunset then ready set glow.
The holiday twinkle of the promenade will begin to brighten the way around 5:30 p.m. each night (usually running from December 1st through December 31st).
Why We Love This Christmas Event in Gainesville, Florida
A Boxcar Wine & Beer Garden will have you feeling like it's the most wine-derful time of the year.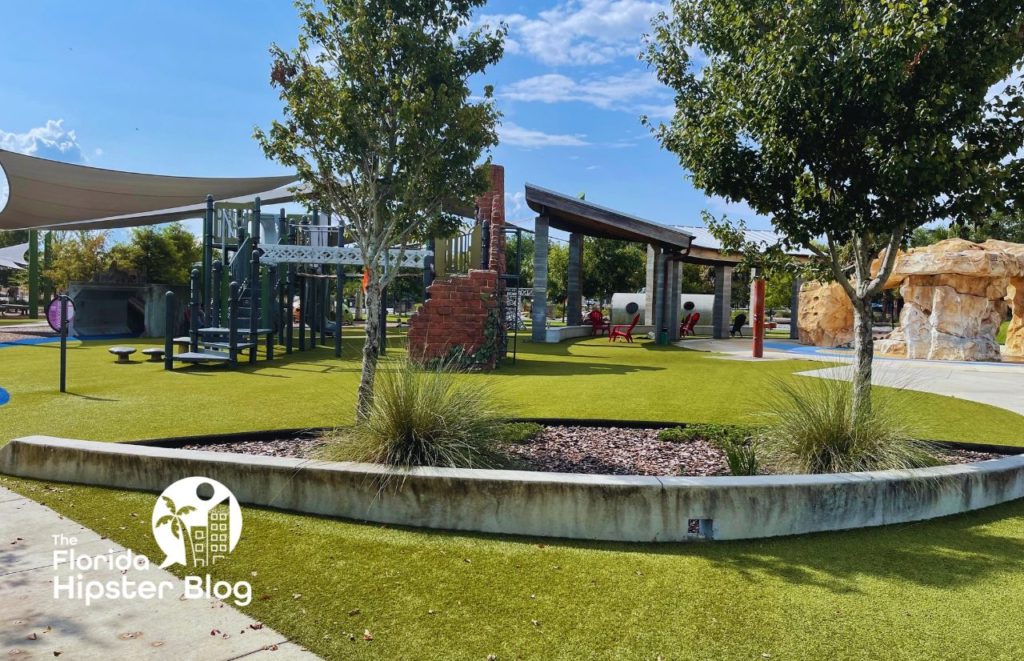 A DJ and live entertainment are usually on-site on select days to lift everyone's spirits and of course a feast of desserts and scrumptious food from local businesses.
Location: 874 S.E. 4th Street Gainesville, FL.
Explore Gainesville, Florida with these best tours. Get Started Today!
6. Kirby Family Farms Christmas Train
It's full steam ahead for your family and loved ones to Williston Florida home of the Kirby Family Farm.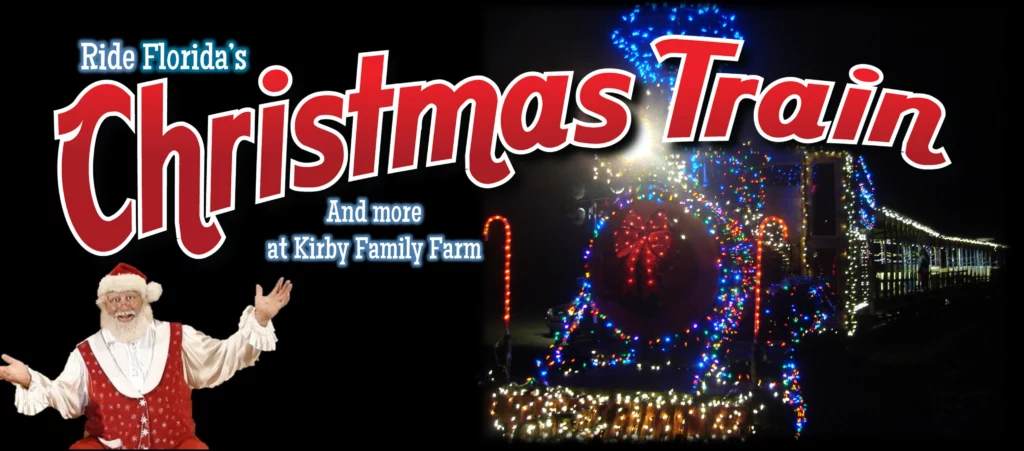 The 11th annual Christmas train awaits your "presents" for the 20-minute holiday voyage on the 100-year-old locomotive. The fun begins November 25th.
Why We Love This Christmas Event in Gainesville, Florida
It's one of the most loved Christmas trains in Florida. And it's also wheelchair and stroller accessible so no one misses out on the holiday fun!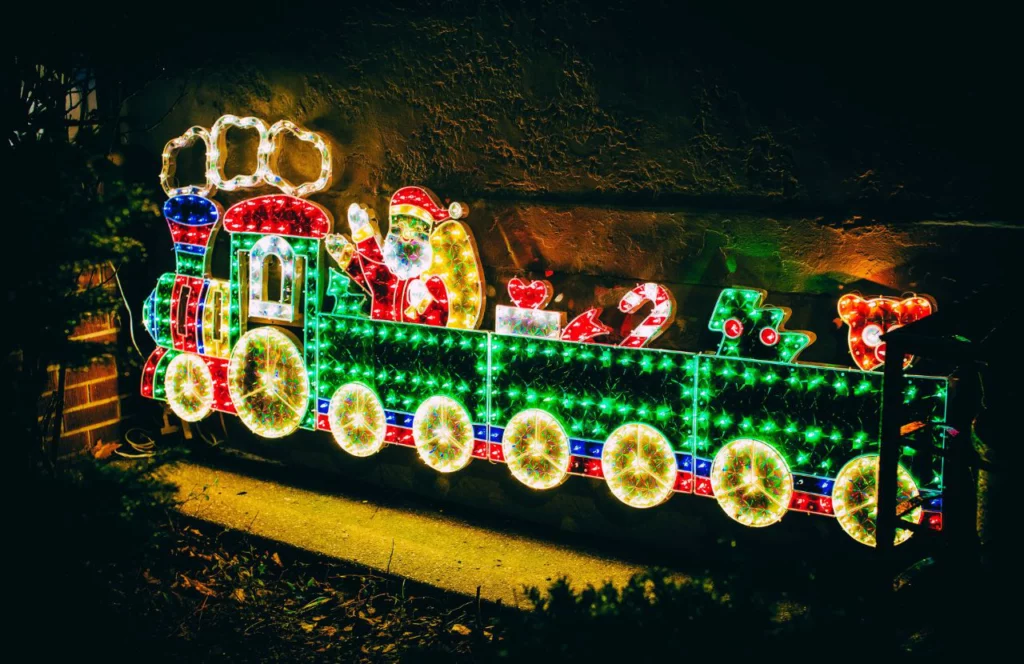 But don't just sleigh your way here for the epic train ride. Antique Ferris wheel rides, manger babies petting area, Christmas magic show, Italian carousel, dance party, and a tractor ride to a lost Christmas town.
And of course, Santa and all his Christmas buddies will be here!
Location: 19630 NE 30 St, Williston, FL 32696
7. Archer Christmas Celebration: Parade of Lights and Toy Giveaways
Get into feast mode for the Archer Christmas Celebration. With free chili and hot dogs, your bellies will be jolly and full.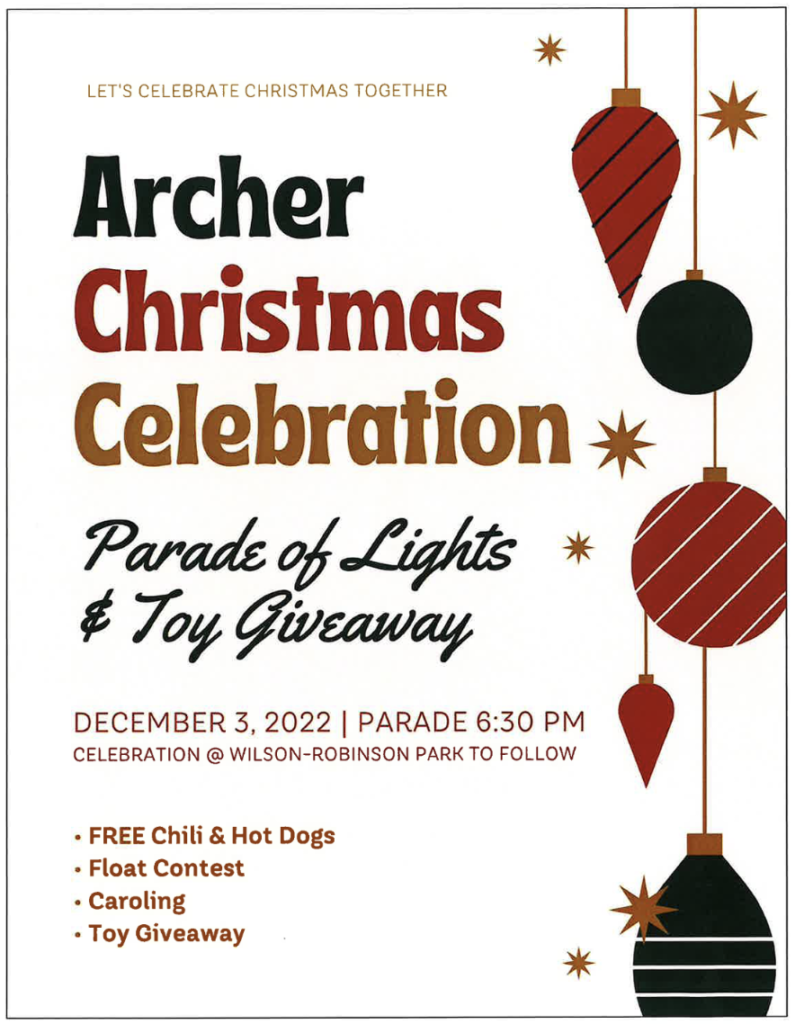 December 3rd is shining bright this year with the Parade of Lights and Toy Giveaways.
It is the season to sparkle and 6:30 p.m. marks the start of the parade as they compete in the float contest.
Why We Love This Christmas Event in Gainesville, Florida
Good ol'fashioned caroling and a toy giveaway, there is joy in the air. Then Wilson Robinson Park is the place to be after for all the holiday fun.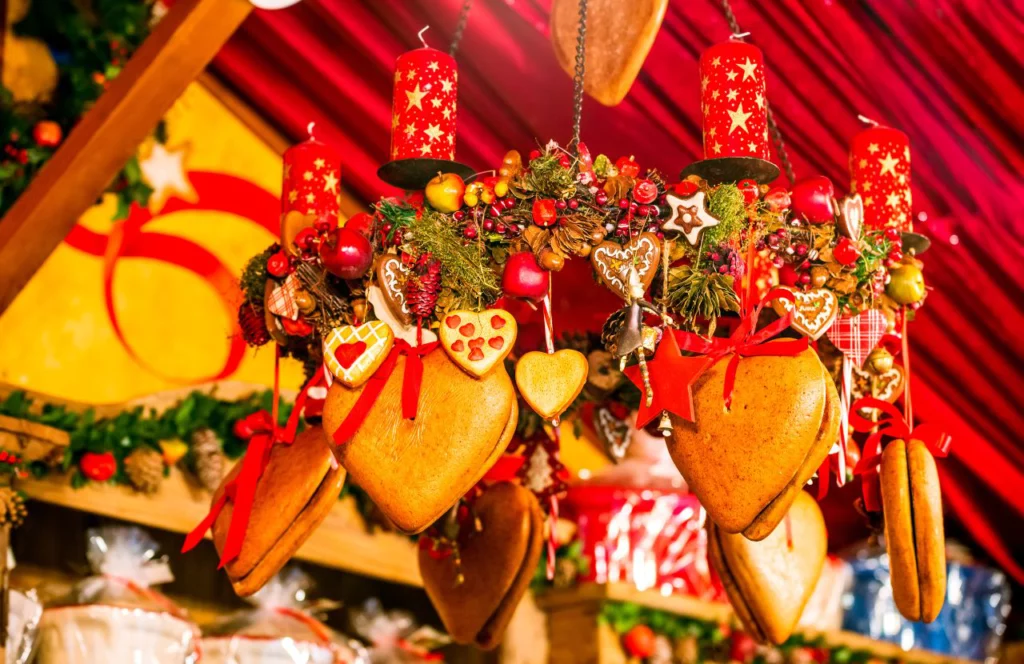 Location: Wilson Robinson Park 13975 SW 174th St, Archer, FL 32618
8. Chiefland Christmas Festival & Parade
There is no better way than to feel the magic of Christmas in Florida than the Chiefland Christmas Festival & Parade. Best of all, it's free!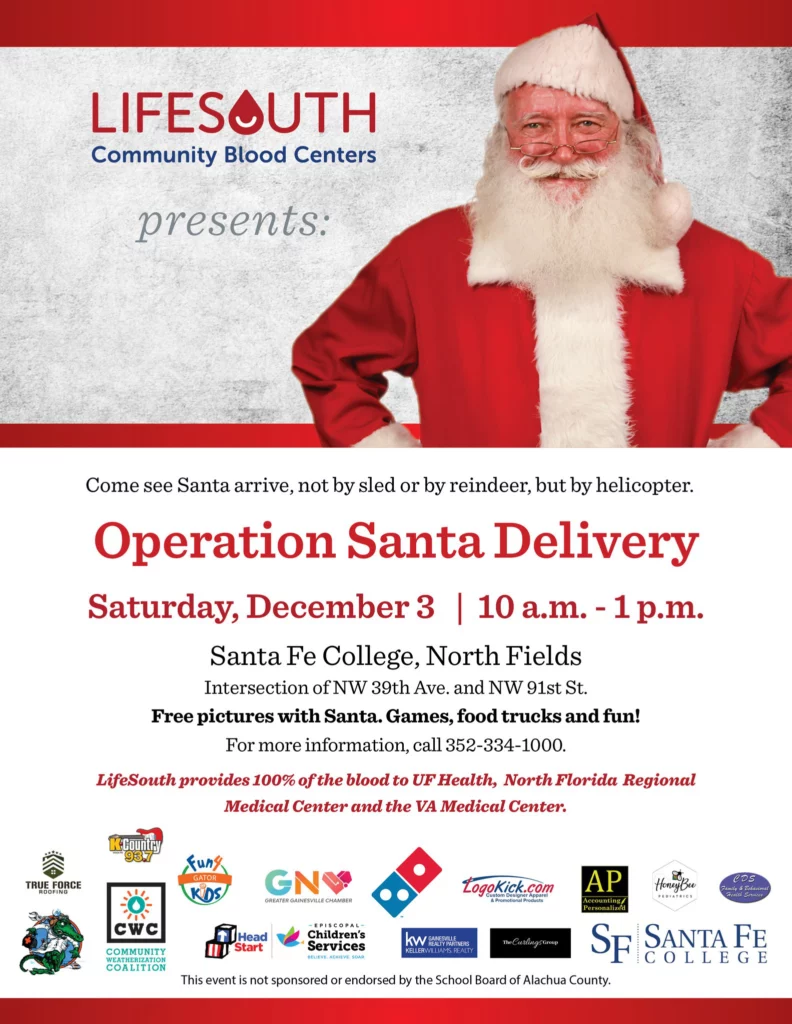 Opening festivities unwrap at 10 am focusing on family fun. With pony rides and inflatables for the kids, it will feel like Christmas morning has come early.
Why We Love This Christmas Event in Gainesville, Florida
Pictures with Santa, rock climbing, bungee jumping, a parade, and a night of bonfires and carriage rides, December 10th 2022 is a full lineup yule definitely want to attend.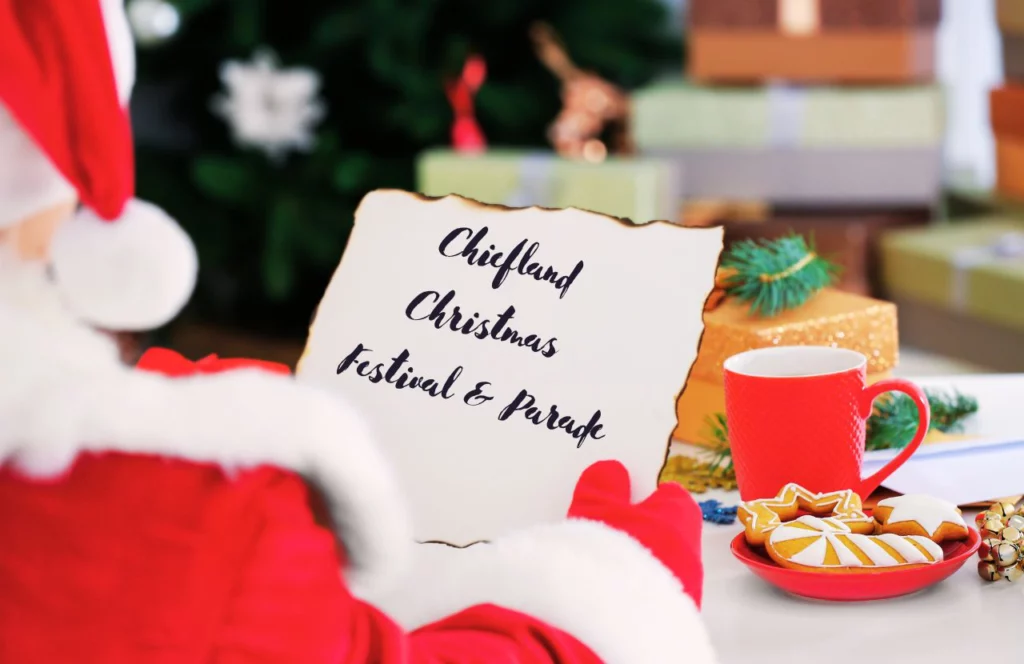 Location: Train Depot Park 23 SE 2nd Ave Chiefland, FL. 32626
9. High Springs Tree Lighting and Festival
Have an evening of fun with your jingle ladies and friends on December 3rd on High Springs Main Street.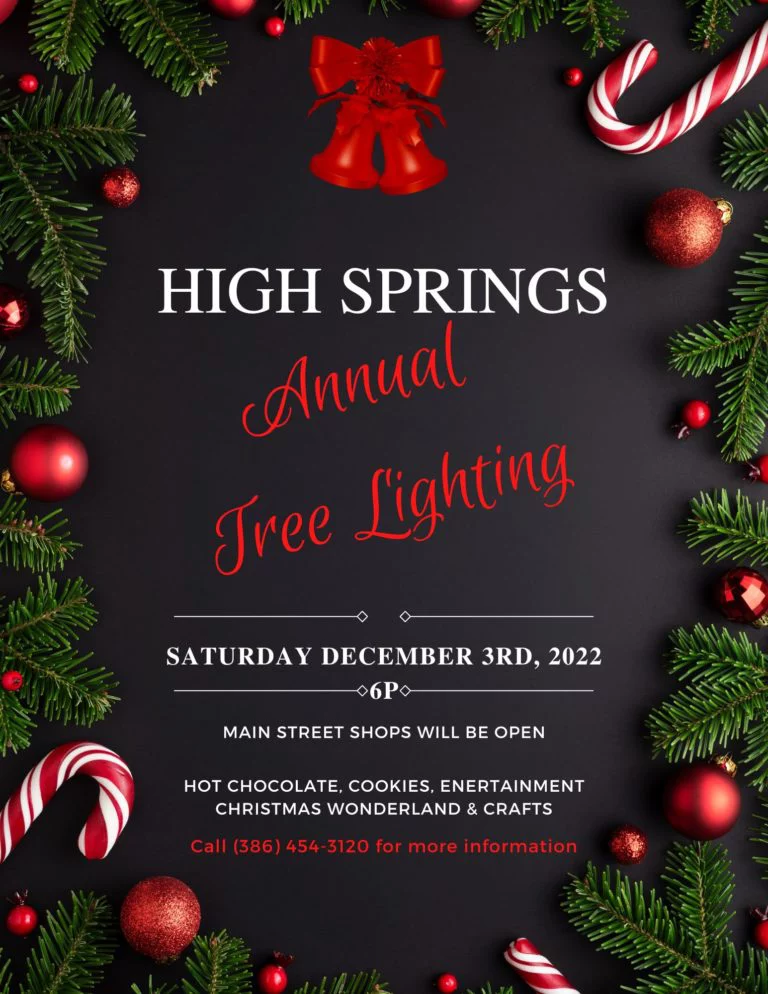 Shops will be open for a night of shopping along with those one-of-a-kind crafts to pick up all those Christmas gifts for your loved ones.
Why We Love This Christmas Event in Gainesville, Florida
Hot chocolate and cookies to sweeten up all those coming to witness the wonder of the annual tree lighting. And holiday entertainment sets the scene of Christmas Wonderland.
Location: Main Street High Springs, FL.
10. Light Up Tioga Town Center
Christmas fun for the whole family returns to Tioga Town Center on November 27. Set aside 4 pm to 8 pm for some free festivities.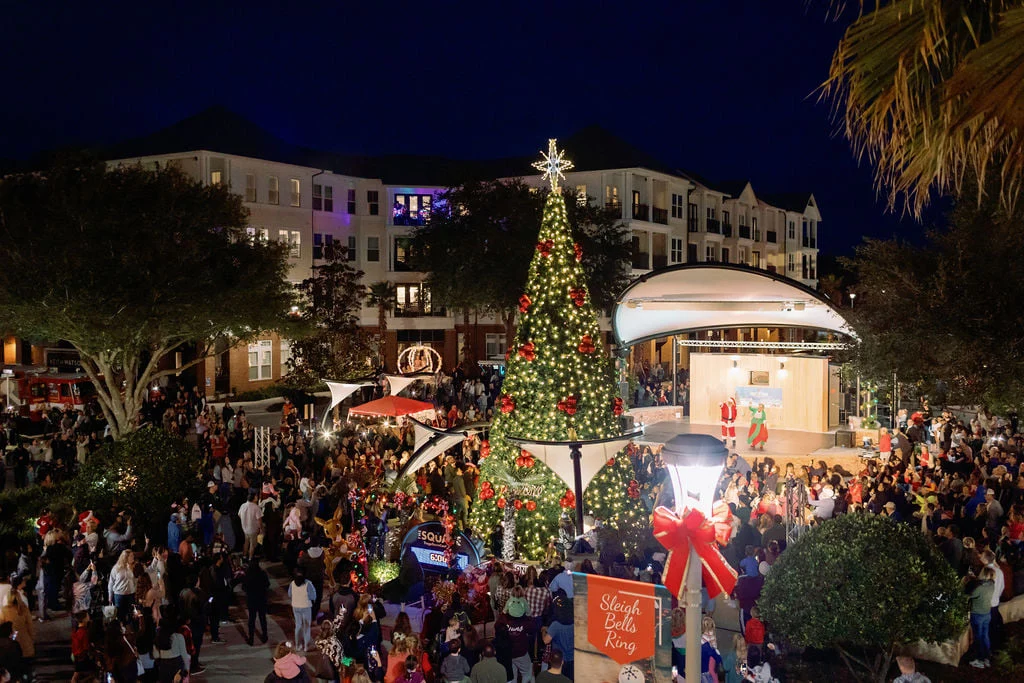 Why We Love This Christmas Event in Gainesville, Florida
It's not just tree lighting that will brighten your spirit but there will be games, entertainment, vendors, and food trucks. Dances and live performances will have you decorated in cheer.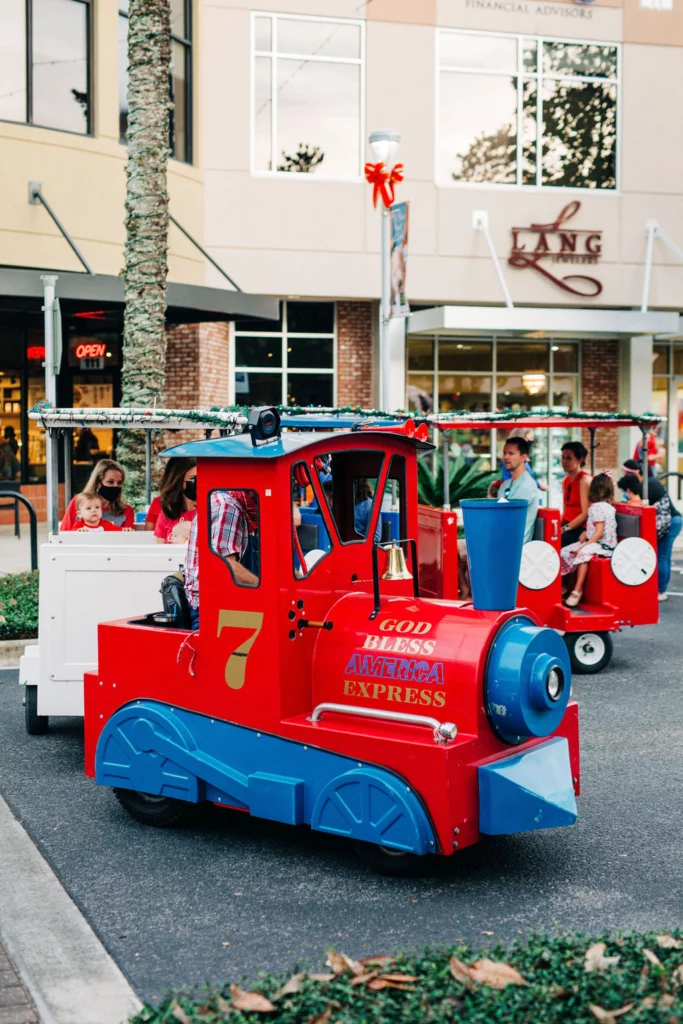 Not only Santa appears but there are some surprise appearances scheduled to be made…
Location: 13085 SW 1 Ln, Newberry, FL 32669
11. Dance Alive National Ballet Presents The Nutcracker
Spend your night in the Kingdom of Sweets as the Sugar Plum Fairy dazzles and delights you.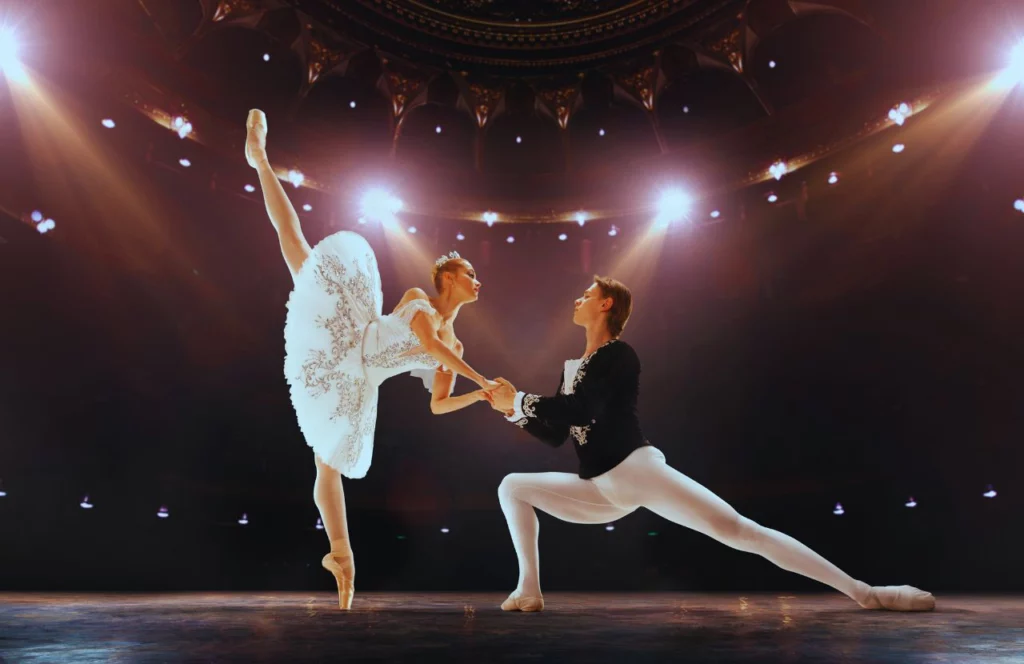 Why We Love This Christmas Event in Gainesville, Florida
The Dance Alive National Ballet arrives December 17 and 18 at the Curtis M. Phillips Center for the Performing Arts for a spectacle of holiday beauty with The Nutcracker.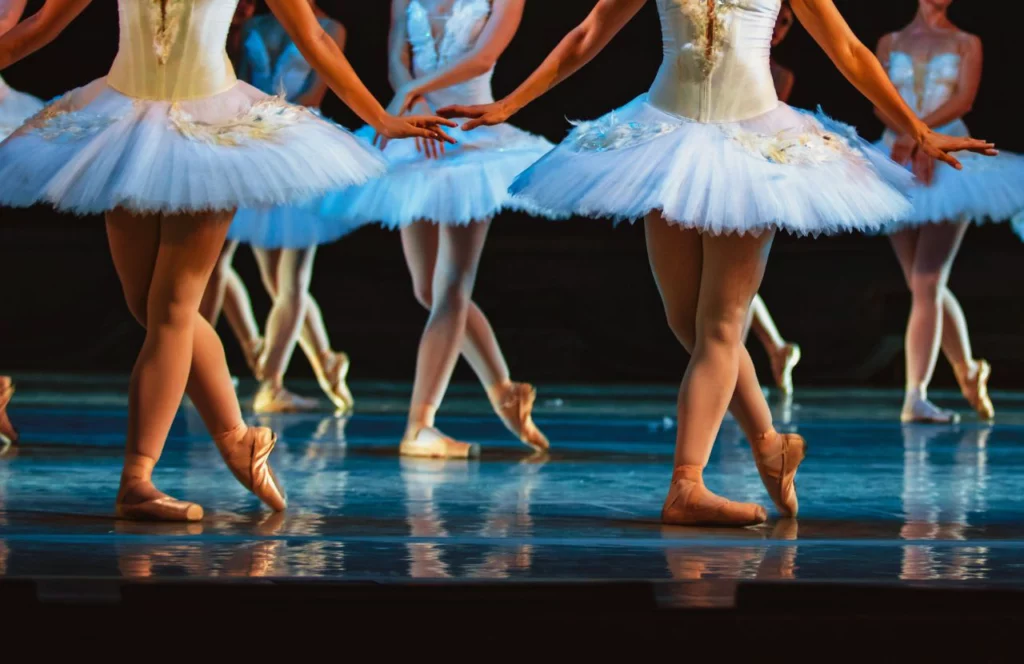 Showings are at 2:00 p.m. and 7:30 p.m. and is a magical way to honor Christmas with the family.
Location: 1325 NW 2nd Street Gainesville, FL. 32601
12. The Alachua Christmas Parade
The Alachua Christmas Parade marches through Main Street on Saturday December 10.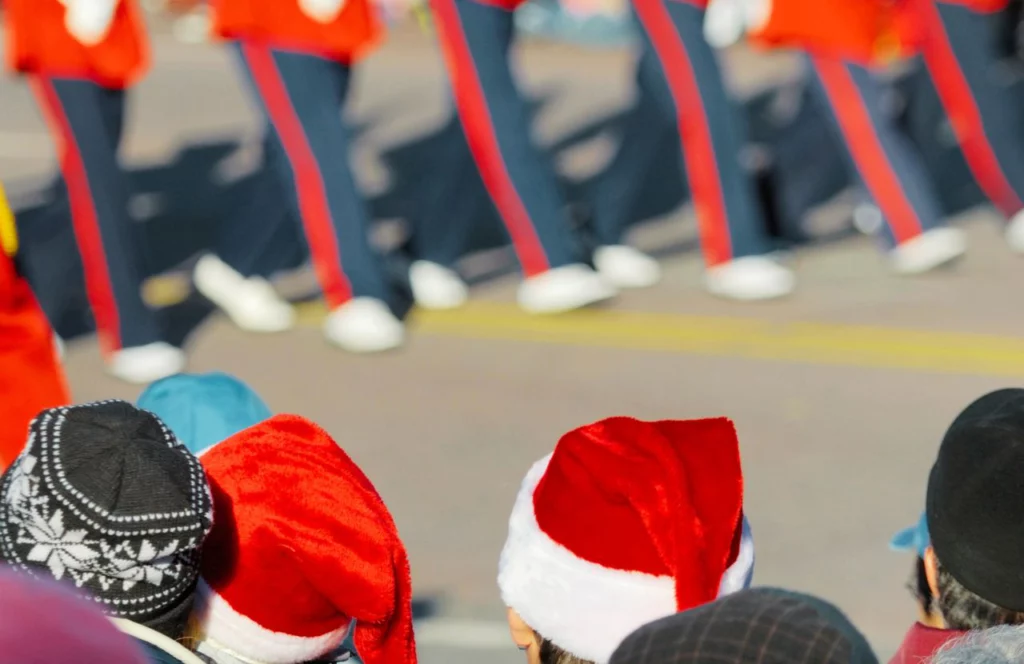 Why We Love This Christmas Event in Gainesville, Florida
Enjoy the colors and cheer of the floats going by bringing in the sounds and sights of Christmas to the streets of Alachua.
So, save the date and be a part of its long-standing tradition bringing joy to hearts of all.
Location: Main Street Alachua, FL.
13. Holiday Tree Lighting at Thomas Center
Shimmer and shine, the Thomas Center Gardens illuminate in all the colors of Christmas on December 4th.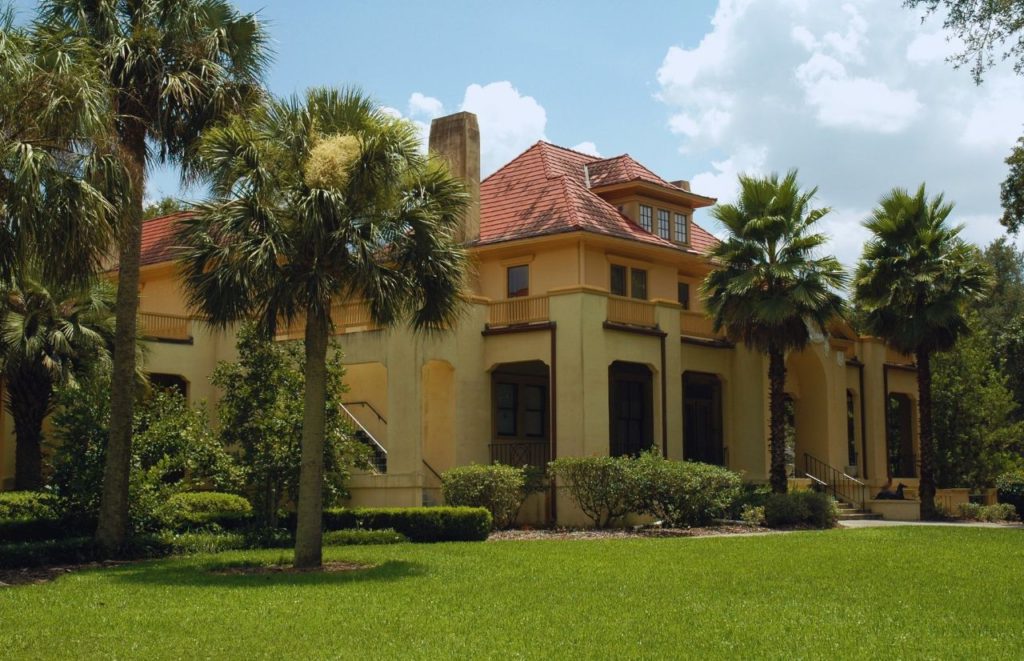 Why We Love This Christmas Event in Gainesville, Florida
From 6 – 8 pm the trees throughout the gardens will transport you into a wonderland of bliss as you stroll through the thousands of lights that gleam.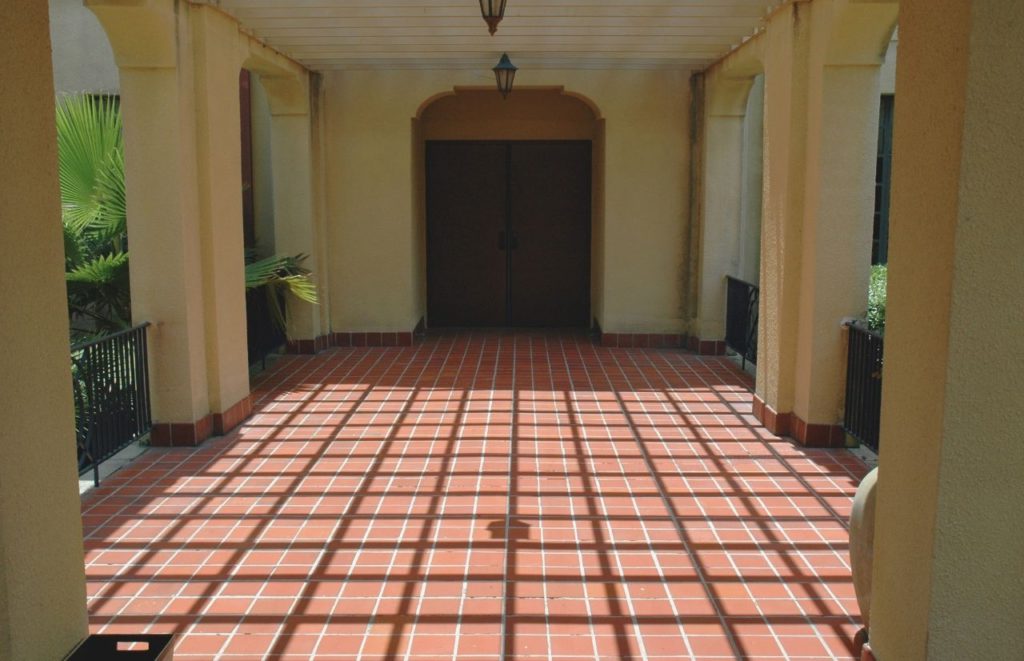 Bring an extra $5 so you can go back in time on a horse-drawn carriage ride. The scene is set with hundreds of luminaries all through the neighborhood.
Location: 302 NE 6th Ave. Gainesville, FL. 32601
Get More Gainesville travel planning tips right here!
My Final Thoughts on the Best Things to Do in Gainesville for Christmas
With all the things to do in Gainesville for Christmas the spirit of the season is captured for everyone to share.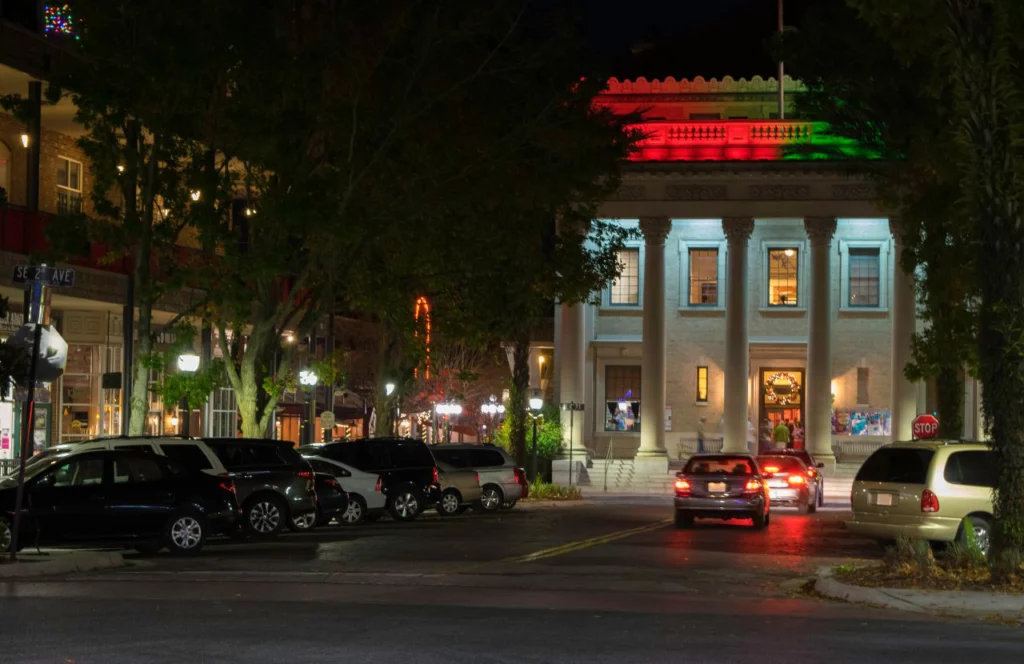 From the colors of the twinkling lights to the annual celebrations bringing out the little kid in all of us.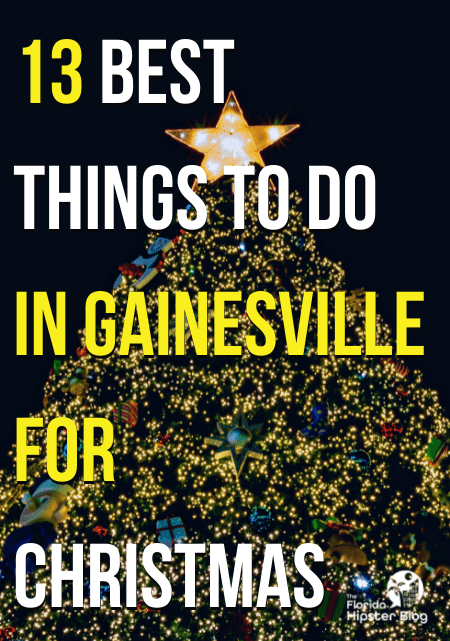 Christmas truly is one of the most magical times of the year to visit the sunshine state of Florida.
Happy Florida Travels Hipster!
If you enjoyed this article, then you'll love these: